Gordon, newcomers shine for Miami in disappointing '15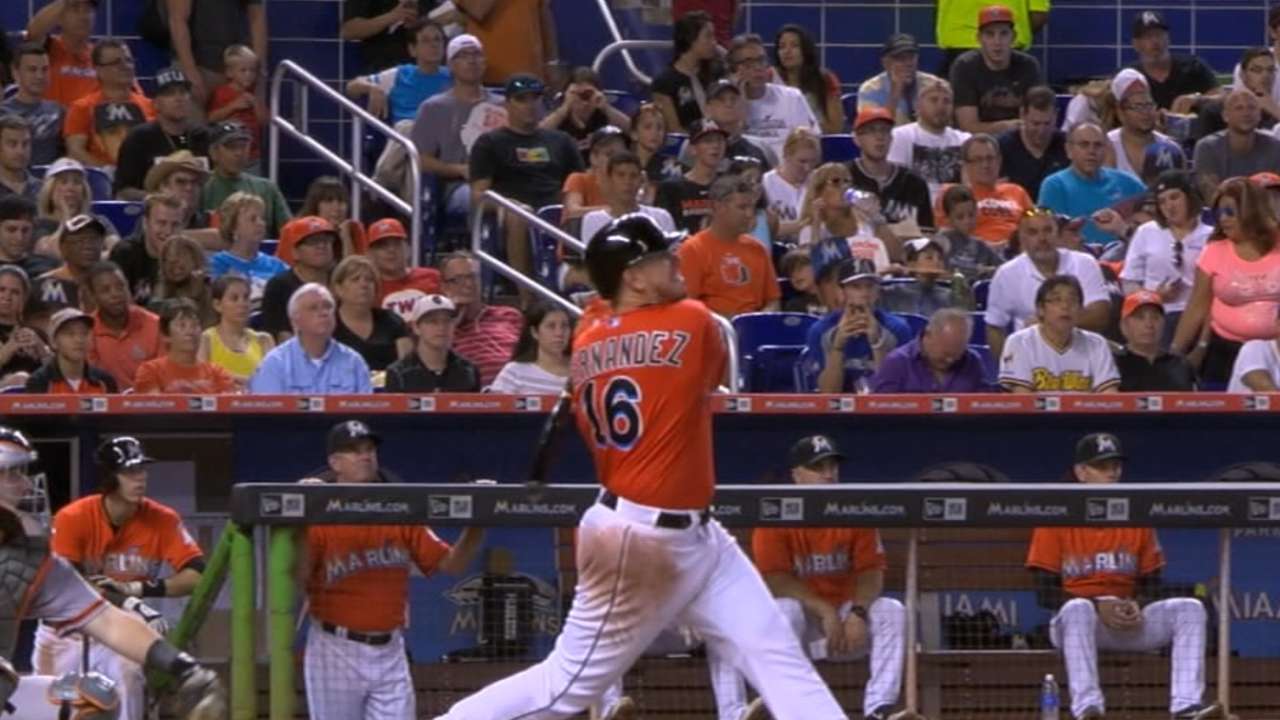 MIAMI -- The first sign that Miami's season wasn't going according to plan came on Opening Day, when there was a rain delay at Marlins Park -- a state-of-the-art facility complete with a retractable roof.
Anticipating the weather would accommodate, the roof was left open, but rains came, and play was halted briefly in the second inning. The Braves went on to win, 2-1, and the rest of the year, Miami never was really able to get on solid footing.
So, a season filled with high hopes eventually turned into the organization's sixth consecutive losing season.
From Day One, there was scrutiny, controversy and uncertainty. The club got off to a 3-11 start, which created rumblings that manager Mike Redmond's job was on the line.
In May, Redmond was dismissed with the club's record at 16-22. His replacement came as a total surprise -- Dan Jennings moved from general manager to manager.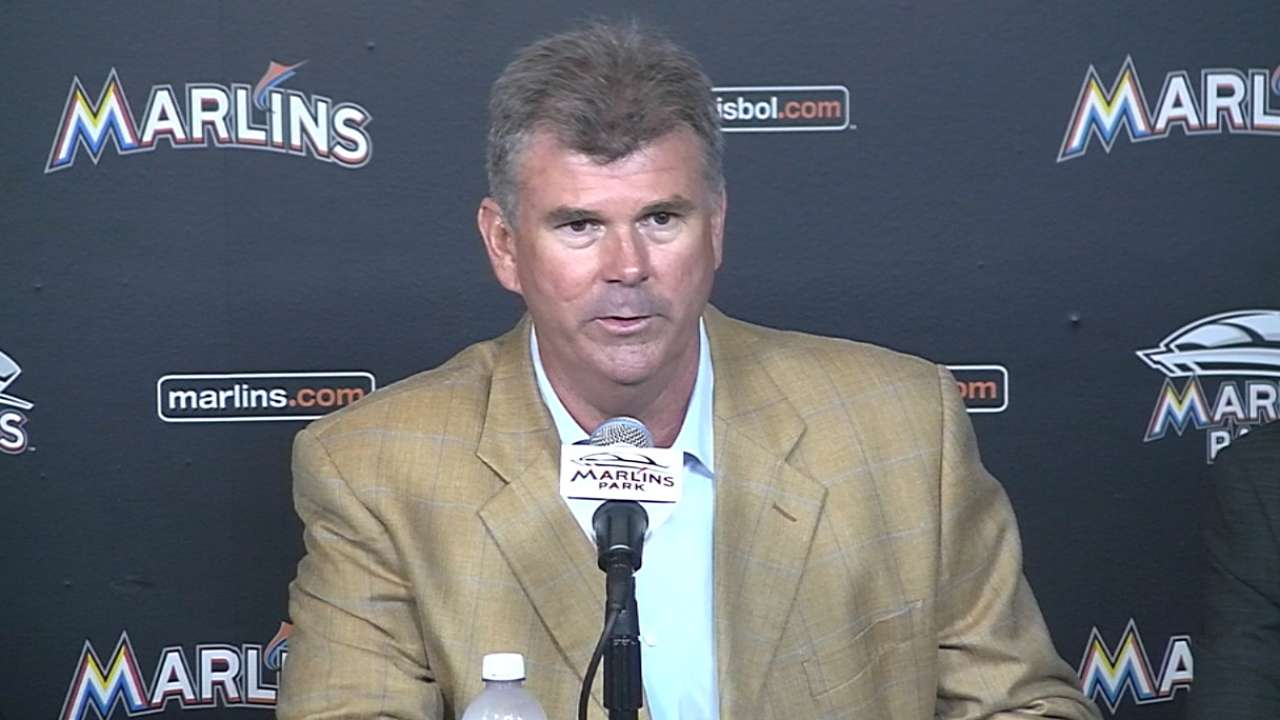 The transition was made in hopes of energizing an under-performing squad. What followed were more struggles, and injuries to core players kept mounting.
Henderson Alvarez, the Opening Day starter, appeared in just four games before his season ended due to right shoulder surgery. Jose Fernandez, the club's ace, didn't make his first start until July 2 because he was recovering from Tommy John surgery.
Giancarlo Stanton, who was leading the Majors in homers (27) and RBIs (67), broke his left hamate bone on June 26, and wasn't a factor in the second half.
"Injuries are something you can't control," president of baseball operations Michael Hill said. "I think this year, it has been evident. We're in the top 10 in the league in days missed from some very key components from our roster. We knew coming in that Jose was going to miss the first half of the season. We were hopeful that some of the veteran pitching we brought in was going to keep us competitive until Jose returned."
Still, not all was lost. Through all the adversity, the team began to come together in September, playing its best and most consistent ball. By then they were already eliminated from playoff contention.
Record: 71-91, third place, National League East
Defining moment: Getting off to a 3-11 start created tension, and Redmond's job status came into question. On May 17, Redmond and bench coach Rob Leary were relieved of their duties.
The next day, the Marlins made their stunning announcement -- Jennings would take over. In his 31 years in professional baseball, he had never coached or managed at any level. But the team was unable to gain traction until September, well after it fell out of the race.
What went right: Stanton and Dee Gordon, the thunder and lightning in Miami's lineup, were voted by the fans to start in the All-Star Game, the first time the organization had two players picked to open the game. However, both got hurt and were unable to attend.
Gordon came as advertised from the Dodgers, ranking among the National League leaders in batting average, stolen bases, hits and multi-hit games. Gordon and Adeiny Hechavarria became arguably the best double play combination in the NL.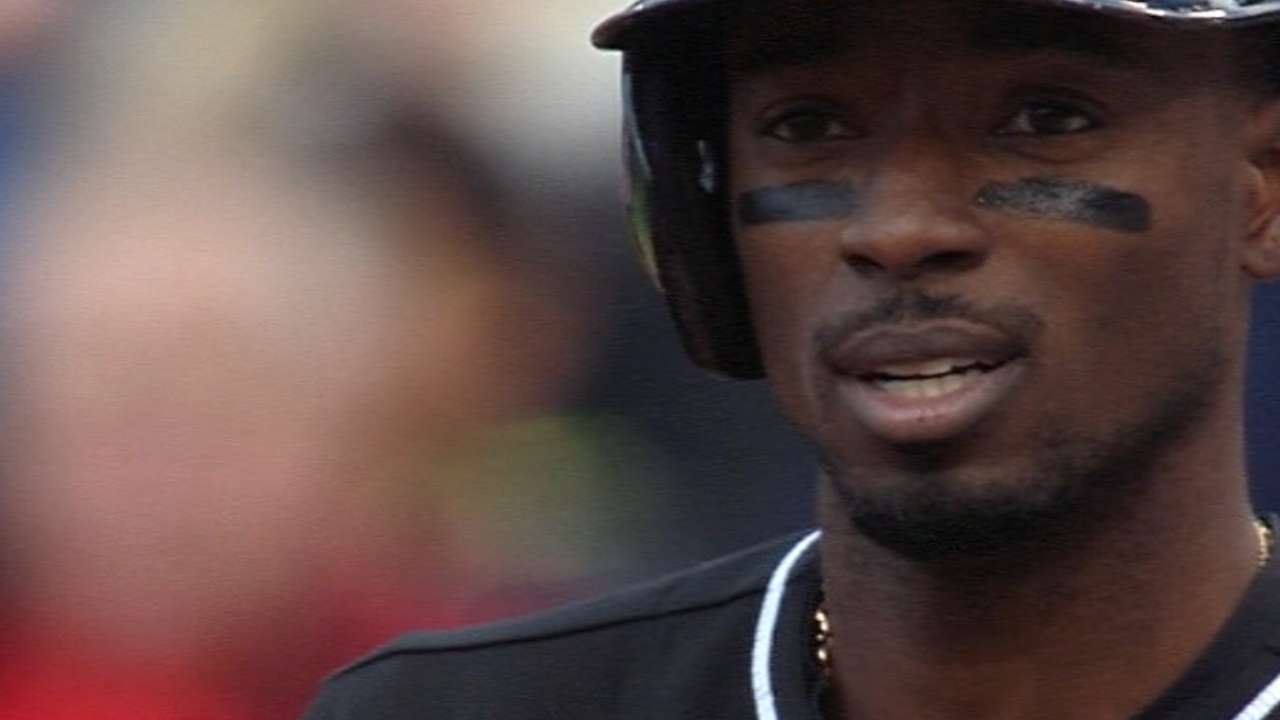 Justin Bour, promoted from Triple-A New Orleans, emerged as a left-handed power threat and a promising first baseman. Bour put himself in position to be the everyday first baseman next year.
Hard-throwing Carter Capps fine-tuned his unorthodox delivery at Triple-A and became a lights-out, eighth-inning setup reliever. A.J. Ramos, assuming the closer role after Steve Cishek struggled early, was the team's most consistent pitcher.
Behind the plate, J.T. Realmuto was rushed to the big leagues sooner than anticipated, but he proved why many believe he will be a better-than-average regular. And the ageless Ichiro Suzuki, at 41, was Miami's most durable player.
Fernandez, despite two DL stints, showed his old form, and he set a Major League record on Sept. 25, beating the Braves to improve to 17-0 at Marlins Park. It's the first time since 1900 that a pitcher won that many games without a loss to open his career at home.
What went wrong: There was the managerial change, as well as countless injuries to key players. Every player in the Opening Day starting lineup either missed substantial time due to injury, demotion or being designated for assignment.
Stanton's injury was especially devastating. And along with health and underperformance, clubhouse chemistry was an issue in the first half. It improved down the stretch, with credit going to veteran third baseman Martin Prado.
"Offensively, we were just inconsistent," Hill said. "You look at the years Stanton and Gordon had early, and you would think we were a little more into things. But some key young players got off to slow starts, either because of underperformance or injury."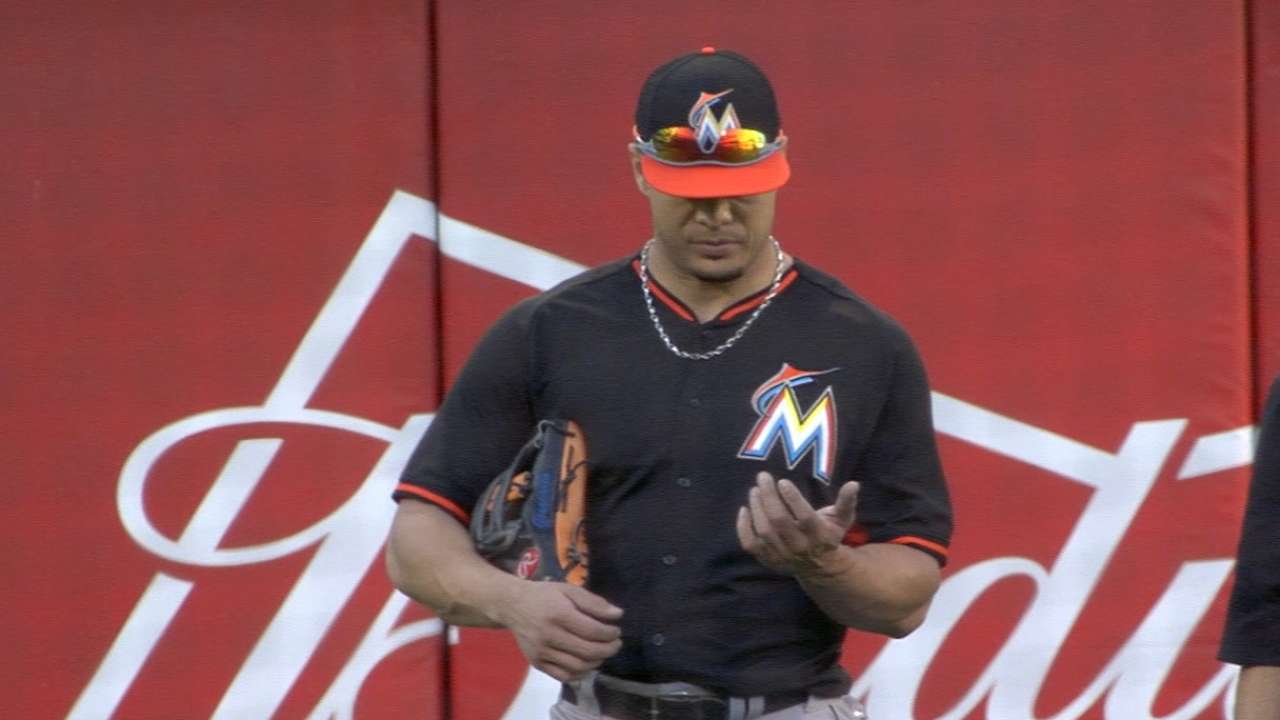 Biggest surprise: Bour is an example of how storylines don't always go as expected. Michael Morse signed a two-year deal to solidify first base. It didn't work out that way. Morse struggled and then went on the disabled list, and Bour stepped in and won the job. He provides a left-handed power bat, and he is making a case to be the regular first baseman in 2016.
Hitter of the Year: Gordon did it all. The 27-year-old showed off his game-changing speed. He was one of the top leadoff hitters in the league, and played Glove-worthy defense. A dislocated left thumb prevented him from participating in the All-Star Game, but he didn't miss substantial time. Gordon was the catalyst and energized the club through even its darkest days.
Pitcher of the Year: When the season started, Ramos was in the setup mix with Mike Dunn and Bryan Morris. By mid-May, the right-hander assumed the closer role after Cishek struggled. Ramos had a first-half that many believed was All-Star worthy. Although he had some struggles in the second half, overall, Ramos emerged as Miami's most consistent pitcher.
Rookie of the Year: After making great strides catching for Double-A Jacksonville's 2014 Southern League championship team, Realmuto was tabbed the Marlins' catcher of the future. Few expected that the future would start in late April, when he replaced Jarrod Saltalamacchia. A former high school shortstop and quarterback, Realmuto is a versatile athlete, and projects to be a better-than-average everyday player.
"J.T. Realmuto is emerging as a budding leader and a top catcher in the league," Hill said. "So there have been some good things we've been able to gather from a very disappointing year, because we're not where we want to be. But some good things have come from it."
Joe Frisaro is a reporter for MLB.com. He writes a blog, called The Fish Pond. Follow him on Twitter @JoeFrisaro and listen to his podcast. This story was not subject to the approval of Major League Baseball or its clubs.