Robles receives 3-game suspension
Mets reliever threw near head of Phils' Rupp after warnings had been issued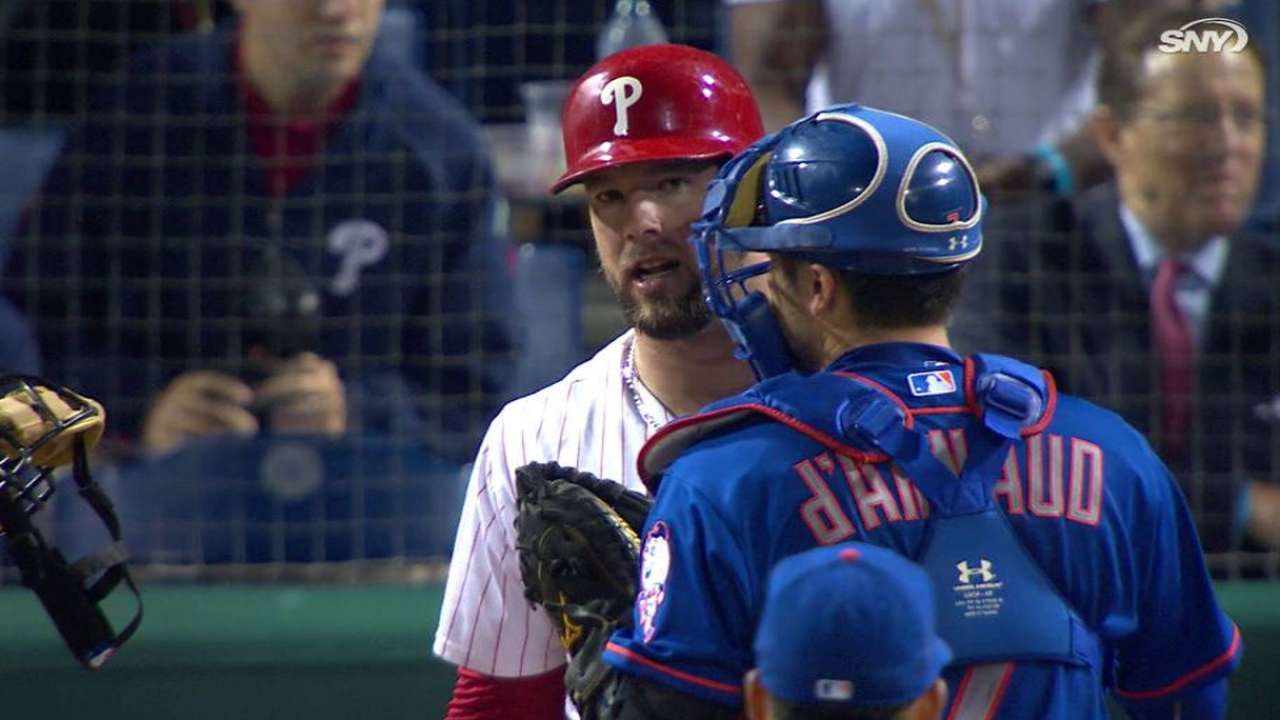 PHILADELPHIA -- Mets reliever Hansel Robles has received a three-game suspension for what Major League Baseball described in a statement as "intentionally throwing a pitch in the head area of Cameron Rupp of the Philadelphia Phillies, with warnings in place for both teams" Wednesday. Unless appealed, Robles' suspension, which was announced after Thursday's 3-0 loss to the Phillies, will begin Friday, ending his regular season.
If Robles does appeal, he could have the suspension reduced, but it could potentially leak into next season -- theoretically affecting more impactful games than the last three this year, which only count for home-field advantage in the National League Division Series. In any event, Robles will be fully eligible to pitch in the postseason.
His pitch to Rupp was the fourth in a series of notable inside pitches Wednesday in the Mets' 7-5 loss to the Phillies. The first of them, from Justin De Fratus, hit Mets outfielder Yoenis Cespedes on the left hand and knocked him out of the game. X-rays were negative and the Mets expect Cespedes to return this weekend.
The second pitch in question hit Mets outfielder Kirk Nieuwenhuis in the back, and the third, from Mets starter Logan Verrett, hit Philadelphia's Odubel Herrera in a similar spot. That prompted home-plate umpire Bob Davidson to warn both benches.
An inning later, Robles unleashed a quick pitch before coming to the set, nearly hitting Rupp in the head as he spun out of the way.
"As I explained to him, listen, you can't miss that bad," Mets manager Terry Collins said after the game. "It's one thing to miss inside if the catcher's sitting in, but up around the head is something I certainly don't understand."
Robles first drew the Phillies' ire in a game last month, when he threw a quick pitch before Darin Ruf was ready to hit. Phillies bench coach Larry Bowa in particular took exception to that pitch, yelling animatedly from Philadelphia's dugout.
Anthony DiComo is a reporter for MLB.com. Follow him on Twitter @AnthonyDiComo and Facebook, and listen to his podcast. This story was not subject to the approval of Major League Baseball or its clubs.