Eickhoff impresses Phils in first taste of bigs
Rookie righty caps strong eight-start run with seven scoreless vs. Mets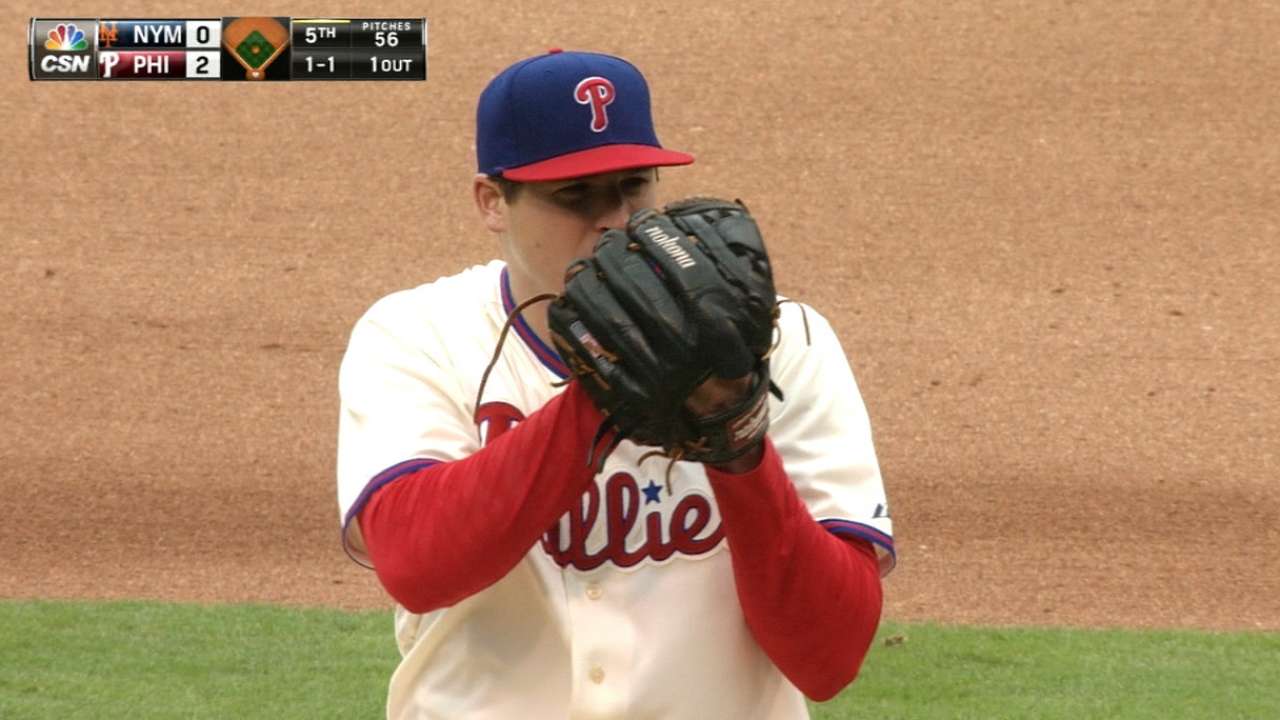 PHILADELPHIA -- It is too early to be certain about the future, but if rookie Jerad Eickhoff pitches like this next season, the Phillies will feel even better about the trade that shipped Cole Hamels and Jake Diekman to Texas in July.
Some already love it.
"I've got a man crush," Phillies right fielder Jeff Francoeur said about Eickhoff following Thursday afternoon's 3-0 victory over the Mets at Citizens Bank Park. "If none of the other guys [in the Hamels trade] ever pan out, he's worth it alone."
Eickhoff arrived as arguably the fourth-best prospect in the five-prospect trade, but he has pitched much better than that since he joined the Phillies' rotation on Aug. 21. He pitched seven scoreless innings Thursday against the Mets, allowing just four hits, one walk and striking out 10. He went 3-3 with a 2.65 ERA in eight starts.
"He can be an outstanding pitcher here," Phillies manager Pete Mackanin said.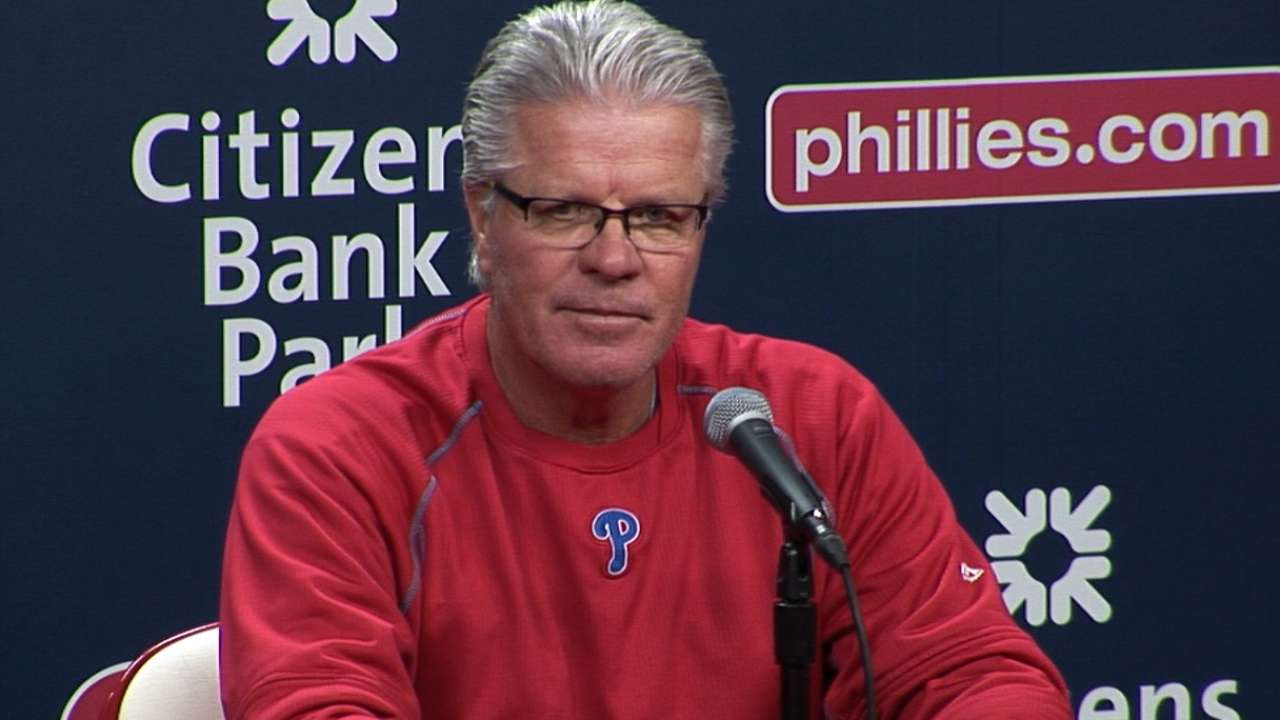 Eickhoff's final pitch of the 2015 season should be a good memory for him. He had runners on first and second with two outs in the seventh inning when Mackanin visited the mound to give him a breather before facing Juan Lagares.
"This is your game," Mackanin said.
"I want it," Eickhoff replied.
Eickhoff fell behind, 2-1, but he evened the count as Lagares fouled off three consecutive pitches. Eickhoff's seventh pitch of the at-bat hit the dirt to push Lagares to 3-2. Lagares fouled off a 93-mph fastball to stay alive, but Eickhoff struck out Lagares swinging on a curveball to end the inning.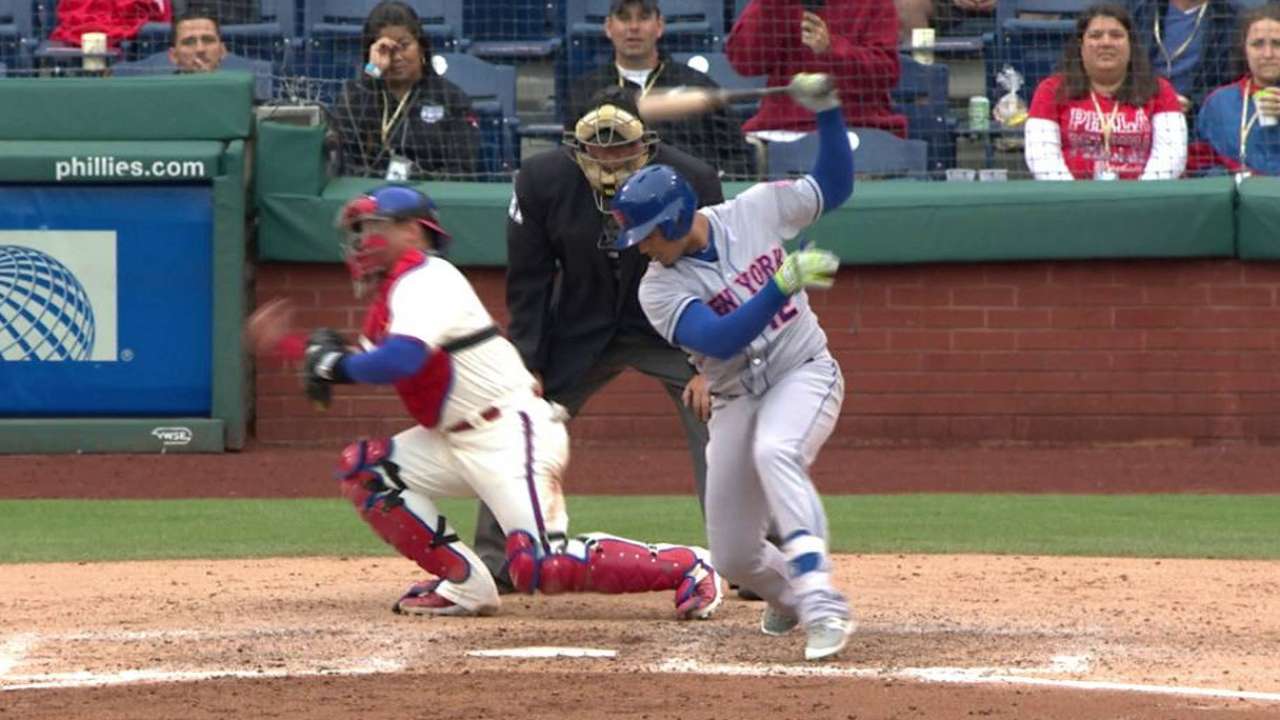 "I had pretty good command of my curveball and I had thrown him some curveballs earlier in the game," Eickhoff said about his choice to throw a breaking ball. "I know he had seen it, so I was trying to wait for the right time. It just so happened to be 3-2. I let it rip and got him out."
The rookie punched his right fist into his glove as he walked off the mound. He was pumped.
"It's the culmination of the season," Eickhoff said. "Experiences, learning, it all just comes together. It was a great, great feeling. It's hard to describe, just everything bottled up into one pitch. It felt great. Before he stepped to the plate, I looked down at the mound thinking that I'm getting down towards the end of the rope here. Just make good pitches."
Eickhoff and fellow rookie Aaron Nola will enter Spring Training as heavy favorites to make the 2016 rotation. Everybody seemed to know Nola would enjoy success as the seventh overall pick in the 2014 Draft. Eickhoff? He has shown the pitches the Phillies saw when they scouted him this summer. But they did not expect him to pitch as well as he has so soon, although they certainly believed he would be a solid big league starter.
Maybe Eickhoff will be better than solid. Maybe everybody in the Phillies' clubhouse will have a man crush on him next season.
Todd Zolecki is a reporter for MLB.com. Read his Phillies blog The Zo Zone, follow him on Twitter and listen to his podcast. This story was not subject to the approval of Major League Baseball or its clubs.