Puig improves running amid steady progress
But rehabbing Dodgers outfielder's status for NLDS remains uncertain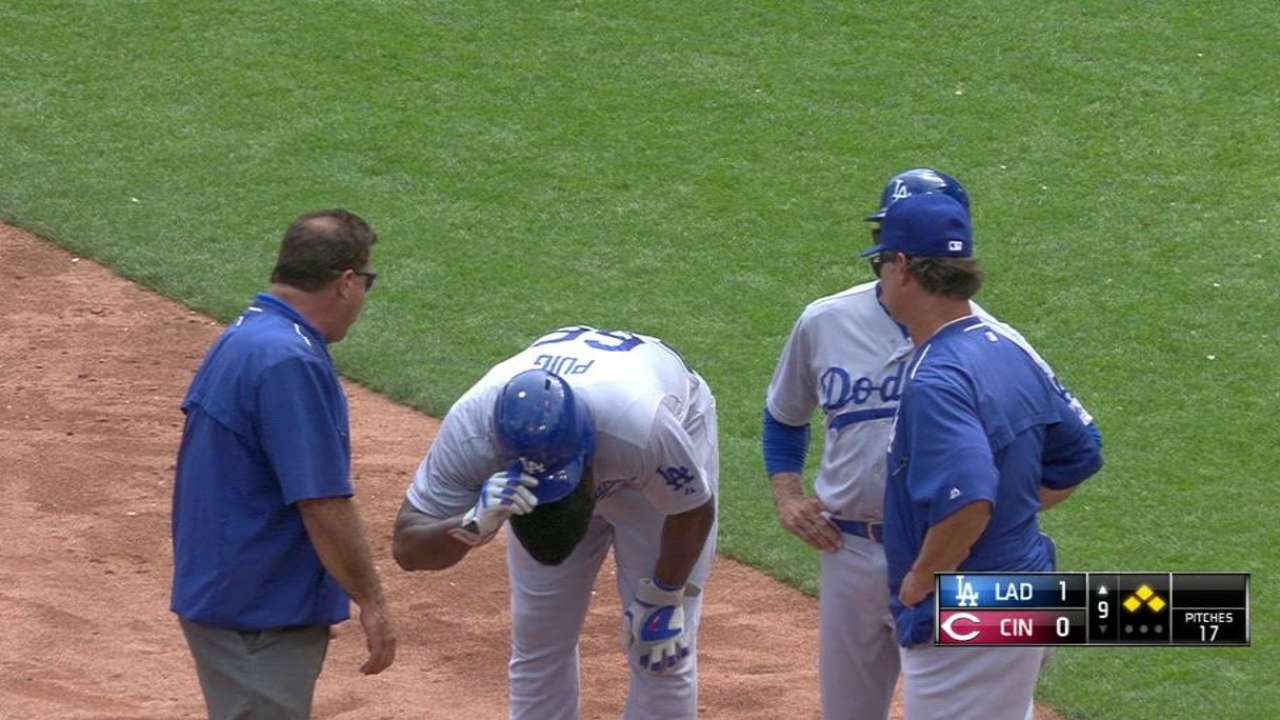 SAN FRANCISCO -- Don Mattingly quipped that Yasiel Puig's recently improved health is "miraculous," but the Dodgers' manager wouldn't say if that means the outfielder will be on the roster for the National League Division Series that starts next Friday.
In what figures to be a daily drama leading up to next Friday's Game 1, Puig's status already is a sensitive issue because the Dodgers successfully won the NL West without him over the last five weeks while he healed from a strained right hamstring.
Puig has been rehabbing at the club's Arizona training complex, advancing to games this week, and Mattingly said Puig's running went from 80 percent effort to 100 percent on Wednesday. That said, he's played only one game in the outfield.
"Three days ago, he was running 80 percent and having pain," said Mattingly. "All of a sudden it's 100 percent and he feels fine. That's a nice surprise. It's been pretty miraculous, really, for me. Eighty percent to 100 percent. That's legendary."
With Puig out, the Dodgers have used an outfield platoon with Andre Ethier starting against right-handed pitching and Justin Ruggiano against left-handers. Mattingly did not sound as if he's expecting Puig back as a starter, if at all.
"We haven't got into him too far, like a lot of stuff with the roster," he said. "Yasiel hasn't played in a while, and playing instructional league and Major Leagues are two different things. At this point, it's still rehab. Can he be healthy? Can he contribute in some way? As a pinch-hitter, off the bench, things like that."
This year's Puig has been nothing like the sensational rookie of 2013 or the All-Star of '14. He's missed more than 80 games with multiple hamstring issues, and he's batting .256 with an OPS of .764, more than 100 points below his career average coming into the season.
"Like a number of guys, when you have injuries, you never get into a rhythm like a guy like Adrian [Gonzalez] in there 145 or 150 times," said Mattingly. "A guy that plays 20, hurt, 15, hurt, it's hard to get into a rhythm, and that's been Yasiel's season in a capsule: Lots of injuries and not a lot of rhythm this year, where he was like just playing baseball. He'd play a few days, then get banged up."
Then there's the issue of team chemistry. Puig has been a lightning rod for controversy since he signed, and his clubhouse antics have often annoyed teammates. Indirectly, Mattingly addressed it as far as how postseason rosters are constructed.
"I concern myself with everything, all the guys, how it affects then," he said. "When you set a roster for postseason, that affects guys. Your buddy might not be on it because you set it up differently. Any time you set the roster, I pay attention to it a lot. It affects the dynamic of the clubhouse. Sometimes it matters, sometimes it doesn't. You can't put a number on it or quantify it, but there is a dynamic there and it affects guys."
Ken Gurnick is a reporter for MLB.com. This story was not subject to the approval of Major League Baseball or its clubs.