MLB.com Columnist
Richard Justice
Saying goodbye to one of MLB's good guys
Always a clutch big-game pitcher, Affeldt is an even better person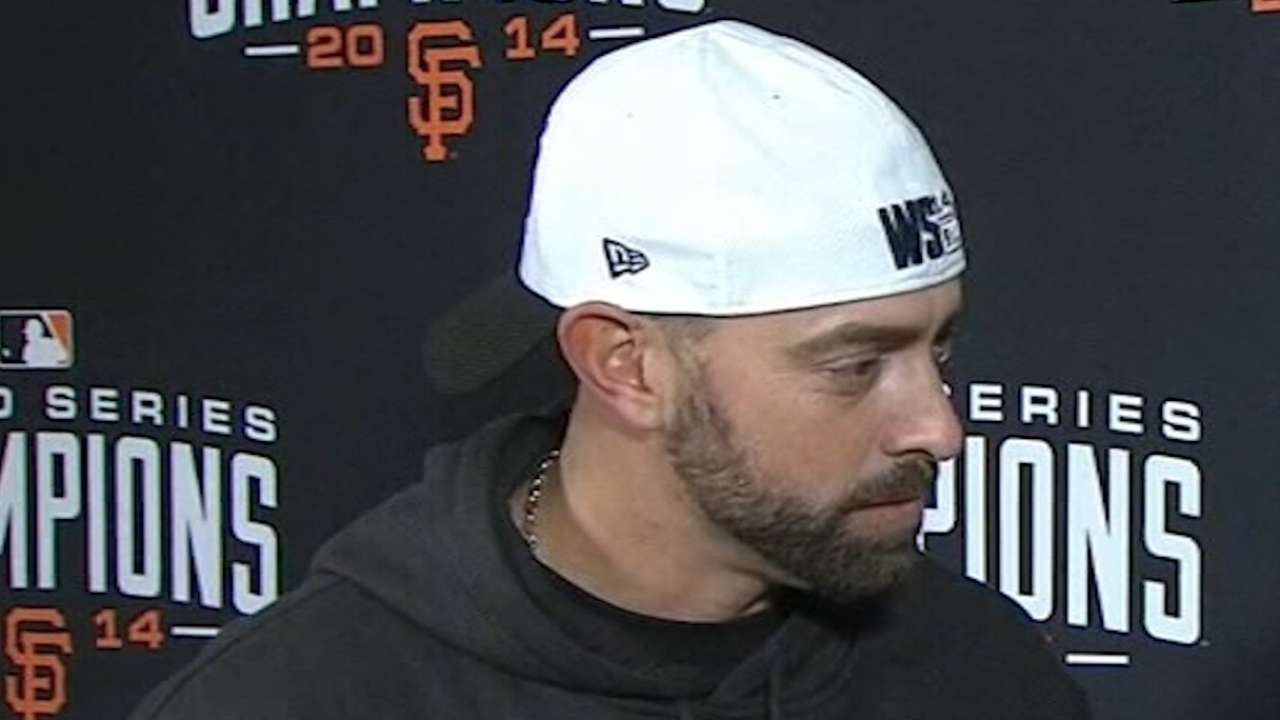 No player has ever represented baseball better than Jeremy Affeldt these past 14 seasons. As legacies go, that's about as good as it gets.
Affeldt announced on Thursday that this season will be his last, and that he is ready to ride off into the sunset with his wife and three sons to start the next chapter of his life. He's 36 and has a myriad of interests.
Sometimes, we don't pay nearly enough attention to the really good guys. These are the ones who do their jobs quietly and professionally, the ones who lose themselves in the larger concept of the team.
Beyond that, they understand that their prominence presents them with a larger opportunity to make the world just a little bit better place. This is the prototype of what we'd like every professional athlete to be.
This is Jeremy Affeldt. He leaves as a three-time World Series winner, one of nine players on all those San Francisco Giants championship teams. That four of those nine players on all three teams were relievers says plenty about the importance Giants senior vice president Brian Sabean and manager Bruce Bochy have placed on the bullpen.
Last fall, when the Giants were winning the World Series for the third time in five seasons, Bochy handed the ball to Affeldt in 11 of 17 postseason games. He pitched 11 2/3 innings without allowing a run.
In Game 7, it was Affeldt's 2 1/3 innings that bridged the gap between Tim Hudson's shaky start and Madison Bumgarner heroic five-inning performance.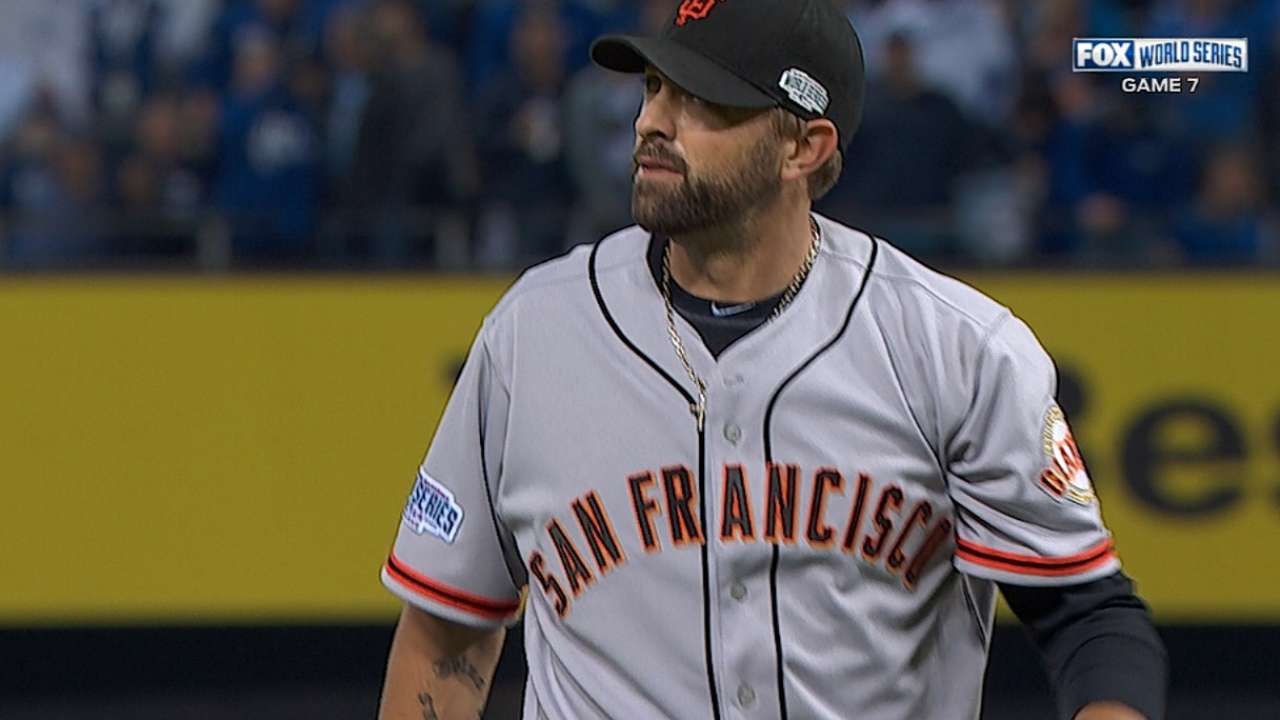 But that was the norm.
Affeldt has pitched 33 times in the postseason and compiled a 0.86 ERA. In his past 22 appearances, he's pitched 23 1/3 shutout innings. The last postseason run Affeldt allowed was in Game 1 of the 2010 World Series against the Rangers. Only Mariano Rivera, who had 23 straight scoreless postseason appearances, put together a longer streak.
"I can't say enough about the job Jeremy has done," Bochy has said maybe a hundred times through the years.
Affeldt would be the first to say that spending the past seven seasons of his career with the Giants was a blessing. He appreciated being able to pitch in arguably the best environment in baseball, and for one of baseball's crown jewel franchises.
And Affeldt got to play for a manager headed for the Hall of Fame.
Bochy's strength is managing a bullpen and in relating to people. Relievers are pushed hard in the most important moments of a season, and to have one of the best managers in history believing in them helps fight through the fatigue and soreness.
In Affeldt's case, those statistics are important, because at times his advocacy work off the field overshadowed his pitching. He has devoted time and money to a long list of causes, including efforts to end childhood poverty and human trafficking.
Affeldt writes a weekly blog that reflects a curious mind. He received a bachelor of arts degree from Whitworth University in Spokane, Wash., and wrote of issues ranging from homelessness to sex slavery to even a little baseball.
Affeldt's most recent post included this passage reflective of a final season filled with injury and frustration:
"Our blood, sweat, and tears go into this sport. What you don't see behind closed doors is how human we are. We're not robots. We don't like failing. We don't like losing. And when we see things happen on the field, whether it be our fault or not, it's very frustrating.
"I've had a lot of frustration this year. I've had a lot of hurt, and not just in my body. My heart's been hurt. My soul's been hurt! And it wasn't something that I was expecting. You come away from a world championship year like we had, and you walk back in expecting to have an awesome season. But it's been so up-and-down, what with my arm hurting, and then another blowout of another knee….
"No one said being a Christian is easy. No one said that if you became a Christian, all your problems go away."
In an essay for Sports Illustrated announcing his retirement, Affeldt credited his success to his managers putting him in position to succeed. He said he was proud to have played the game "cleanly, and with honor and dedication to my craft."
Affeldt did that and a lot more. In this final season, he made a habit of dressing quickly and spending a few moments alone in each visiting ballpark to soak in the sights and sounds of his final tour.
That sort of thing cuts both ways. Affeldt touched so many people through the years that his impact will be broader and more meaningful than even he can know. Baseball was lucky to have him as long as it did.
Richard Justice is a columnist for MLB.com. Read his blog, Justice4U. This story was not subject to the approval of Major League Baseball or its clubs.