Trade returns, draftees impressing at A's instructs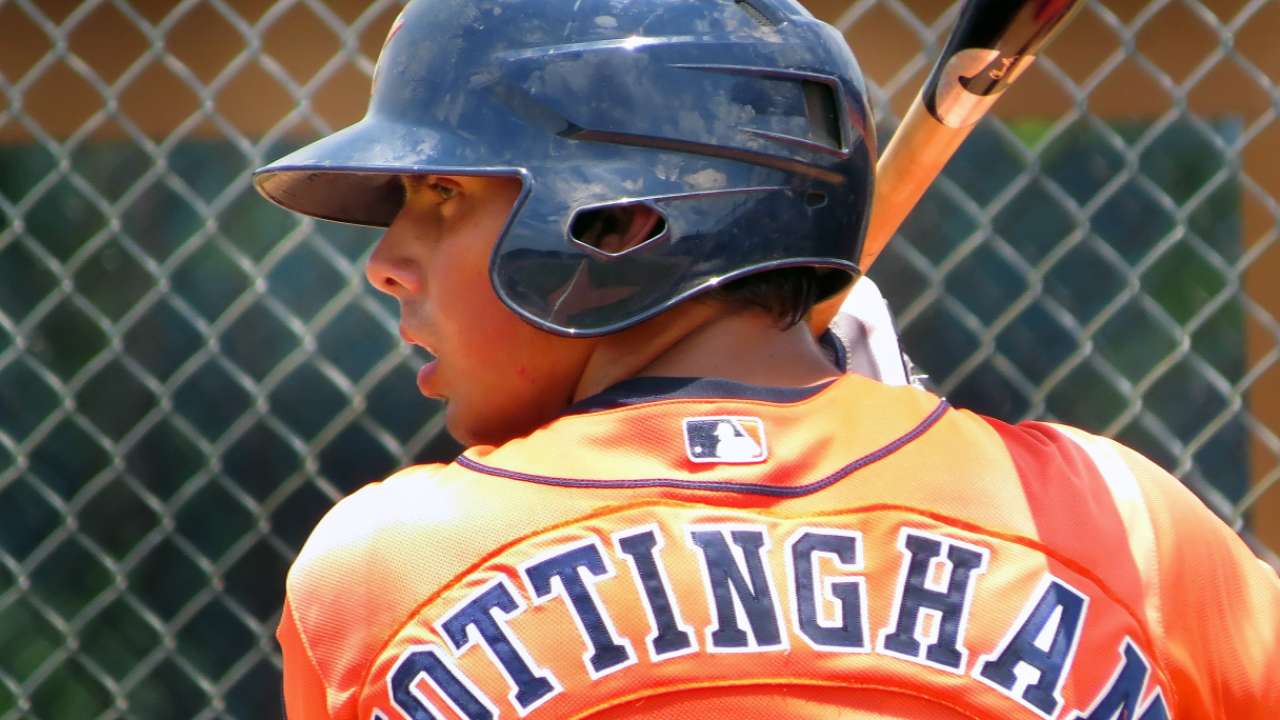 The Oakland Athletics initiated a rebuilding effort last offseason by dealing Josh Donaldson to the Blue Jays in exchange for a prospect package headlined by Franklin Barreto, the team's current No. 1 prospect (No. 19 overall).
The club's 36-45 record through the first three months of the regular season only reinforced its status as a probable seller at the Trade Deadline. More significantly, it gave general manager Billy Beane the leverage to hold out for favorable offers.
Unsurprisingly, the A's ultimately made a haul around the Deadline, acquiring No. 3 prospect Sean Manaea -- the team's top pitching prospect -- from the Royals (Ben Zobrist trade), Nos. 8 and 25 prospects Jacob Nottingham and Daniel Mengden from the Astros (Scott Kazmir) and No. 11 prospect Casey Meisner from the Mets (Tyler Clippard).
On top of that, the A's added multiple top prospects to their farm system via the Draft, selecting college shortstops Richie Martin and Mikey White in the first and second rounds, before grabbing prep right-hander Dakota Chalmers in the third.
Now, for the first time, many of Oakland's recent additions are playing on the same field in Instructional camp.
Nottingham moving up the ranks
Nottingham wasn't included among the Astros' Top 30 Prospects entering the season, but now, after his breakthrough full-season debut and mid-season trade, the 20-year-old backstop ranks as Oakland's No. 8 prospect.
After signing overslot for $300,000 as a sixth-round pick from Redlands (Calif.) High School in 2013, Nottingham hit a combined .238 in 92 games between the Gulf Coast and Appalachian Leagues during his first two seasons.
Things certainly came together for Nottingham this season, however, as he exploded to post a .316/.372/.505 batting line with 17 home runs, 33 doubles and 82 RBIs in 119 games across three affiliates between the Astros' and A's organizations.
At 6-foot-3, 230 pounds, Nottingham's loudest tool is his right-handed power -- stemming from a combination of both physical strength and bat speed -- which projects as a 55 on the 20-80 scouting scale. It was on full display this past summer, too, as many of his home runs were to the opposite field.
"For a catcher to be potentially a middle-of-the-order hitter, that's really unusual," Beane told MLB.com after acquiring Nottingham. "We sent a few of our scouts to watch some guys in their system, and this kid really stood out."
While Nottingham continues to make strides with the bat, his long-term defensive role remains undecided. He'll continue to develop behind the plate, but there already are concerns whether his receiving will improve enough to stick at the position.
Shoring up shortstop
The A's were criticized for trading promising shortstop prospects Addison Russell (Cubs) and Daniel Robertson (Rays), but subsequent trades and a strong Draft have replenished the organization with middle-infield depth.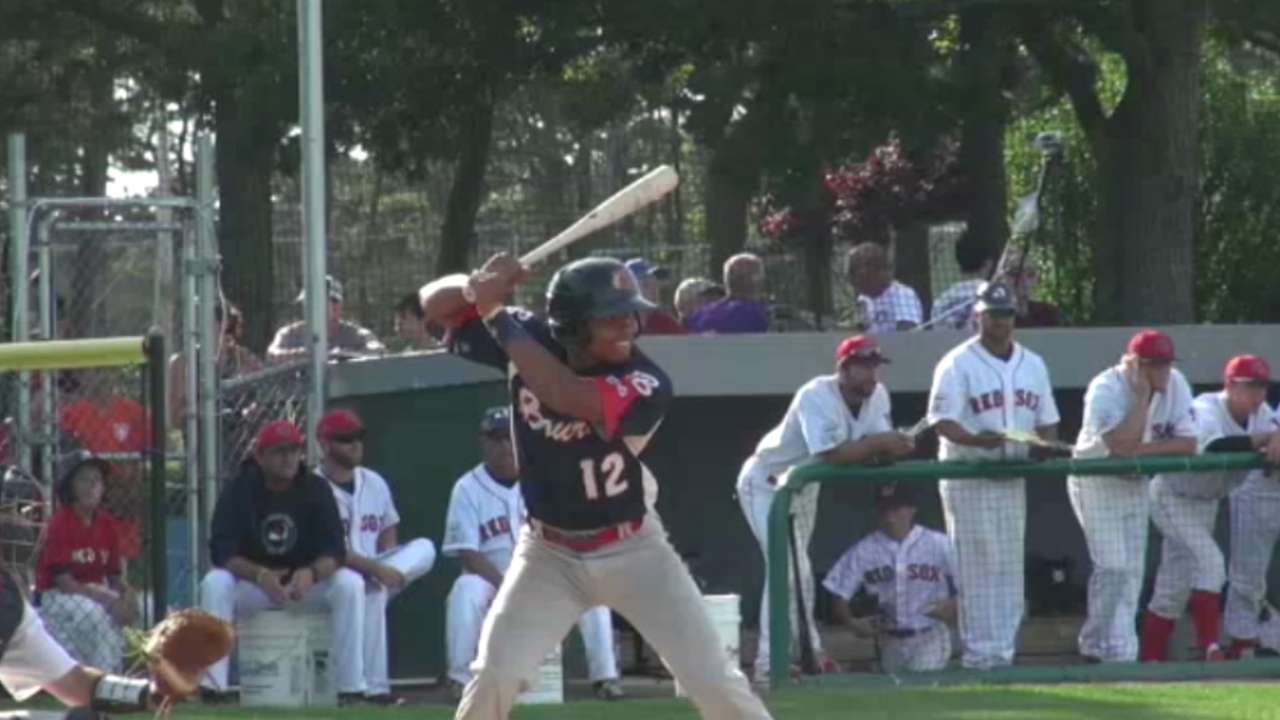 Martin, Oakland's No. 4 prospect, was coveted in this year's Draft as arguably the best defensive shortstop in his class. However, the presence of fellow shortstops Dansby Swanson, Brendan Rodgers and Alex Bregman caused him to fall to the second half of the first round, where the A's were waiting with open arms.
"First and foremost are his tools and athleticism," A's scouting director Eric Kubota told MLB.com at the time of the Draft. "He's an elite athlete. We think his defensive ability has the chance to be special.
"His agility and athleticism and quickness translate to big range. At the same time, we feel good about his ability to make the routine play, and he has the arm strength to make all the necessary throws at the position. There's really nothing we don't like about his defense."
After a grueling junior campaign at Florida, Martin's bat didn't carry over to his professional debut. In 51 games for Class A Short-Season Vermont, the 20-year-old batted .237 with 12 extra-base hits and 31 runs scored. The same can't be said for his plate discipline, though, as Martin reached base at a .353 clip thanks to an 11.1 percent walk rate.
White, the organization's No. 15 prospect, isn't on the same level as Martin defensively, but he projects as the better overall hitter at maturity. The 21-year-old capped his college career with an outstanding junior campaign, leading all Alabama hitters in average (.339), on-base percentage (.444) and slugging (.537).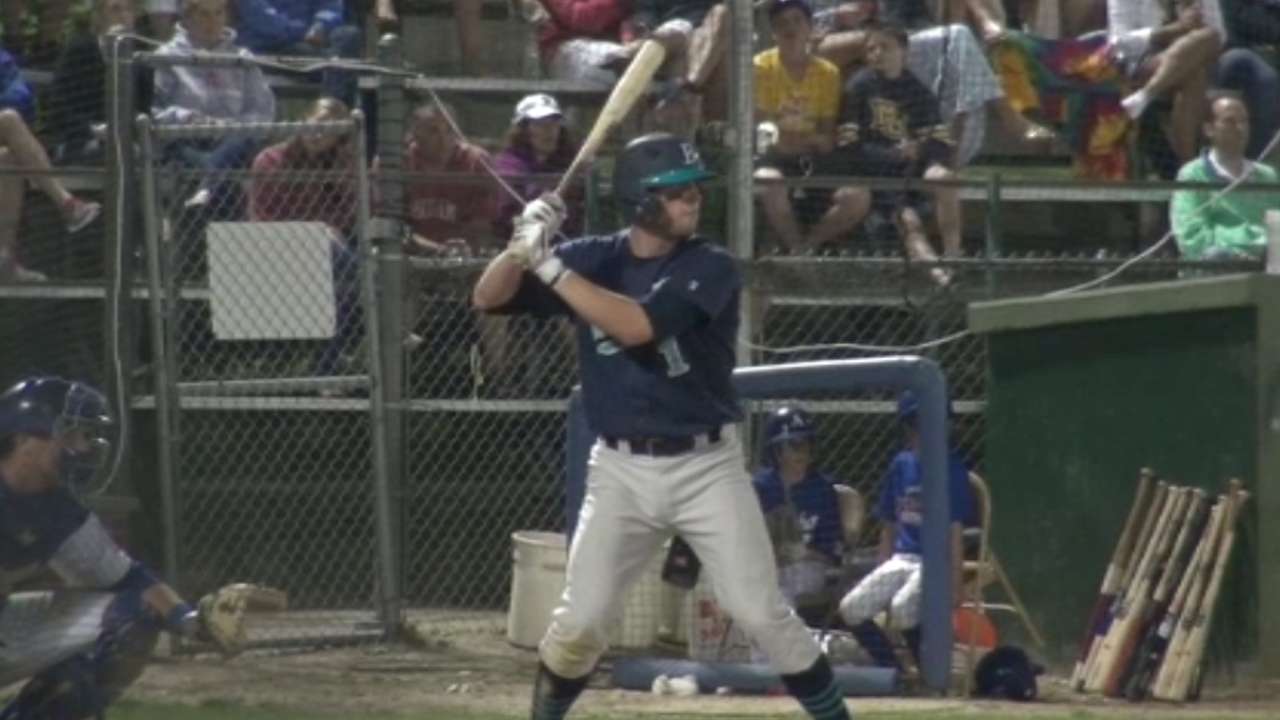 "I think they're comparable in that they're both high-performing shortstops in arguably the best collegiate league in the country," noted Kubota following the Draft. "Richie maybe is a little more explosive. Mikey maybe has more of a power component to his game. At the end of the day, there are strong similarities -- just high-performing shortstops in a high-performing league."
The right-handed hitting White split his professional debut between Vermont and Clinton, batting .253/.341/.353 with 34 runs scored and 18 extra-base hits in 64 games.
Mike Rosenbaum is a reporter for MLB.com. This story was not subject to the approval of Major League Baseball or its clubs.