Phils honor top Minors players Knapp, Pinto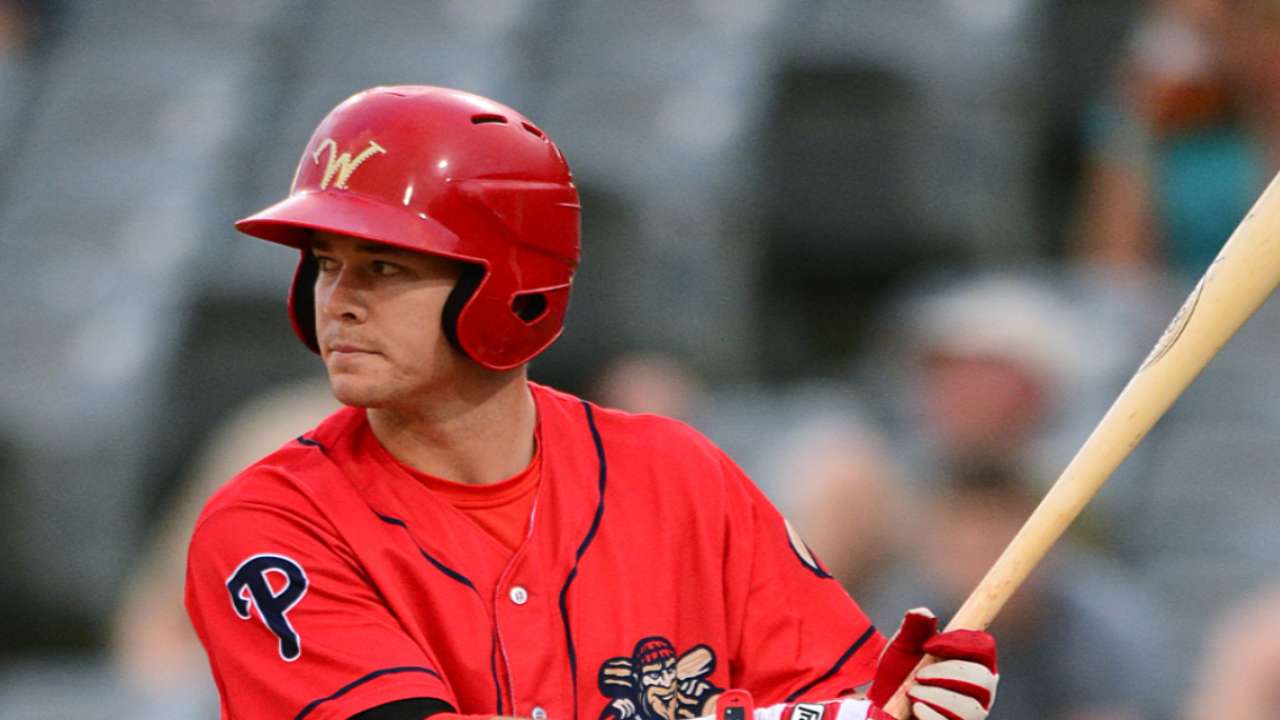 PHILADELPHIA -- Andrew Knapp sported one of the Eastern League's best mustaches this season.
But he also played about as well as anybody, especially behind the plate. The Phillies honored Knapp and Ricardo Pinto on Thursday as Paul Owens Award winners for being the organization's Minor League Player of the Year and Pitcher of the Year, respectively.
"There's a ton of guys in this origination that could have been here, so I'm just really blessed to be here," Knapp said.
Knapp, 23, hit .308 with 35 doubles, 13 home runs, 84 RBIs and an .876 OPS in 118 games with Class A Advanced Clearwater and Double-A Reading. Pinto, 21, went 15-4 with a 2.97 ERA in 24 starts with Class A Lakewood and Clearwater. Both are rising stars in the Philllies' farm system, which MLBPipeline.com ranked No. 7 in baseball.
Knapp, the Phils' No. 17 prospect, is headed to the Arizona Fall League. Pinto, their No. 11 prospect, is headed to Venezuela for the winter. But Knapp could open next season with Triple-A Lehigh Valley. If that happens and if he continues to play well, it is not unrealistic to think he could be with the Phiillies at this point next season.
"I think it's realistic if I go out and do what I want to do," Knapp said. "There shouldn't be any reason it's not an option. I think it's just up to me to go out and prove it."
The Phillies are feeling fortunate these days because two of their best prospects are catchers. Jorge Alfaro is the other. The Phillies acquired him in July from the Rangers in the Cole Hamels trade. Knapp is aware of Alfaro's arrival, and there is a chance both could be catching side by side in Spring Training.
"If we're going to be teammates, then you can't wish for anyone to do bad," Knapp said. "I hope the best for him. But for me, I just have to worry about myself and do what I do. The cards will fall where they may."
Knapp played some outfield and first base in college, so already there is speculation that if both progress as hoped, one could move to a different position.
"I think I'm athletic enough to be out there," Knapp said about the outfield. "I mean, I'm definitely a catcher. I'll try to stay there as long as I can, but whatever it takes to get to the big leagues. ... I've just got to go into spring and play the way I can play. I think this offseason is going to be huge for me, trying to get my body into better shape. But it's going to be the defensive side. I like where my bat is, but I think people need to be able to trust me behind the plate."
If Knapp is going to reach the big leagues, he is going to have to continue to hit and improve defensively. He has caught only 157 games professionally because he had Tommy John surgery in 2013 after the Phillies drafted him. He said he has improved the most defensively on the running game, but he also is learning how to call a game and earn a pitcher's trust.
"I think every catcher sees a little bit more than a pitcher does," Knapp said. "They're really focused on executing a pitch and sometimes they're wanting to do something that maybe isn't the best idea, so you've really got to get that trust from those guys and be able to work together."
Pinto signed with the Phillies for $15,000 in December 2011. He has quietly, but impressively, moved through the system. Most of the attention has been on pitching prospects like Aaron Nola, Jake Thompson, Zach Eflin and others. But Pinto could be as good as any of them.
Pinto has a reputation for being a good competitor and being unafraid to pitch inside.
Not too many young pitchers are comfortable doing that.
"There's a fire inside of me that has been there since I was a little kid," Pinto said through translator Jorge Velandia. "I don't like to lose. I've always been that way. I love the game and I don't like to lose. I'm a winner and I want to win.
"Ever since I was a kid hanging around and playing Little League and stuff, growing up in Venezuela, the key to pitching is pitching inside. I took that into consideration and started working on that. When I came to the States, I started to refine the inside corner. I have heard that whomever dominates inside is going to be somebody in this game."
Todd Zolecki is a reporter for MLB.com. Read his Phillies blog The Zo Zone, follow him on Twitter and listen to his podcast. This story was not subject to the approval of Major League Baseball or its clubs.