Affeldt announces he will retire at end of season
Postseason stalwart known for durability, charity has been with SF since '09, won 3 championships
SAN FRANCISCO -- Giants left-hander Jeremy Affeldt, who performed like a Hall of Famer in the postseason and behaved like a Nobel Peace Prize winner off the field, announced Friday he will retire at the end of this season -- his 14th in the Major Leagues.
Except for the periods when he was sidelined by freak injuries, Affeldt was durable. He pitched two-thirds of an inning in San Francisco's 3-2 defeat Thursday at the hands of the Los Angeles Dodgers -- his 731st career regular-season relief appearance, second only to teammate Javier Lopez (769) among active left-handers.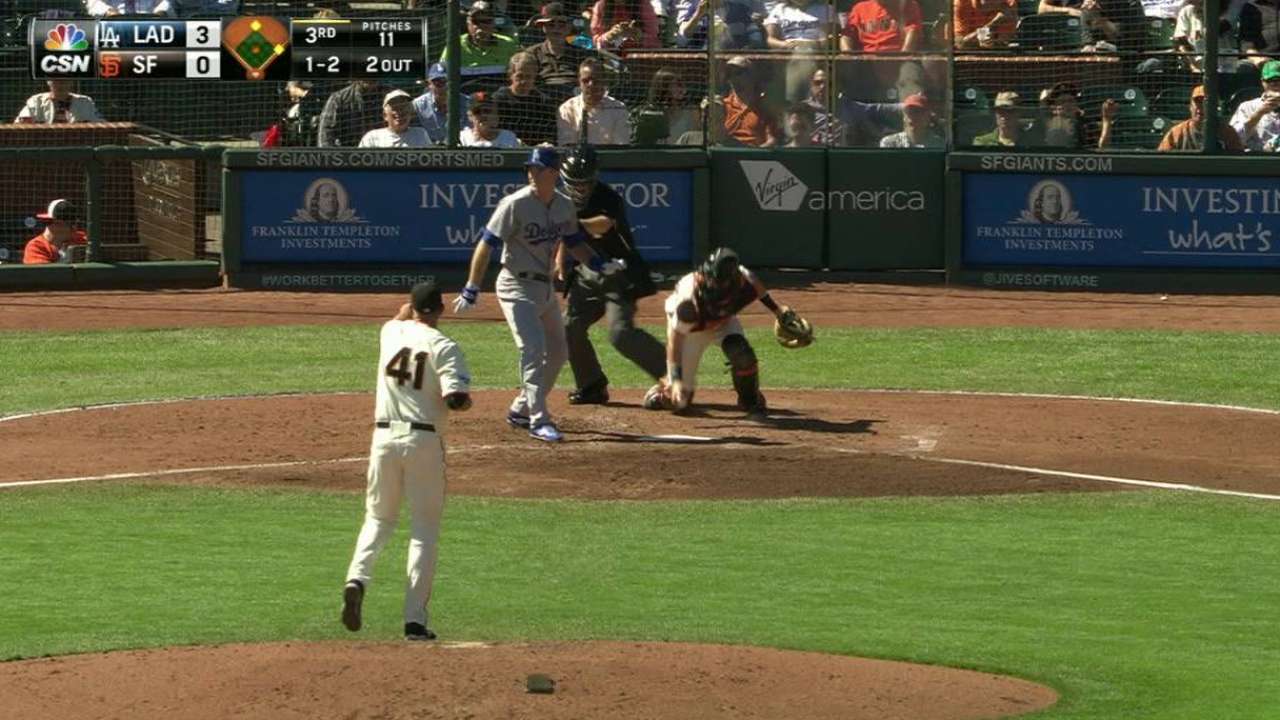 Affeldt was known as part of San Francisco's "Core Four," the bullpen contingent that also included Lopez, Santiago Casilla and Sergio Romo. Each of them has exceeded 35 appearances per year for five consecutive seasons. According to MLB.com research, no club since at least 1980 has possessed a quartet that sustained such a streak for this long a stretch. Moreover, each of them performed for all three of San Francisco's recent World Series-winning teams.
Yet Affeldt, 36, distinguished himself from the rest. He recorded a remarkable 0.86 ERA in postseason play, the third-lowest mark among pitchers who accumulated at least 30 innings. The peerless Mariano Rivera tops that list (0.70); Babe Ruth, who began his Major League career as a Red Sox pitcher, ranks behind Affeldt in fourth place with a 0.87 ERA.
And fans will get a chance to chat with @JeremyAffeldt tomorrow Twitter Q&A, Friday 1:45pm #AskAffeldt pic.twitter.com/LmvujEhAoH

— San Francisco Giants (@SFGiants) October 1, 2015
Affeldt insisted that he doesn't dwell on personal achievement, but acknowledged that this was an exception.
"I know what the stats are," Affeldt said. "I take a lot of pride in that."
Each of San Francisco's surges through October featured at least one memorable moment involving Affeldt:
• In Game 6 of the 2010 National League Championship Series at Philadelphia, Affeldt relieved Jonathan Sanchez after the Giants' starter was ejected following a brouhaha with Chase Utley. Affeldt worked two perfect innings and was widely credited with stabilizing the Giants as they proceeded to win, 3-2.
• Affeldt contributed 1 2/3 hitless innings to preserve a 3-3 tie in the Giants' World Series-clinching Game 4 triumph at Detroit. He arrived on the scene in the eighth inning, and after issuing a leadoff walk, struck out Miguel Cabrera, Prince Fielder and Delmon Young consecutively. San Francisco ultimately triumphed in 10 innings, 4-3.
• In last year's Game 7 of the World Series, Affeldt blanked Kansas City for 2 1/3 innings -- preceding Madison Bumgarner's remarkable five innings of relief -- and earned the decision in the Giants' 3-2 win.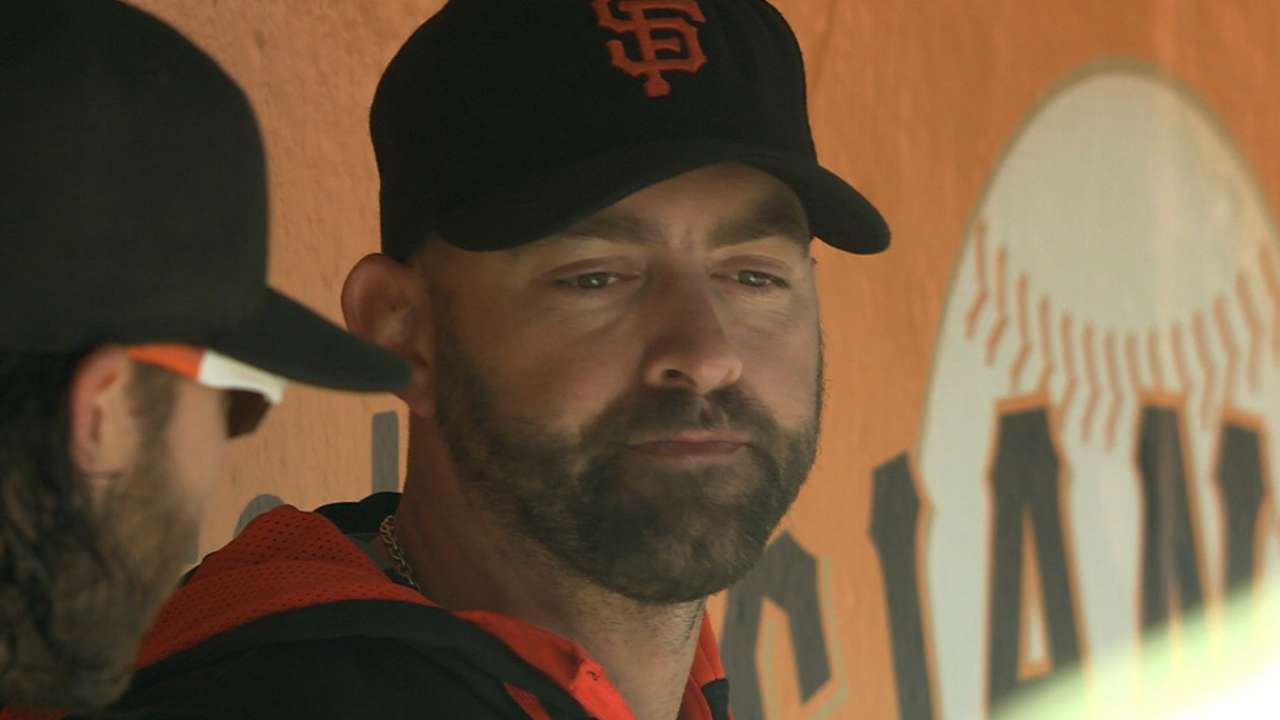 "You can make an argument that we're not putting on any of those [World Series] rings without this guy," Lopez said.
Among these games, the Kansas City victory meant the most to Affeldt, 36, who began his professional career as a starter in the Royals' farm system.
"I remember walking out of that city feeling like a complete loser," Affeldt said. "To walk out of there a champion. ... I didn't know what else I could possibly do to say that I came full circle."
In fact, had Affeldt not been approaching the final year of a three-year, $15 million contract, he said that he might have retired before this season. He revealed that he considered walking away from baseball in midseason, after he sustained the first shoulder injury of his career. But manager Bruce Bochy and catcher Buster Posey talked Affeldt into playing out the season.
Finally, said Affeldt, he responded to his desire to spend more time with his wife, Larissa, and three sons. He referred to his immediate family as "90 percent of my reason to retire."
• Justice: Saying goodbye to one of the good guys
Affeldt may have gained more renown for his charitable endeavors than for his pitching.
On Feb. 5 this year, he accepted an honorary bachelor's degree from Whitworth University, located in his hometown of Spokane, Wash. Whitworth's mission statement -- "to provide an education of mind and heart, equipping students to honor God, follow Christ and serve humanity" -- matches Affeldt's priorities. In 2005, Affeldt founded Generation Alive, which has enlisted youths to fight hunger domestically and internationally, end child slavery and promote other humanitarian efforts. He released a book in 2013, To Stir a Movement, which was partly autobiographical and partly inspirational as he urged young people to engage in public service.
Lopez said that with Affeldt devoting more time to his causes, "I think the world will be a better place."
Chris Haft is a reporter for MLB.com. Read his blog, Haft-Baked Ideas, follow him on Twitter at @sfgiantsbeat and listen to his podcast. This story was not subject to the approval of Major League Baseball or its clubs.