Gattis' feet producing unusual modern feat
Astros slugger 1st player since 1962 to notch at least 10 triples with no steals
Evan Gattis might not be fleet of foot, but he's working on a season for the ages.
Gattis, the Astros' 260-pound designated hitter, is the first Major League player in more than 50 years to hit more than 10 triples without stealing a base. Gattis, who delivered his 11th triple of the season on Wednesday, trails just two players in history who have had more triples without a stolen base.
Hall of Famer Johnny Mize bested Gattis twice while with the St. Louis Cardinals, delivering 16 triples without a stolen base in 1938 and 14 triples without a theft the next season. And Dale Long of the Pittsburgh Pirates registered 13 triples without a stolen base in 1955.
Five players -- Hall of Famer Jim Bottomley, Goody Rosen, Chuck Dressen, Cecil Travis and Cliff Bolton -- all managed to tie Gattis with 11 triples and no stolen bases, but all of those players accomplished the feat between 1926-40. Gattis, who had just one triple before this year, is a modern outlier.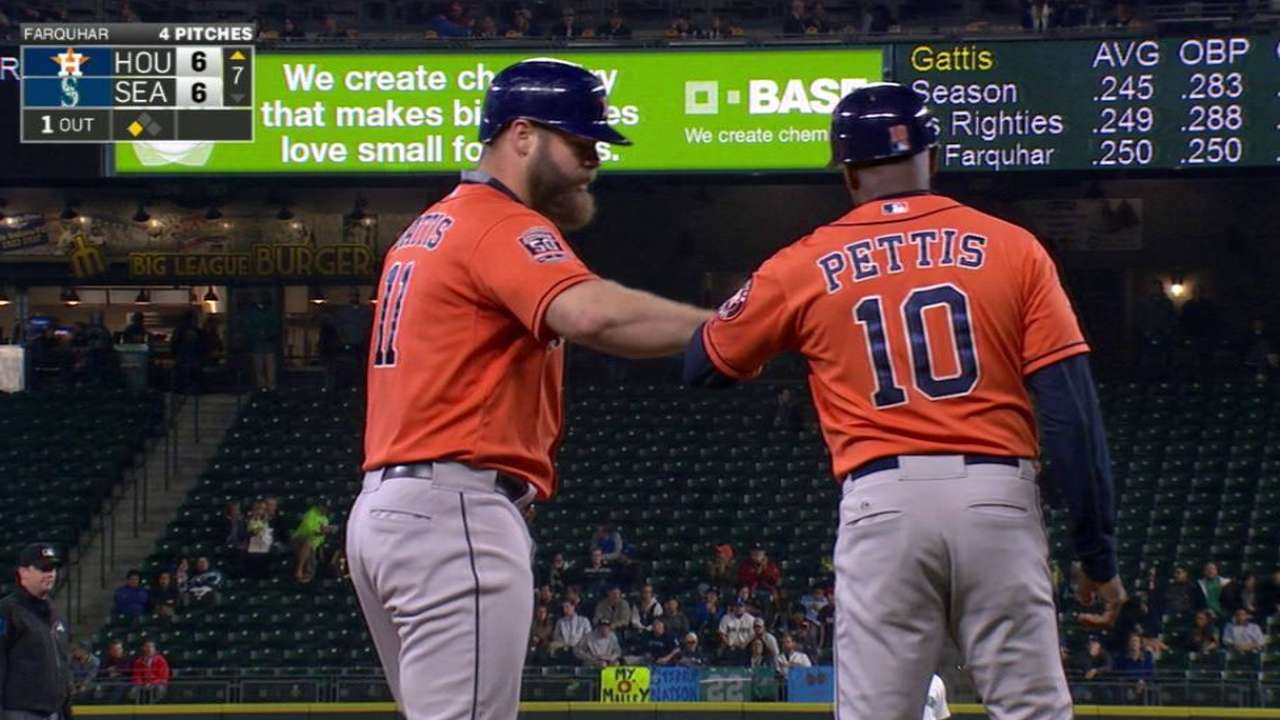 The 29-year-old has 58 extra-base hits this season, and he has 140 extra-base hits over the course of his career without stealing a single base. Prior to Gattis this season, the last player to deliver 10 triples without stealing a base in a big league campaign was Yankees infielder Jerry Lumpe in 1962.
Gattis has always had power, drilling 38 doubles and 43 home runs combined over his first two seasons with the Braves. But this year, freed from catching and now playing his home games at Minute Maid Park, Gattis has erupted for a career high in extra-base hits, home runs (27) and RBIs (87).
The last player to have a 10-triple season after playing in at least 100 career games without notching more than one triple was Harry Simpson in 1952. Gattis is also just the fourth DH with a 10-triple season, joining Hal McRae (1977) and Hall of Famers Paul Molitor (1991) and Jim Rice (1977).
Mize, in his two triple-heavy seasons without a stolen base, delivered 77 and 86 extra-base hits. Long, who like Gattis had never stolen a base to that point in his career, had 48 extra-base hits in 1955. Gattis has only even attempted one stolen base in his career, and he was thrown out earlier this season.
There have been six other players -- a list that includes Hall of Famers Mel Ott and Joe DiMaggio -- who have had 10-triple seasons without notching a stolen base. Ripper Collins, Vic Power, Lumpe and Joe Vosmik are the other players in that group, and they all did it between 1933-62.
Spencer Fordin is a reporter for MLB.com. This story was not subject to the approval of Major League Baseball or its clubs.