MLB.com Columnist
Roger Schlueter
Stats of the Day: A-Rod, Papi keep slugging
Yankees veteran clubs 33rd homer; Red Sox icon gets 72nd extra-base hit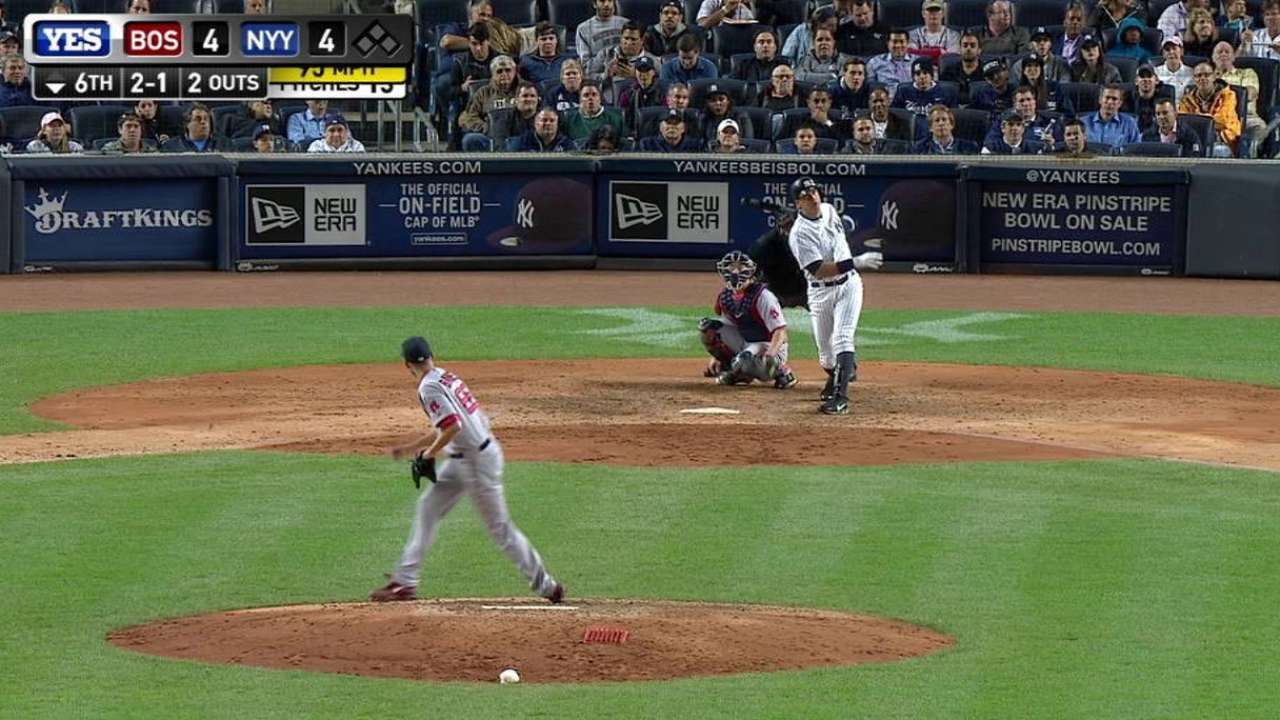 Here are five interesting items from around the big leagues on Wednesday …
• In the Yankees' 9-5 loss to the Red Sox, Alex Rodriguez, playing in his age-39 season, hit his 33rd home run. David Ortiz, who is also playing in his age-39 season, collected his 72nd extra-base hit (a double). Among players in age-39 or older seasons, Rodriguez's 33 home runs are the sixth most, behind tallies from Barry Bonds in 2004 (45), Hank Aaron in 1973 (40), Steve Finley (36 in 2004), Ortiz (36 in '15) and Darrell Evans in 1987 (34), and Ortiz's 72 extra-base hits are the second most, behind Bonds' 75 in 2004.
• Mookie Betts homered twice to lift the Red Sox past the Yankees and to push his extra-base hit tally to 68 in 637 plate appearances. That 10.68 extra-base hit percentage is significant, in light of Betts playing in his age-22 season. Among all qualifying Red Sox players in age-22 or younger seasons, only Ted Williams -- in 1939, '40 and '41 -- finished with a higher percentage than Betts' current mark.
• Cubs southpaw Jon Lester fanned nine in a 10-3 win over the Reds to reach 207 K's for the year. The 207 are the most for a Cubs left-hander, surpassing the 202 from Ken Holtzman in 1970. With 225 strikeouts in both 2009 and '10, Lester also owns the highest single-season tally for a Red Sox left-hander. Lester is one of 16 pitchers this season with at least 200 strikeouts. Those 16 are the most in any season in the modern era. The 1969 and 2010 campaigns each produced 15.
• In the Blue Jays' 15-2 win in the first game of a doubleheader vs. the Orioles, Jose Bautista hit his 40th home run of the year. His three seasons of at least 40 homers tied Carlos Delgado for the most in franchise history. Bautista has also produced his third season with at least 40 homers and 100 RBIs, runs and walks. Only 10 other players in history have had at least three: Babe Ruth (10), Bonds (seven), Lou Gehrig (five), Jim Thome (five), Jimmie Foxx (four), Ralph Kiner (four), Frank Thomas (four), Mark McGwire (three), Jeff Bagwell (three) and Adam Dunn (three).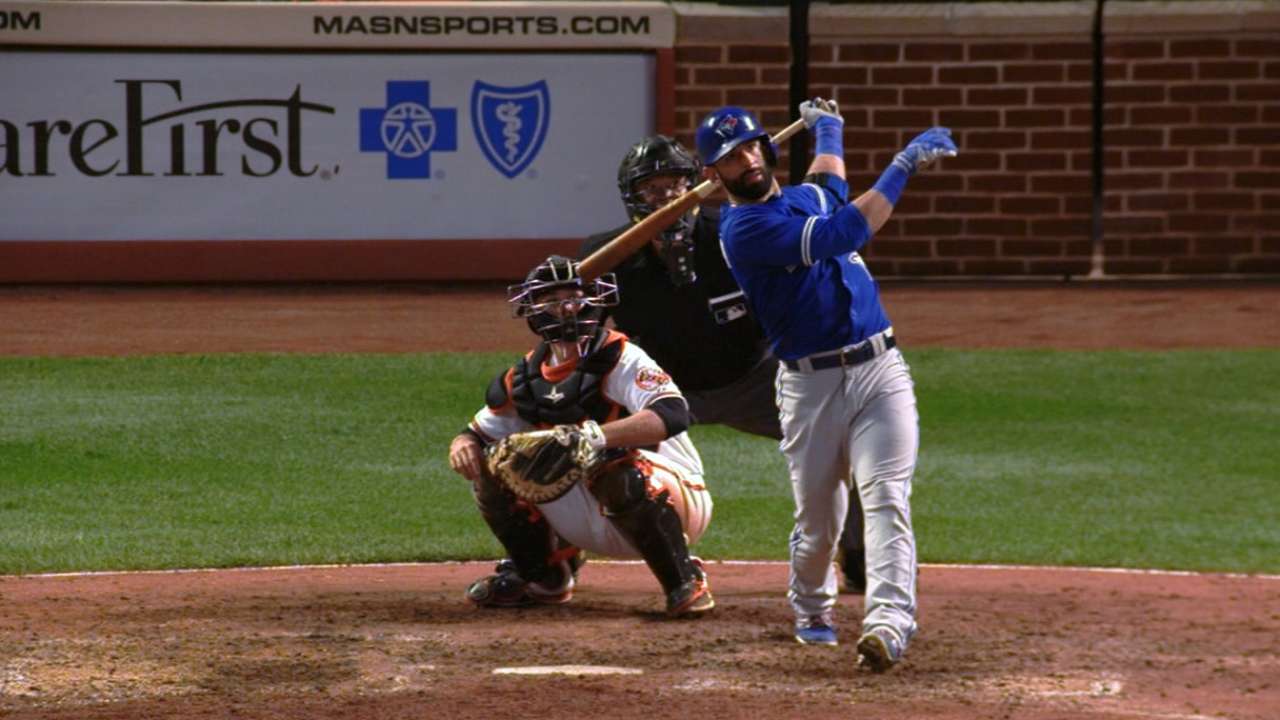 • With a two-base hit in the Rockies' 3-1 loss to the D-backs, Colorado third baseman Nolan Arenado joined Jays third sacker Josh Donaldson in the 40-double, 40-homer club for 2015. Before this year, only two third basemen -- Chipper Jones in 1999 and Miguel Cabrera in 2012 -- had authored a 40-40 year of this type. Arenado leads the Majors with 85 extra-base hits, while Donaldson owns the Amrican League's top mark, with 84. Among all third basemen in history, Arenado is tied for the third-most extra-base hits in a season, while Donaldson is tied for the seventh most. Jones' 87 in 1999 stand as the high mark.
Milestone watch for Thursday
• Torii Hunter needs two doubles to become the 62nd player in history to reach at least 500 for a career. Hunter would be one of 27 in that group to also have at least 350 home runs.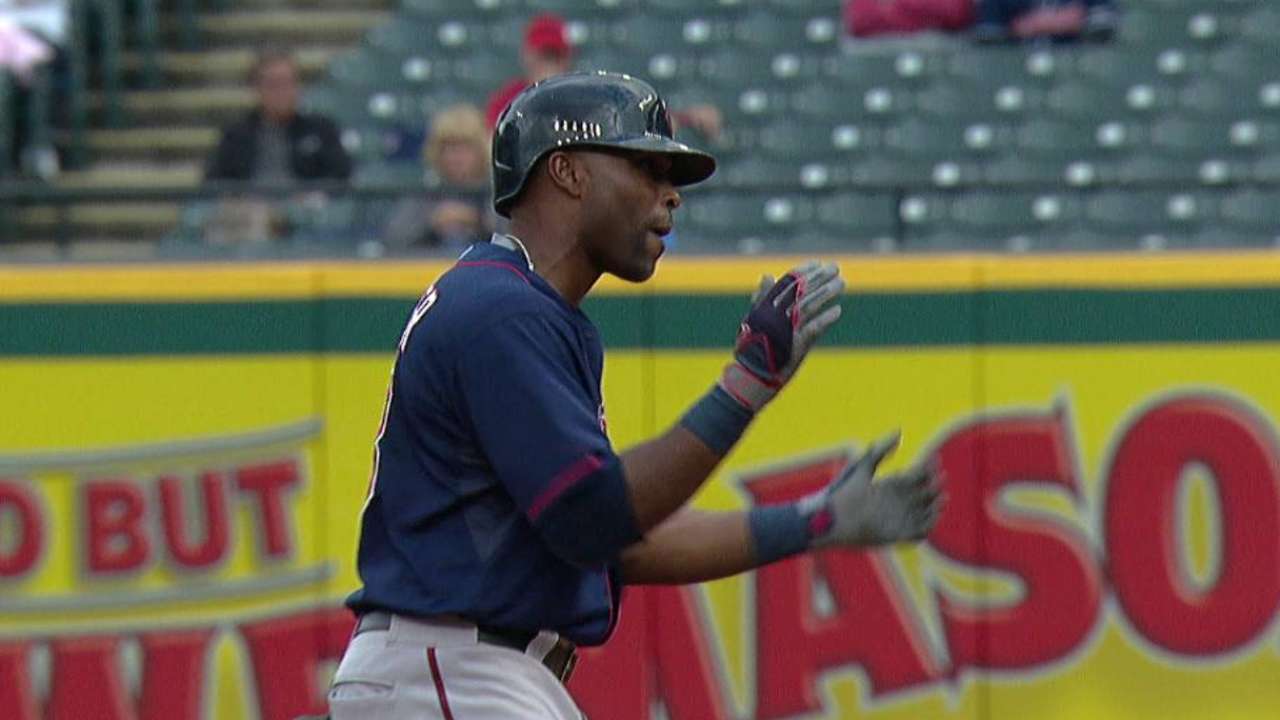 • Stephen Strasburg needs six strikeouts to reach 900 for his career. A nine-strikeout effort would tie Strasburg with Jordan Zimmermann for the fourth-highest career tally in Expos/Nationals history. A 10-strikeout effort would give Strasburg five straight games with at least 10 punchouts, which would tie him with Pedro Martinez (1997) for the second-longest streak in franchise history. Pedro also had a separate six-game run during that '97 season.
Roger Schlueter is a contributor to MLB.com. This story was not subject to the approval of Major League Baseball or its clubs.