Parting gift? Leake's last start a shutout gem
Free-agent right-hander interested in re-signing with Giants
SAN FRANCISCO -- Mike Leake saved his best impression on the Giants for his final start of the 2015 season, tossing his first career shutout en route to a 5-0 victory over the Los Angeles Dodgers on Wednesday night at AT&T Park.
One night after watching Clayton Kershaw hold the Giants scoreless to seal the National League West title, Leake blanked the Dodgers, allowing just two hits.
"I had it in my mind that I'd like to do to them what they did to us last night," Leake said. "It semi came true, but they won the division last night. It's nice that we came back and played a really good game."
To say Leake matched Kershaw's dominant outing that sent Los Angeles to the postseason would be unfair to the reigning NL Cy Young Award winner, especially considering Kershaw on Tuesday struck out 12 more batters than Leake did Wednesday.
But Leake stuck to what he thrives on, and that's keeping the right tempo and getting ground-ball outs. The right-hander, with the help of his sinking fastball, recording 16 of 27 outs on the ground.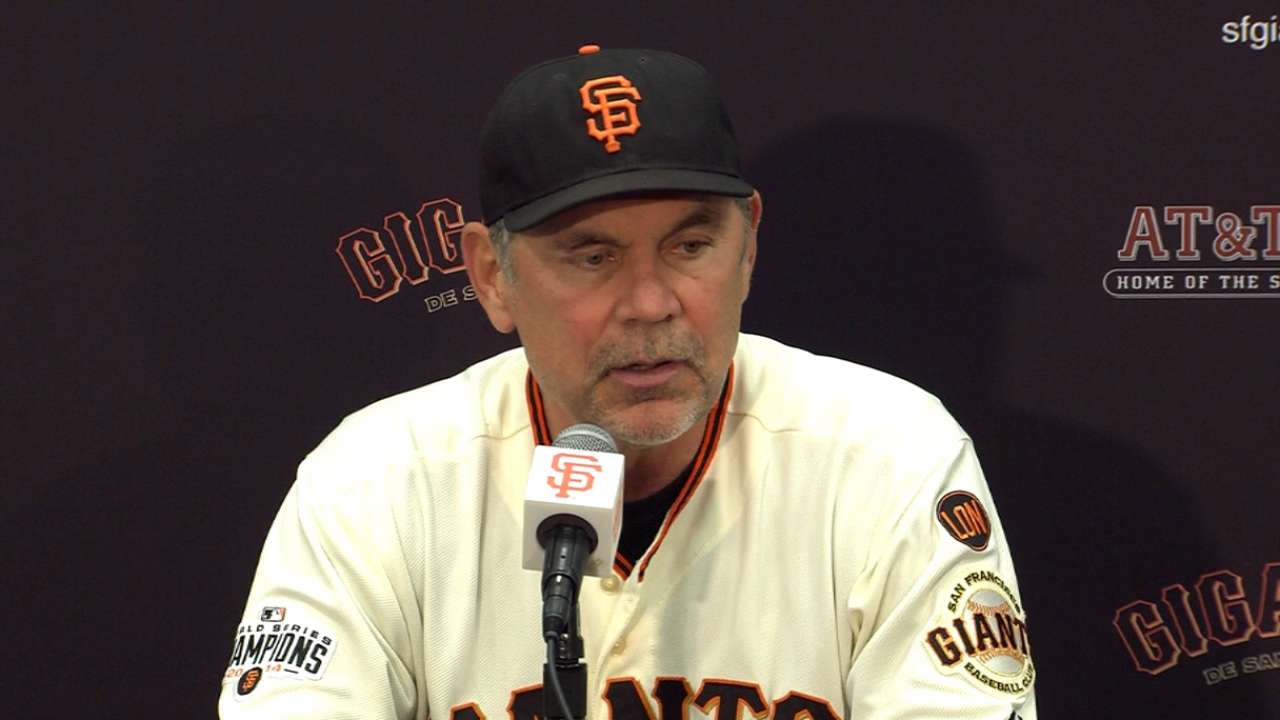 "It was the Mike Leake show," manager Bruce Bochy said. "What a job he did pounding the strike zone, quality strikes down, good movement on his sinker, breaking ball. He induced a lot of ground balls and pitched very efficiently."
San Francisco's sole acquisition before the non-waiver Trade Deadline, Leake put on full display why the organization brought him over from Cincinnati. The 27-year-old's performance in two months with the Giants has fluctuated, but he's shown flashes of brilliance as he did Wednesday night.
Leake, an unrestricted free agent at season's end, left general manager Bobby Evans with a glimpse of what he can bring to the Giants' rotation in 2016 if the two sides can agree on a contract this offseason.
The six-year veteran, who's had a season full of ups and downs, said the move to San Francisco helped him settle in.
"It was definitely an emotional roller coaster this year as far as trying to [stay] locked in," Leake said. "I think coming here kind of gave me a little more spark."
Leake mentioned he can envision himself playing for the organization next season.
"It's a strong possibility that this is a place I'd like to play," Leake said.
Bochy was equally adamant about a reunion.
"It's obvious we like Mike a lot," Bochy said. "He's done all that we'd hoped for. ... We think a lot of him. That's why we acquired him."
Oliver Macklin is an associate reporter for MLB.com. This story was not subject to the approval of Major League Baseball or its clubs.