Yankees lament missed chance to clinch spot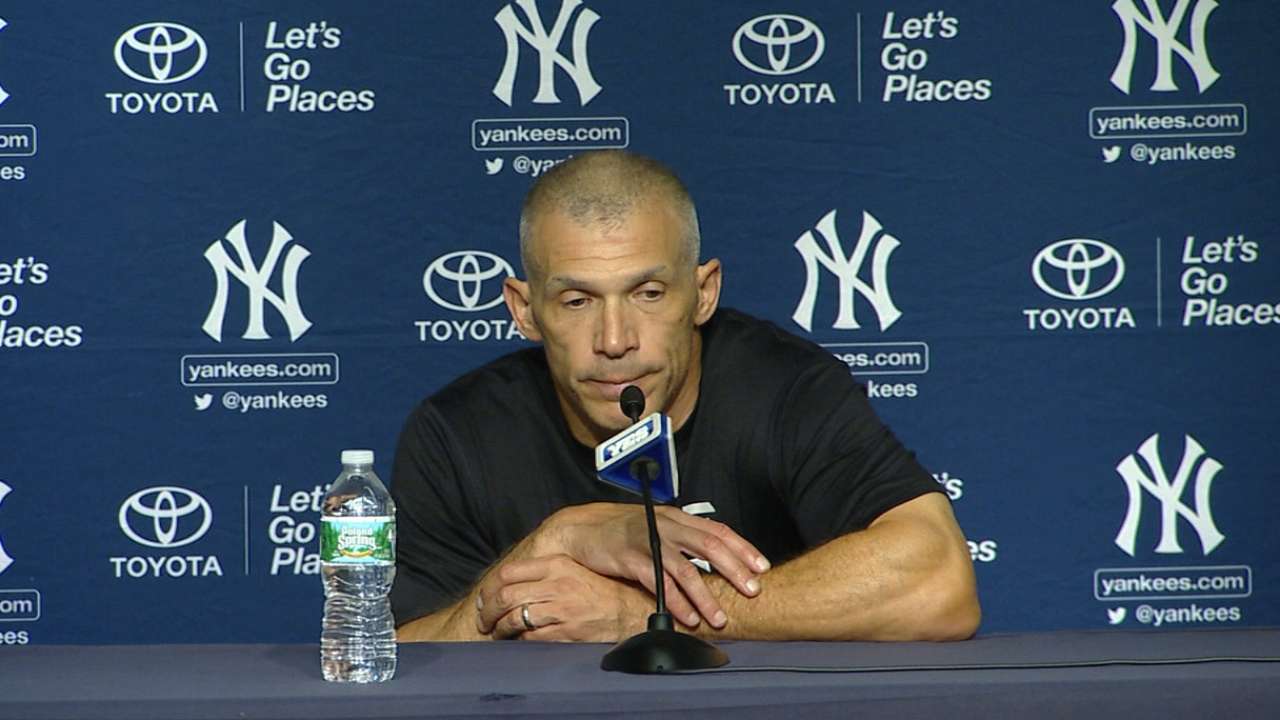 NEW YORK -- The out-of-town scoreboard in center field illuminated Yankee Stadium with exactly what the playoff-hopeful Yanks needed to see on Thursday night.
The Twins had been drubbed in the second game of their doubleheader with the Indians 10-2. The Angels' final rally against the A's had fallen short in dramatic fashion, resulting in a loss on their end, too.
As such, the Yankees were set up to clinch their first playoff berth since 2012 -- all they needed was a win over the Red Sox to punch their Wild Card ticket. But by the end of 11 innings, the only score on the board not in line with their playoff plans was their own: Boston 9, New York 5. Now, with a magic number of one, a playoff berth will have to wait yet another day.
"It's frustrating because we had a lot of opportunities. We fought back to get back in the game after being down 4-1," manager Joe Girardi said. "We got it to 5-4, 5-5 … it's unfortunate we weren't able to come up with another run."
Indeed it was a night of missed opportunities for the Yankees, who left 15 men on base and were 3-for-14 with runners in scoring position.
Their shortstop, Didi Gregorius, stranded 10 men on his own and when the Red Sox gave up four walks in the eighth inning alone, the Yankees could make nothing of it. On the night, Red Sox pitchers relinquished 11 walks.
"That's baseball. I thought we swung the bats extremely well," Girardi said. "They ran a lot of balls down that we hit extremely hard. You put those two guys out there in center and left; they've been the difference-makers."
But the missed opportunities weren't limited to just the Yanks' offense. The club's dominant bullpen trio of Justin Wilson, Dellin Betances and Andrew Miller held the Red Sox to one earned run over five innings in relief of Masahiro Tanaka before Andrew Bailey and Chasen Shreve combined to give up four earned runs in the 11th.
Betances' game-tying homer to Mookie Betts, the first batter he faced with two outs in the seventh, represented the first time in 72 games this season that he relinquished a homer to the first batter he saw.
"Today was a tough loss," Betances said afterward. "Obviously, any time you have the lead that way, you expect to win. They fought, the hitters fought today, but I gave up that home run. But we'lll be alright."
As for Shreve, who has struggled immensely as of late -- giving up three of his nine total homers for the season since Sept. 11 -- he was as dejected as he's been all season.
"I've never given up home runs like this before. I've never felt like I've been hit this hard before," he said. "I've got nothing for you, honestly."
The Yanks will have another opportunity to right their ship on Thursday. A win over the Red Sox in the series finale will get them into the playoffs regardless of what other teams around the league do and that's all Girardi is focused on.
"I've said all along our focus has to be on winning games," he said. "We need to win a game."
Grace Raynor is an associate reporter for MLB.com. This story was not subject to the approval of Major League Baseball or its clubs.