Rupp sparks rally after nearly getting hit in head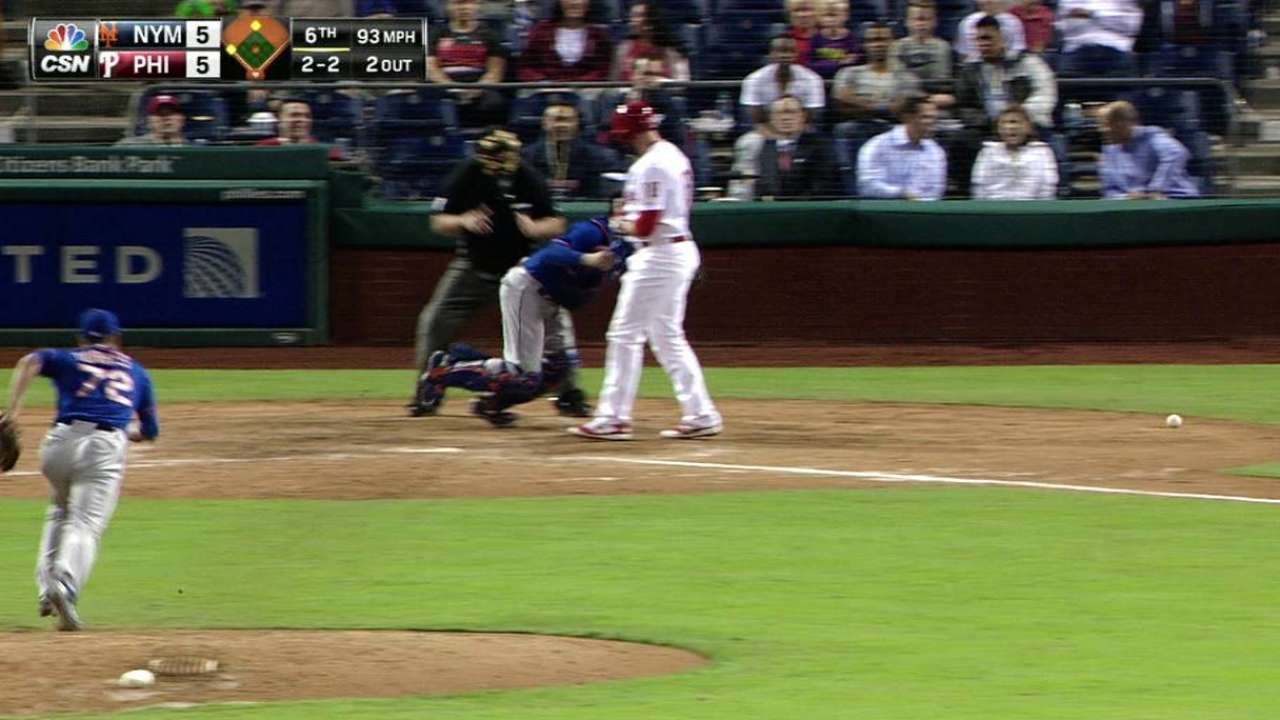 PHILADELPHIA -- The spoiler role is no motivator for Phillies manager Pete Mackanin.
He is not standing in the middle of the Phillies' clubhouse before games rallying his team to beat the Mets because, hey, wouldn't it be nice to prevent New York from having home-field advantage in the National League Division Series? No, Mackanin has bigger fish to fry. But playing spoiler sure seemed to motivate Mackanin's players, who thoroughly enjoyed Wednesday night's 7-5 victory over the Mets at Citizens Bank Park.
"Yeah, I mean, I know it's in my head," Phillies right-hander Justin De Fratus said. "At least if we can't play for a spot in the playoffs, then it's nice not to do them any favors. That was big time. That was a lot of fun tonight."
"It makes it that much sweeter," Phillies catcher Cameron Rupp said.
Rupp felt pretty good about the victory, considering he helped spark it. Mets reliever Hansel Robles threw a 2-2 fastball near Rupp's head in the sixth inning, which caused the benches to clear.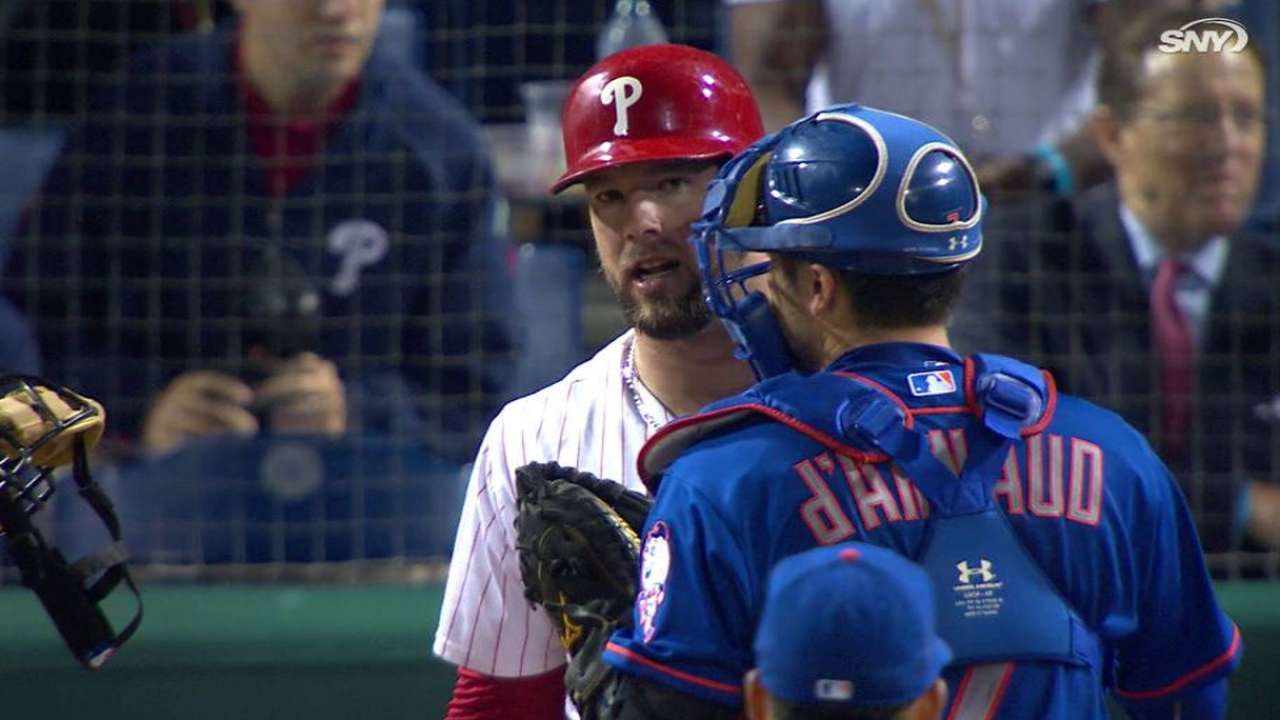 "That was the second time at home," Rupp said. "This one was a little more dangerous. I don't know if the guy knew where it was going or not. I don't know. If you're going to do it, make sure you know where it's going."
Folks might remember Robles as the pitcher who threw quick pitches to Rupp and Darin Ruf on successive nights in late August before they were ready to hit. The occurrence to Ruf prompted benches to clear and Larry Bowa to be ejected.
Robles was ejected this time -- and Mets manager Terry Collins -- because both teams previously received warnings. De Fratus hit Yoenis Cespedes in the left hand in the third inning, forcing him to the leave the game with bruised fingers. Adam Loewen plunked Kirk Nieuwenhuis in the fifth inning. Mets pitcher Logan Verrett then drilled Odubel Herrera in the middle of the back in the fifth, prompting the warnings.
Bobby Parnell replaced Robles and walked Rupp and Chase d'Arnaud to put runners on first and second with one out. A wild pitch from Parnell advanced the runners to second and third. Freddy Galvis then laced a two-run single up the middle to tie the game at 5.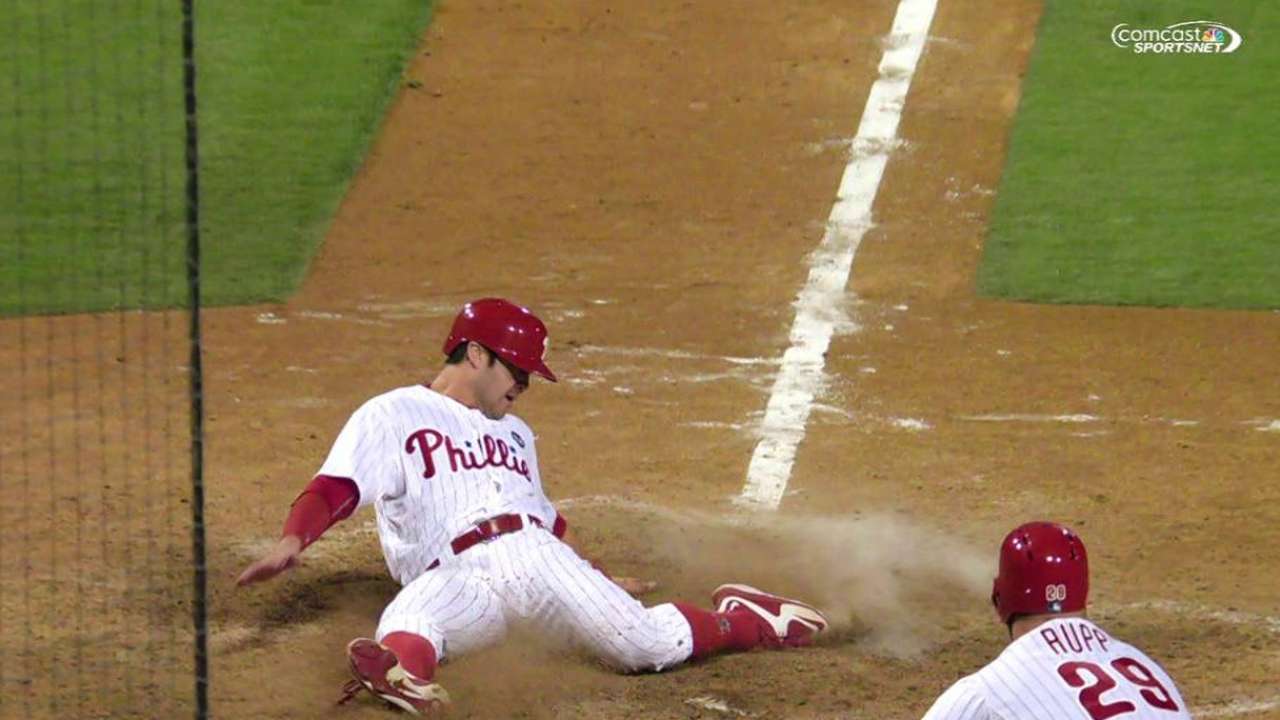 Dario Alvarez replaced Parnell and got Herrera to pop out for the second out. But then Alvarez hit Aaron Altherr with a pitch on the foot to put runners on first and second.
Carlos Torres became the Mets' fourth pitcher of the inning. He threw two wild pitches, allowing Galvis to score on the second one to give the Phillies the lead.
The Phillies enter their final four games of the season at 61-97. They need to split to avoid 100 losses for the first time since 1961.
"I know I wake up every day knowing I don't want to lose 100 games," De Fratus said. "That wouldn't be a nice thing to sit on in the offseason."
Todd Zolecki is a reporter for MLB.com. Read his Phillies blog The Zo Zone, follow him on Twitter and listen to his podcast. This story was not subject to the approval of Major League Baseball or its clubs.