Statcast: Kiermaier again dazzles on defense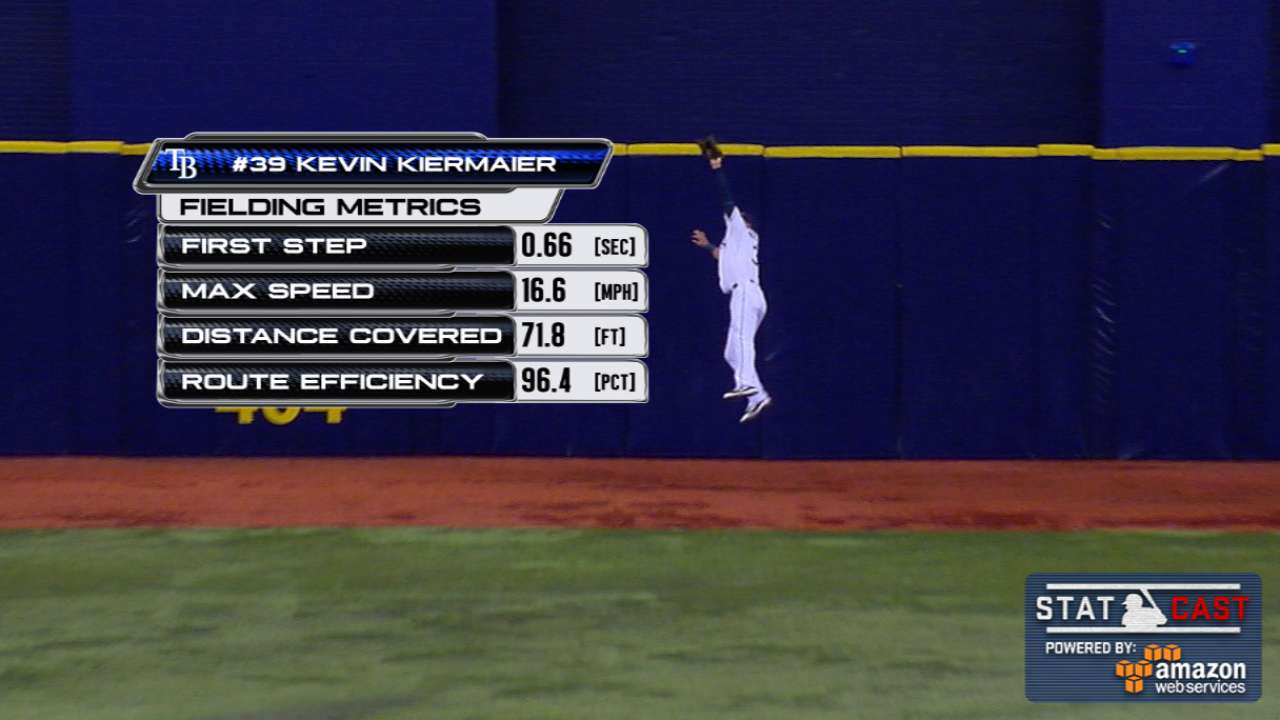 Kevin Kiermaier continued his dazzling defensive campaign on Wednesday, turning in the latest in a long string of highlight-reel catches.
Statcast™ tracked the Rays outfielder as he sprinted back to the wall before leaping to take away yet another base hit in the seventh inning against the Marlins. As one of the most frequent subjects of Statcast™ this season, it comes as little surprise that Kiermaier is a nominee for an Esurance MLB Award for Best Defensive Player.
Though he added to his resume on Wednesday, he wasn't alone in making highlight-worthy plays. Elsewhere in the Majors, Angels outfielder Kole Calhoun turned in a terrific diving catch against the Athletics and Pirates outfielder Gregory Polanco showed off his arm strength yet again.
On the offensive side of things, a pair of Rangers teammates teed off for no-doubter home runs, as did a certain Angels outfielder by the name of Mike Trout.
Here's an in-depth look at each of those plays, courtesy of Statcast™.
Kiermaier makes twisting, leaping grab
Though Kiermaier has reached the point that he makes nearly any catch look routine, his seventh-inning snag on Wednesday night was far from it. The speedy outfielder reached a max speed of 16.6 mph as he sprinted straight back to the wall, first looking over his right shoulder then over his left before leaping and crashing into the wall to make the catch.
When all was said and done, Kiermaier had covered a total of 72 feet, all while logging a route efficiency of 96.4 percent. That marked his 35th catch this year on which he covered at least 70 feet with a route efficiency of 96 percent or higher. Only four outfielders -- Adam Jones, Charlie Blackmon, Billy Hamilton and Anthony Gose -- have recorded more such catches.
Polanco cuts down runner at plate
Two weeks after throwing out Trevor Cahill at first base, Polanco recorded a more conventional outfield assist on Wednesday night when he threw out Cardinals outfielder Matt Holliday at home plate. His latest assist, however, had a bit more zip than that rare 9-3 assist two weeks ago, which required only an 87.3-mph throw from Polanco. This time around, Polanco rifled a 97.1-mph strike -- his hardest recorded throw this season -- to nail Holliday at the plate.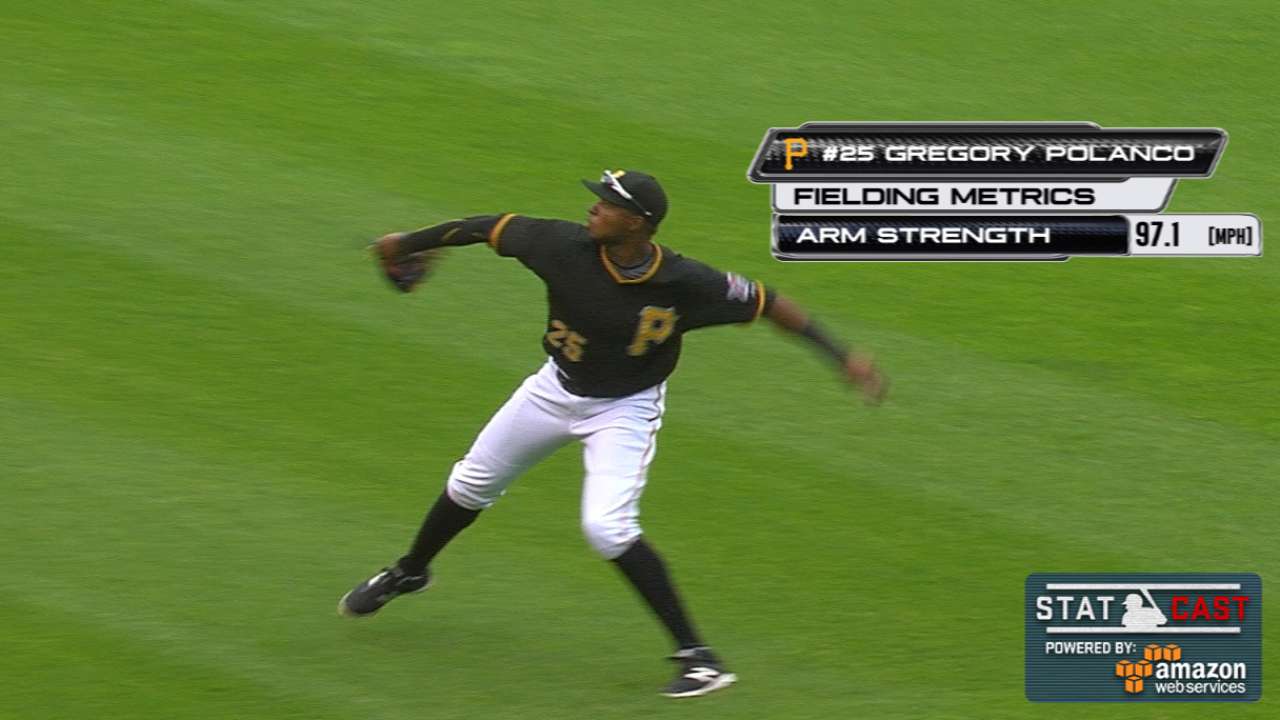 Calhoun lays out for diving catch
Prior to hitting a home run to pull his club to within a run in the bottom of the ninth, Calhoun had already given the Angels a defensive boost with a spectacular diving catch in the top half of the frame. The Halos outfielder took his first step just 0.37 seconds after contact then raced deep into the right-center-field gap, reaching a max speed of 18.7 mph, before sprawling out to make a full-extended, diving catch to rob Stephen Vogt of extra bases. Along with the quick first step, the catch was made possible due to the fact that Calhoun also registered a superb route efficiency of 97.5 percent on the play.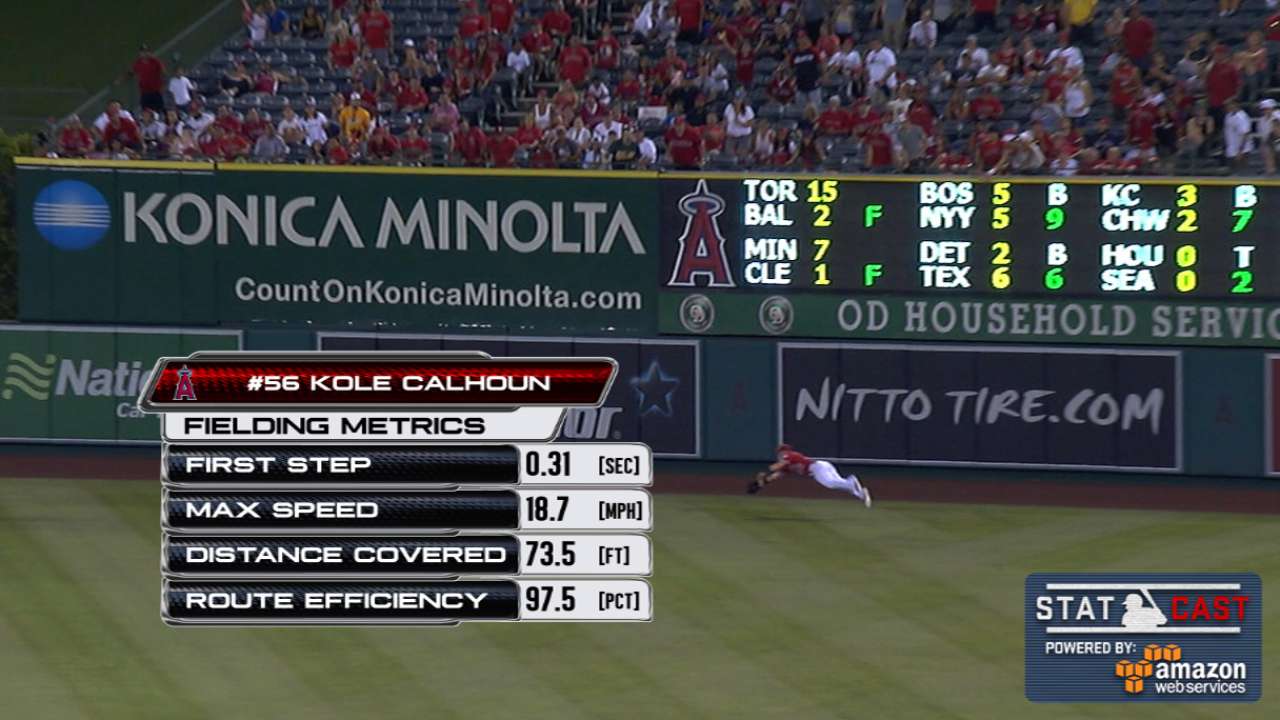 Beltre, Napoli tee off on Tigers
Rangers teammates Adrian Beltre and Mike Napoli each connected for towering home runs to help lead Texas to a 6-2 victory over the Tigers. Beltre struck first, sending a two-run, first-inning homer off his bat at 106.6 mph. The ball traveled a projected 431 feet before finally crashing down into the left-field seats at Globe Life Park. Not to be outdone, Napoli jacked a two-run shot of his own just two innings later, though his left the bat just a bit harder and traveled just a bit farther. Napoli's third-inning blast jumped off his bat at a scorching 109.2 mph and traveled a projected 433 feet to nearly the same exact location as Beltre's homer.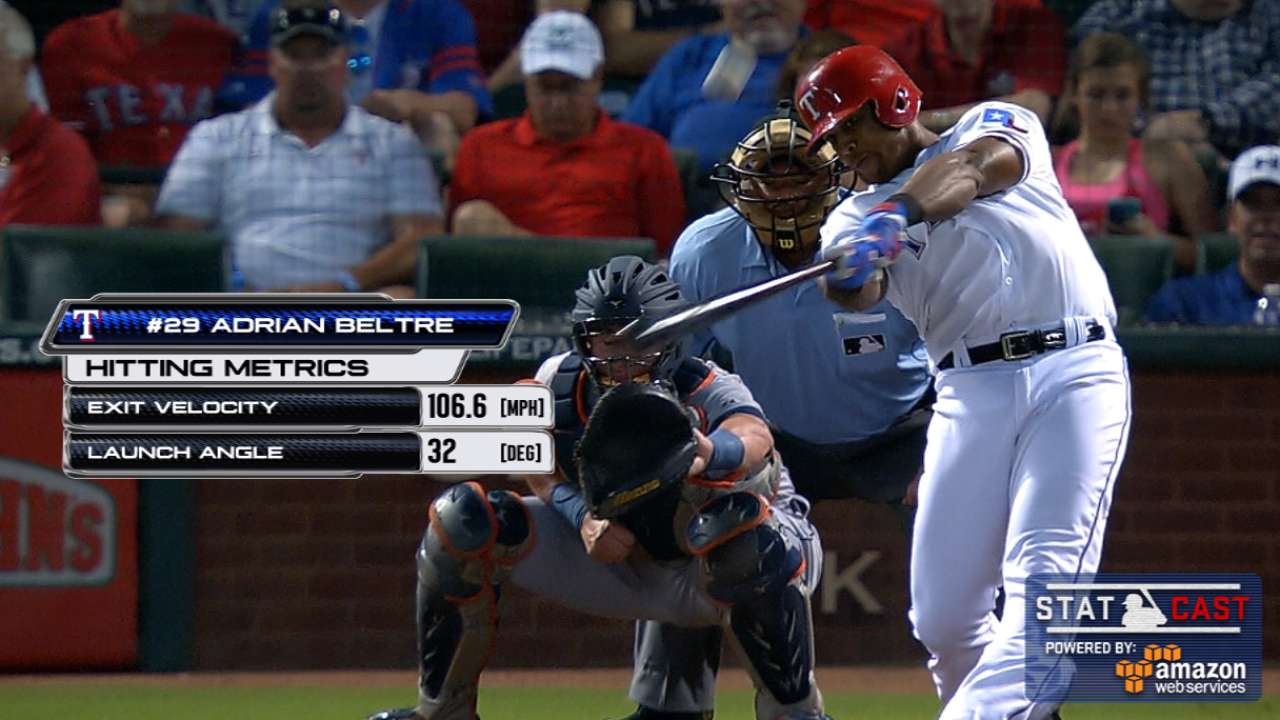 Trout smashes No. 41
Trout left little doubt about his 41st homer of the season, crushing a no-doubter off of veteran A's pitcher Barry Zito. The third-inning shot jumped off Trout's bat at 106.4 mph before traveling a projected 432 feet and eventually landing on the batter's eye in straightaway center field.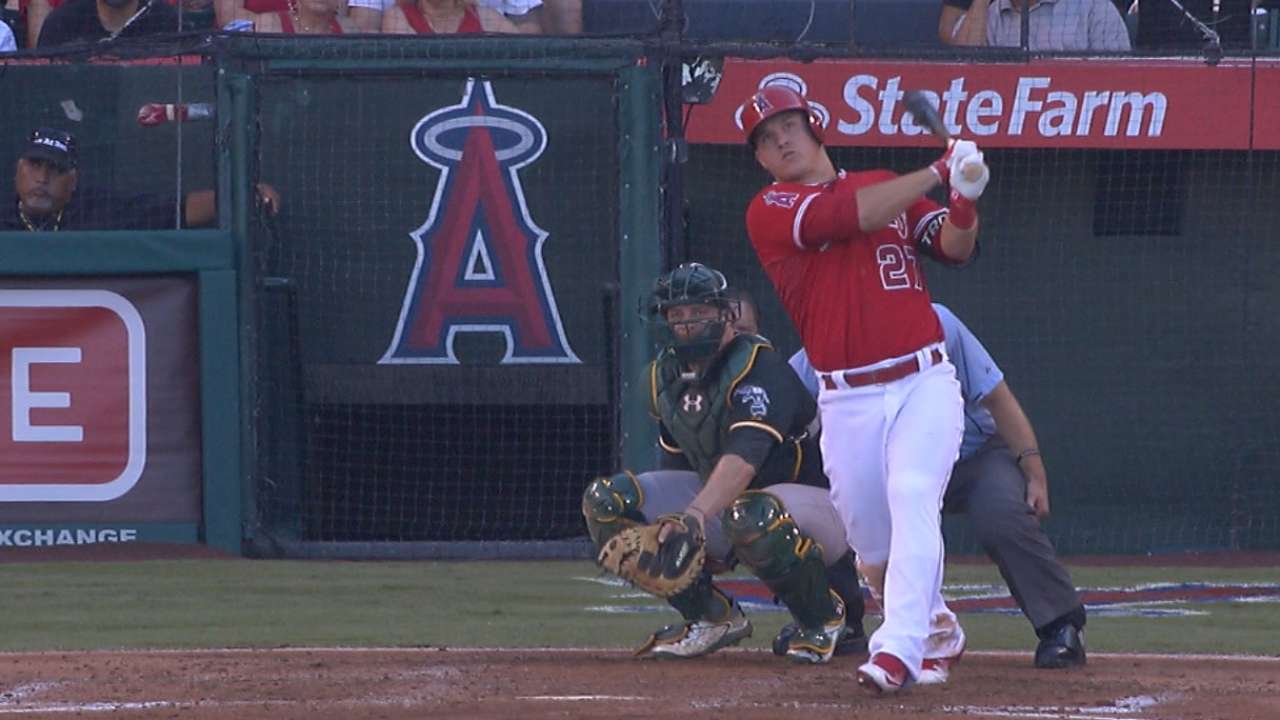 Paul Casella is a reporter for MLB.com. Follow him on Twitter @paul_casella. This story was not subject to the approval of Major League Baseball or its clubs.