If this is the end, Zito content with finale
37-year-old lefty allows two runs over four innings in A's win over Angels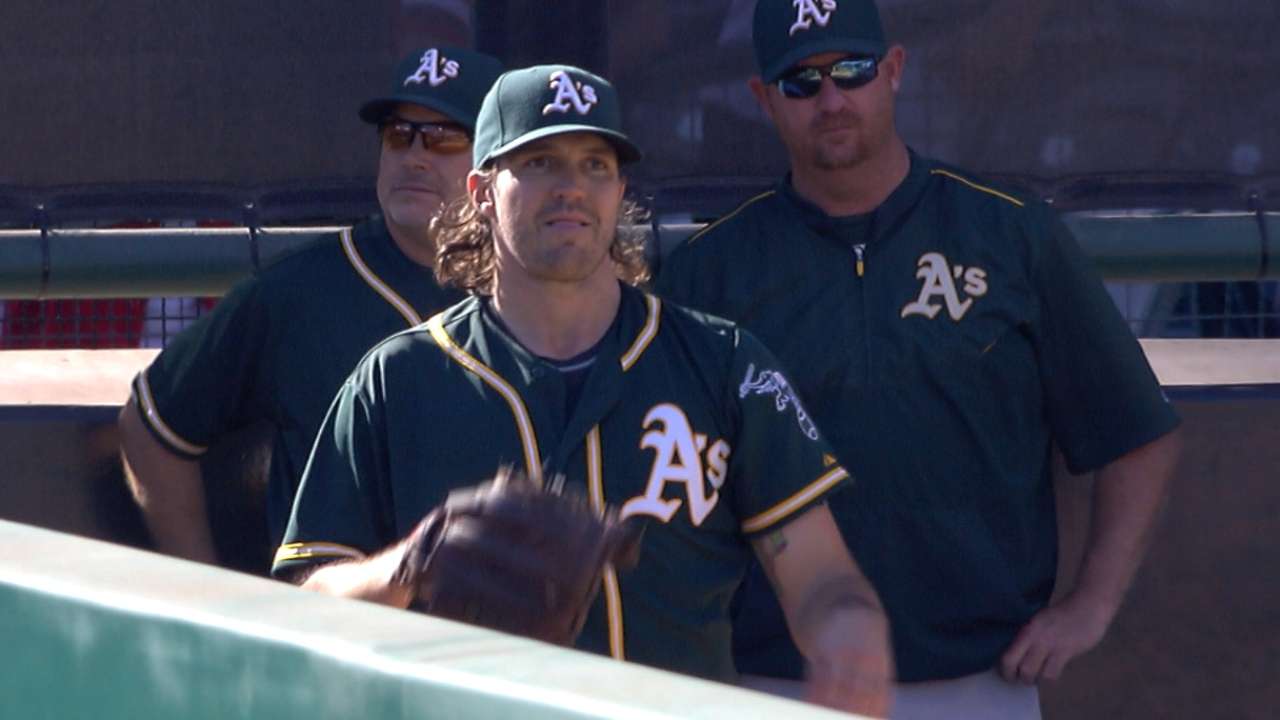 ANAHEIM -- After giving the A's four innings of two-run ball in an 8-7 victory against a contending Angels club Wednesday evening, Barry Zito wasn't ready to announce his retirement from the game he's already said goodbyes to before.
Ever astute and introspective, Zito won't make that decision until he's home and can "really consider everything," he said after the game. "But," he added, "I feel complete with everything."
"I had a really great time in those nine days I was home," he said. "I was in that family mode and it was just a really amazing feeling to know I can be at dinner maybe for like a calendar year. What a concept is that?"
If Wednesday's outing marked the last of his career, which is expected, Zito "absolutely" feels satisfied with the ending.
A's manager Bob Melvin did his part to ensure it was a good one, removing Zito from the game after 76 pitches -- 28 more than he threw Saturday in his first big league start since 2013 -- with a 3-1 lead intact.
"If I send him back out, he was going to have to go through their big boys again," said Melvin, referring to the top of the Angels' order. "Not that he couldn't get it done, but with the pitch count I just didn't want to have to bring guys on with his guys on base. I wanted him to finish up with something to feel good about and have a lead."
Zito, though wanting another inning, appreciated this, content with an outing that trumped his last, a two-plus inning stint in an anticlimactic though emotional showdown with fellow Big Three member Tim Hudson, who couldn't get out of the second inning.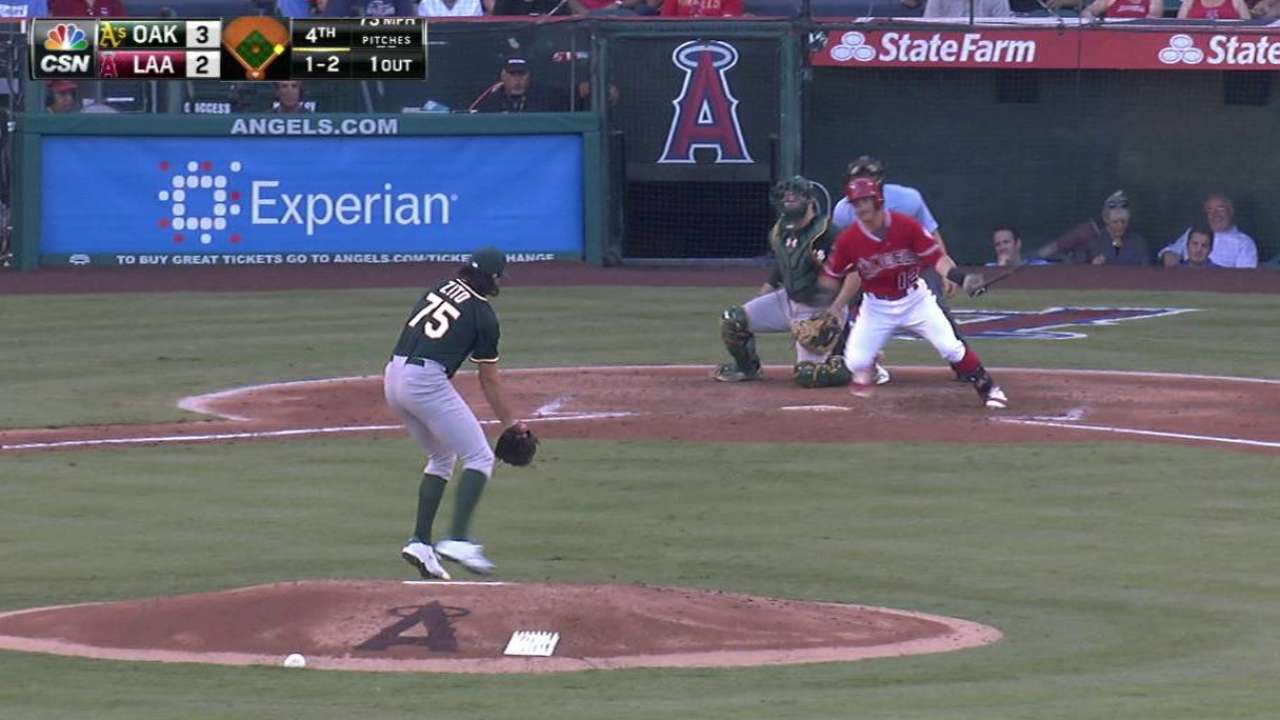 The lefty walked too many batters (four) to pitch into the fifth and qualify for the win, but he also induced three double plays to keep the Angels off the board when they weren't hitting homers. Solo shots from Mike Trout and David Freese were his only mistakes.
"That was it," said catcher Stephen Vogt. "Today was vintage Barry Zito from what I remember. His curveball was outstanding, he was putting his fastball where he wanted. Great command, his stuff was moving a lot. It was a lot of fun to watch."
"We don't win that game unless Barry's pitching," Melvin said. "He had a big part of that and came out of the game when we were ahead against a team that's playing great, swinging the bat great. That's something we've been lacking out of a starter recently, and I know he had a lot of fun with it. It was tough to take him out of the game, but I still felt like it was the time to do it."
Melvin called Zito "one of the great pitchers the Bay Area has ever seen" and also deemed him "one of the classiest guys I've ever managed."
The 37-year-old won the 2002 Cy Young Award with the A's two years after his debut -- which also came against the Angels -- and helped them to five postseason appearances before settling in across the Bay with the Giants, with whom he won two World Series rings.
Zito, who had 30 friends and family members in the stands for Wednesday's game, including his wife, Amber, and son, Marsden, said he'd be "down for anything" if asked to work out of the bullpen in the club's final three games, but also noted he's "kind of in shutdown mode mentally" and is ready to enjoy what will likely be his final moments in a big league uniform.
"It's exciting to be able to get an opportunity to come back and play in the Major Leagues after I thought I wasn't going to be able to this year," said Zito, who spent the entire season with Triple-A Nashville ahead of his callup. "So I'm really grateful for that, and then to throw pretty well today to kind of prove to myself I can still do it a little bit."
Jane Lee is a reporter for MLB.com. Read her blog, Major Lee-ague, and follow her on Twitter @JaneMLB. This story was not subject to the approval of Major League Baseball or its clubs.