MLB.com Columnist
Lyle Spencer
Angels hope for continued success in Arlington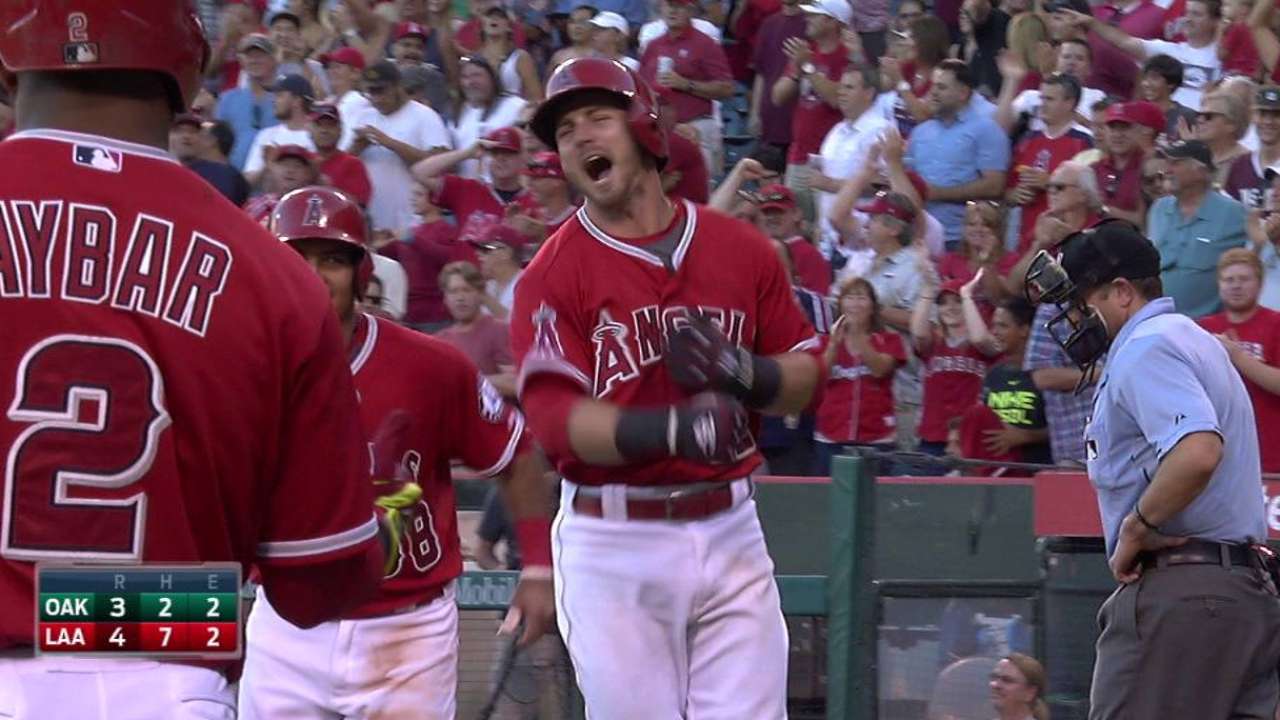 ANAHEIM -- No need for advanced analytics now; simple math will do. The Angels must sweep four games in Texas, starting Thursday night, to claim the American League West title.
One loss to the front-running Rangers doesn't end the Angels' season. It shifts their focus from one Texas outfit to another, to the Astros and the second AL Wild Card.
In any event, there was a clear sense of shared purpose in the troupe as it packed Wednesday night for the flight to Texas in the wake of a wrenching 8-7 loss to the A's at Angel Stadium.
"Same attitude -- keep playing, don't change anything," veteran shortstop Erick Aybar said. "We just have to keep fighting, the way we have been doing. Today's over. Tomorrow is a new day. One day at a time, one game at a time. That's how we won seven in a row. One at a time."
The Angels are 10-5 against Texas and have won five of six this season in Arlington, including a three-game sweep July 3-5. They outscored the Rangers 33-8 in that series.
This is a different Texas team, however. Cole Hamels is the new ace. Mike Napoli, notorious Angels tormentor, is back with the Rangers, and Josh Hamilton no doubt is looking forward to taking a few swings at his former club. The big guns -- Adrian Beltre and Prince Fielder -- are poised and loaded.
"You don't want to feel too comfortable going into that place," Albert Pujols said. "They've got a good ballclub and are playing well. It's going to be a good matchup.
"We have a great group of guys here. We won seven in a row [by] winning one game at a time. You can't look at four games. We won seven because we were thinking one game at a time and trying to win series."
That winning streak ended amid a chain of uncharacteristic misplays. But these Angels already have shown their resilience. Remember that five-run, two-out ninth inning rally by the Astros to avert an Angel Stadium sweep on Sept. 13? It was supposed to level the Angels emotionally.
They lost 10-1 the next night in Seattle but won 14 of the next 17.
Down by three runs on Wednesday, the Angels got a solo home run from catcher Carlos Perez in the eighth inning and another by Kole Calhoun leading off the ninth. They had runners at the corners when pinch-hitter Collin Cowgill bounced a first-pitch fastball by Sean Doolittle to third baseman Danny Valencia for the 27th out.
Hoping to score the winning run at third, Mike Trout couldn't help but think about another first-pitch fastball that he narrowly missed after Calhoun's blast, fouling it straight back.
"I was looking for a fastball and thought I was on it," Trout said. "I guess I got a little too big [with the swing]. Pitchers like that aren't going to give you another pitch like that to hit.
"We had our chances. That's all we can ask for. We've got a lot of confidence in this clubhouse, and we're going to take that confidence to Texas and win tomorrow. We've gotta win every game, and it starts tomorrow."
Trout launched his 41st homer of the season off Barry Zito, his third-inning rocket handing Garrett Richards a lead that got away with three unearned A's runs in the fourth -- the start of a bad trend.
The Angels reclaimed the lead with a three-run sixth featuring Johnny Giavotella's two-run homer, but the A's were handed four more unearned runs. Errors were charged to infielders Giavotella, Aybar, Taylor Featherston and C.J. Cron.
The unraveling couldn't have been more untimely.
Errorless all season in 419 total chances, Trout temporarily lost Marcus Semien's line drive in the lights in the eighth and was unable to block the ball. Semien's triple was cashed when Coco Crisp's sharp grounder got through Cron.
"We've been playing good ball till today," said Giavotella, playing his sixth game after missing 31 with a vision affliction. "With the injuries we've had to incur and be in the situation we're in, we have to feel fortunate -- and we want to take advantage of every opportunity."
Giavotella is coming into focus as a reasonable facsimile of David Eckstein, the little guy who was in the middle of everything for the 2002 World Series champions.
The big boppers have a history of success in Texas. Trout is a .331 hitter with nine homers, 32 RBIs in 38 games. Pujols: eight homers, 29 RBIs in 32 games. Calhoun: .337, five homers, 22 RBIs in 22 games. Aybar: .289, 46 runs scored in 71 games. And Freese, 2011 World Series Most Valuable Player for the Cardinals in slaying the Rangers.
"This," Pujols said, "is awesome." There's nothing like a good October challenge.
Lyle Spencer is a national reporter and columnist for MLB.com. Follow him on Twitter @LyleMSpencer. This story was not subject to the approval of Major League Baseball or its clubs.