Respect on the field, revelry in the clubhouse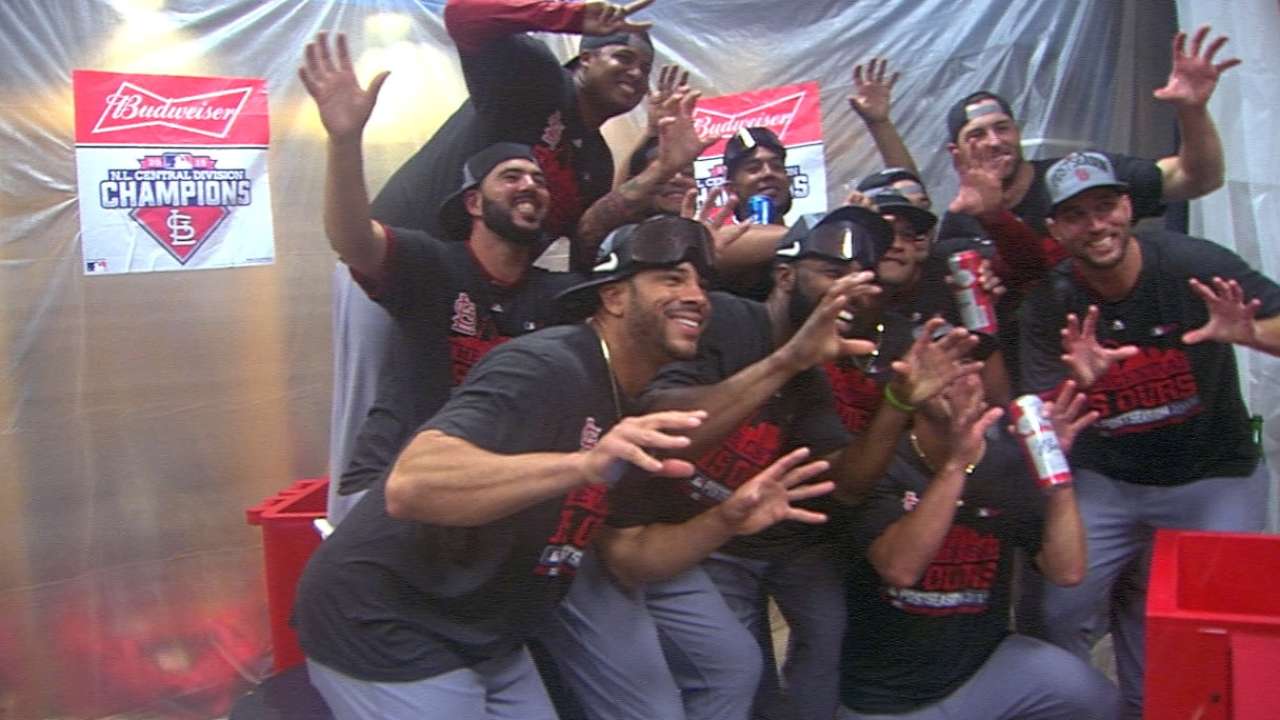 PITTSBURGH -- The Cardinals had to wait 159 games, until September had nearly given way to October. They had to wait through Tuesday, when rain postponed their first chance, and they first had to endure a loss in Game 1 of a doubleheader on Wednesday.
Even after they'd beaten the Pirates, 11-1, on Wednesday night, the Cardinals chose to wait until they got back into the visitors' clubhouse at PNC Park. Once they got there, finally, they celebrated their third straight National League Central championship -- a rowdy party they enjoyed even more given everything it took to get here.
"This was one of those seasons where guys feel it," manager Mike Matheny said. "And when they push through it and then they're able to come out on top and to be able to celebrate like this, it has a lot more meaning than just maybe face value."
The game's outcome was decided long before the ninth inning, when Carlos Villanueva struck out Elias Diaz, and catcher Tony Cruz picked up the ball and threw it to Mark Reynolds at first base for the final out.
At that point the Cardinals streamed out of the dugout and surrounded Villanueva, a relatively subdued reaction for a team that just won its 100th game and claimed arguably the toughest division in baseball. Out of respect for the Pirates, however, they didn't want to make a scene on the field.
But the clubhouse was another matter entirely. The Cardinals shook hands, hugged, sang and danced. They took photos and selfies, popped bottles of champagne and sprayed Budweiser all over the place, soaking their gray "The Central Is Ours" shirts until they were a full shade darker.
"Right now everybody deserves this. We deserve to celebrate and have some fun," said Jason Heyward, champagne and beer dripping from his goggles and beard. "This is definitely a division well earned, with it being the best division in baseball, a lot of tough teams in it, and we pushed each other."
On one side of the clubhouse, Matheny addressed the media. He credited the Pirates and Cubs for making the division such a tough one, for forcing his team to win its 100th game before it could finally clinch.
But Matheny also credited the players dancing on the other side of the room, a group that overcame far more than just the two NL Wild Card winners.
"This is real special, just because of the adversity that was thrown at us," third baseman Matt Carpenter said. "It just seems like one thing after another kept happening, but this team never quit."
Last October they dealt with the grief of losing Oscar Taveras, who was killed in a car accident. In April, ace Adam Wainwright went on the disabled list with a torn Achilles. Matt Holliday, their No. 3 hitter, was sidelined for more than half of the season, and Matt Adams has also missed significant time.
"This team is a real team," owner Bill DeWitt Jr. said. "When a lot of really good players went down -- our No. 3 hitter, our No. 1 starter, I could go on and on -- somebody else came in and stepped up. They never took the pedal off the gas."
That was what made Wednesday night special for the Cardinals. If it wasn't evident through the words they said, it was with the way they celebrated.
"This is, I must say," DeWitt said, "one of the best."
Adam Berry is a reporter for MLB.com. Follow him on Twitter at @adamdberry. This story was not subject to the approval of Major League Baseball or its clubs.