#TBT: Hoffman displays incredible character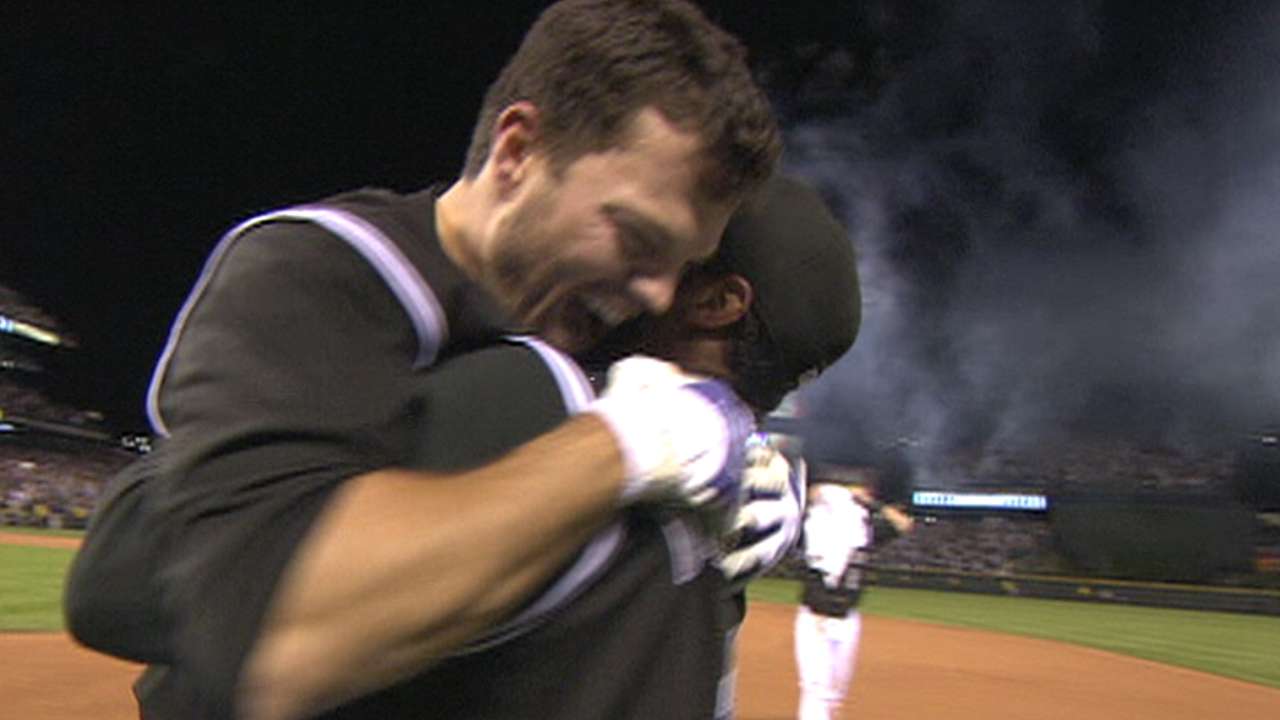 I can't say for sure how long it took me to figure out Trevor Hoffman's postgame routine during my first season covering the San Diego Padres in 2007 for MLB.com.
I imagine it was in April after one of his saves when I went looking for him inside the clubhouse, only to find his locker vacant.
After a little bit of digging, I discovered that Hoffman's bit was to essentially make himself scarce after earning a save -- unless he was really needed.
• #TBT: Sweet Memories of Rockies' 2007 Wild Card berth
This wasn't Hoffman's way of ducking comment or avoiding the media, but more as a way to let his teammates get some of the limelight. He always figured that getting those last three outs was just his job. What's the big deal?
When Hoffman blew a save, though? A far different story.
Hoffman was always in front of his locker, waiting for us. He bore the brunt of the loss, because he always felt it was on him. Blown saves crushed him. Whether it was a means of deflecting blame from others, Hoffman wore the loss and owned up to it.
I thought about this later in 2007 as we were led into the visiting clubhouse at Coors Field, not long after the Padres' postseason hopes were abruptly dashed when the Rockies rallied for a 9-8 win in 13 innings in the infamous Game 163, which happened eight years ago today.
Sure, those regular-season blown saves stung -- but this? How would Hoffman react to this?
A wild week had left San Diego on the doorstep of what would have been a third consecutive trip to the postseason. Colorado? Well, did the Rockies even lose during that final month of the season? This victory was their 14th in 15 games, and it got them the Wild Card.
This was, by a wide margin, the most memorable game I ever covered -- for the moments, the significance of it all, and for the raw emotion that poured out of that Padres' clubhouse after the game.
The ending, really, is all that anyone seems to remember: Hoffman allowing three runs in the bottom of the 13th inning after San Diego had scored twice to take the lead, then Matt Holliday's slide. Did he or didn't he touch home plate?
That's not what resonated with me most, though.
In a silent clubhouse, Hoffman, again, stood in front of his locker on what would be the toughest night of his long career. With tears in his eyes and choking up on occasion, he answered every question asked of him.
Just as he always did.
"We can't point to any other factor but my performance tonight," Hoffman said. "It's a burden I have to deal with. I strive for consistency. To barely get an out tonight is pretty devastating.
"There are no cliches to use in this situation. It's not going to be easy to deal with, but people don't want to hear that. They want to see execution. They want to see the ball club moving forward. That didn't happen tonight because of one glaring reason: that was me."
The truth is, though, the final 19 pitches Hoffman threw in the 13th inning weren't the entire story of this wild game that seemingly included a little of everything.
• There was Padres pitcher Jake Peavy who was going on normal rest. Peavy would later win the National League Cy Young Award, but on this night, he wasn't at his best. He allowed six runs on 10 hits, and he was gone after 6 1/3 innings. The bullpen picked up Peavy. San Diego only used four relievers, with Heath Bell getting eight outs.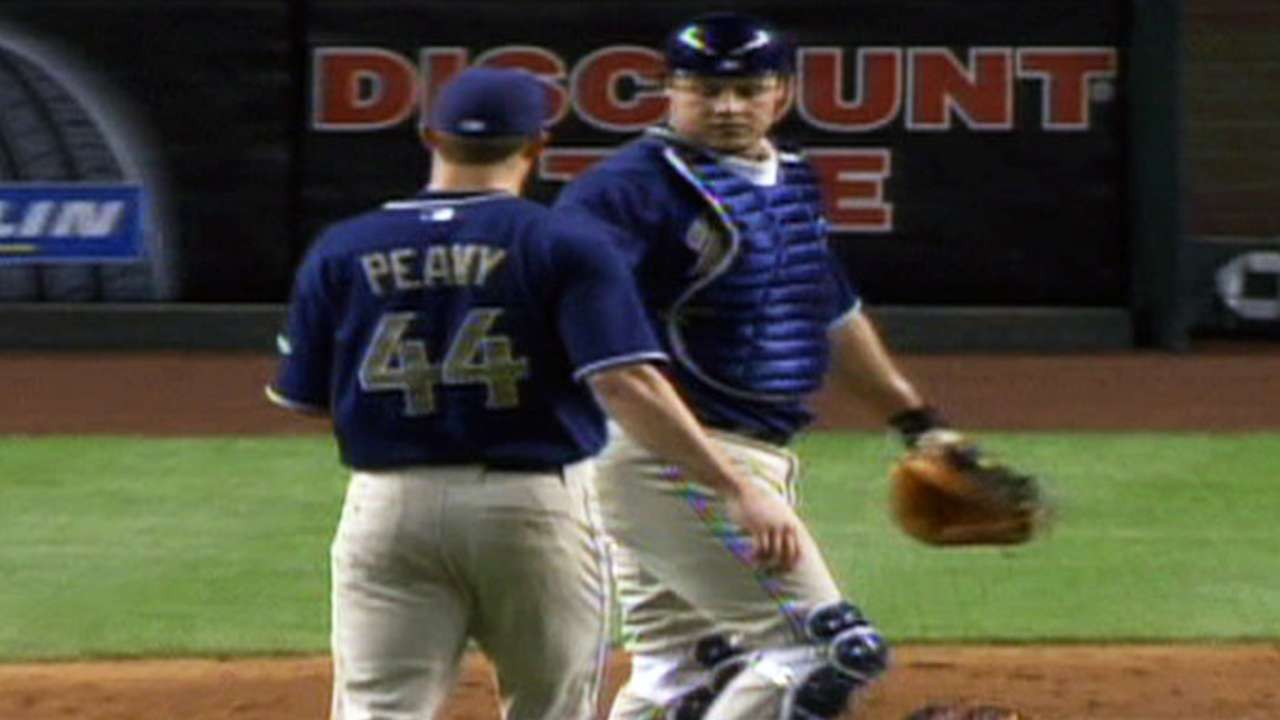 • The Padres were without two of their top players: outfielders Mike Cameron (torn ligament in thumb) and Milton Bradley (torn ACL, right knee) were injured in the same game the week before. Brady Clark filled in for Cameron in center field, and he struggled defensively, missing a Troy Tulowitzki ball, not being able to run down a Seth Smith triple and throwing wide on a Kazuo Matsui sac fly.
• There was also outfielder Scott Hairston, who appeared to be on his way to slugging the most important home run in franchise history, when he connected for a two-run home run in the top of the 13th inning for an 8-6 lead.
"The Scotty home run, our dugout was jubilation," manager Bud Black said earlier this week. "And that ballpark, which was rocking the whole night … I just remember how quiet Coors Field got. It was silent."
The fact that Black, then a rookie manager, still had Hoffman available in the 13th inning was remarkable, especially after Peavy's exit, forcing the team to lean heavily on its bullpen.
After Hairston's home run, there was only one guy to turn to -- the guy -- Hoffman, who will go down as one of the greatest closer's in the history of the game. To those who played with him, managed him and even covered him -- maybe one of the best to ever work with.
"I'll take my chances with Trevor," Black said afterward.
Corey Brock is a reporter for MLB.com. Keep track of @FollowThePadres on Twitter and listen to his podcast. This story was not subject to the approval of Major League Baseball or its clubs.