O's hit 4 HRs, 2 by Davis, to take Game 2 vs. Jays
BALTIMORE -- Chris Davis homered twice and Manny Machado and Matt Wieters also went deep as the Orioles salvaged the nightcap of a doubleheader vs. the Blue Jays with an 8-1 victory on Wednesday night at Oriole Park. The loss, coupled with the Royals' extra-inning win dropped Toronto's lead over Kansas City for the top record in the American League to one game.
The Blue Jays fielded a "B" lineup after they picked up a 15-2 victory in Game 1 to officially clinch the AL East title. Toronto rested all of its nine regular starters and pulled knuckleballer R.A. Dickey from the game after five scoreless innings before handing things over to the bullpen.
Toronto's magic number to clinch the top record in the AL remained at three. The team with the top record will secure home-field advantage throughout the postseason, and the Blue Jays own the tiebreaker over the Royals after finishing with the better head-to-head record.
Right-hander Kevin Gausman picked up the victory for the Orioles after he allowed just one run on five hits while striking out a career-high 10 batters. His only real mistake came in the top of the eighth inning when second baseman Darwin Barney hit a solo homer to left field for his first dinger of the year.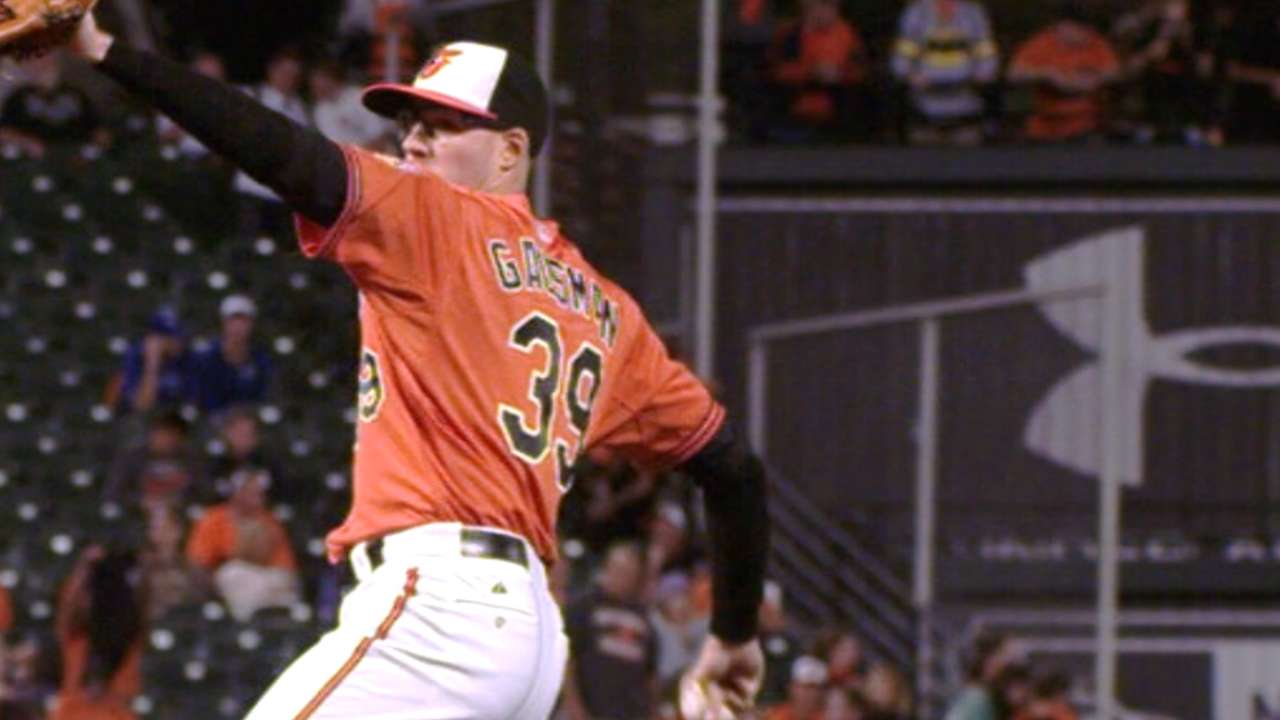 "As poorly as we played in the first game is as well as we played in the second game, and like I've said many times, it starts with pitching," Orioles manager Buck Showalter said. "Regardless of who they ran out there tonight, I think Gaus would have had a real good outing. He was sharp. That's probably as good as he's been all year. He ended his season on a real good note."
Dickey cruised through his five innings with relative ease and allowed just two hits while striking out three and not walking a batter. Toronto then turned to the bullpen, which had some trouble, as right-handers Ryan Tepera and Steve Delabar each surrendered a pair of home runs.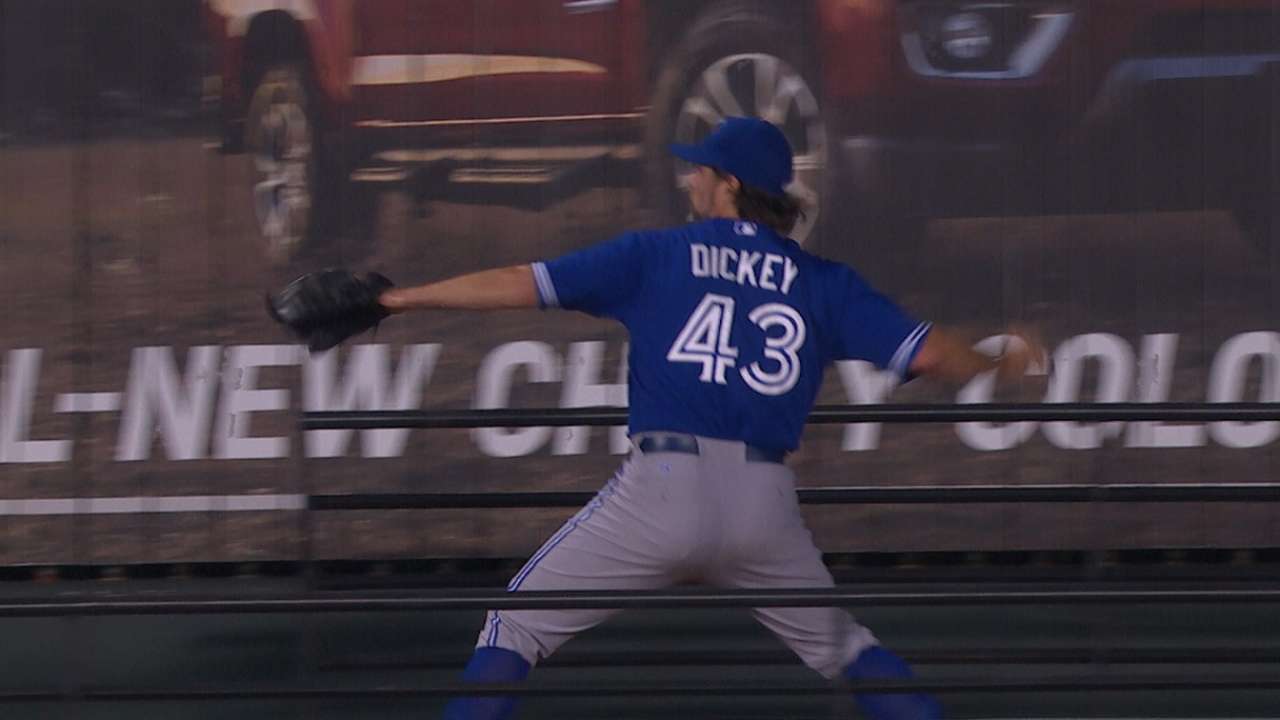 MOMENTS THAT MATTERED
Davis eclipses 200: A free-agent-to-be, Davis continued to send his stock soaring, delivering his seventh multi-homer game of the season and 14th of his career. Davis -- who leads the Majors with 45 homers -- now has 201 career homers, and has hit 159 as an Oriole, which ranks 10th on the club's all-time list.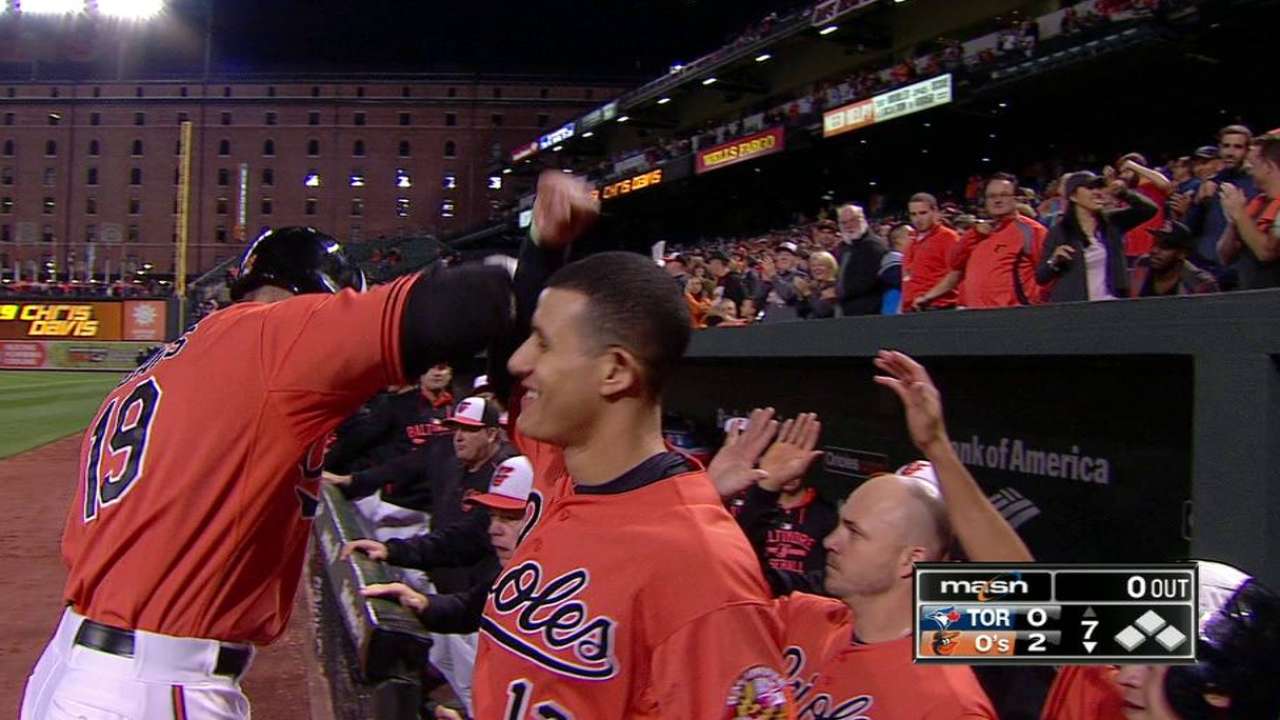 "Any milestone obviously means you put in the work, put in the time, had some success. It means even more to me being able to do it here," Davis said. "It's something that has really meant a lot to me over the last few years. Every home run I've hit here in front of our fans, really at this yard, it's been a good place for me to hit, and it's really been a place where I revived my career, so to speak, so I know it was pretty special."
Gausman K's the Jays: Gausman, who had a career-high nine strikeouts after 4 1/3 innings, turned in a stellar career-high eight innings. Pitching against mostly Blue Jays bench players, Gausman allowed five hits -- including Barney's homer -- and struck out 10 in the 98-pitch outing.
"I thought it was outstanding, and I think that's the best changeup I've seen him have," Wieters said. "His command with his fastball set that up, and he mixed in some breaking balls, too. For him, he sort of saved a little bit in the tank for later in the game."
Caught napping: The Blue Jays' opportunities to score were few and far between during the early going, but outfielder Ezequiel Carrera provided a spark in the top of the seventh with a leadoff double to center. The problem came two batters later, when Carrera forgot how many outs there were and casually took off for third on a fly ball to shallow left field. There was only one out at the time, and shortstop J.J. Hardy camped under the ball to make a catch before making an easy toss to second to complete the double play.
WHAT'S NEXT
Blue Jays: Left-hander David Price (18-5, 2.45 ERA) was scheduled to start in the series finale against Baltimore on Thursday afternoon at 12:05 p.m. ET, but Toronto opted to move his outing back a day to limit his down time between now and Game 1 of the AL Division Series, which is scheduled to start Oct. 8. Drew Hutchison will start vs. the Orioles, with the Blue Jays likely turning to a bullpen day.
Orioles: The O's will turn to rookie Tyler Wilson in Thursday afternoon's series finale. The game, which was pushed up from a 7:05 ET start due to inclement weather in the forecast, will mark Wilson's third start as part of September roster expansion. On the season, he is 2-2 with a 3.60 ERA.
Watch every out-of-market regular-season game live on MLB.TV.
Gregor Chisholm and Brittany Ghiroli are reporters for MLB.com. This story was not subject to the approval of Major League Baseball or its clubs.