Indians confident Carrasco will improve into future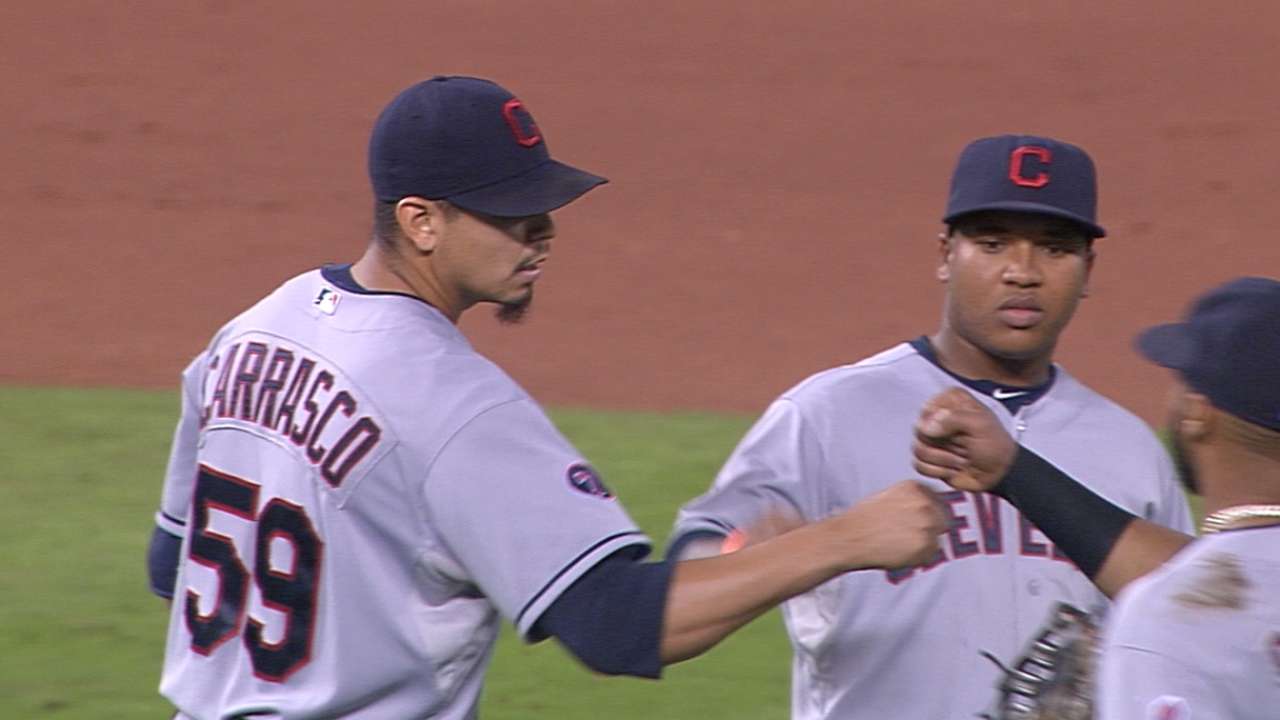 CLEVELAND -- Carlos Carrasco's final act this season was not indicative of the campaign he turned in as a whole. Cleveland has waited several years for the big right-hander to blossom into an overpowering starter, and he rewarded the team's patience with a breakout showing this year.
It was unfortunate to see Carrasco's strong 2015 performance end with a thud in a 7-1 loss to the Twins in the first game of a doubleheader on Wednesday evening. After being nearly untouchable in his prevous start, Carrasco could not record an out in the fourth inning, and he headed off the field and toward his offseason after allowing five runs.
"We've seen days where he's about unhittable," manager Terry Francona said. "He seems to have managed some of the other things that [used to] get in the way that don't anymore. He's a pretty darn good Major League pitcher is what he is."
The Indians believed so much in Carrasco's potential this season, that the team invested in a long-term contract that will keep him in the fold through 2018. The extension -- agreed upon during the first series of the season -- also includes team options for '19 and '20. The Indians were betting on Carrasco's upside, using his performance down the stretch last year as the foundation for their faith.
Carrasco responded with a career-best season as a starter. He set personal highs in wins (14), complete games (three), innings (183 2/3) and strikeouts (216), giving the Tribe's rotation a dynamic one-two punch, along with American League Cy Young Award-winner Corey Kluber. Carrasco logged one shutout, walked only 43 batters and grew stronger as the season wore on.
Pitching coach Mickey Callaway said Carrasco was more tentative in the season's early months, building up to the kind of aggressive approach that brought on so much success last year. In his final 10 starts of 2014, Carrasco posted a 1.30 ERA with 78 strikeouts and a .179 opponents' average in 69 innings. In his last 10 starts this year, he had a 2.48 ERA with 83 strikeouts and a .163 opponents' average in 65 1/3 innings.
"At the halfway point, he said, 'I'm going to let it go from now on,'" Callaway said. "It's like, OK, last year he did it for 10 starts. This year, he did it for a half. Maybe next year he'll do it for the whole season. If he does that, he can win a Cy Young. That's how good his stuff is."
To Callaway's point, Carrasco had a 4.16 ERA with a .216 opponents' average in 88 2/3 innings in his first 15 starts, compared to a 3.13 ERA and a .195 opponents' average in 95 innings in his last 15 outings. Carrasco's fastball velocity sat around 94-95 mph in April, but it climbed to 95-96 mph on average in September. The velocity on all his other pitches ticked up as the season moved along, too.
"I started a little bit slow in the first half," Carrasco said. "After that, [Callaway] came and talked to me, and I went right away from the All-Star Game, I went the same way that I did last year ... I learned a lot this year and I'll start strong next year and finish strong."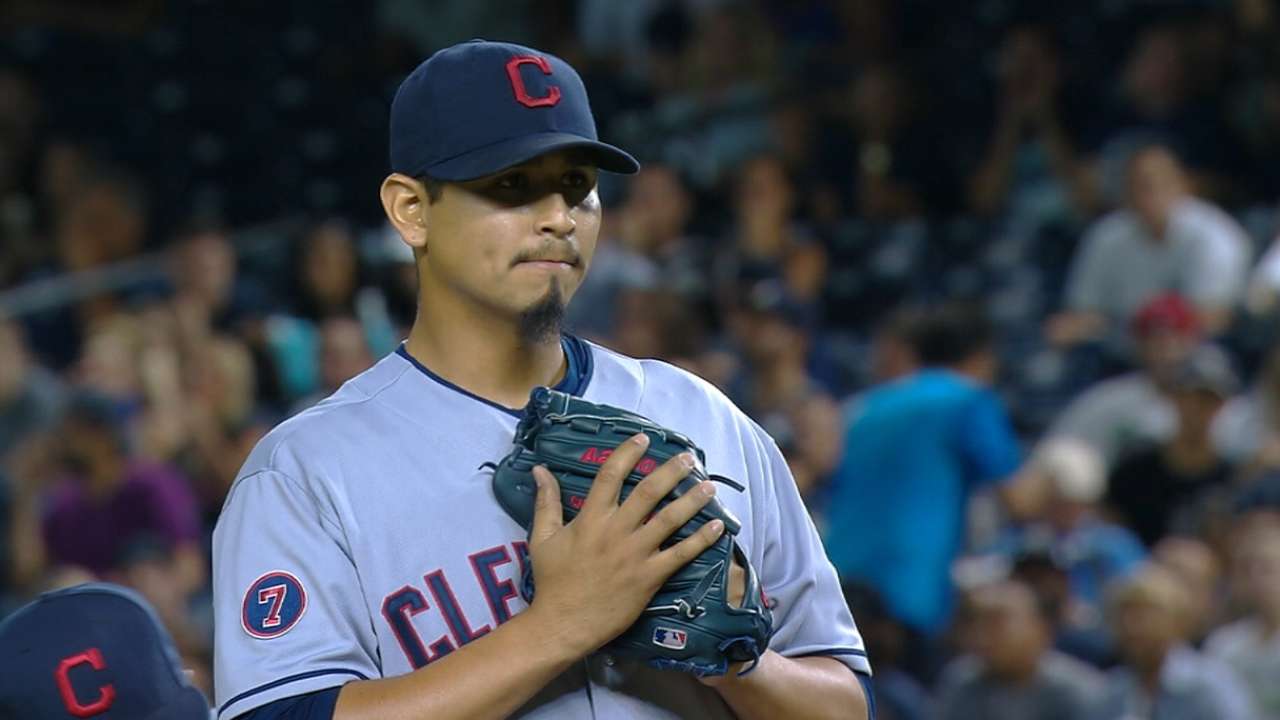 Against the Twins, Carrasco was hardly at his sharpest.
Carrasco surrendered a solo homer to Joe Mauer in the first inning, and then he allowed four runs in the fourth inning, when six Twins batters reached base in a row to end his day and season. That fourth-inning push included a pair of walks and four hits, including a three-run double by Minnesota veteran Torii Hunter.
"I feel a little bit disappointed," Carrasco said of his final start. "But, it's baseball ... Every start that I did this year, I learned something from it. And everything I learned from this year, I'll work hard on it this offseason and bring it into next year."
Wednesday's showing was a drastic contract from Friday, when Carrasco struck out 15 in a one-hit 6-0 shutout on the road against the Royals. He flirted with a no-hitter for six-plus innings in that outing, just as he did for 8 2/3 innings on the road against the Rays in the Indians' 8-1 win on July 1.
In fact, Carrasco is one of just six pitchers in history to have at least three starts in a season in which he allowed no more than one hit and one run in 8 2/3 or more innings. That short list includes only one other Indians pitcher: Hall of Famer Bob Feller (1946).
"Right around the All-Star Break, [Carrasco] was like, 'OK, I get it,'" Francona said. "He's been pretty darn good. At worst, he is going to be a huge innings eater -- he's a big, strong kid and goes deep in games. And, at best, he can be probably one of the better pitchers in the game."
Jordan Bastian is a reporter for MLB.com. Read his blog, Major League Bastian, follow him on Twitter @MLBastian and listen to his podcast. This story was not subject to the approval of Major League Baseball or its clubs.