Cole downs Cards to cap month of big starts
Final five outings for Pirates ace were against postseason-bound teams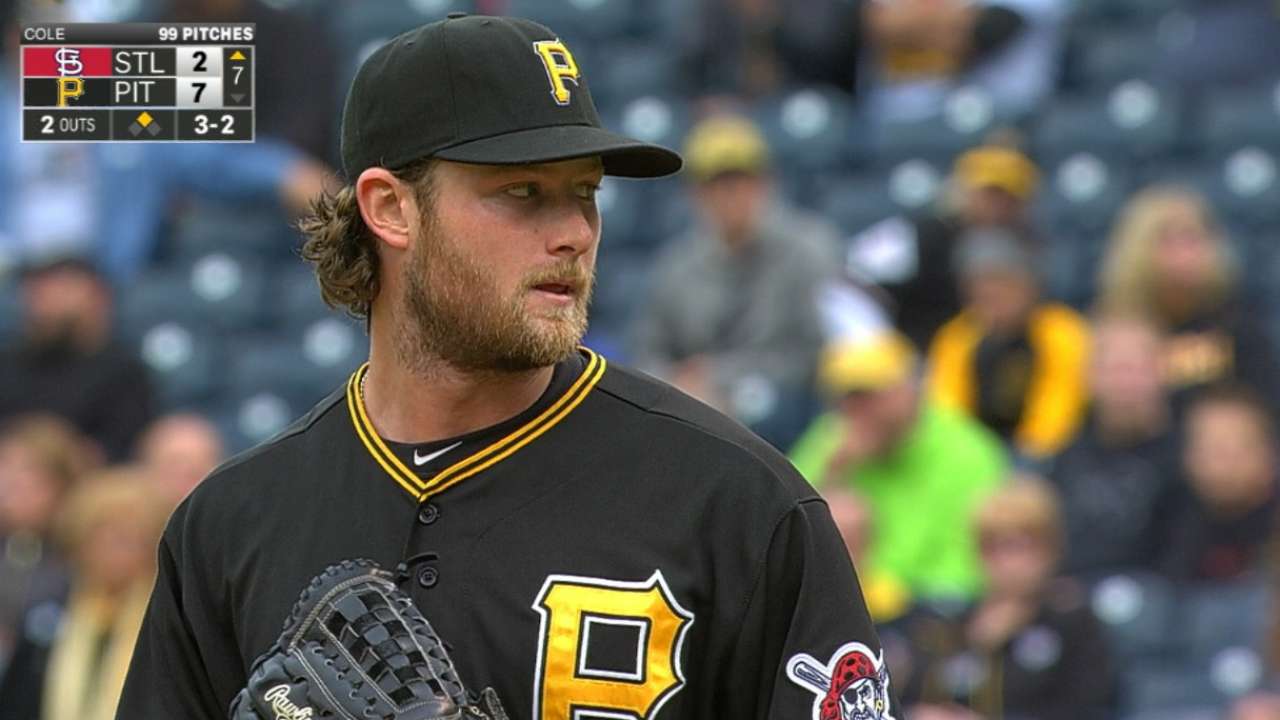 PITTSBURGH -- Shortly after Tuesday's game was postponed due to rain, Pirates manager Clint Hurdle approached Gerrit Cole. As Hurdle put it Wednesday morning, he wanted his "must-win pitcher" starting a must-win game to keep the Pirates alive in the National League Central race.
A few hours later, Cole lived up to Hurdle's description. The 25-year-old right-hander held the Cardinals to two runs over seven innings, leading the Pirates to an 8-2 win at PNC Park. The victory, Cole's 19th, kept the Bucs afloat in the NL Central for at least a few more hours. The Cards rolled to an 11-1 win in Game 2 to capture their third straight Central title.
"It's a must-win," Cole said. "We needed to win, and we got it done."
After losing Monday, the Pirates knew a loss in either half of the day-night doubleheader would relegate them to another appearance in the NL Wild Card Game presented by Budweiser next Wednesday against the Cubs.
But Cole wouldn't allow it. Not on his watch, anyway.
• Is Cole #AwardWorthy? Vote now for Best Starting Pitcher
Cole retired the first nine hitters he faced in order. He gave up one run in the fourth on Matt Holliday's RBI single to center and another in the sixth on a solo shot by Matt Carpenter.
He didn't have his best swing-and-miss stuff, recording only two strikeouts. But Cole didn't walk anybody, and he forced St. Louis to put the ball on the ground. He worked quickly and efficiently, getting through seven innings on 100 pitches.
"He pitched well today. It wasn't about swing and miss. It wasn't about burying guys," Hurdle said. "It was about being efficient with his pitches, getting quick outs, managing the game, navigating the lineup."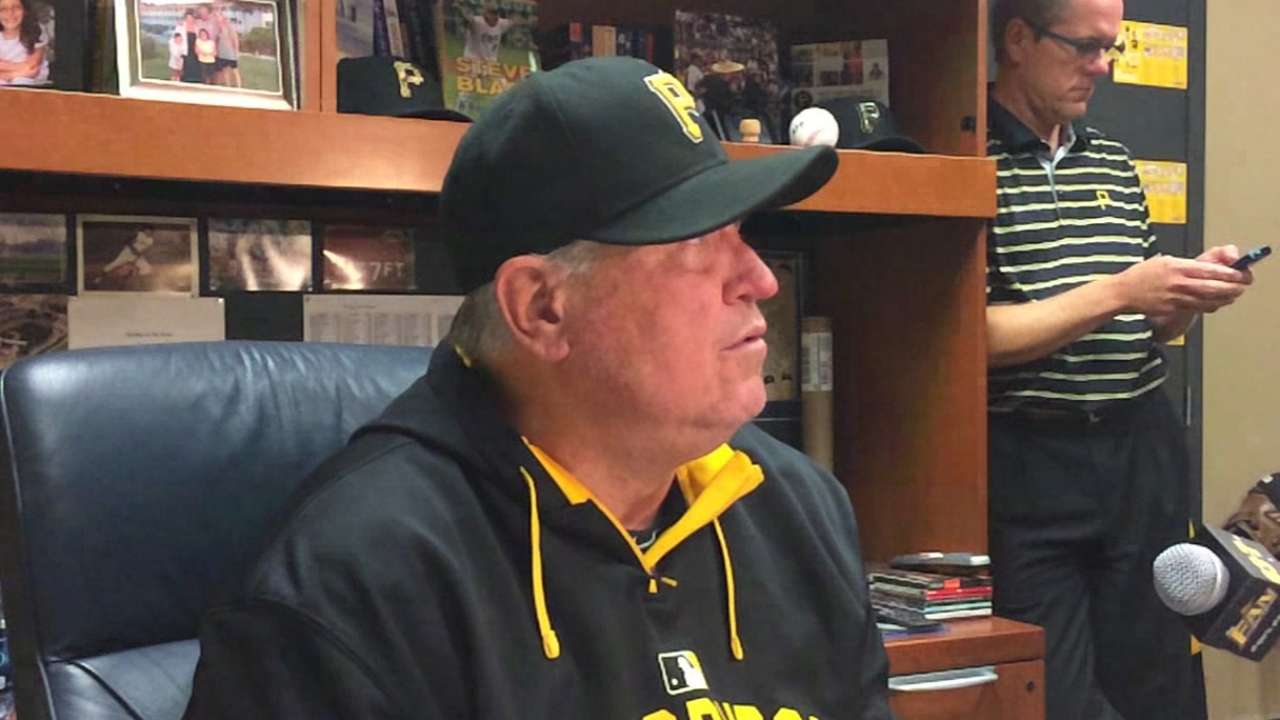 In early September, the Pirates put Cole on a daunting schedule. He would make five more starts: two against the Cubs, two against the Cardinals and one against the Dodgers. He would pitch in every big series, against both of the Pirates' biggest competitors and another postseason-bound team.
How did he handle it? By going 4-0 with a 2.36 ERA and 34 strikeouts in 34 1/3 innings. The Pirates won all five of his starts.
"He truly wants to be the guy," Hurdle said. "He's pulled it off in a very, very excellent fashion."
Cole has earned the "ace" title many wondered if he was ready for this spring. With his last regular-season start in the rearview mirror, he is 19-8 with a 2.60 ERA and 202 strikeouts in 208 innings over 32 outings.
The next time Hurdle asks him to take the ball it will be another must-win situation in the NL Wild Card Game vs. the Cubs. Cole will once again relish the distinction of being the Pirates' "must-win pitcher."
"It's a compliment, you know? It's a compliment in the highest respect," he said. "So, try not to mess it up when you get that opportunity."
Adam Berry is a reporter for MLB.com. Follow him on Twitter at @adamdberry. This story was not subject to the approval of Major League Baseball or its clubs.