Shoemaker ruled out for final regular-season series
Right-hander could be available for postseason if Angels qualify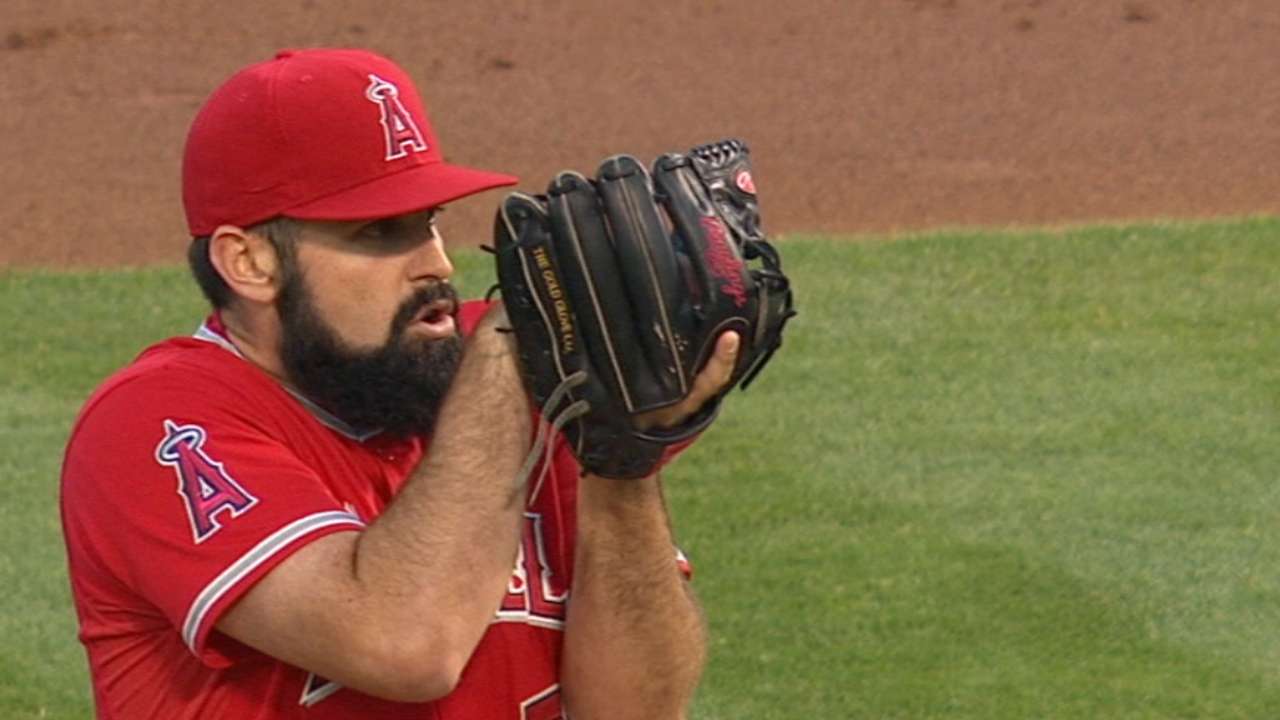 ANAHEIM -- Matt Shoemaker, still dealing with a right forearm strain, will not be an option to pitch in the Angels' final regular-season series against the Rangers, manager Mike Scioscia said on Wednesday.
"He'll start to pick up a ball then, but he won't be ready by then," Scioscia said, clarifying that Shoemaker won't be able to start or relieve. "We'll see where Matt is when he starts to play catch, and how quickly he progresses, but it won't be for the Texas series."
Shoemaker's turn in the rotation aligns with Sunday's regular-season finale in Texas, the last game in a four-game set. The Angels are a half-game behind the Astros for the second American League Wild Card spot and trail the Rangers by three games in the AL West. Shoemaker could potentially return during the postseason, if the Angels make it.
If the Angels need to win on Sunday to make the playoffs, or have a chance to clinch the division title, they could use Garrett Richards on three days' rest. Otherwise, Nick Tropeano would be an option. Tropeano allowed one run in 6 2/3 innings and struck out a career-high 11 starting in place of Shoemaker on Tuesday.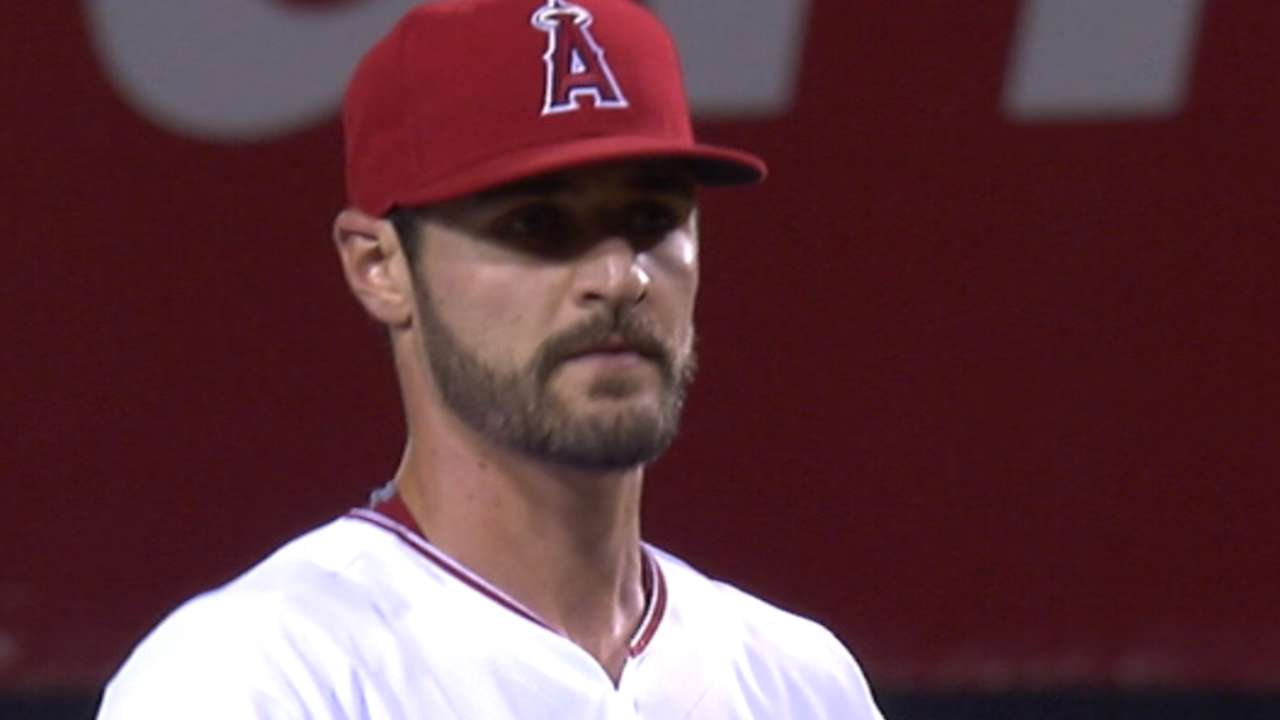 The team has been searching for pitching over the past week, with closer Huston Street (left groin strain), setup man Joe Smith (sprained left ankle), right-hander Jered Weaver (right shoulder stiffness) and Shoemaker all dealing with injuries.
On Monday, the Angels signed Mat Latos, who had been released by the Dodgers, to provide depth and possibly start in place of Weaver on Friday if need be. On Wednesday, they selected left-hander Jo-Jo Reyes to the Major League roster as another bullpen arm, while designating utility infielder Grant Green for assignment.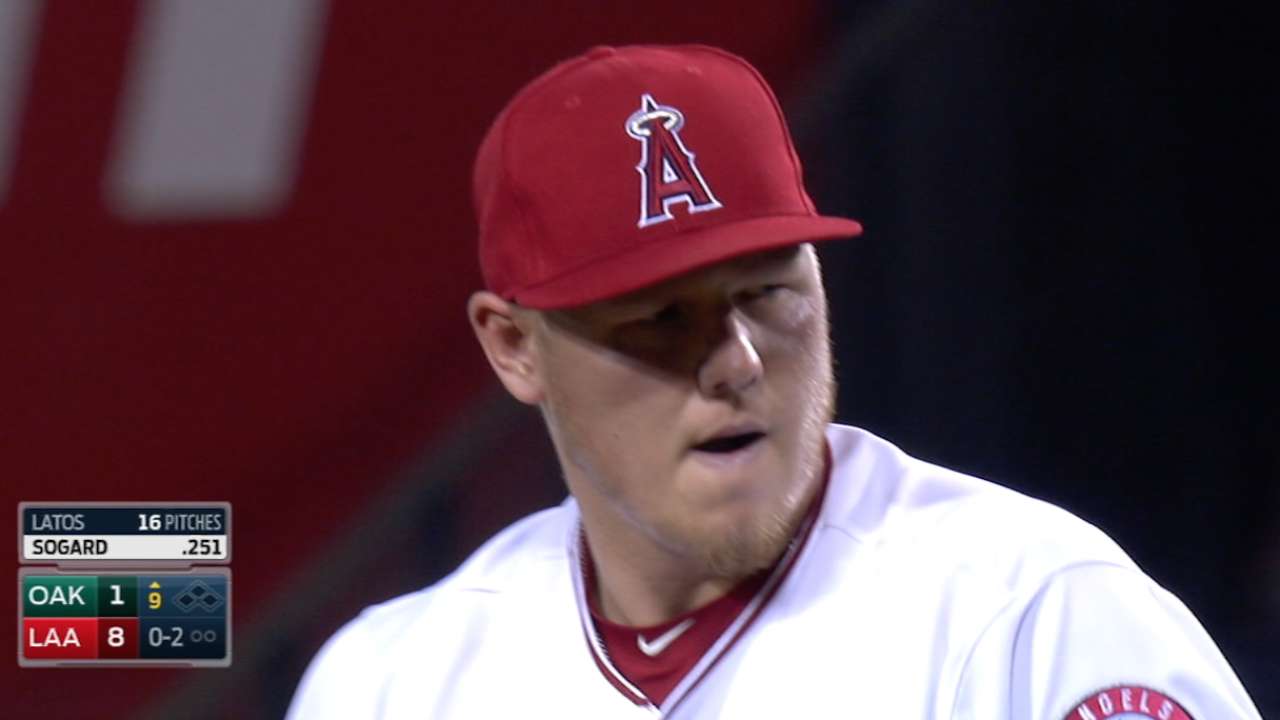 "We need arms," Scioscia said. "We've got some guys who've pitched a lot, some guys that are hopefully on the mend and can get back into their roles, but right now we need to cover ourselves."
Reyes, unlike Latos, is technically eligible for the postseason, since he was in the Angels' organization before September. But he would be a very unlikely candidate.
The Angels could try to pass Green through waivers and send him to the Minor Leagues, but Green is also out of options next season, so he might end up trying to sign on with another team.
"It's a tough decision, but Grant Green will get his opportunity," Scioscia said. "There's no doubt he can fill a role in the Major Leagues. Right now, where we are, we need pitching depth, and it was really the only way that [interim general manager] Bill Stoneman and I could solve it to add pitching depth."
David Adler is an associate reporter for MLB.com. Follow him on Twitter @_dadler. This story was not subject to the approval of Major League Baseball or its clubs.