Marlins think Hechavarria deserves Gold Glove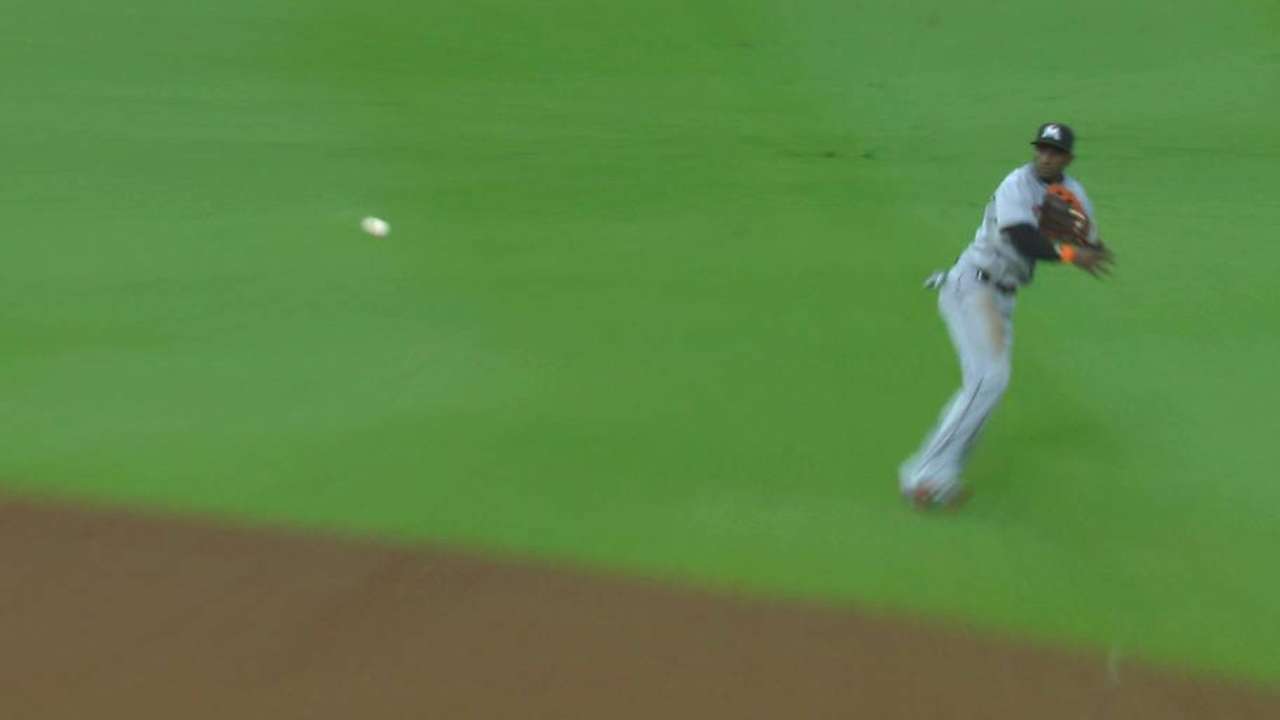 ST. PETERSBURG -- For five months, Adeiny Hechavarria played defense at the highest level. The way the Marlins see it, no shortstop in the National League performed better, and the analytics backed it up.
But now there is a question of whether missed time could ultimately cost Hechavarria a chance to capture his first Gold Glove. The slick-fielding shortstop has been out since Sept. 2 with a strained left hamstring, and a return this year appears unlikely.
• Is Hechavarria #AwardWorthy? Vote now for Best Defensive Player
"I know the ballots were out roughly a week or so ago," manager Dan Jennings said. "I know, selfishly, just watching him as much as we're been able to see -- he's performed, he's earned it. You hope our guys that are up for consideration have made a big enough impression on the rest of the league and the voters."
In many ways, the hamstring injury has hindered Hechavarria's chances to become the first Miami shortstop ever to win the Gold Glove.
Before the injury, Hechavarria was leading all NL shortstops in total innings played as well as Ultimate Zone Rating (UZR), a metric that is part of the Gold Glove equation.
Since being out, Atlanta's Andrelton Simmons, the 2014 Gold Glove winner, has passed Hechavarria in UZR. Simmons' UZR, according to Fangraphs, is 15.9, compared to 15.8 for Hechavarria.
The innings edge is expanding in favor of Simmons, who has 1,243 1/3, while Hechavarria is at 1,120 1/3.
Whether Hechavarria wins the Gold Glove or not, the 26-year-old has enjoyed a breakthrough season. His overall game has greatly improved. At the plate, he's made big strides, posting a slash line is .281/.315/.374 with five homers and 48 RBIs.
Hechavarria has a WAR of 2.9, according to Fangraphs.
"Even the teams that solely rely on the metrics recognize what he's been able to do," Jennings said. "The zone rating and things of that nature indicate his true value and how much he's climbed to that level. We've been lucky enough, night after night to see web gem after web gem."
The chances of Hechavarria playing the rest of the season are slim, although he could appear in an emergency situation.
"It's still a little tender," Jennings said. "He could be used in an emergency-type situation. He's not 100 percent ready to go."
Joe Frisaro is a reporter for MLB.com. He writes a blog, called The Fish Pond. Follow him on Twitter @JoeFrisaro and listen to his podcast. This story was not subject to the approval of Major League Baseball or its clubs.