Perez, Braves silence Nats to take series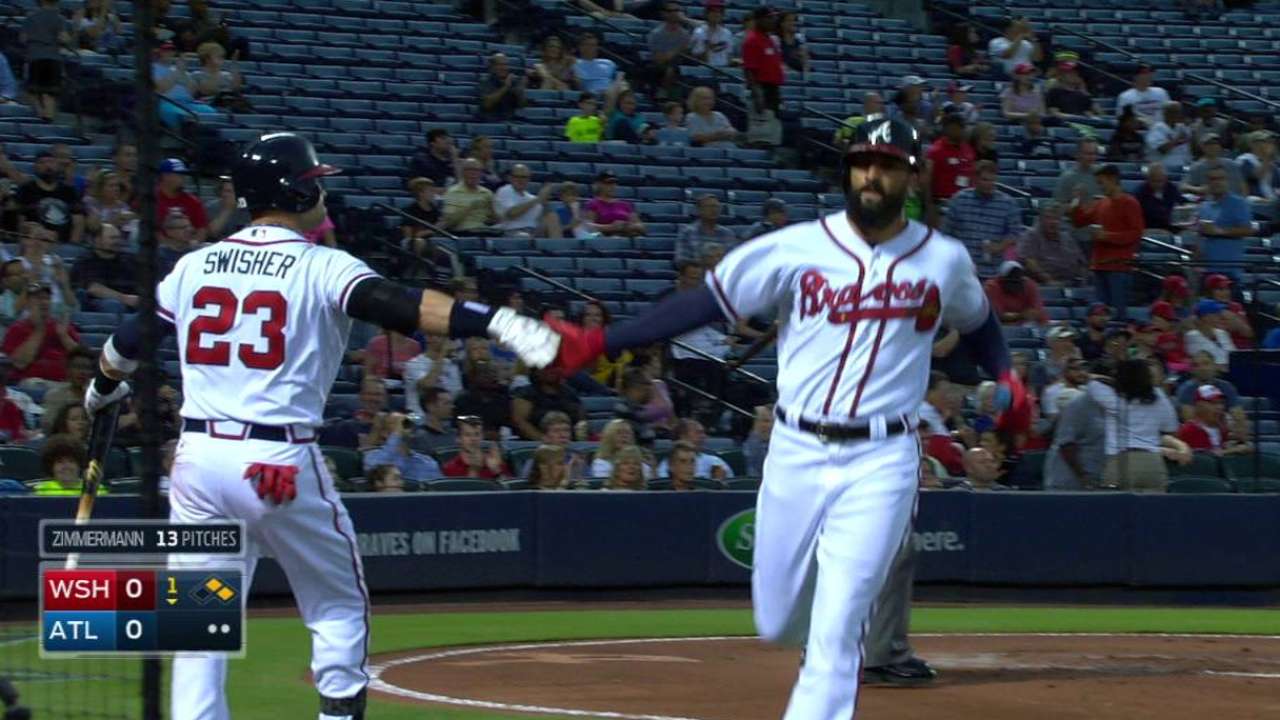 ATLANTA -- Proving yet again that a little offensive production can be enough, the Braves extended their home winning streak to five games with Wednesday night's 2-0 win over the Nationals and Jordan Zimmermann.
Zimmermann allowed two runs while completing what was likely the final start of his memorable career with the Nationals. Unfortunately, for the free-agent-to-be, this amount proved to be enough for the Braves, who have now scored exactly two runs during each of their five straight home wins.
"That's pretty much baseball, when it's going good for you, it's going good," Braves outfielder Michael Bourn said. "When it's not, it's not. We've taken two games from [the Nationals], but they probably aren't in the best mood to play because they just got eliminated from the playoffs."
The Braves scored their first run in the first inning, when Nick Markakis scored on a single by A.J. Pierzynski. An inning later, Todd Cunningham scored the second run of the game on a single by Michael Bourn.
The Nationals had opportunities to score runs against right-hander Williams Perez, who pitched six shutout innings. Washington went 1-for-8 with runners in scoring position against Perez and that one hit came from Zimmermann, who singled after Michael Taylor produced a one-out double in the fifth inning.
MOMENTS THAT MATTERED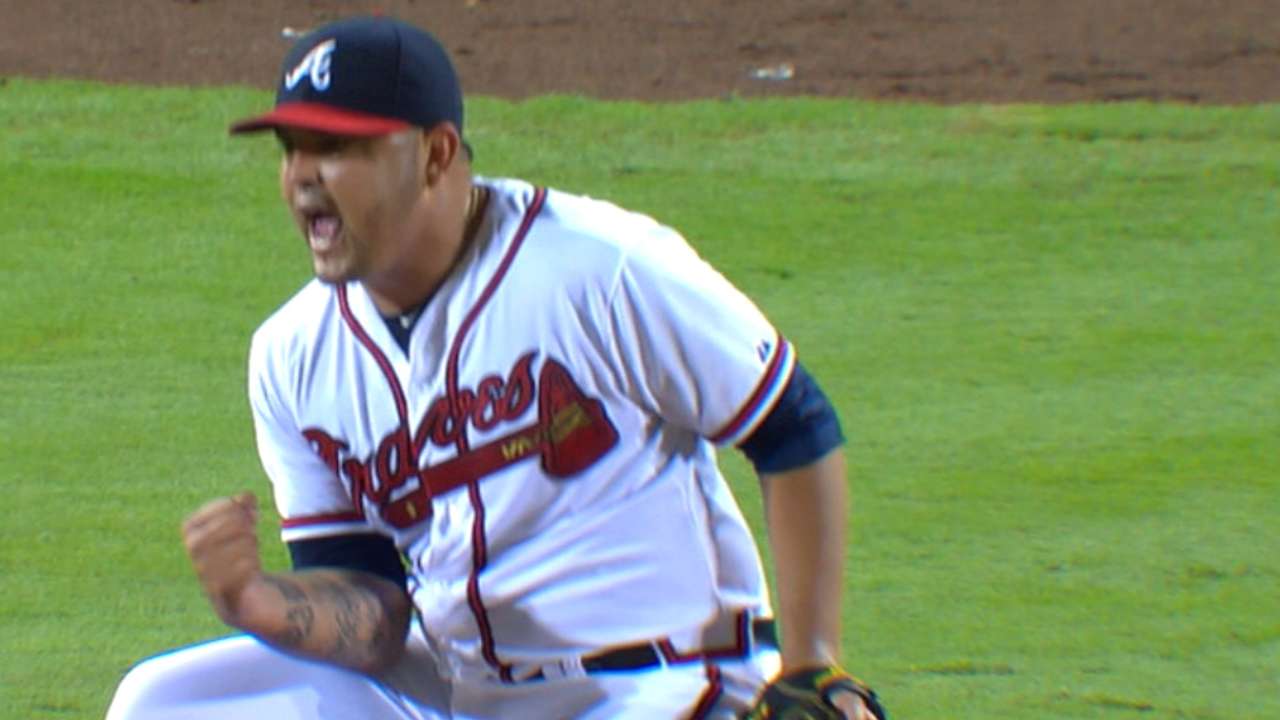 Another encouraging confidence booster: It appeared Perez's magic had worn off when he posted a 9.87 ERA over six starts (July 31-Aug. 28) and was briefly optioned to Triple-A Gwinnett. But the right-hander returned to Atlanta's rotation looking much like he had after making his Major League debut in May. He produced a 2.35 ERA over his final six regular season starts and in the process at least strengthened his candidacy to remain in the rotation next year.
"It feels really good to finish the season the way I have, especially after coming back from that injury," said Perez, who missed a month after bruising his left foot on June 26. "I was at such a low point. Finishing up at this high point, it feels good going into the offseason." More >
Failing to move the runners over: The Nationals' best chance to score runs came in the second inning. They had runners on first and second with no outs, but Wilson Ramos hit into a double play. After Taylor was walked intentionally, Zimmermann grounded out to shortstop Andrelton Simmons to end the threat.
"Today was a downer, but over the course the last couple of months, it has been pretty darn good," manager Matt Williams said. "You are going to have a rough one every once in awhile. But it doesn't mean it can't turn back the other way tomorrow."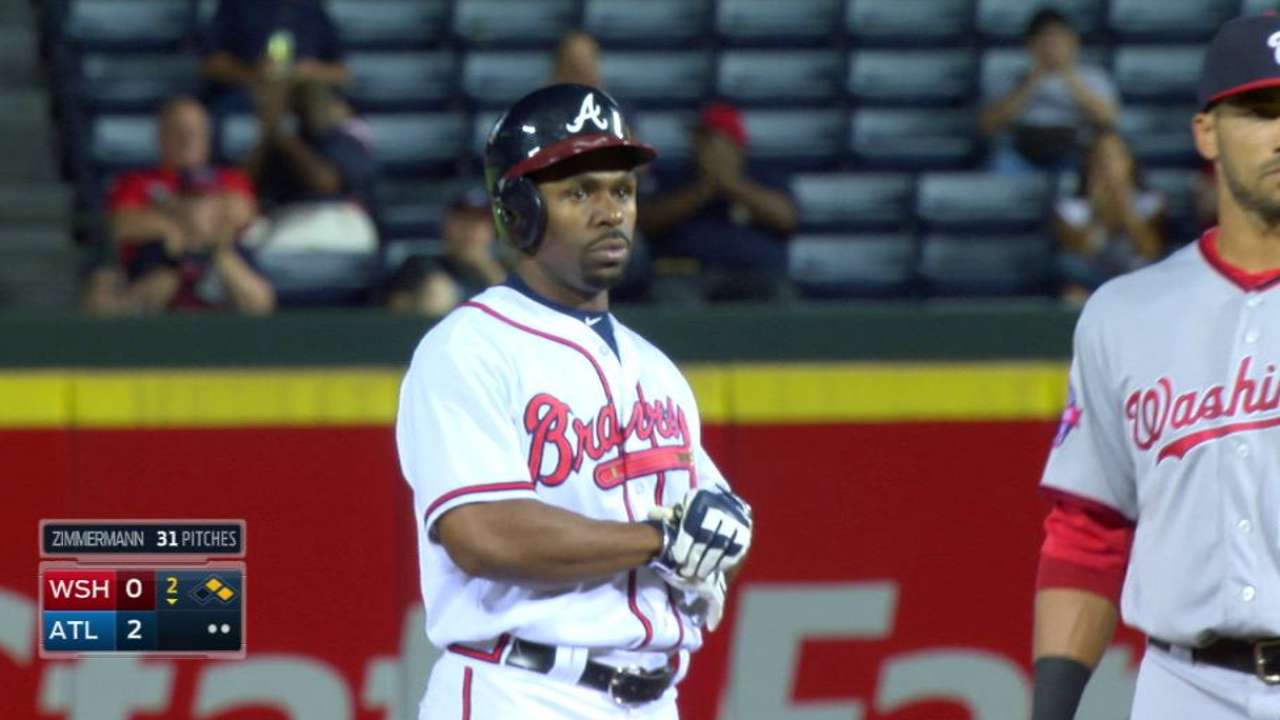 Two is enough: Markakis got the Braves rolling when he delivered an opposite-field double with one out in the first inning and scored when Pierzynski followed with his RBI single. Perez aided his own cause when he sacrificed Simmons to second base just ahead of Bourn's RBI single.
Possible end of an era: In his career with the Nats Zimmermann totaled 70 victories, a Nationals record, became the first member of the Nationals to throw a no-hitter and was invited to appear in the All-Star game twice. On Wednesday, Zimmermann picked up his 10th loss of the season, giving him double-digit defeats for the first time since 2011.
"The word that comes to my mind is consistency, durable, reliable. For a starting pitcher, that's important," Williams said. "He has provided this organization that for a long time. It's always tough having Tommy John. He has responded from that. He worked hard to become the pitcher he has become. I admire him for that." More >
QUOTABLE
"From the minute he came up with us, he's always had closer's stuff. I think the difference now is he has secondary stuff he can throw for strikes to get guys off his fastball and not just rely on [throwing] 100 mph every time." -- Braves reliever Peter Moylan on rookie closer Arodys Vizcaino, whose perfect ninth inning left him with a 1.69 ERA and his ninth save in 10 opportunities
SOUND SMART WITH YOUR FRIENDS
The Braves joined the 1958 Pirates as the only clubs in Major League history who have recorded five straight home wins while scoring two runs or fewer in each game. They are now tied with the Cubs for the most wins this season (16) while scoring two runs or less.
The Nationals are 1-for-18 with runners in scoring position in the first two games against the Braves and 11-for-69 with three extra-base hits over their last nine games.
REPLAY REVIEW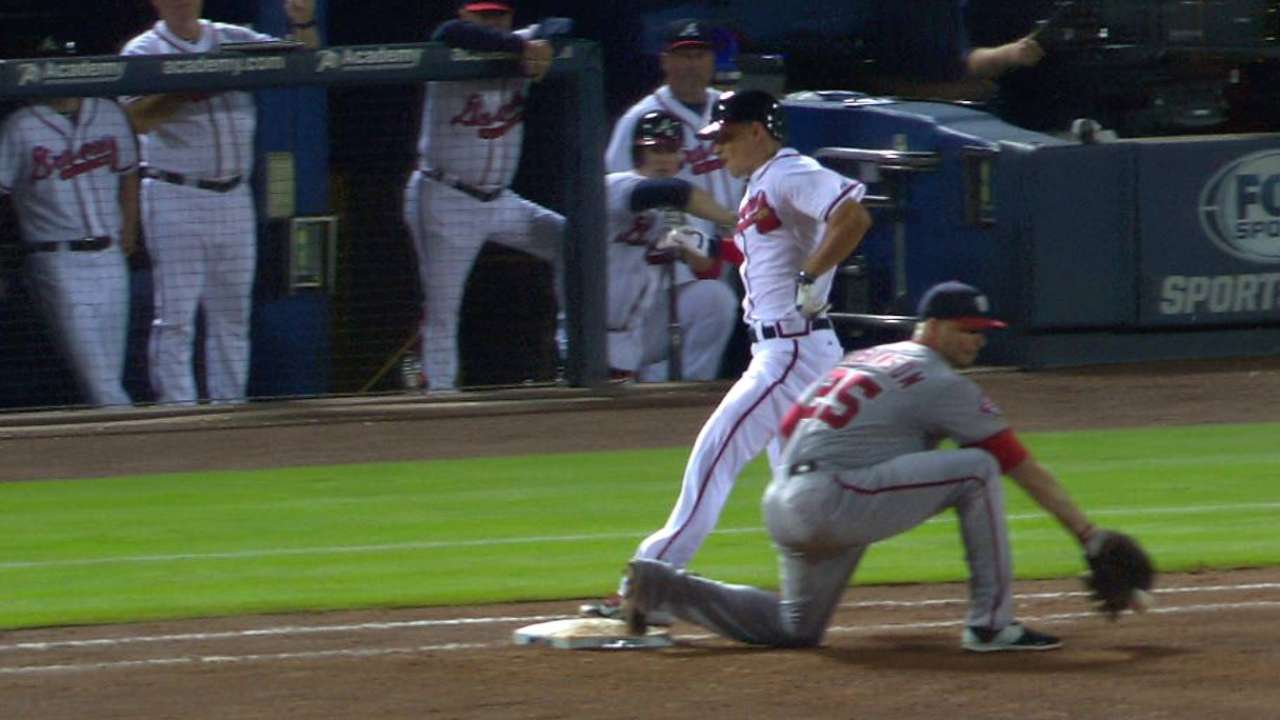 Jace Peterson was awarded an infield single after the Braves issued a successful challenge with two outs in the sixth inning. A review that lasted just seconds showed Peterson beat Anthony Rendon's throw to first base.
WHAT'S NEXT
Nationals: The Nationals look to salvage the three-game series by having Stephen Strasburg take the mound at 7:10 p.m. ET. In his last start, Strasburg was dominant for the first seven innings, striking out 11 Phillies and allowing only one hit. Given limited run support, that wasn't enough, and Philadelphia rallied for two hits and a run to tie the game in the eighth.
Braves : Atlanta will counter with Ryan Weber, who will be making his fifth career start. Weber proved effective in each of his first three starts. But his fourth start did not go so well as he allowed seven runs in just two innings against the Marlins
Watch every out-of-market regular season game live on MLB.TV.
Mark Bowman and Bill Ladson are reporters for MLB.com. This story was not subject to the approval of Major League Baseball or its clubs.