Boyd ends whirlwind season with lessons learned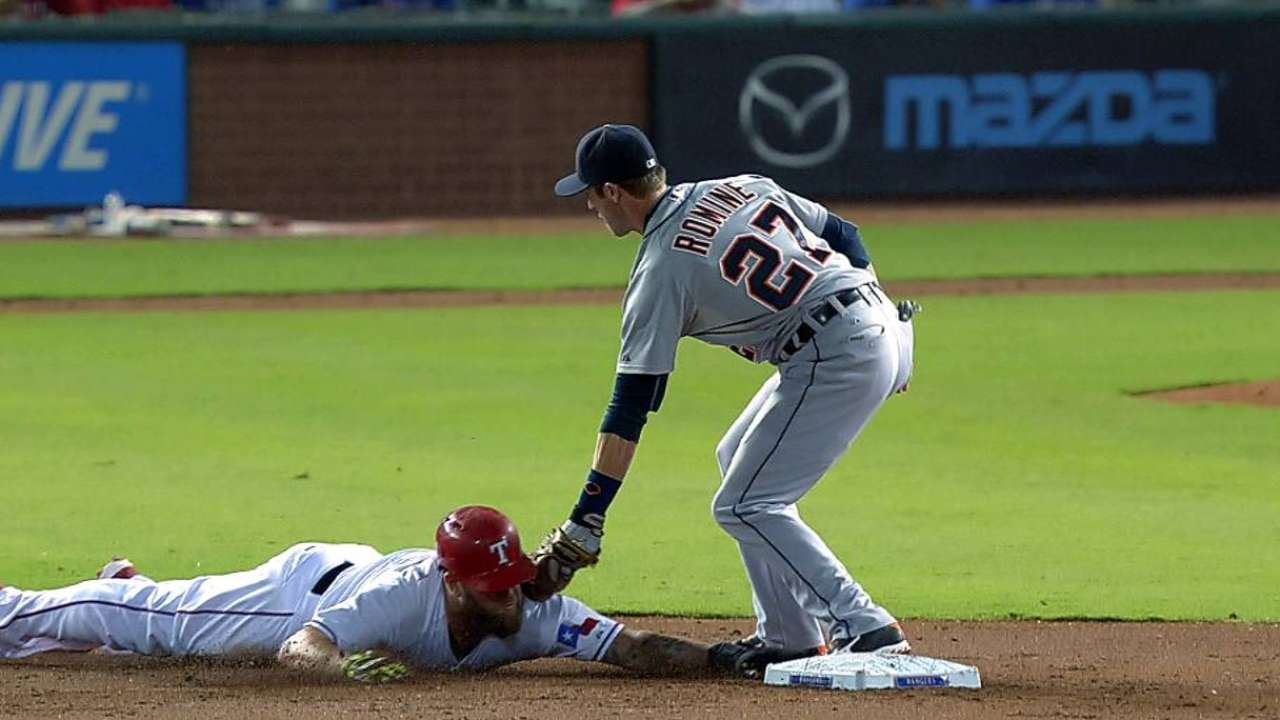 ARLINGTON -- There are worse places for Matt Boyd to be than this. Considering where he was at this point a year ago, trying to find his place in a pitching-rich Blue Jays farm system, he'll gladly stew over three 400-foot home runs in a 6-2 Tigers loss against the Rangers on Wednesday night.
He ended last season with a 6.96 ERA over 10 starts at Double-A New Hampshire, having struggled to make the jump from the Class A Advanced Florida State League. He ends this season with 172 innings, 54 2/3 of them in the big leagues, and a rotation spot that he held down with the Tigers for two months after coming over in the David Price trade.
"This is probably my most successful year so far," Boyd said after allowing six runs on seven hits in 2 2/3 innings against the Rangers. "I had a great year in the Minors, came up here, struggled, had success, but I learned a lot. I'll go home, break it down, grow from it.
"I'm only a fraction of the pitcher that I'm going to be next year right now, and I know that. Now I have to go back and put in the work."
If he can make anywhere near that kind of jump from this year to next, the Tigers could have something. For a player some evaluators saw as the more polished pitcher the Tigers got in the trade, more than Daniel Norris, it's not unfeasible. But to make the jump, he's going to have to stay down in the strike zone. He couldn't do that Wednesday and he paid dearly for it, giving up home runs to three of the first 14 batters he faced.
"Two of the three home runs were offspeed pitches up in the zone," manager Brad Ausmus said. "He was up in the zone and they took advantage of it with some big hits early."
On this night, he was the fly-ball pitcher he was known to be when he came over in the trade. There were more home runs than groundouts against him as he ended the season with 17 home runs allowed over 57 1/3 innings. It wasn't that he hadn't learned his lesson; he reverted back to old tendencies after three effective outings.
"Everything was up, and they took advantage of every mistake he made," catcher James McCann said of the Rangers, who beat Boyd for the third time this season. "Some very experienced hitters, [Mike] Napoli and [Adrian] Beltre, hit a 2-1 changeup and an 0-0 changeup out of the ballpark. The pitch location was really the big thing tonight."
Boyd got away from the two-seam fastball that had helped him balance out his workhorse four-seamer, but he didn't feel comfortable throwing it behind in counts. He plans on working on that this winter, along with the slider. In some ways, he's like Rick Porcello in reverse, a fly-ball pitcher trying to get the ball down to give hitters a different look.
More than anything, though, Boyd wants to find ways to stay stronger as innings pile up. That'll be his challenge in workouts.
"I think if I was throwing like I was around inning 100 up here, then I think I have a lot more success," Boyd said. "I've got to be sharper later in the year. That's my focus. I think with what I've got in place right now, I think I can pitch in this game for a long time.
"I don't think it's a matter of going out there and learning a new pitch. I've got five solid pitches. Obviously there's always room to get better, tighten them up and make them more consistent. But I think I have foundation in place to have a very successful year next year and do what I can to help this team."
Jason Beck is a reporter for MLB.com. Read Beck's Blog, follow him on Twitter @beckjason and listen to his podcast. This story was not subject to the approval of Major League Baseball or its clubs.