Bauer will return to rotation for Thursday start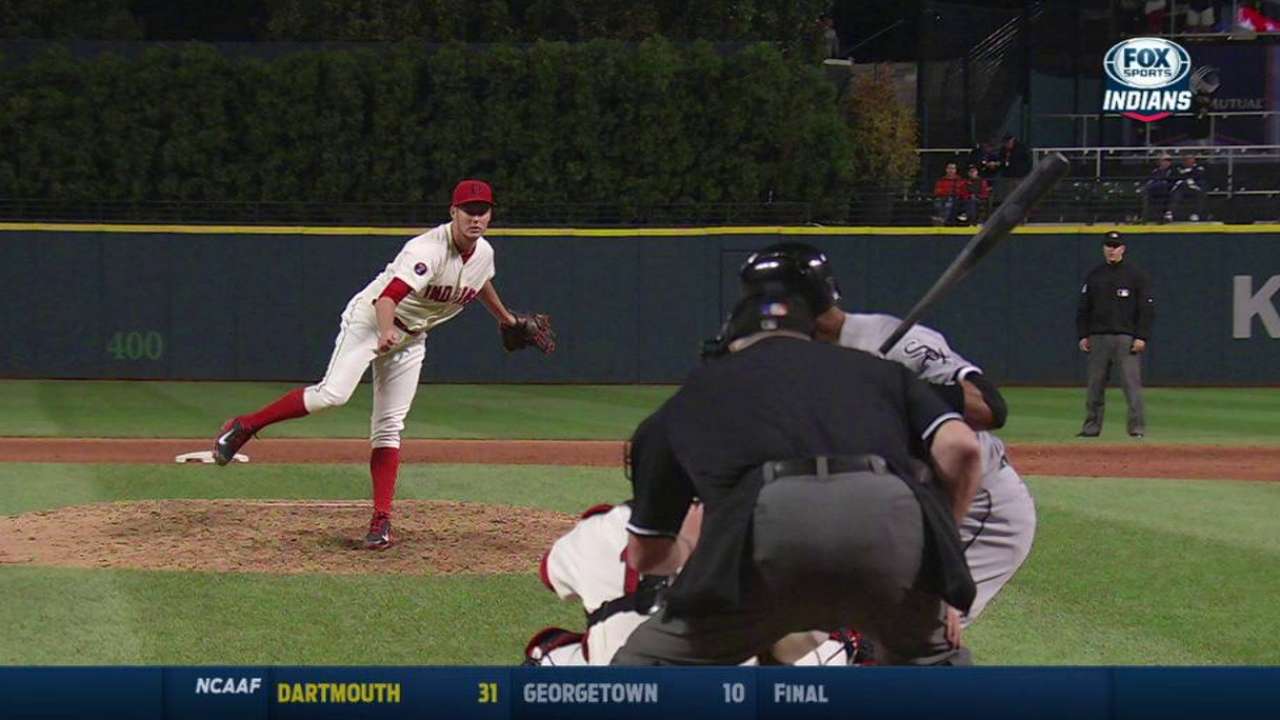 CLEVELAND -- The Indians have continuously reminded Trevor Bauer that he is young in both years and experience. Cleveland does not want the right-hander heading into this offseason thinking that the campaign he just delivered was a disappointment.
To the Indians, Bauer's season was a stepping stone, and the Tribe is giving him one more start to try to dive into his detailed offseason regimen with a better taste in his mouth. Bauer, who has been in the bullpen for the past two weeks, is scheduled to take the ball for Cleveland in Thursday's game against the Twins.
"He's a work in progress," Indians manager Terry Francona said prior to Wednesday's doubleheader with Minnesota. "We've acknowledged that, but he's trying and will continue to. I think the biggest thing I've tried to express to him is, 'We're not trying to re-do you. We're trying to just make adjustments as we go.'"
Following Wednesday's twin bill, the Indians' rotation will feature Bauer (Thursday), Josh Tomlin (Friday), Corey Kluber (Saturday) and Danny Salazar (Sunday).
On the season, the 24-year-old Bauer has gone 11-12 with a 4.69 ERA, 167 strikeouts and 76 walks in 30 games (169 innings). It was the first season in which the young righty began the year in an Opening Day rotation, and he responded with career bests in wins, appearances, innings and strikeouts.
It has been a tale of two seasons for Bauer, though. After posting a 2.94 ERA with a .620 opponents' OPS in his first 11 starts, the right-hander turned in a 5.99 ERA with a .794 opponents' OPS in the 18 outings prior to being moved temporarily to the bullpen. Bauer has a 7.63 ERA with an .830 opponents' OPS in his past seven turns in the rotation.
Indians pitching coach Mickey Callaway has had discussions with Bauer about working in the lower half of the strike zone more often, while also finding ways to use one of the pitcher's strengths (elevating by design) to his advantage. Over the past two weeks, Callaway and bullpen coach Jason Bere have continued to have productive talks with Bauer.
"It's been really good," Callaway said. "We've talked about a lot, and we're really trying to get to a spot where we can have a really productive offseason -- like we always try to do at the end of every season. There's been a lot of dialogue in trying to figure out what's best for him to really concentrate on in the offseason."
Callaway said the goal is to find a middle ground between Bauer's ideas and the team's goals.
"Absolutely," Callaway said. "That's what we're always really shooting for with any player. We don't want him to not pitch up in the zone all the time. We want just a good mix of pitches, where it's not predictable, and he can go out there and attack without having to worry that the hitter knows exactly what the pitcher's trying to do to him.
"I think a lot of times, when you're trying to do that in-season, you're so worried about performance and getting stuff done. You want it to be immediate, so you can perform in four days. The offseason gives you a chance to slowly add what's necessary."
Thursday's start is a good place to begin that process.
"This start won't define his career," Francona said. "But, heck yeah, I think it'll be really good for him."
Jordan Bastian is a reporter for MLB.com. Read his blog, Major League Bastian, follow him on Twitter @MLBastian and listen to his podcast. This story was not subject to the approval of Major League Baseball or its clubs.