How has absence of Kang impacted Cutch?
Opposing pitchers have been more careful with Pirates center fielder lately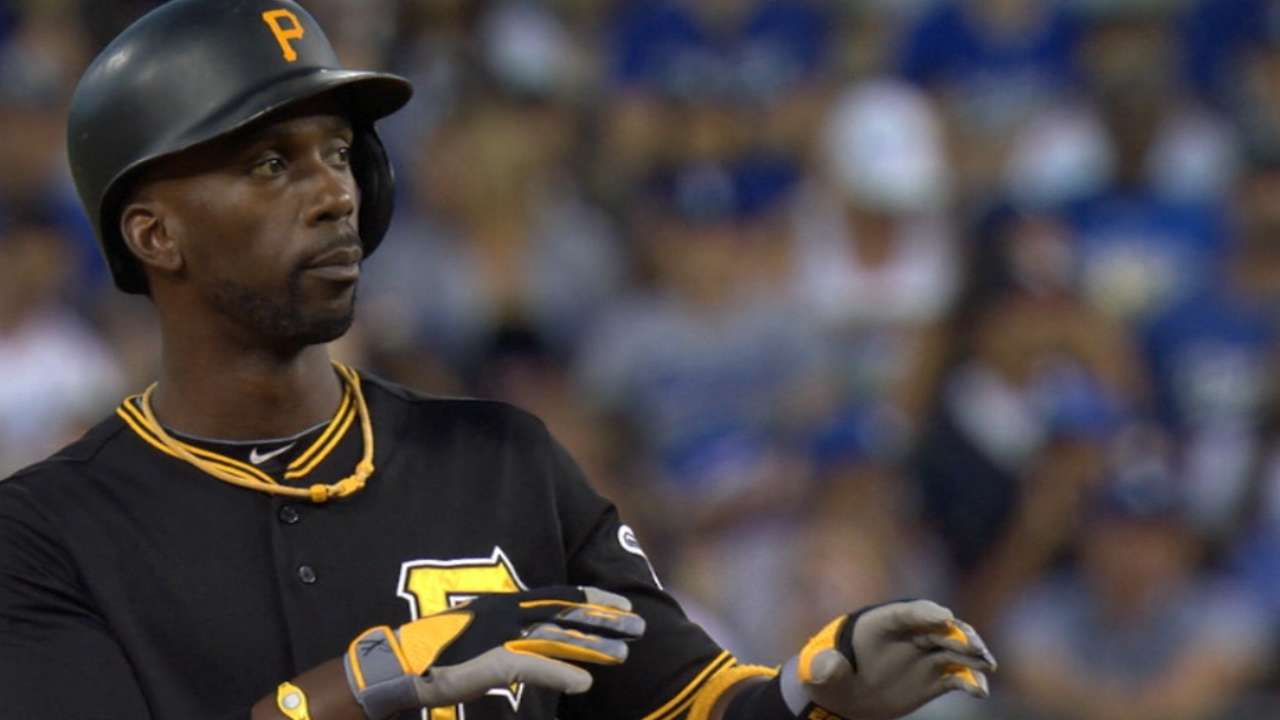 PITTSBURGH -- Andrew McCutchen entered the home stretch of the 2015 season with a spectacularly unique run of games behind him. In 11 games prior to the afternoon portion of Wednesday's split doubleheader against the Cardinals, he had hit .212 -- but had an on-base percentage of .490 due to 17 walks.
Pirates manager Clint Hurdle, while lauding McCutchen's plate discipline, had no trouble explaining the phenomenon.
"At some point, teams just say, 'That guy is not going to beat us. We'll try to get him to swing, and if he doesn't, we'll throw five or six [off the plate] and he can go down to first.' I think that's been the approach to Cutch," Hurdle said.
Did teams arrive at that decision when Jung Ho Kang no longer offered lineup protection for McCutchen? Those 11 games coincided with the loss of Kang, out for the season with left knee injuries.
Is it a coincidence? Or did teams become more leery of McCutchen without the threat of Kang lurking behind him? Despite being absent, has Kang's value to the lineup become even more obvious?
"There may be something to that," Hurdle said. "But you'd have to take a closer look at the times Kang did bat cleanup, because [Aramis] Ramirez has hit cleanup since he's been here every time he has been in the lineup."
Ramirez had been in the four-hole 46 times since his acquisition from Milwaukee on July 25. Even on those occasions when Kang hasn't been directly protecting McCutchen, he was still behind him in the five-hole.
Overall, McCutchen was driven in 10 times by Kang, second on the team to the 11 times by Starling Marte -- who still ranks as the Bucs' predominant cleanup hitter with 49 games at No. 4.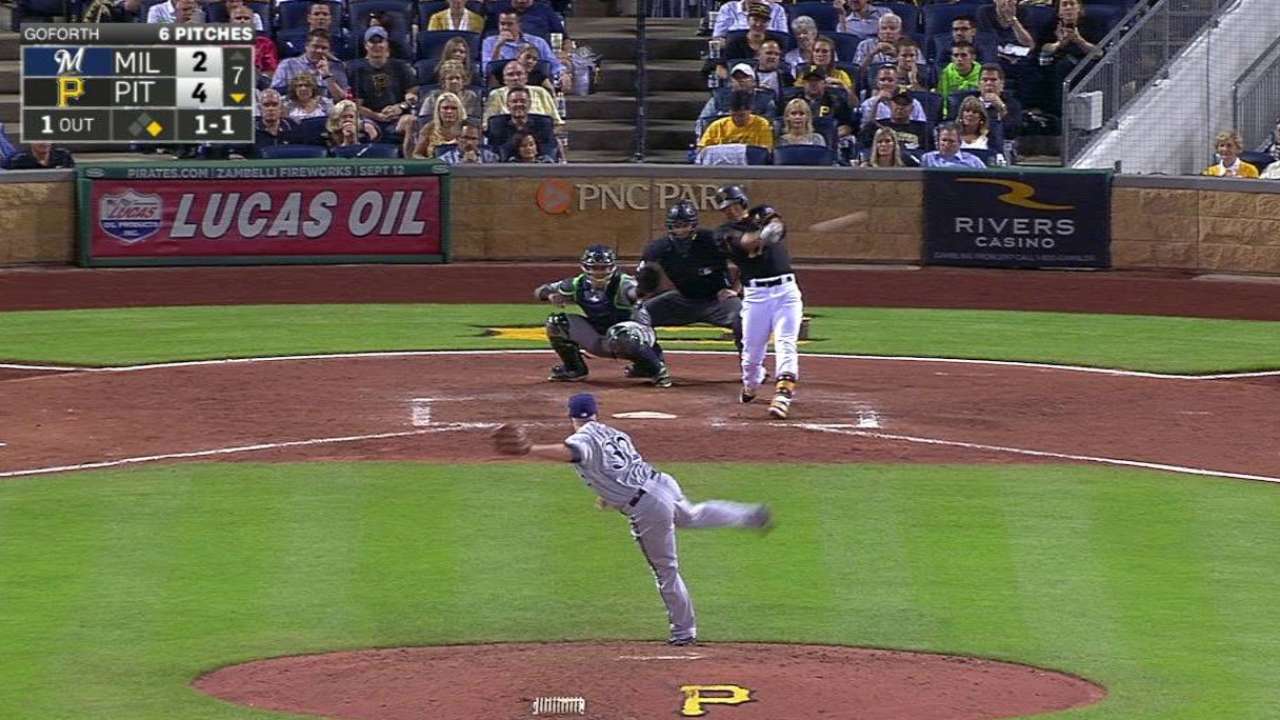 And that closer look only at the times Kang had hit cleanup indeed was revealing. In 24 games with Kang behind him, McCutchen hit .321 (compared to .287 otherwise).
But here is the most revealing evidence that teams are more willing to give McCutchen free passes without Kang's protection: In those 24 games, Cutch walked a total of 11 times; since Kang's injury, 17 walks in 11 games.
Touching all the bases
• First: This Pirates team is all but assured of being the first in franchise history without a single complete game by starting pitchers; the Bucs hit a low of only one complete game in 2010.
• Second: The home run allowed by Mark Melancon on Monday night was only the seventh he has given up in his three seasons with the Pirates, out of 843 batters faced.
• Third: Watching in the clubhouse, Travis Ishikawa was proud to pop up in an MLB Network promo of "Postseason Heroes," right there among Derek Jeter, David Ortiz, David Freese and others; Ishikawa hit a pennant-winning homer for the Giants last year off Cardinals pitcher Michael Wacha.
• Home: Francisco Cervelli led MLB through Tuesday with a .364 average after the sixth inning (55-for-151).
Tom Singer is a reporter for MLB.com and writes an MLBlog Change for a Nickel. He can also be found on Twitter @Tom_Singer and on his podcast. This story was not subject to the approval of Major League Baseball or its clubs.