ICYMI: Kemp's 100th RBI not enough in loss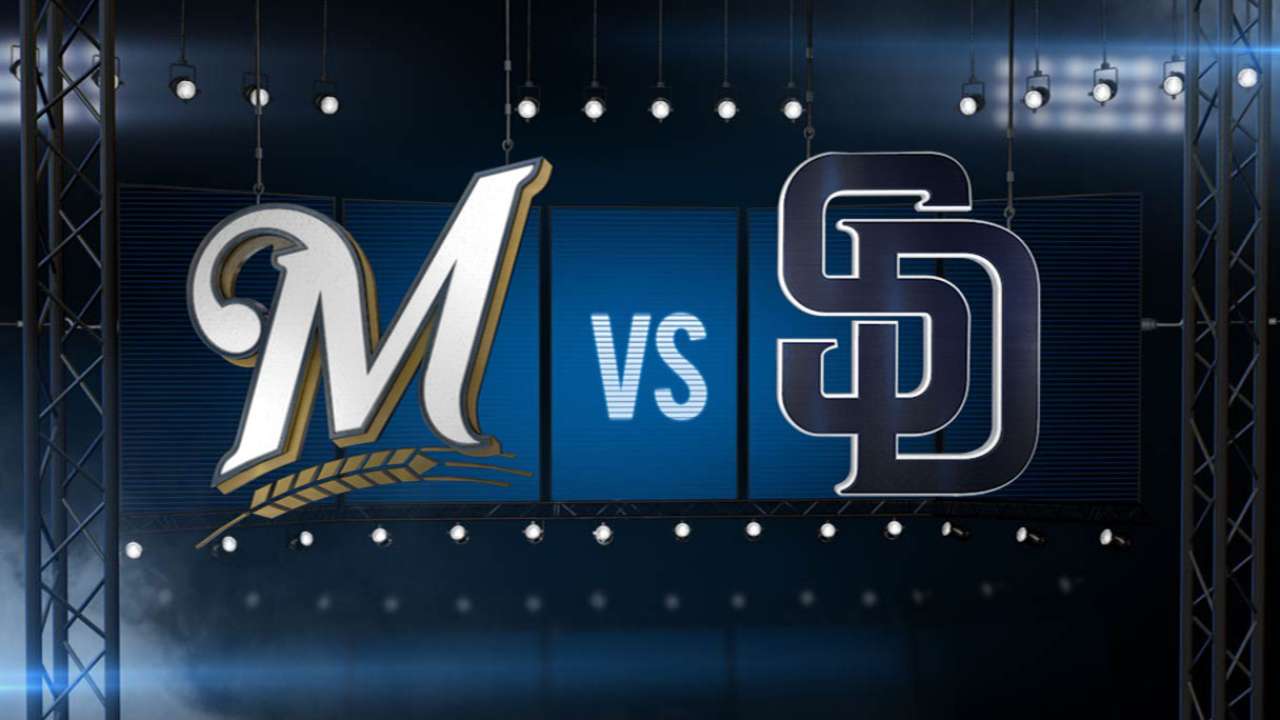 When a pitcher takes a Major League mound for the first time in his career, it is hard to tell what type of performance he will deliver. Sometimes you see a rookie succumb to pressure and buckle in his first MLB loss and other times you see a confident hurler rein triumphant in his first win. Unfortunately for San Diego, the Brewers rolled the dice and put a winner out on the mound as they dropped Tuesday's opener by a score of 4-3 to Milwaukee. Despite leading at one point over rookie starter Jorge Lopez, San Diego just could not hold on to deliver a win in the first of a three-game set.
Tyson Ross struggled early on as he surrendered two runs in the first inning against Milwaukee before settling into a groove over the next four innings. Ross retired 12 of the last 15 batters before surrendering another two run frame in the sixth, giving the Brewers a 4-3 lead that would hold on until the last out of the game. Ross ultimately surrendered four earned runs on six hits and three walks while also striking out seven batters.
Although Ross was not phenomenal in Tuesday's game, he still recorded seven punch-outs to close his season total at a career-high 212 strikeouts for 2015. Ross also recorded his 49th consecutive game of having allowed four runs or fewer, which stands as the longest such streak by a starter in franchise history. But for a Jean Segura two-run homer in the sixth, Ross delivered a decent outing in his final start of 2015.
The Padres bullpen continued that trend of positive pitching after Ross' departure and was lights out in the seventh inning onwards. Four Padres relievers -- Kevin Quackenbush, Marc Rzepczynski, Shawn Kelley and Jon Edwards -- combined for three innings of shutout baseball while also collecting five combined strikeouts and surrendering only one hit. Edwards continued to impress as well as he extended his scoreless streak to 9.1 innings without surrendering a run.
While the offense had a difficult time figuring out Lopez in the first couple of innings, Matt Kemp broke that trend in the third inning as his RBI-single plated Yangervis Solarte to put the Padres on the board. Thanks to that single, Kemp recorded his 100th RBI of the season, marking the first time in his career since 2011 that he had posted a season of at least 100 RBI. Kemp would go on to leave the game in the fifth inning after suffering soreness in his right hand, with more information on his condition coming later.
Outside of Kemp's 100th RBI, San Diego's offense did a decent job in facing Milwaukee as they out-hit the Brewers nine hits to seven. Cory Spangenberg enjoyed a multi-hit game at the plate as he went 2-for-4 with a run scored and a leadoff triple in the fourth inning. The starter Ross, who recorded his career-best sixth RBI of the year, drove in Spangenberg shortly afterwards.
Wil Myers collected the third Padres run with an RBI-single in the fourth inning as well to boost the team's numbers and offense, but outside of those performances San Diego simply could not hang on to their short-lived lead. Overall, the team went a combined 3-for-7 at the plate while leaving six baserunners stranded on the night ultimately leading to their record falling to 73-84 on the year.
In case you missed it, here are some highlights and stories that you might not have seen from Tuesday:
Padres post-game recap: Homer stings Ross in series-opening loss
Kemp reaches the "century mark" of 100 RBI with his RBI single in the 3rd inning: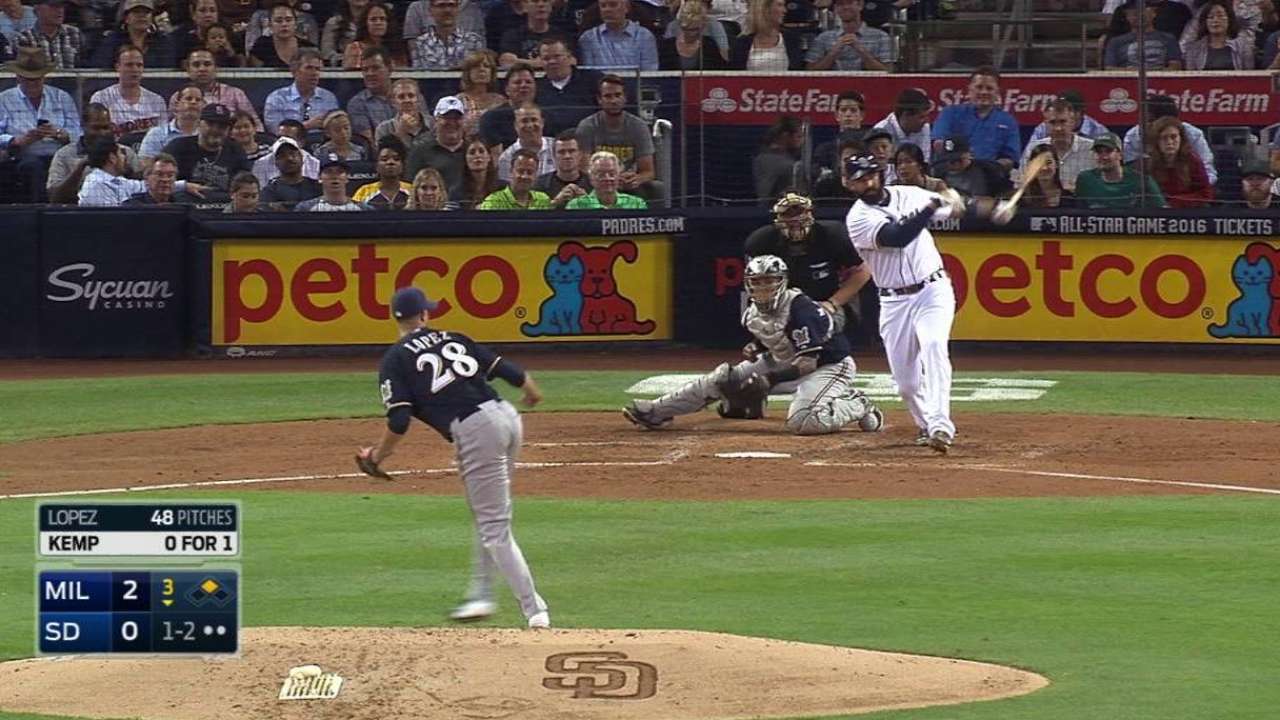 Ross collects an RBI-single in the 4th to tie it up at 2-2: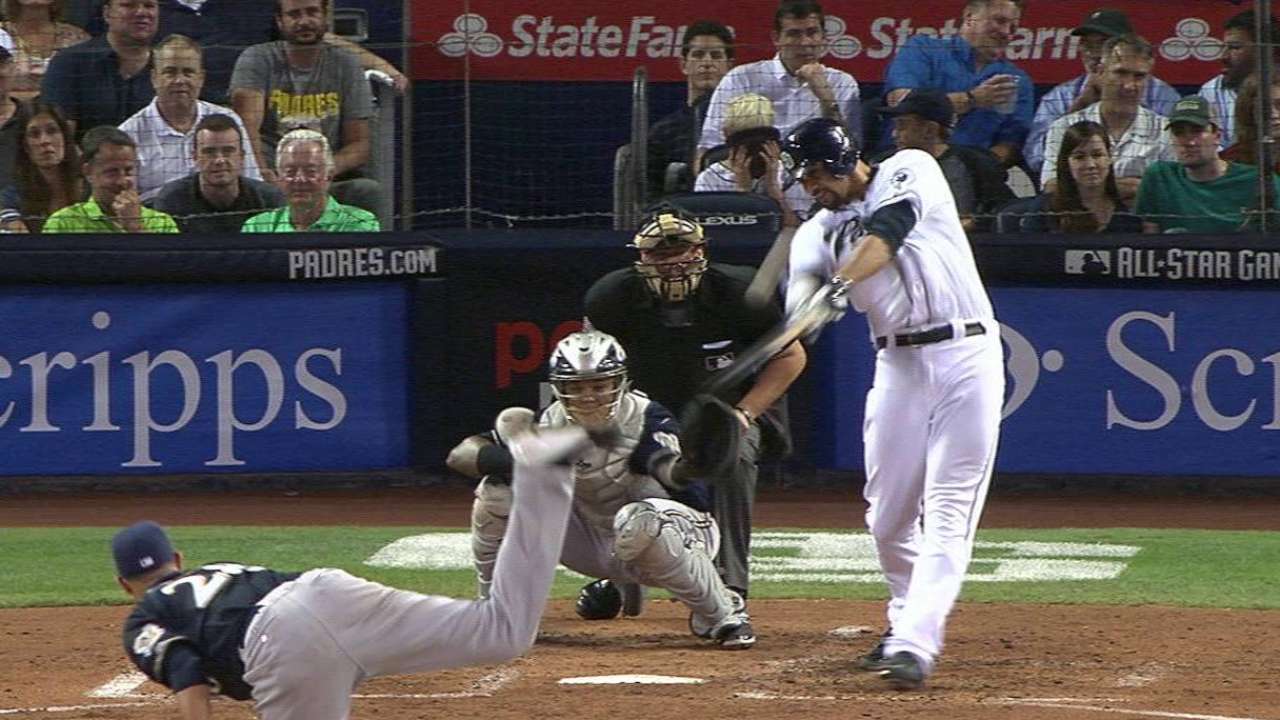 Myers delivers an RBI-single shortly afterwards to give the Padres a 3-2 lead: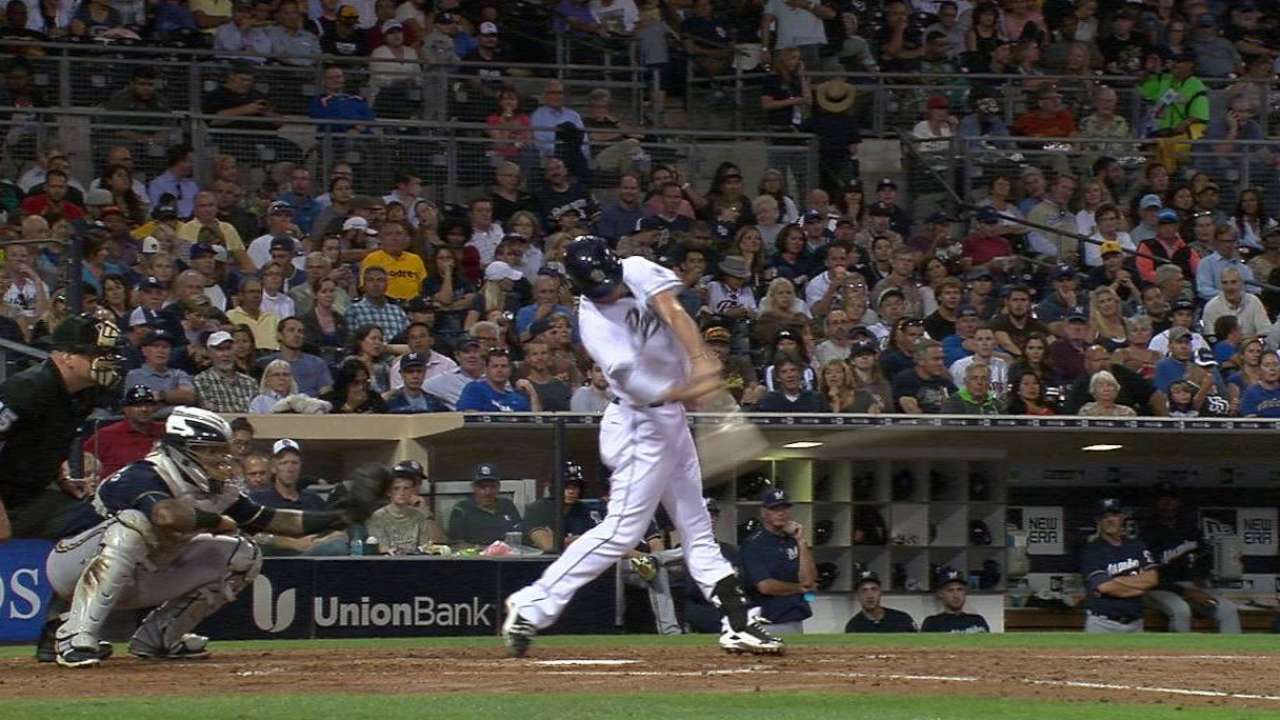 Future Friars show promise at fall instructional league: Nix headline Padres prospects at instructs
Murph's Musings: Giants-Dodgers could affect Padres' weekend plans
Notable Notes: Game Notes vs. MIL (09.29) Padres Kickoff Final Home Series of 2015 with Ross on Hill
Sunday's #ICYMI Recap: ICYMI: Friars succumb to Snakes, longball in finale
Looking forward to the next game:
Friar Forecast at Petco Park: Cashner looking to end '15 on a high note vs. Brewers
Wednesday's pitching preview: Andrew Cashner (6-15, 4.21 ERA) vs. Zach Davies (2-2, 4.67 ERA)