Giants persevered despite plethora of injuries
SF eliminated from postseason in 8-0 loss to Dodgers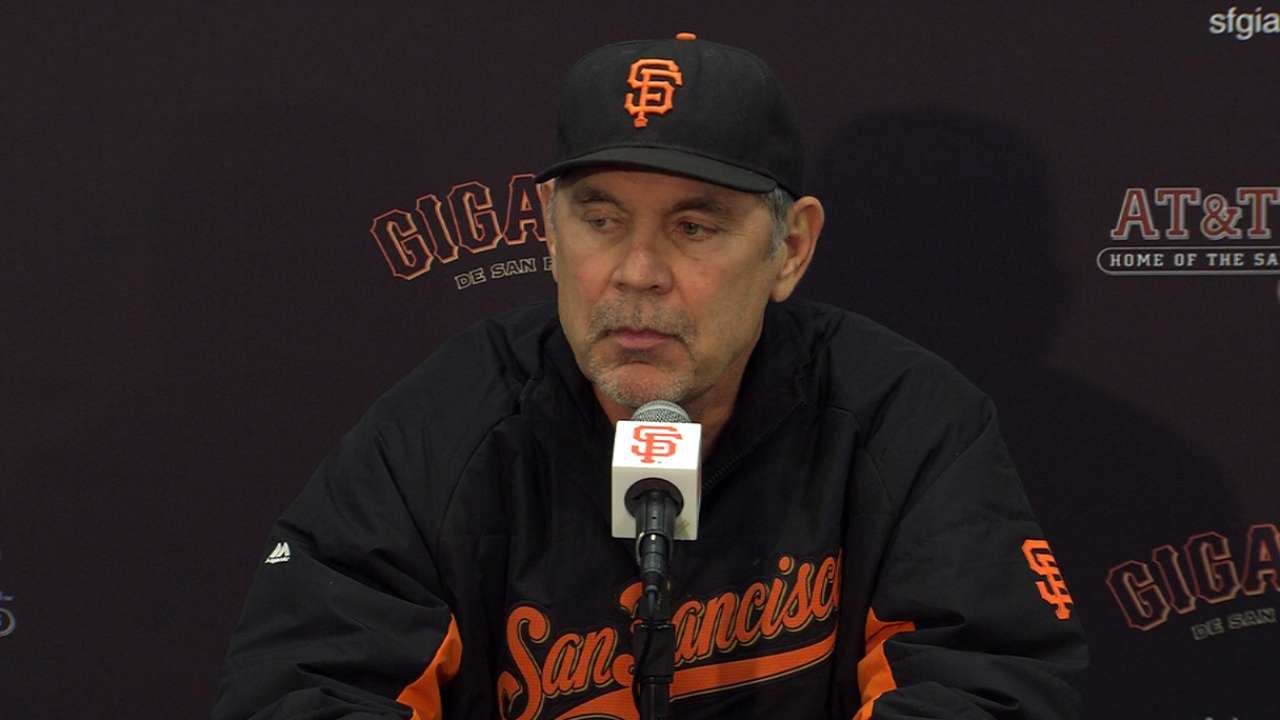 SAN FRANCISCO -- The Giants played 157 games before the Los Angeles Dodgers clinched the National League West championship Tuesday night with an 8-0 victory at AT&T Park. San Francisco's ability to avoid mathematical elimination this long actually was an enviable achievement, given the volume of games many top performers didn't play.
The Giants hardly envisioned as the season began that they'd play their September showdowns against the Dodgers with lineups that included rookies Jarrett Parker, Trevor Brown, Kelby Tomlinson and Mac Williamson, as well as much-traveled veterans Marlon Byrd and Kevin Frandsen. But San Francisco's overflowing sick bay made this necessary.
Giants manager Bruce Bochy felt compelled to address his team after the game and praised the players' persistence.
"With all we had to go through -- you're looking at four concussions and three obliques -- here we are, it's September 29, and we finally got knocked out," Bochy said.
The sight of the Dodgers celebrating their division title in the middle of the AT&T Park diamond didn't sit well with left-hander Madison Bumgarner, the Giants' ultracompetitive ace who allowed four runs in 5 2/3 innings while absorbing Tuesday's decision.
"We'll just have to take that into the offseason and let that give us a little more fuel," Bumgarner said.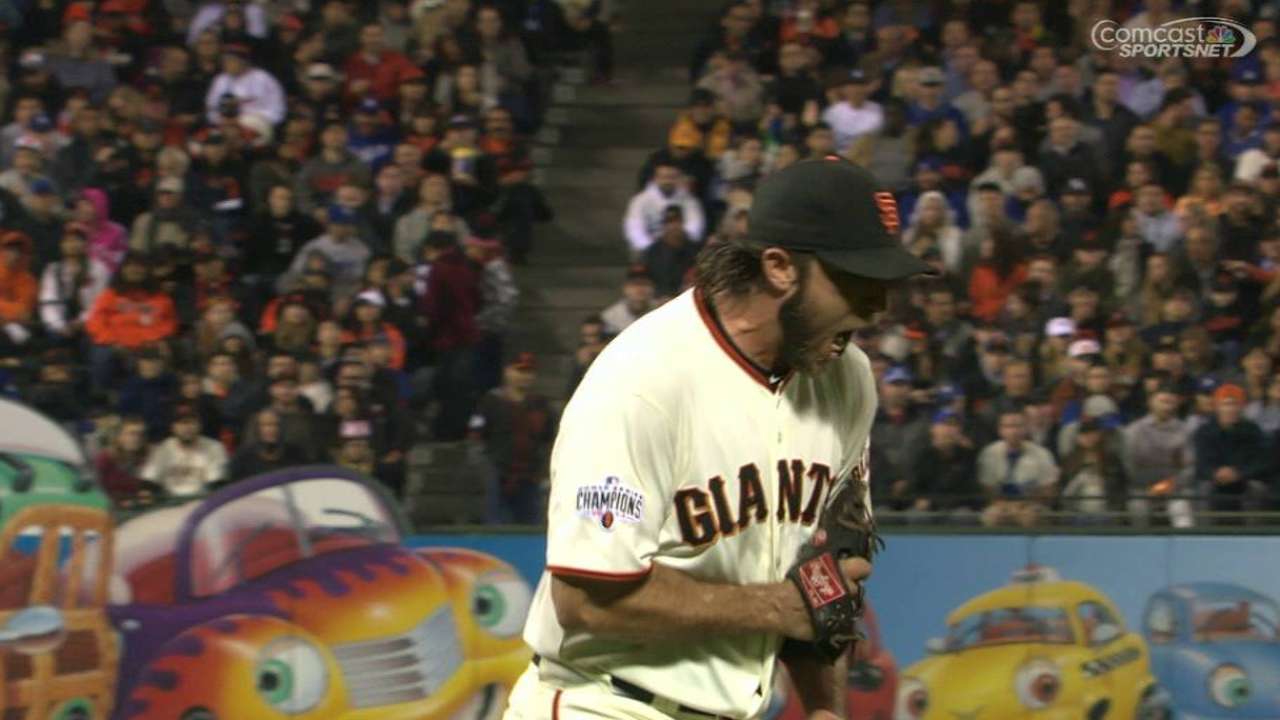 Sweeping this four-game series against Los Angeles was a must for the Giants, and they entertained the notion that it could happen, especially after winning Monday's opener and sending Bumgarner to the mound on Tuesday.
"We still felt like even though the odds were stacked against us, until we were eliminated, there might be a chance," catcher Buster Posey said.
The calendar will be cited as an obvious explanation for the Giants' inability to repeat as World Series champions. They won it all in 2010, 2012 and 2014, and this was an odd-numbered year. However, what mattered most was the lineup's instability, caused by injuries to key performers that prevented the Giants from seriously contending past August.
Outfielders Nori Aoki, Gregor Blanco and Angel Pagan all missed significant portions of playing time. So did first baseman Brandon Belt and second baseman Joe Panik. Ultimately, the most telling absence was that of right fielder Hunter Pence, who appeared in 52 games after averaging 159 during the previous seven seasons.
Pence sustained a fractured left forearm when he was hit by a pitch from Cubs rookie right-hander Corey Black during a March 5 exhibition and missed the regular season's first 38 games. He returned to the disabled list in early June with tendinitis in his left wrist after playing less than a month. That cost Pence 30 games. Just as Pence was settling into a groove, he injured his left oblique muscle on Aug. 17, sidelining him for the rest of the season.
A simple statistic reflected Pence's value: The Giants were 34-17 in games he started. "That's how good he is," Bochy said. "He certainly makes us a different club."
Due to injuries and ineffectiveness, the Giants' once-formidable starting pitching became vulnerable. Bumgarner was the only member of the season-opening rotation who lasted from start to finish.
No wonder the Giants remained inconsistent. They built an eight-game winning streak in May when Pence rejoined the lineup, twice won five in a row and captured 12 of 13 games during one juncture that spanned the All-Star break. They also dropped eight in a row shortly after the season began, endured seven-game losing streaks at the start of July and as August turned to September, and twice lost five consecutive games.
Yet from May 15 through Sept. 1, the Giants never trailed Los Angeles by more than 5 1/2 games in the division standings.
"I think this is a better ballclub than we had last year," right-hander Jake Peavy said in midsummer.
Chris Haft is a reporter for MLB.com. Read his blog, Haft-Baked Ideas, follow him on Twitter at @sfgiantsbeat and listen to his podcast. This story was not subject to the approval of Major League Baseball or its clubs.