Kershaw clamps down to deliver historic clincher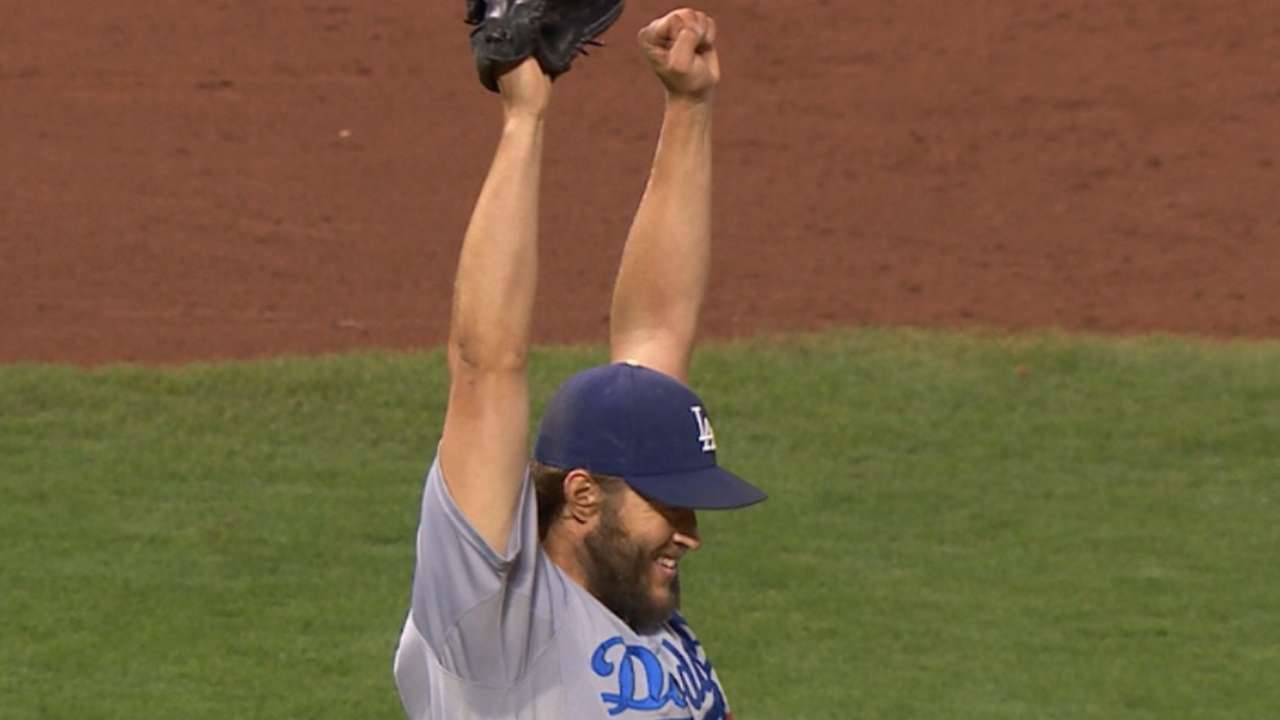 SAN FRANCISCO -- Clayton Kershaw took the mound Tuesday night and there was no more fooling around.
Kershaw threw a one-hit shutout in an 8-0 win and the Dodgers won the NL West, the second-greatest clinching shutout in MLB history behind Mike Scott's no-hitter for the Astros in 1986. He pitched like a man on a mission, as is often the case.
• Is Kershaw #AwardWorthy? Vote now for Best Starting Pitcher
After a four-game losing streak, Kershaw carried the Dodgers to a third consecutive division title. Even if Zack Greinke turns out to be the Cy Young winner this year, Kershaw showed he's still The Franchise.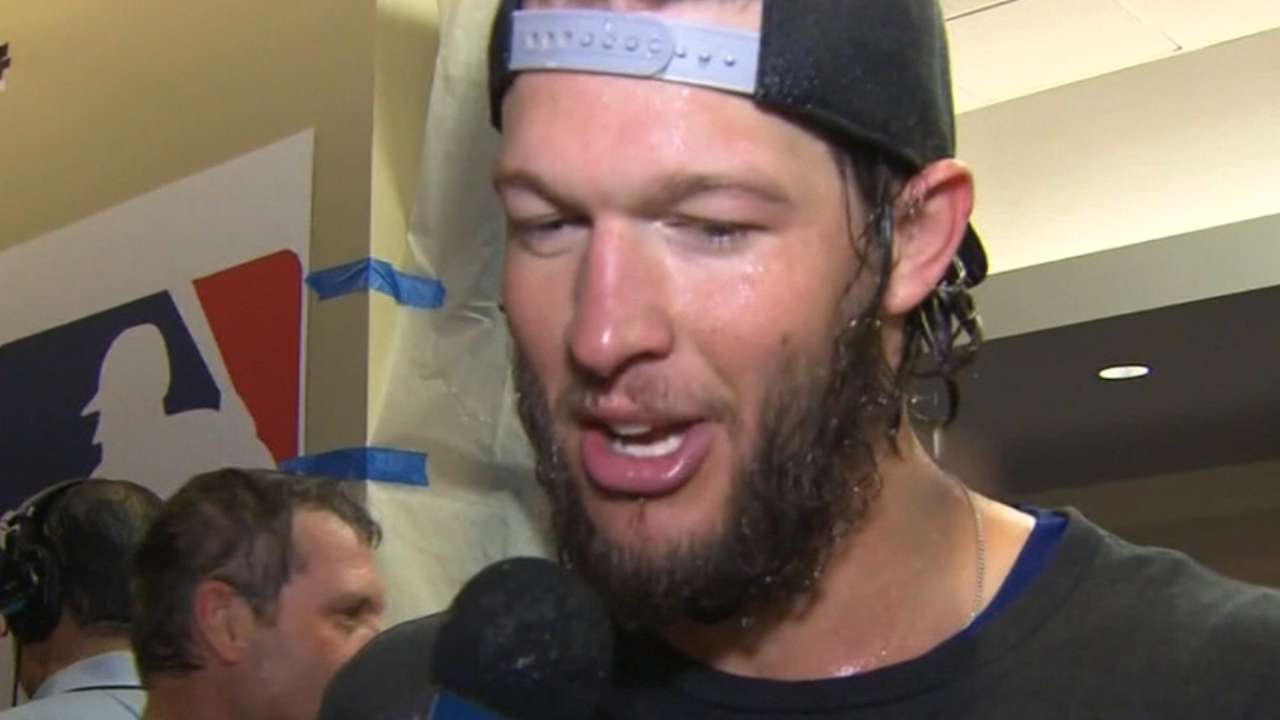 "There was a little bit -- if we don't win this one, we've got two more [in San Francisco] and you start getting a little nervous, start panicking a little bit," said Kershaw, 16-7 with a 2.16 ERA, 294 strikeouts and a career-high three shutouts. "It's good to get it out of the way. We still have more to play for. We're fighting the Mets for home-field advantage. We weren't playing that well, but the last few innings last night we picked it up and this game we were hitting on all cylinders."
• Shop for Dodgers postseason gear
Kershaw, who pitched the clincher against San Francisco last year at home, views the Giants more as a benchmark to emulate than a rival.
"They won three World Series in the past five years," he said. "We might have clinched the division, but they still are in a better spot than we are. That's what we're trying to get to. That's a great team. We're trying to get to where they are."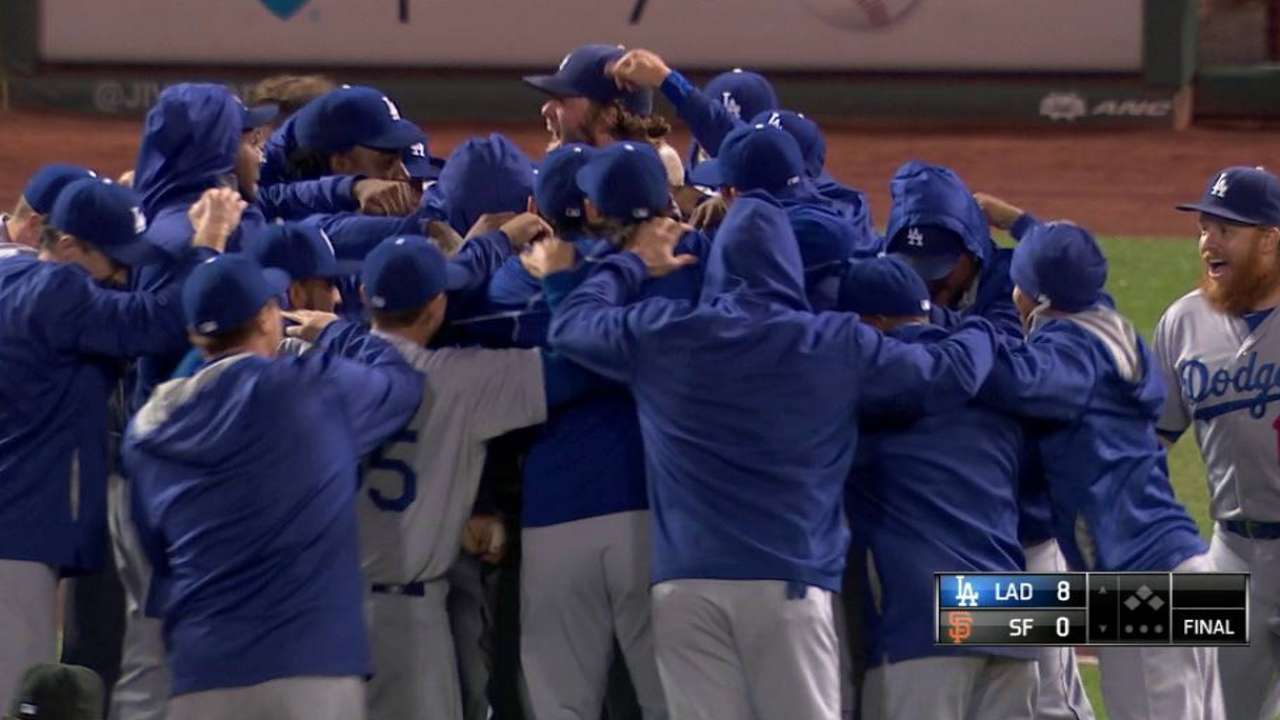 For his part, Kershaw struck out 13, retired the final 19 batters and did it in 104 pitches. There would be no fifth-inning removal, like in his previous start, when he blew up at manager Don Mattingly.
"Before the ninth inning, I told him I wouldn't let him go past 110 pitches," Mattingly said of Kershaw, who had 96 pitches through eight innings. "He said, 'Whatever.' I wasn't going to let him struggle."
There was very little struggle for Kershaw in this game. He finished the ninth inning in eight more pitches for a total eight fewer than opposing ace Madison Bumgarner had in 5 2/3 innings.
• Castrovince: Unfinished business awaits after LA celebrates
The Dodgers knocked Bumgarner out after back-to-back home runs by Justin Ruggiano and A.J. Ellis in the sixth inning, although Kershaw got an assist for his 13-pitch at-bat in the fifth inning that included seven fouls and ended with a ground out, but also with 100 pitches for Bumgarner.
"I started the at-bat with a big leg kick, trying to take a big swing and realized I had no chance," he said. "So I tried to spread out and be as annoying as possible. I put a long at-bat on him and that helped definitely. My approach was not to strike out. When I got two strikes I knew I wouldn't get a hit, so I just tried to be annoying."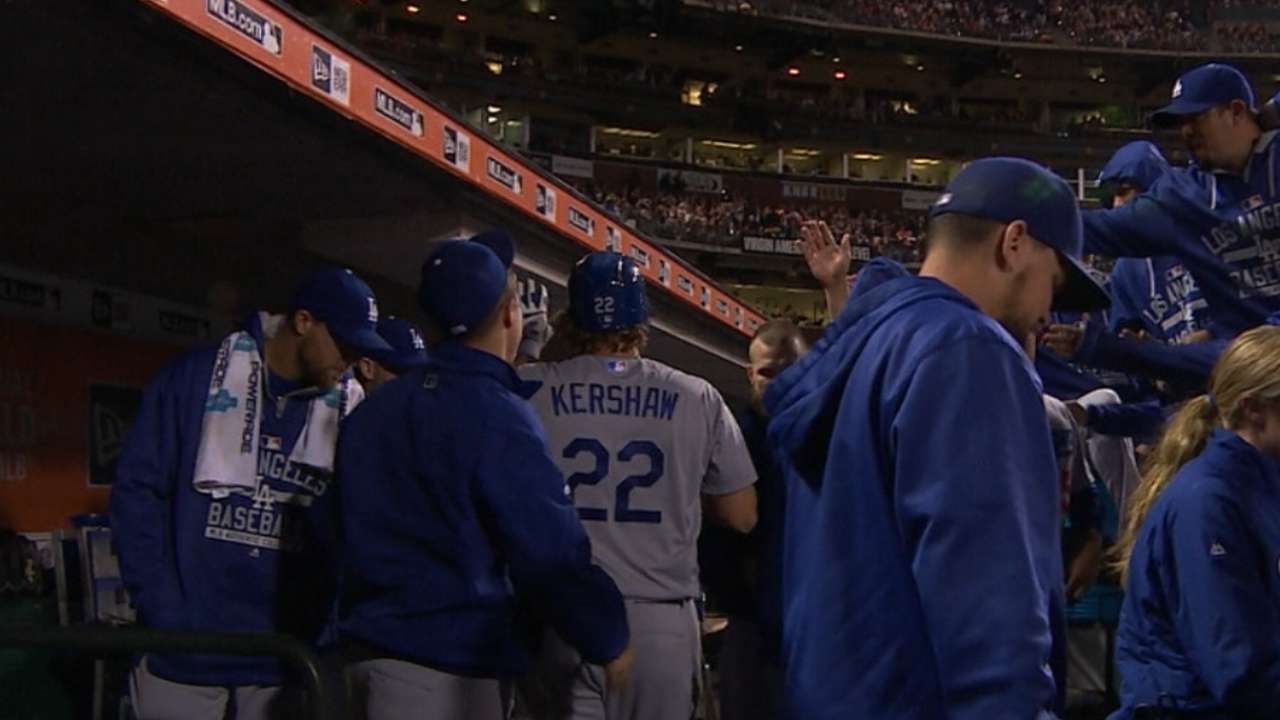 Kershaw didn't need to be reminded about the elephant in the celebration -- the Dodgers, and his, postseason failures.
"I've done this three times in a row, but I'd like to get a little further, obviously," he said. "I've been through it now a bunch, this is my fifth postseason now. I don't know if I'm wiser from failing all the time, but I know what that feels like. Am I wiser? I'll let you know when I get there."
Ken Gurnick is a reporter for MLB.com. This story was not subject to the approval of Major League Baseball or its clubs.