Young Edwards draws Aroldis for 1st MLB AB
Maddon lets Cubs' No. 3 prospect hit to stay in game for more pitches, albeit under explicit orders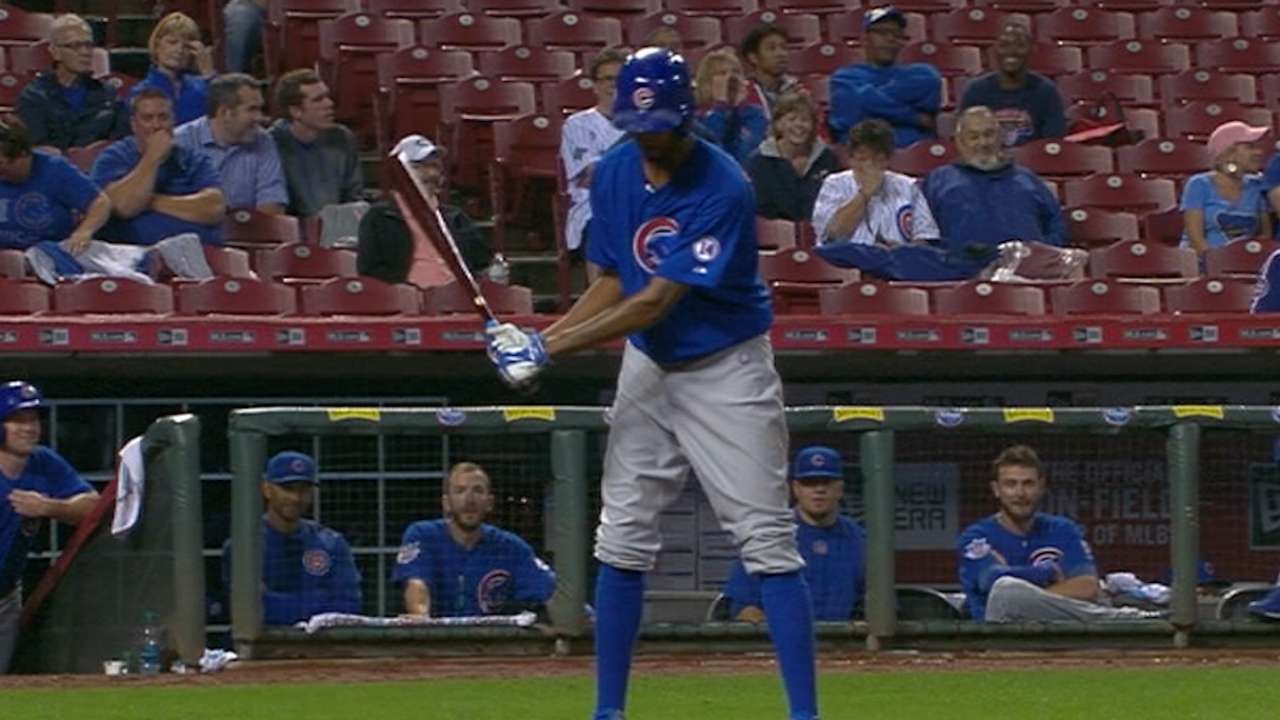 CINCINNATI -- Carl Edwards Jr. won't forget his first Major League at-bat. The Cubs rookie pitcher had to face hard-throwing Reds closer Aroldis Chapman in the ninth inning of Tuesday night's 4-1 victory.
"It was very hard -- my first Major League at-bat, and I have to face him," said Edwards, who is ranked by MLB.com as the Cubs' No. 3 prospect.
Chapman didn't hit 100 mph on any of the six pitches he threw to the slender right-hander, but his first pitch was a 99 mph fastball. Chapman fell behind in the count, 3-0, then fired three straight fastballs, all registering at 95 mph, to get Edwards looking at strike three and end the ninth.
• Shop for Cubs postseason gear
The Cubs led, 4-0, at that point, and manager Joe Maddon didn't use a pinch-hitter because he wanted Edwards to face more batters.
"I told [Edwards] when he goes up there to not swing the bat, and he followed orders very well," Maddon said.
However, Edwards admitted to thinking about taking a hack at one of Chapman's fastballs.
"I thought about it, and when I thought about it, it was 3-2 and my leg was in the air and the ball was in the mitt," Edwards said. "I had no chance."
Tuesday was only the fourth game Edwards has gotten into since he was added to the big league roster in September, and he knows he's with the Cubs for his pitching prowess, not his hitting. He's soaking in everything the other pitchers tell him.
"The majority of the guys tell me to, 'Be yourself, be comfortable, have fun,'" Edwards said. "[They say], 'You're here to help us win.' That's what they tell me. That's what I'm here to do. It doesn't really matter where I come in. I know I'm going to go out there and do my job regardless. I'll be comfortable doing it, I'll have the confidence to do it. I just want to help these guys win. That's my goal."
It doesn't matter what role Maddon suggests for Edwards either.
"I'll do anything to help the team," the young pitcher said. "I don't care if I come in the third and throw two [innings], I don't care if I come in the ninth, I don't care if it's a blowout. It doesn't matter. I just want to be here to help this team win. I'll pinch-run, I'll play outfield, I'll catch if I have to."
He knows how Maddon used young pitchers like David Price, who appeared in as many games in the postseason in 2008 as he did in the regular season with the Rays.
"Those guys went out there and had fun," Edwards said. "I'm going to follow in their footsteps. I'm going to go out and have fun. I know what I'm capable of doing, and I know what I can do."
He'll probably be fine if he doesn't get another at-bat.
"It's kind of memorable," Maddon said.
Carrie Muskat is a reporter for MLB.com. She writes a blog, Muskat Ramblings. You can follow her on Twitter @CarrieMuskat and listen to her podcast. This story was not subject to the approval of Major League Baseball or its clubs.