Votto extends streak, speaks from heart
Reds star plays through pain to reach safely in 46th straight game, but distressed by 10-game skid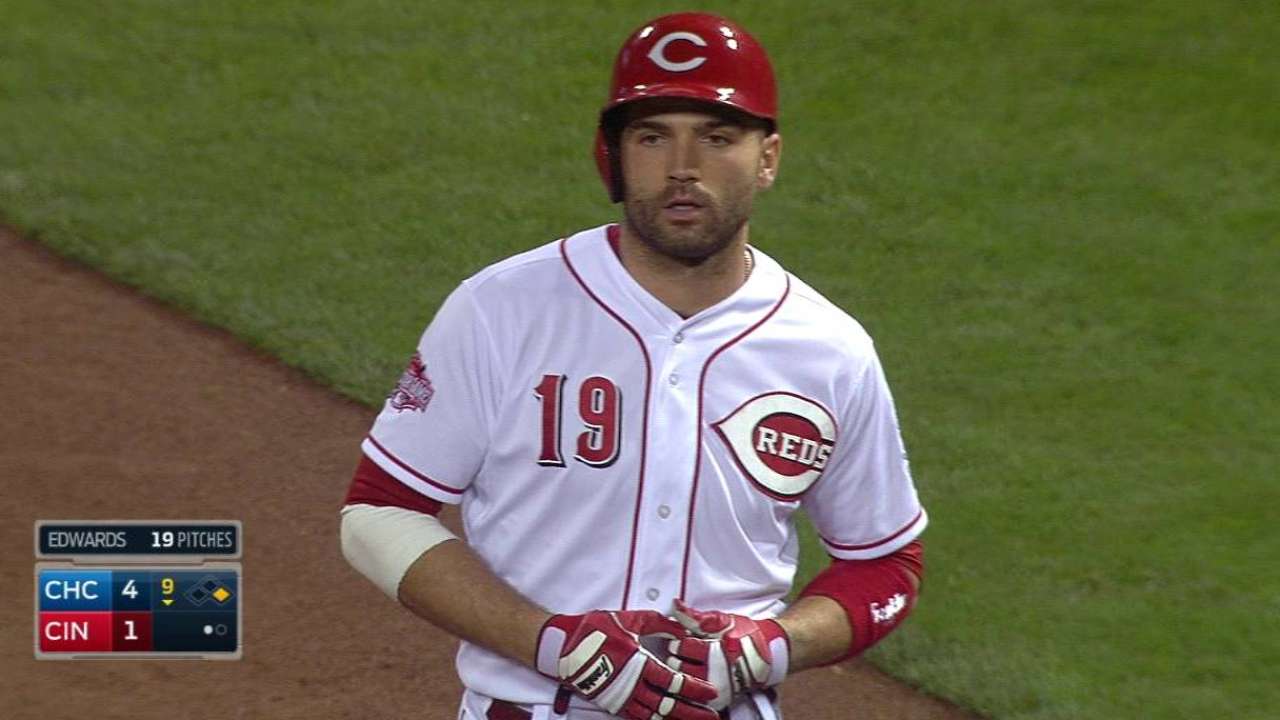 CINCINNATI -- Until Joey Votto stretched his career-high streak of reaching base safely to 46 games by walking during his final plate appearance on Tuesday night, the Reds' first baseman seemed poised to finally come up empty during a 4-1 loss to the Cubs. There was even a question of whether Votto was feeling well enough to finish the game.
There was no question, however, that Votto was frustrated after Cincinnati dropped its season-high 10th straight game to fall to 63-94.
"I don't care. It doesn't mean a single thing to me," Votto said of his streak. "If it ended today, it wouldn't have meant anything to me. What matters to me is we keep losing. Honestly, I tell you guys when something matters to me. That sort of stuff doesn't matter to me. My objective is to be a part of a winning ballclub, to do my part, to play as well as I can, to continue to try and get better each and every year, to fit in with my teammates, to provide leadership to younger players.
"And right now, all of that stuff is just completely empty because of how much losing we've done this year. It's not even bittersweet. It's sour tasting all the time."
• Is Votto #AwardWorthy? Vote now for Best Major Leaguer
The Reds have had three separate losing streaks of at least nine games this season. They haven't lost 10 in a row since dropping 11 straight in 1998.
"I haven't had a day where I've gone home and felt really, really satisfied about what's going on -- exclusively because of what's going on and how poorly we've performed this year," Votto continued. "I'm part of that also. I have to do my job to be part of a winning ballclub and a part of a winning culture here.
"Hopefully that's starting to turn around and we're heading in that direction, because the team deserves better. The city deserves better, and a good portion of my career here, all I've known is being part of a winning culture, kicking people's [butts] and being a scary team. Right now, we're not that. I don't want to accept this whole thing is cyclical."
In the bottom of the first inning with two outs against Dan Haren, Votto made the odd choice to bunt a ball foul to the left side for a strikeout. One pitch earlier, Votto appeared to wince and stretch his back after he swung away and fouled off a ball.
"I'm fine," Votto said after the game when asked about the sequence.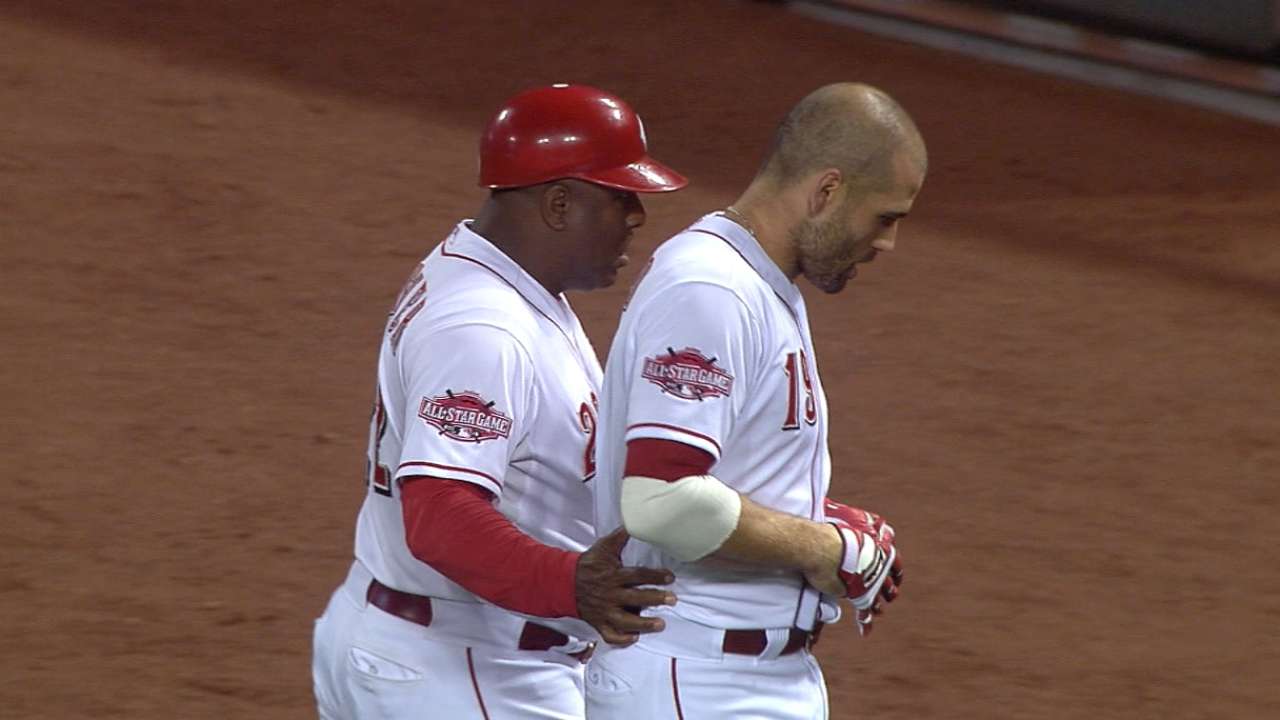 "He may have had a little stinger in there, so maybe that played into it a little bit," Reds manager Bryan Price said of Votto, who felt some soreness in the back of his shoulder. "I'm not going to answer that question for him. He saw the entire left side of the infield open as well. We're down 4-0 trying to get on base. It could have been either one of those."
After the at-bat, Votto and Price could be seen speaking in the corner of the Reds' dugout. Price was ready to summon Brayan Pena off the bench to replace Votto at first base for the top of the second.
"He said, 'Bryan, I've had it before. I'd much prefer to grind through it and play,'" Price recalled. "'I think it's a much better thing to stay in the game and play through it. It doesn't affect my defense, and I can grind out the at-bats,' and he did."
Votto was 0-for-3 in the game before walking on four pitches vs. Carl Edwards Jr. in the ninth to earn the longest streak of reaching safely in the Majors since Michael Cuddyer did it for the Rockies in 2013. Votto is two games away from tying Pete Rose's 1978 franchise record streak of 48 games.
Price noted he is considering giving Votto the day off on Wednesday.
"When you're going through not just a stretch like this, but a season like this, and you get a veteran player that will step up like that and go through the rigors and not find a way to come out of the game, it sends a great message," Price said. "He did that."
Mark Sheldon is a reporter for MLB.com. Read his blog, Mark My Word, follow him on Twitter @m_sheldon and Facebook and listen to his podcast. This story was not subject to the approval of Major League Baseball or its clubs.