MLB.com Columnist
Barry M. Bloom
Bean, MLB lead way in heartfelt diversity panel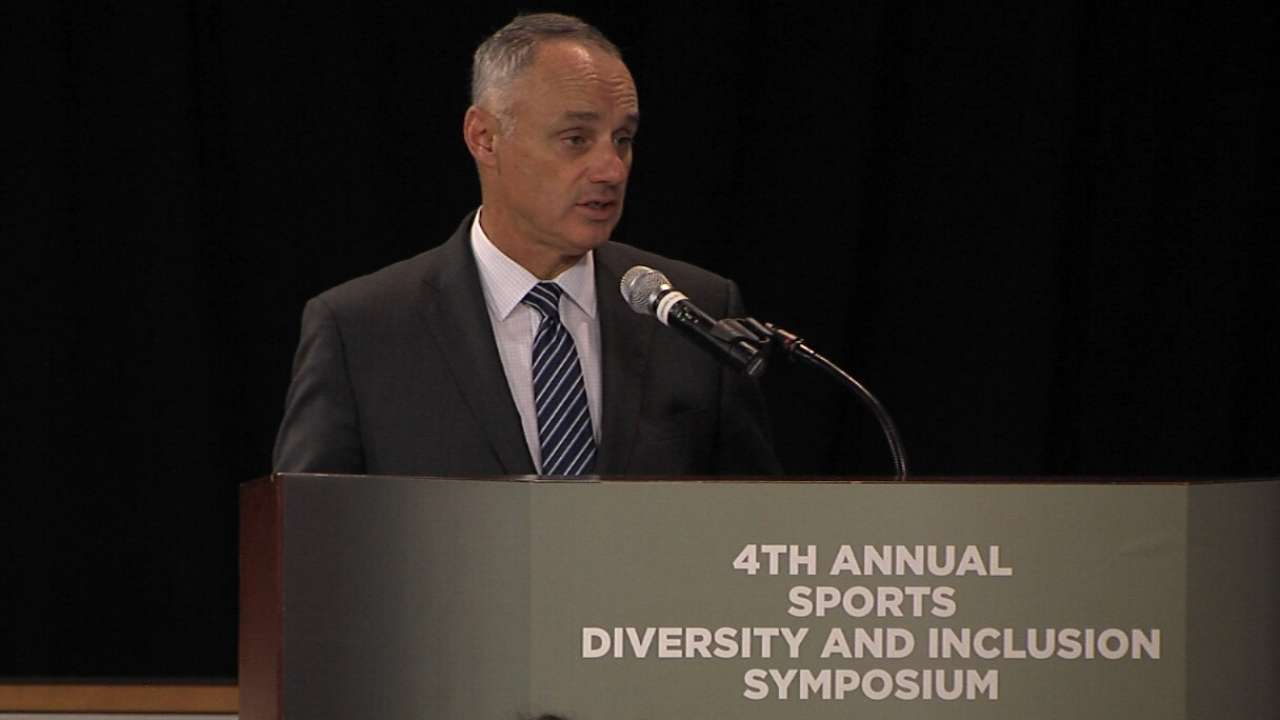 NEW YORK -- The two-day Sports Diversity and Inclusion Symposium got underway at Citi Field on Tuesday and by far the highlight of the first day was a panel moderated by Billy Bean, MLB's own Ambassador for Inclusion.
Starring on the panel was Rick Welts, the president of the defending NBA champion Golden State Warriors; Jason Collins, a former NBA player; and Ariadne Bonano, an MLB research analyst.
Each of them has this in common: After a ton of soul searching and outright denial, they all decided to come out publicly and announce they are gay.
Gallery: Sports Diversity and Inclusion Symposium
Their stories were at the same time gripping and heart-rending. There is a lot talk in baseball about heroes -- the guy who hits the walk-off homer or turns in a highlight-reel play that saves a game. But these people are the true heroes of their own lives and to a very significant extent their respective sports.
We all have heard Bean's story. How he quit MLB and the Padres in 1995 because he couldn't reconcile playing the sport he loved with how he lived his life.
"I left under some of the hardest experiences I've ever had," Bean said. "I lost my partner because of AIDS-related causes before the start of what turned out to be my last season, although I didn't know that it was going to be at the time. I was closeted to the whole world. My parents didn't know.
"I was afraid that if anybody in baseball found out about my life away from the field that I wouldn't be welcome. I made a very rational decision and one that was very difficult to live with and I walked away from baseball."
Four years later, Bean announced why. Last season, during Bud Selig's final campaign as Commissioner, Bean was brought back into the fold as MLB's Ambassador for Inclusion. He was introduced to Bonano and with his support she decided to come out.
"They made sure that you and I met," Bonano said to Bean, choking back tears. "For me that was extremely important. I needed a motivating factor. I was so close to coming out. I had hidden my partner's pregnancy for seven months. Not only did it help me to come out to my friends and those that I had been close to at MLB for many years, but I decided I was going to announce the birth of my daughter and send an email to everyone in the Commissioner's Office and just get it out there."
The response will tell you all need to know about the people who work at MLB. The atmosphere of inclusion was previously promulgated by Selig and current Commissioner Rob Manfred, who was scheduled to make remarks and speak on a panel at the symposium Wednesday morning.
"I felt a sense of relief and then the congratulatory messages started pouring in," Bonano said. "I was astonished. And not only was I astonished, I felt ashamed that I had hidden this from everybody and I was living my life in such secret."
No more. Under Bean's guidance, a Minor League player -- David Denson in the Brewers' organization -- came out this season, and he foresees a day when his role as an ambassador will have to change.
"The best people will be hired no matter what," he said in an interview. "There will be no need."
• Denson: 'When you live life, you have to be happy'
Diversity will be the norm. The time might not be now, but things are progressing so quickly and attitudes are so swiftly changing you can see it eventually coming.
MLB is way ahead of the curve on this one, much like the sport was when Jackie Robinson broke the color barrier on April 15, 1947, as he took the field at first base for the Brooklyn Dodgers.
"I must say that living a life of authenticity takes a lot of courage," Bonano said. "Not everyone's going to support or accept your lifestyle because ultimately it goes against the norms of society. But I feel like it's important to me to honor Jackie Robinson's legacy and to at least exemplify some of his values, specifically courage and citizenship.
"Mr. Selig, during his long tenure, echoed many times that baseball is a social institution with very important social responsibilities. It is my hope that other leagues will mirror MLB's efforts. Honestly, I'm honored to say this, but I feel that MLB has been at the forefront."
Barry M. Bloom is a national reporter for MLB.com and writes an MLBlog, Boomskie on Baseball. Follow @boomskie on Twitter. This story was not subject to the approval of Major League Baseball or its clubs.