Conley successful without his best stuff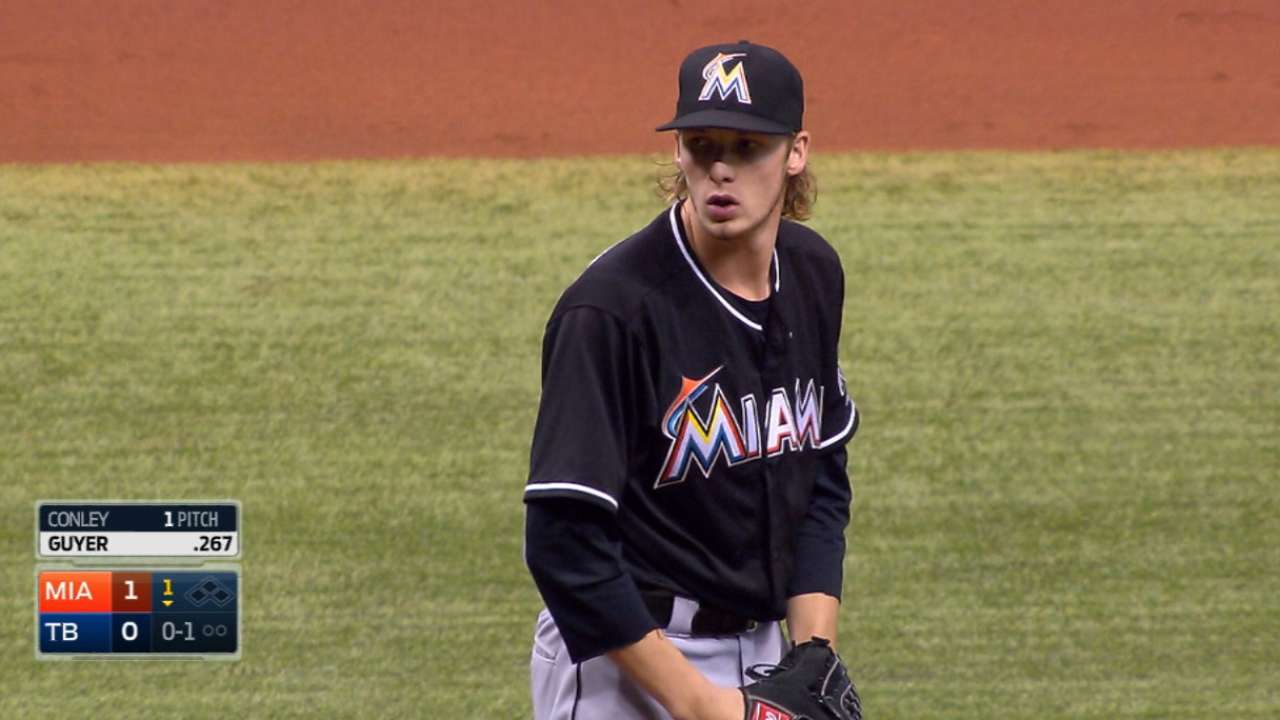 ST. PETERSBURG -- A sign of a good pitcher is the ability to get batters out without your best stuff. Adam Conley found himself in that situation in the Marlins' 4-2 loss to the Rays on Tuesday night at Tropicana Field.
From his pregame bullpen, the rookie knew his pitches lacked the life of his recent starts. Still, he minimized damage and gave up two runs over six innings in a no-decision.
"I'm happy about the way I threw with what I had today," Conley said. "I didn't feel like the ball had the life on it today that I've had in the past.
"Without as much separation in velocity and with as many balls that I threw, I wasn't quite getting the chases early in the game that I had been in the previous starts."
For not being quite as sharp, Conley found a way to repeatedly get big outs. He struck out five and allowed five hits, including a home run with one out in the third inning to Mikie Mahtook, who he had faced in the Minor Leagues.
The low point of the outing came in the fourth inning. With one out, Conley issued back-to-back walks to Asdrubal Cabrera and Steven Souza Jr. After James Loney reached on a bloop single, loading the bases, Kevin Kiermaier lifted a sacrifice fly to center that put Tampa Bay in front, 2-1.
"It's tough to give up runs when the guys who are scoring are the ones you gave free passes to," Conley said. "That was tough. Again, just trying to make adjustments with what I had today, and learning from the game as I go to give myself a chance."
Conley has been a bright spot down the stretch for the Miami staff. The lefty, who spent much of the season at Triple-A New Orleans, was recently named Miami's Organizational Pitcher of the Year.
The rookie is making a case to receive consideration to be part of the 2016 rotation from Day 1. In his last three starts, his ERA is 1.42 over 19 innings.
"Conley, another excellent start," manager Dan Jennings said. "Six innings, two runs. Gave us a shot. I thought he used his fastball very well, changeup extremely well."
The Marlins haven't finalized their rotation for the weekend series at Philadelphia, but Conley could be lined up for Sunday's season finale.
If so, he's ready.
"I feel healthy. My body feels good," the lefty said. "I just knew throwing today the ball didn't have the life on it. It happens sometimes. It's a long season. We throw a lot. I don't think it's indicative of anything. I just knew today, sometimes the ball comes out easy, sometimes not so much. It was just one of those days."
Joe Frisaro is a reporter for MLB.com. He writes a blog, called The Fish Pond. Follow him on Twitter @JoeFrisaro and listen to his podcast. This story was not subject to the approval of Major League Baseball or its clubs.