MLB.com Columnist
Tracy Ringolsby
Hinch finds happy home with Astros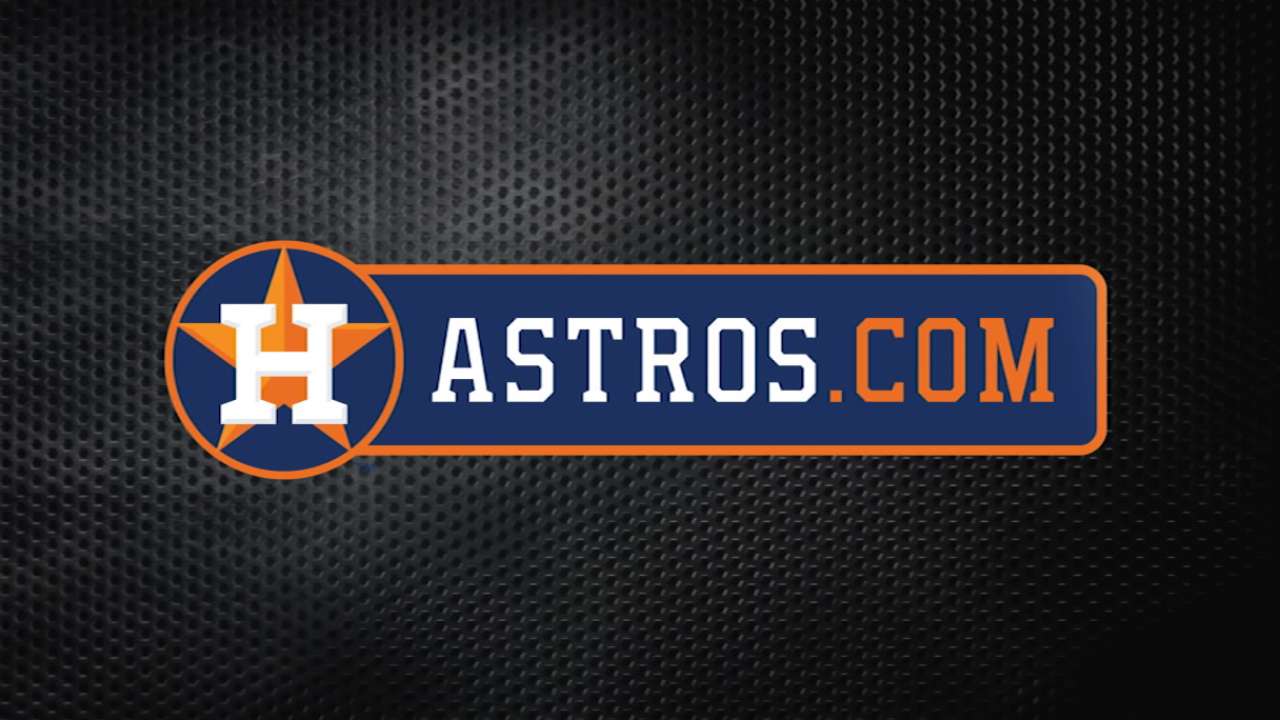 SEATTLE -- One year ago on Tuesday, A.J. Hinch was hired to manage the Houston Astros. It was the day after the 92-loss 2014 season ended.
It was just 52 weeks ago, a mere 365 days. It, however, seems like light years ago in terms of where the Astros were and where they are -- especially in terms of how the hiring was viewed at the time, and the way Hinch is now viewed in his role as a big league manager.
"A lot has happened in a year," Hinch said. "I am glad it happened. It was a big step in my career."
A big step in Hinch's career, and a gigantic step forward, finally, for the Astros.
Think about it.
A Houston team that lost a combined 416 games the four previous seasons is in the final moments of a 2015 season in which it is very much a factor in the American League Wild Card race, although a 6-4 loss at Seattle on Tuesday night dropped the Astros a half-game back of the Angels in the race for the second AL Wild Card spot, and left them just a game in front of the Twins. They slipped 2 1/2 games behind the Rangers in a bid for the AL West title.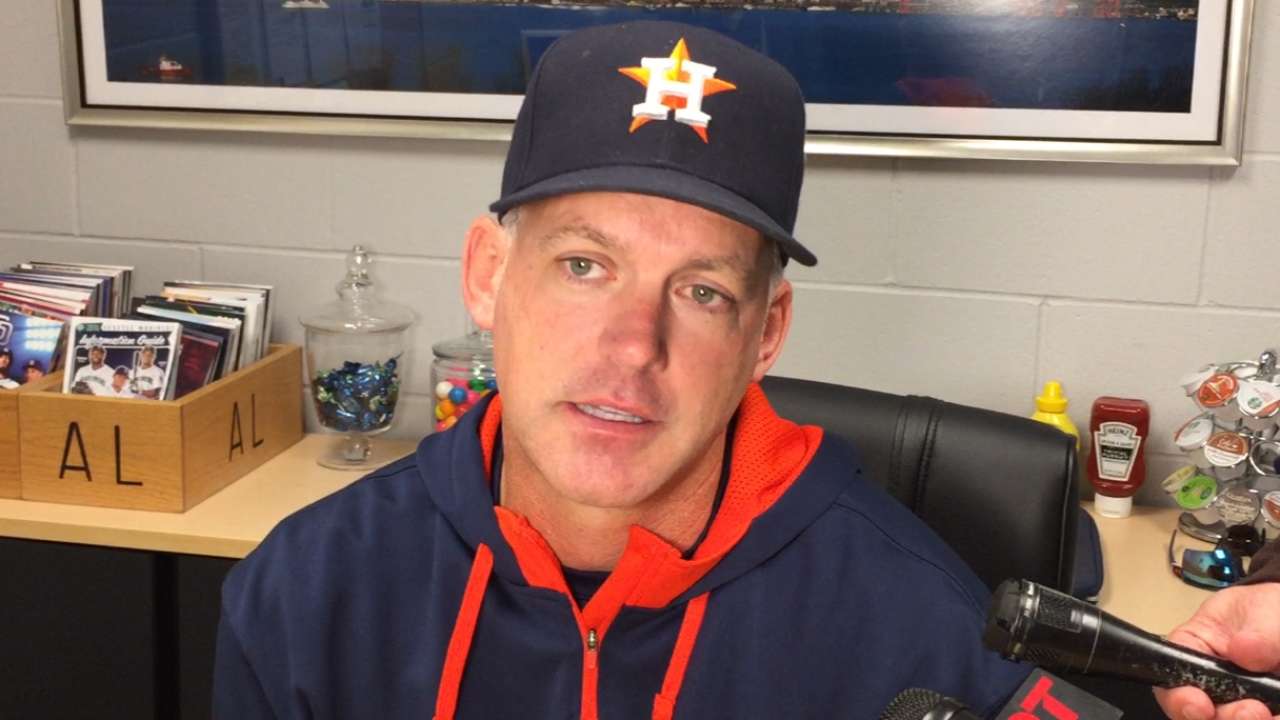 They are managed by a man whose only previous experience as a coach or manager -- at any level -- was an ill-fated endeavor with the Arizona Diamondbacks. In May 2009, Hinch moved over from the role of the franchise's director of player development to become the manager. Fourteen months and 123 losses later, his 212-game managerial stint ended with his in-season firing.
There wasn't much thought that Hinch would get a second chance, although he admits that after his name surfaced in the list of candidates for managerial positions for the Astros when they hired Bo Porter after the 2012 season, and the Cubs when they hired Rick Renteria after the 2013 season, his hopes were renewed.
"When that happened, I knew my name was still in the mix," Hinch said. "I had hope I could get back on the field."
Then, a year ago, the hope became a reality.
Hinch was given a second chance, and the second time has been the charm for Hinch.
"It was a new endeavor for me, and really for the industry, in hiring a manager with no experience," Hinch said. "I had to talk so much about my lack of experience [in Arizona] that I enjoy having a little dirt under my spikes now."
Hinch is no graybeard. He managed his 370th big league game on Tuesday night. That is 3,009 fewer games than Bruce Bochy. It is, however, more than 10 other managers in the Majors.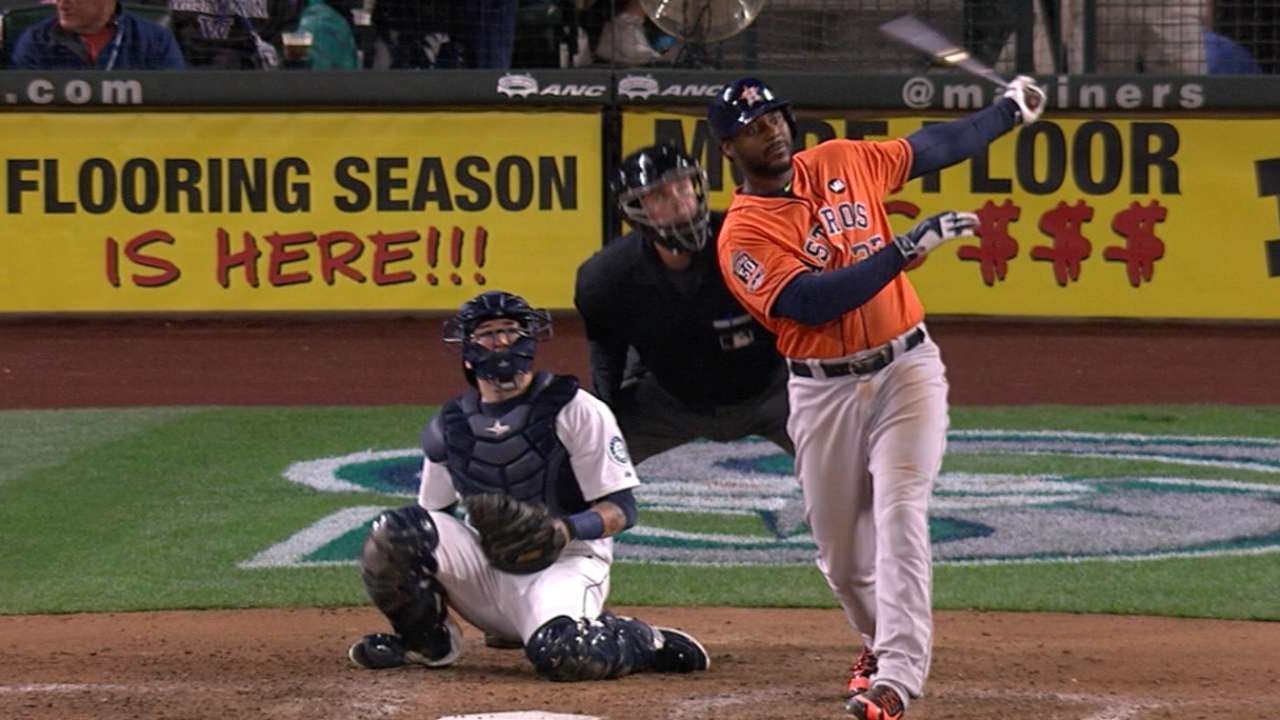 Each of those 370 games have played a part in his managerial development.
Hinch admits he has done a 180 in his approach to the job.
"The biggest thing is I lean on the [coaching] staff, and I have worked to adapt to the 25 players on the roster, as opposed to think they should adapt to me," Hinch said. "To have one style and expect 25 players to fit that style is naive.
"It's about how to run a club, and how you rely on veteran players and coaches to do their part. It's about not feeling like you have to do everything. It is necessary to delegate."
It's why this time around, Hinch can be comfortable, not intimidated, with a veteran coaching staff that includes the likes of bench coach Trey Hillman, a veteran of five years managing in Japan and three years managing the Royals; pitching coach Brent Strom, who has a 35-year coaching resume, including a previous tenure with Houston as well as Kansas City; and first-base coach Rich Dauer, who brought with him 15 years of experience as a big league coach and a 10-year resume as a Major League player, which included being a regular at second base for the 1983 World Series champion Orioles.
"My comfort level is much higher," Hinch said. "This style of team, my thirst for information, this organization is the perfect marriage for me personally and professionally."
The results underscore how well the marriage has worked well for the Astros, too.
Tracy Ringolsby is a columnist for MLB.com. This story was not subject to the approval of Major League Baseball or its clubs.