Smith believes he's ready to rejoin 'pen
Angels veteran righty will close games while Street is out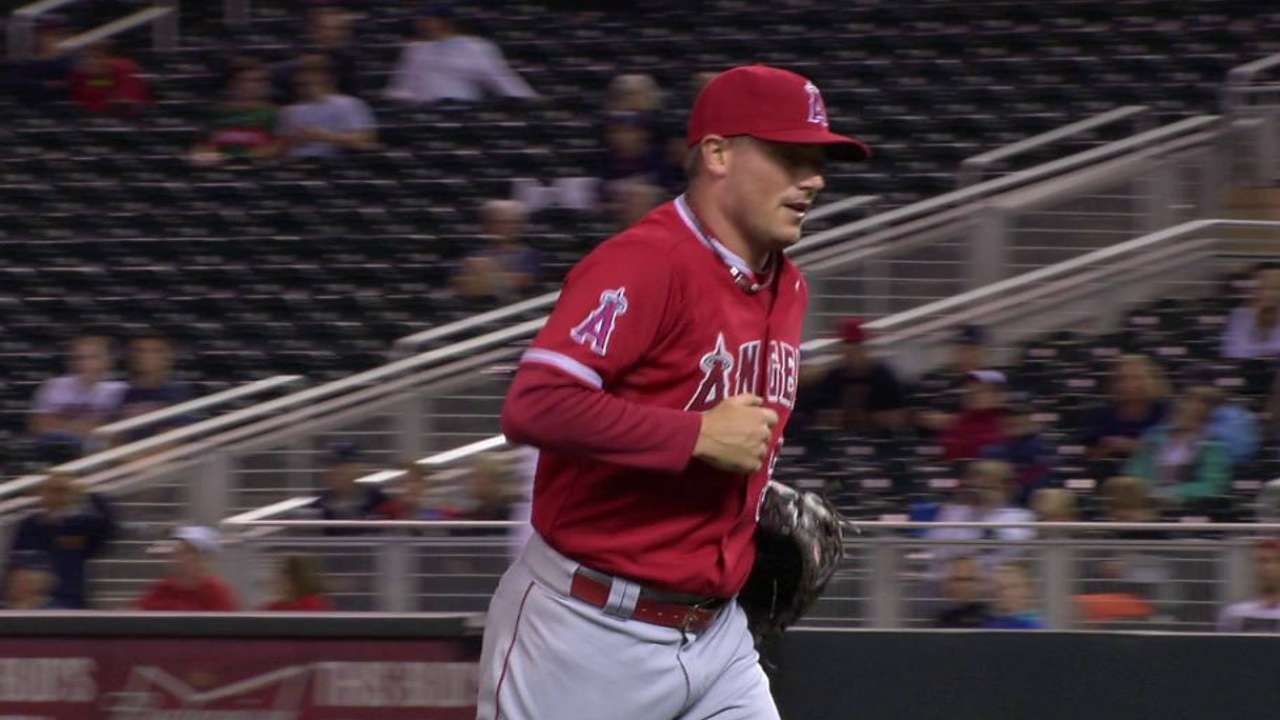 ANAHEIM -- Angels setup man Joe Smith, recovering from a sprained left ankle, believes he'll be available to pitch Wednesday, he said before Tuesday's game against the A's at Angel Stadium.
"I'm optimistic about [Wednesday]," Smith said. "I want to play today. … To me, I'm ready. It's just up to the medical staff now. We'll see. I'm going to be pushing pretty hard up against them. I already have."
Smith's return would be a tremendous boost to the Angels' bullpen, which is likely without closer Huston Street (left groin strain) at least through the end of the regular season. Entering play Tuesday, the Angels trailed the Astros by a half-game for the second American League Wild Card spot and the Rangers by two games in the AL West.
"I think it's realistic," manager Mike Scioscia said of Smith potentially returning Wednesday.
Smith closed for the Angels in 2014 until Street was acquired before the non-waiver Trade Deadline. He would be an option to close games right away, Scioscia said, and Smith would at least pitch out of the back end of the bullpen.
Scioscia said Smith might be used situationally -- for example, in the eighth inning, to get out of a jam -- "until he gets his feet on the ground."
Smith sprained his ankle walking down the stairs of the team hotel in Minnesota on Sept. 19 -- an injury that initially looked like it might keep him out for the remainder of the regular season.
But the right-hander started testing his ankle off the mound with an all-fastballs bullpen session Sunday, took fielding drills Monday and threw a full, 17-pitch bullpen with all his pitches Tuesday. Now, if he is cleared, he could be back for the series finale against the A's, possibly in a save situation.
"I'll pitch wherever Sosh wants me to pitch," Smith said. "I feel good. I thought my stuff was coming out very good. I was throwing strikes."
Smith said pitching doesn't put him at risk of more serious injury, since the MRI he initially had on his ankle showed no structural damage. It's just about tolerating any pain and making sure he doesn't overcompensate and put additional strain on his arm or elsewhere in his body.
"I missed a week, but I think I've sat out for a week during the season and came back and did all right," Smith said. "There's no doubt in my mind that I'll be OK."
Worth noting
• Right-hander Mat Latos, whom the Angels signed Monday to provide pitching depth for the rest of the regular season, recorded the final six outs of Tuesday's 8-1 win but may still be available if Jered Weaver is unable to make his next scheduled start Friday. Weaver, dealing with right shoulder stiffness, played catch Monday and Tuesday and said his shoulder feels better than it did after his start Sunday.
• Street was walking around slowly after the Angels' seventh straight win Tuesday, but he was doing so without crutches. The veteran closer said he's "way more optimistic" about his groin that he was when he injured it Saturday, but he still isn't sure when he'll be able to play catch or when he can return. "I can say this," Street said, "the absolute first day that I can pitch, I will pitch."
• The Angels' announced attendance Tuesday was 33,470, putting their total attendance at 2,978,732. That means that on Wednesday, the likely regular-season home finale, the Angels will reach the three-million mark for the 13th consecutive season, joining the Yankees as the only franchises to do that. The Angels entered Tuesday averaging 37,281 fans, fifth-most in the Majors.
David Adler is an associate reporter for MLB.com. Follow him on Twitter @_dadler. This story was not subject to the approval of Major League Baseball or its clubs.