Reds fall back, can't recover in tough 2015
Votto, Frazier and Phillips have strong seasons, but club unable to put it all together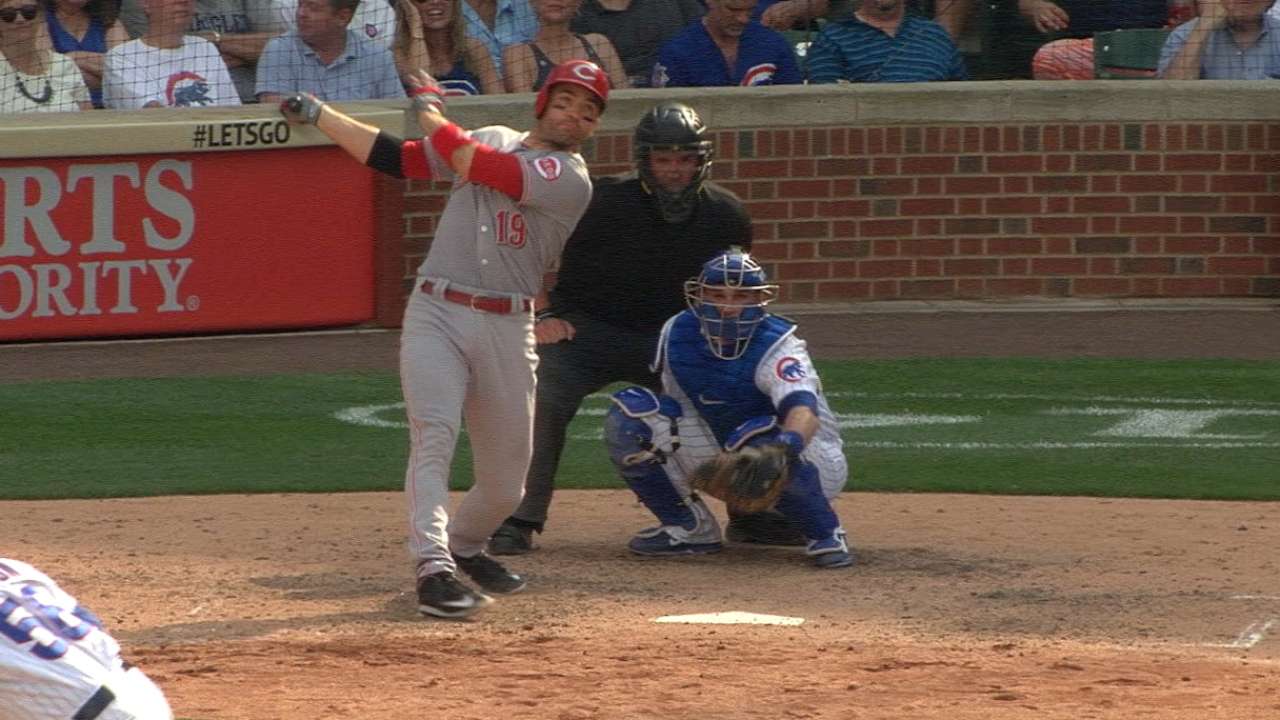 CINCINNATI -- Just three years removed from being National League Central division winners and two years since they were a Wild Card team, the Reds really saw how the other half lived in 2015. In a landscape dominated by the rival Cardinals, Pirates and surprising Cubs, Cincinnati quickly found itself unable to keep up.
It certainly made for a long, challenging season.
"It's very frustrating being in a clubhouse that hasn't played meaningful games in what seems like months," Reds first baseman Joey Votto said. "We haven't played a game where we felt like we were headed in a playoff direction. You can smell it as a team. You try your hardest to be optimistic, to look towards getting to the playoffs and being a champion. But you see the competition, and you need to get better. You need to get better as an organization.
• Is Votto #AwardWorthy? Vote now for Best Major Leaguer
"The players we currently have, each and every one of us to a man, needs to be better at doing their jobs, doing all the small things that other teams are beating us at -- myself included."
The Reds often seemed shorthanded in nearly every aspect of the game. While Votto, Todd Frazier and Brandon Phillips had strong seasons, the supporting portions of the lineup struggled to contribute. The leadoff spot sported an on-base percentage below .300 again, and the entire lineup was the Major Leagues' worst team batting with runners in scoring position.
There weren't innings provided to back up veteran starters Johnny Cueto and Mike Leake in the rotation, and the bridge to the back end of the bullpen to J.J. Hoover and Aroldis Chapman was rickety.
"The ups and downs -- we had a lot more downs than ups, truthfully," Frazier said. "We didn't put much together. One day pitching did well, and one day hitting did well. But the most frustrating part was we didn't put pitching and hitting together."
A lack of depth was exposed, and injuries to key players also sabotaged the efforts. Homer Bailey made only two starts before he needed season-ending elbow surgery. Devin Mesoraco's left hip injury left him unable to catch after the season's first week, and he was done for the year by May. Zack Cozart suffered a grisly right knee injury in June that ended his year.
By the July 31 non-waiver Trade Deadline, Cueto and Leake were dealt to contenders, and the Reds turned to an all-rookie rotation. A franchise-record nine different rookies made 110 starts, including the final 64 games in a row -- smashing a 113-year-old Major League record.
Those rookies did at least get opportunity and exposure while gaining valuable experience at the big league level. Several of them, including Anthony DeSclafani and Raisel Iglesias, are expected to be part of the 2016 rotation after having nice outings throughout this season.
"I think it's definitely important," DeSclafani said. "A lot of these guys got their feet wet, and it was awesome that I got a full year under my belt. It was really nice. Last year [with the Marlins], I got a small sample of the big leagues and was up and down. The stats didn't show I could pitch up here. I knew I could. Getting my feet wet was important last year, to see what I had to learn to pitch up here."
Record: 64-98, fifth place in NL Central
Defining moment: The Reds had been treading water around the .500 mark the first six weeks of the season until May 15, when a season-high nine-game losing streak put the club out of orbit for good. Another nine-game losing streak came in August as well.
What went right: Following a steady but not superlative first half, Votto made some adjustments and returned to the form of his 2010 MVP season. After the All-Star break, he was the leader or among leaders in hitting, on-base percentage, slugging and walks.
Frazier, who won the All-Star Home Run Derby in thrilling fashion, etched his name in the Reds' elite offensive annals, as he became only the second player in team history (after Frank Robinson) to have at least 35 homers, 40 doubles and 10 steals in a season. He was also only the third Reds third baseman with at least 30 homers in a season.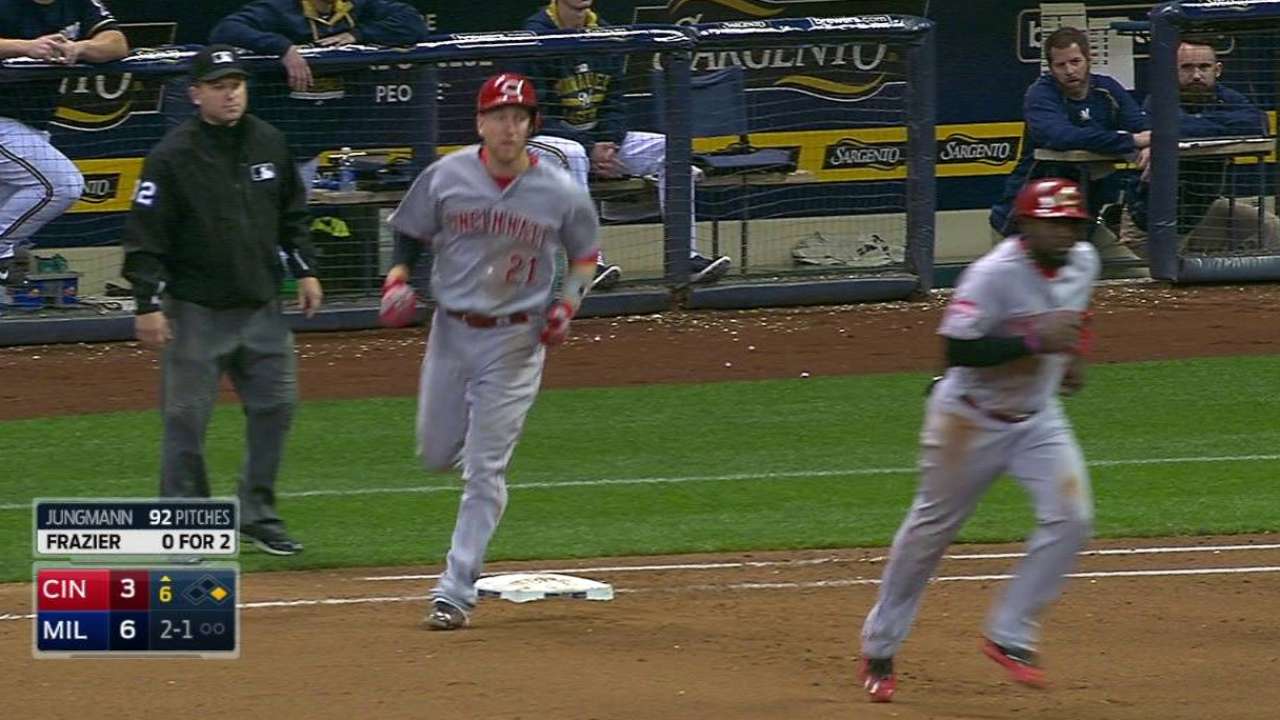 In good health most of the season, Phillips had a steady offensive season while batting in a variety of lineup spots. His defense remained a showstopper as well.
Hoover, who went 1-10 with a 4.88 ERA in 2014, rebounded with a strong 2015 while re-establishing himself as a reliable eighth-inning setup man.
What went wrong: Center fielder Billy Hamilton made improvements in stealing and played strong defense, but he took a step backwards offensively. Hamilton batted .226/.274/.289 with 57 steals in 65 attempts. By mid-May, he was moved out of the leadoff spot and spent most of the season batting ninth behind the pitcher.
A lack of health was again a huge factor as manager Bryan Price was only able to start his projected regular eight players 17 times the past two seasons, including five times in 2015. Bailey, Mesoraco and Cozart were among the six players who spent the bulk of the season on the 60-day disabled list.
Middle relief between the rotation and the back end of Hoover and Chapman was roughed up quite a bit. Reds relievers were among the NL leaders in losses, and the group's ERA would look vastly different without Chapman's numbers.
Biggest surprise: Shortstop Eugenio Suarez not only filled in nicely for Cozart, he exceeded all expectations with his offense and projected to hit around 20 homers had he played a whole year in the big leagues. Suarez was error-prone at times but proved capable of some exceptional defensive plays. How the team finds room for both players next season is a big offseason question.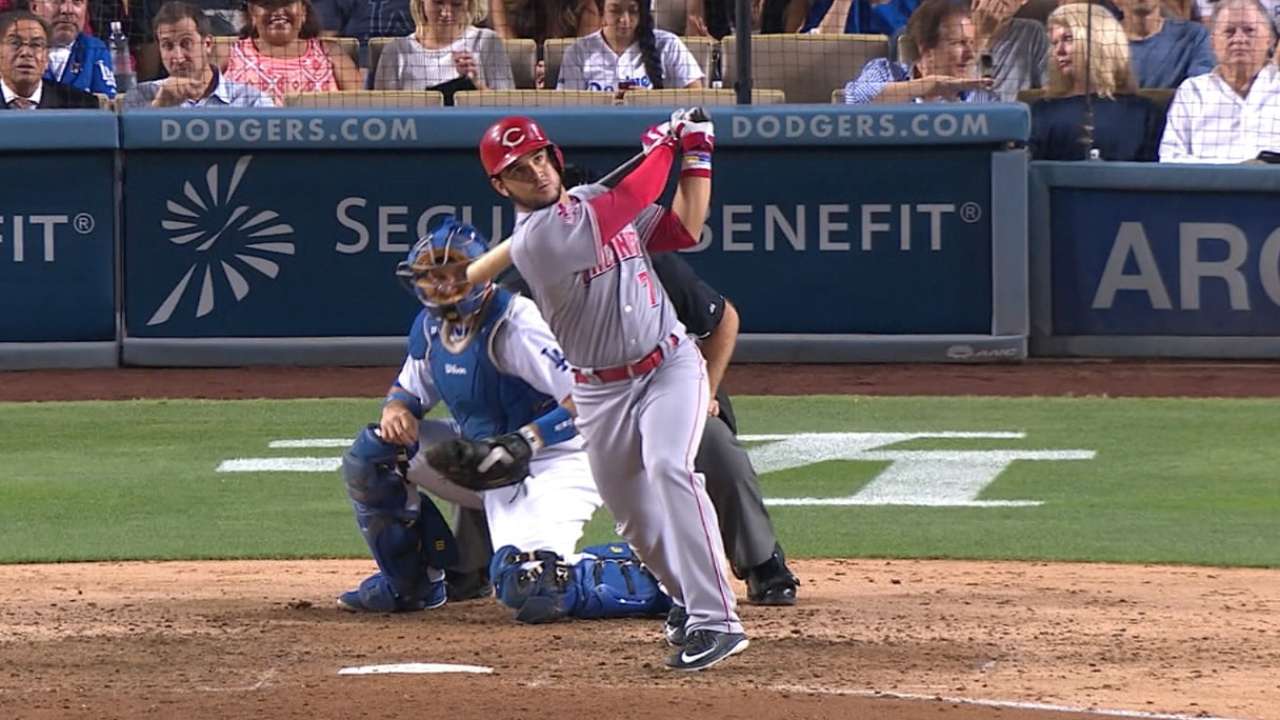 Hitter of the Year: Votto not only put the left leg injuries that marred his 2014 season behind him, he re-established himself as one of the game's best hitters. He reached safely more than any other batter in the Major Leagues.
Pitcher of the Year: Chapman became the first pitcher in Major League history to produce four consecutive seasons with at least 30 saves and 100 strikeouts. He reached 500 career strikeouts in 292 innings, which was faster than any pitcher in history as well.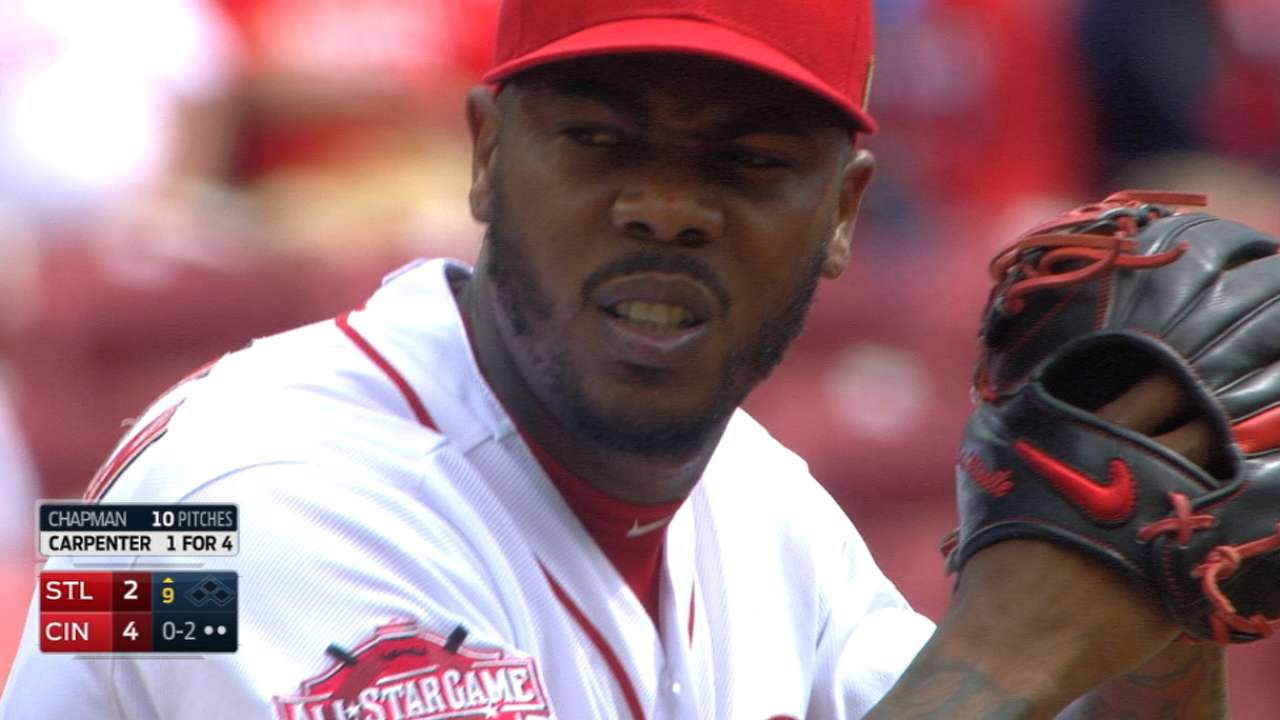 Rookie of the Year: DeSclafani was the only Reds starting pitcher to make every start of the season, and he was best among NL rookies in several categories. He was also the first Reds rookie to make 30 starts since Cueto in 2008.
Mark Sheldon is a reporter for MLB.com. Read his blog, Mark My Word, follow him on Twitter @m_sheldon and Facebook and listen to his podcast. This story was not subject to the approval of Major League Baseball or its clubs.