Abreu feels better English will help leadership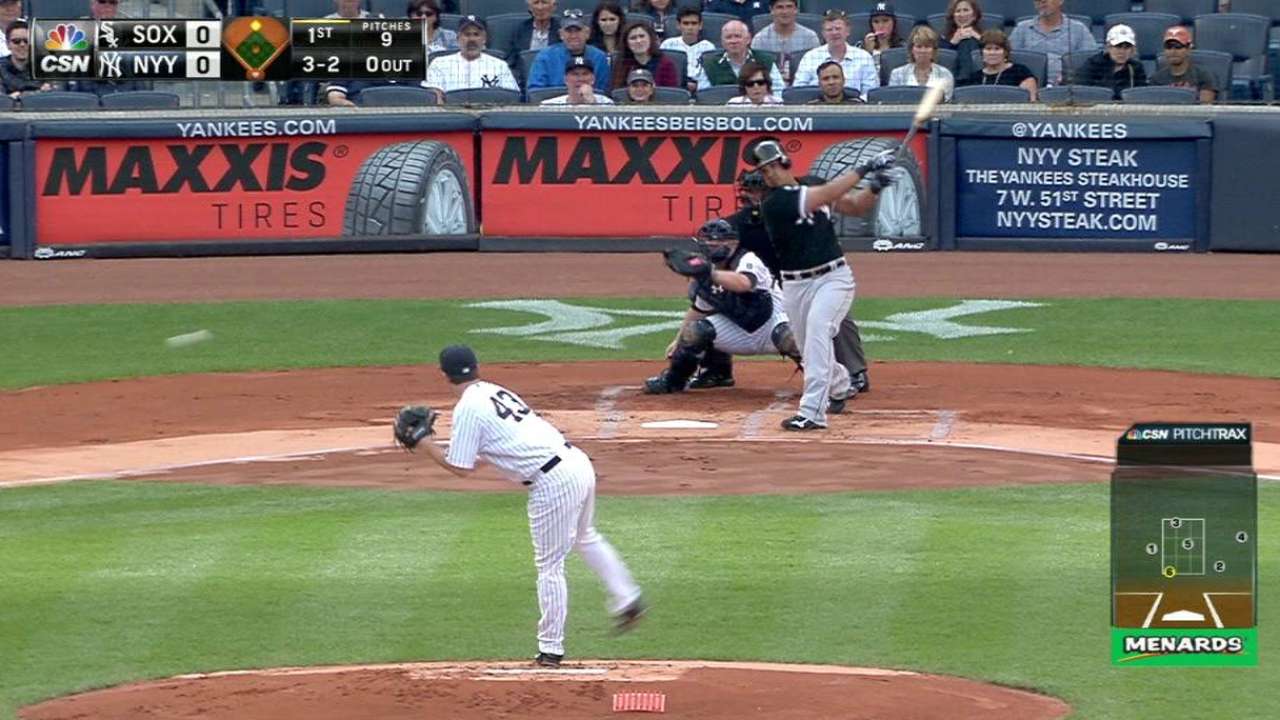 CHICAGO -- For two years, Jose Abreu has been a true leader by example for the White Sox.
But the team's top offensive force and native of Cuba wants to learn the language of leadership. He plans on tackling that challenge during the upcoming offseason by gaining a greater grasp of the English language.
"That's my goal," Abreu said through interpreter and White Sox Spanish language broadcaster Billy Russo. "It's one of the things that I have on my list.
"I know if I can learn a little bit more of the language, I can express myself in a better way with my teammates and my coaches. It's going to help our relationship. It is good, but I think it could be much better. That's the way I think I can express my leadership. I'm not wanting just to be a leader as an example. I'll try to say something."
When asked if he planned to take some sort of class to help the learning process, Abreu smiled and told Russo that he didn't yet know how, but knew he had to do something. Abreu also was asked about the playing time division between first base and designated hitter with himself and Adam LaRoche, a split that had Abreu playing 111 games at first entering Tuesday compared to 109 during his rookie campaign.
Abreu reiterated a strong preference to playing the field over serving as a full-time DH. There's no question, though, that the reigning American League Rookie of the Year Award winner wants to help the team to become contenders above all else.
"We have to do whatever we have to do to help this team to win," Abreu said. "It doesn't matter if there is something that, in the moment, we don't like it. If you want to win, you have to do whatever the team needs you to do to win games.
"Everybody knows that I don't like to play DH, but I also want to say thanks to LaRoche because he has helped me in how to handle the days when I'm the DH and how to be better defensively at first base. He's been very supportive with me since he arrived."
One offseason certainty for Abreu is that he plans to get married on Nov. 28 in Florida. He also plans to spend time with his family, while going through a few study sessions.
"It's a good thing to hear because we know he operates," manager Robin Ventura said of Abreu's increased leadership desire. "We know how he comes every day and how he prepares and how he plays the game. Any time a guy like that wants to step up and lead, we're happy to hear that."
"Each one of us has to be a leader, it's not just one person," Abreu said. "We have to work together and be a leader every day."
Worth noting
• General manager Rick Hahn will give his final state of the team this weekend. Ventura is fully expected to return as manager, but Hahn should provide more clarity as to the coaching staff for the 2016 season.
"I'm hopeful it's the same group," Ventura said. "You have somewhat of a say, but you don't have full say. There are people above you, but you do have discussions."
Scott Merkin is a reporter for MLB.com. Read his blog, Merk's Works, follow him on Twitter @scottmerkin and listen to his podcast. This story was not subject to the approval of Major League Baseball or its clubs.