No restrictions for Harvey in postseason starts
Right-hander will likely take mound in Game 3 of NLDS for Mets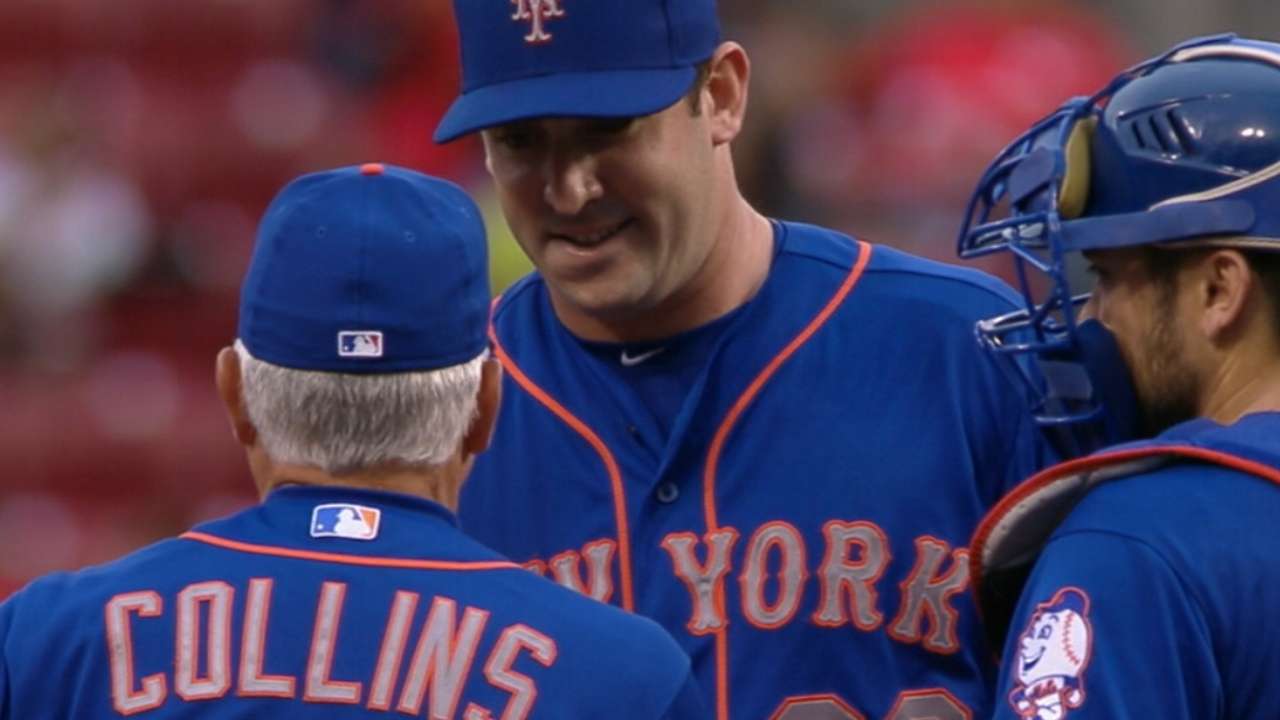 PHILADELPHIA -- Mets manager Terry Collins reiterated Tuesday that Matt Harvey will not be bound by any hard innings limits within postseason games, though the team will limit how many times he starts overall.
"When he goes out and pitches, however many times that is, yeah the reins will be off," Collins said. "But we've still got to take into consideration [that] we can't pitch him six times."
Both Collins and general manager Sandy Alderson have hinted strongly that Harvey will start Game 3 of the National League Division Series against the Dodgers after Jacob deGrom and Noah Syndergaard. That would prevent the team from having him available in a potential Game 5. It would also, in Alderson's words, ensure having him start in a critical spot. New York holds a one-game lead over the Dodgers for home-field advantage in the NLDS. The Mets hold the tiebreaker in that race.
"Game 3 is an important game," Alderson said. "It doesn't matter whether you're up 2-0 or down 0-2 or 1-1, it's a big game. But we certainly have to recognize where he is over the course of the season. Basically, he's right where we hoped he would be, so we're pleased about that. But obviously we'll take into account his situation as we talk about the rotation."
The Mets do not plan to make their postseason rotation official anytime soon, in large part because there is no requirement for them to do so until the morning of Oct. 9. Between then and now, Harvey will make one final regular-season start this weekend against the Nationals -- an abbreviated one, Alderson said, because it will not matter in the standings beyond the race for home-field advantage. Other Mets starters will also be limited their last turn through the rotation.
But it is clear that the deepest drama regarding Harvey's innings limits is over. The saga lasted more than two weeks, beginning with agent Scott Boras' assertion that Dr. James Andrews, the surgeon who performed Harvey's Tommy John procedure, recommended a 180-inning hard cap for him in his first season back. Harvey initially made no guarantees about pitching in the postseason, then vowed to do so, before making an abbreviated mid-September start against the Yankees that brought the whole issue to a head. The next week, he told Collins that he planned on pitching without any shackles, which he did in Saturday's National League East title-clinching game in Cincinnati.
In 28 starts overall, Harvey is 13-7 with a 2.80 ERA.
Anthony DiComo is a reporter for MLB.com. Follow him on Twitter @AnthonyDiComo and Facebook, and listen to his podcast. This story was not subject to the approval of Major League Baseball or its clubs.