Matz has start pushed back to Thursday
Lefty dealing with minor back issue; Verrett moves up to Wednesday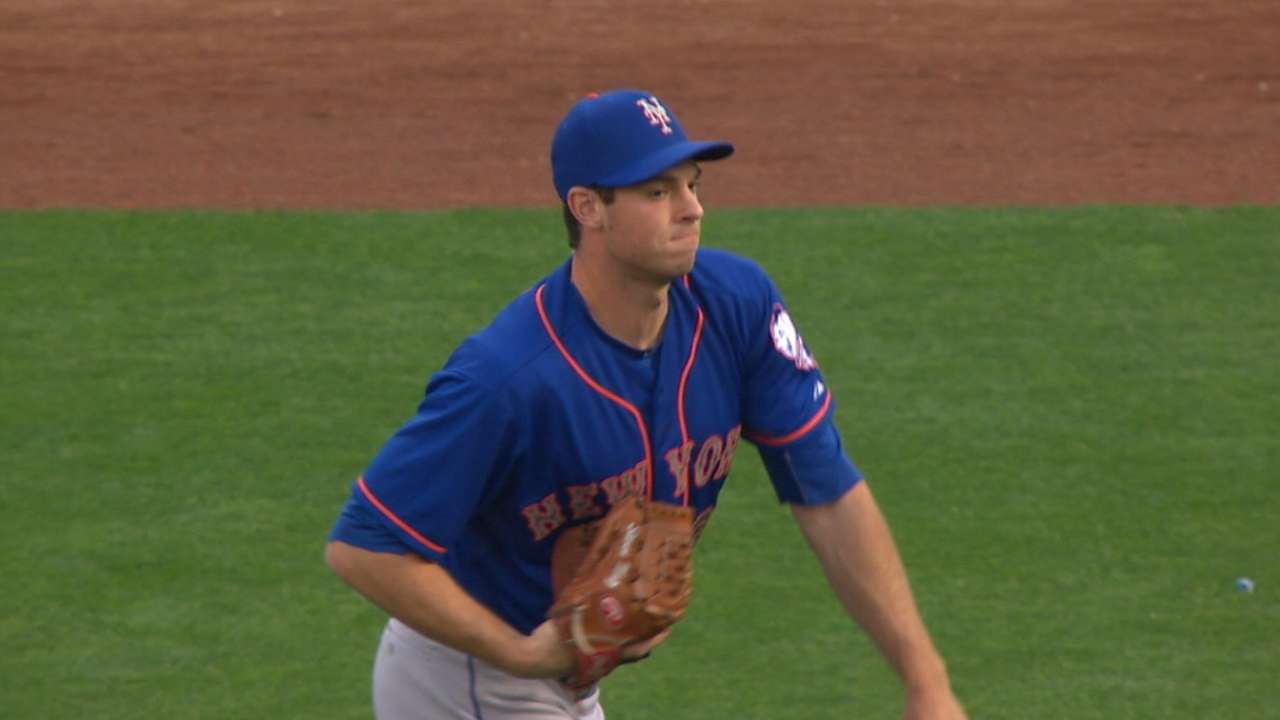 PHILADELPHIA -- A poor night's sleep has led to a bout of back soreness for Steven Matz, prompting the Mets to push back his scheduled start this week. But the team doesn't consider the issue serious enough to put his October in jeopardy as well; Matz is scheduled to pitch Thursday instead of Wednesday against the Phillies, with Logan Verrett taking his place in Wednesday's game.
"It's just kind of one of those things where you wake up and I slept wrong or something," Matz said before Tuesday's 4-3 loss to the Phillies. "It's definitely making improvement."
Matz woke up Tuesday with discomfort on the right side of his back, prompting him to seek treatment from the team's training staff. Both he and the Mets downplayed the issue, which was not serious enough for them to order medical tests. The Mets' "worst-case" scenario, general manager Sandy Alderson said, is precisely what happened: pushing back Matz's start a day.
"Obviously, we've got to play it safe," manager Terry Collins said. "He said he got his treatment and he really felt good, but there's history there. That's why I don't like [pitching] him out of the 'pen. If he shows up and something's stiff or something's sore, then you can't use him."
Though the Mets have not announced anything formally, they have hinted for days that Matz will be their fourth starter in October alongside Jacob deGrom, Matt Harvey and Noah Syndergaard -- in part because of the injury questions that Collins discussed. The team has kept open the door for Bartolo Colon, the losing pitcher on Tuesday, to sneak into the rotation, but it would likely take a more serious injury to one of their top four pitchers to make that happen.
None of those four have ever pitched in the postseason.
"Would you like to have playoff experience? Sure, that would be a preference," Alderson said. "But would you rather have four horses that throw 95, 96, 98 [mph]? That'd be nice, too. Nothing's ever perfect, but I think we have a lot of confidence in our young guys."
Matz's back issue complicates matters only in that it could delay the Mets from officially naming their rotation.
"This issue makes that difficult to resolve now," Alderson said. "I think we're fairly certain about three, and we'll figure out the fourth as soon as we get closer to the playoffs. Anything we decide now is tentative anyway, based on what happens. This is a good example of something that can happen. So we'll just have to see what develops over the next two or three days, but we don't expect this [injury] to have an impact on Matz."
Limited by a left lat strain in his rookie season, Matz has made just six starts, going 4-0 with a 2.27 ERA. He underwent Tommy John surgery in 2010 and needed more than two years to recover, forging a medical history that has made the Mets wary of altering his routine by using him out of the bullpen.
Verrett, 25, has already started three games this season for the Mets, subbing twice for Harvey and once for deGrom.
Anthony DiComo is a reporter for MLB.com. Follow him on Twitter @AnthonyDiComo and Facebook, and listen to his podcast. This story was not subject to the approval of Major League Baseball or its clubs.