Indians could shut down Brantley for season
Outfielder dealing with shoulder soreness; Francona says club will use 'common sense'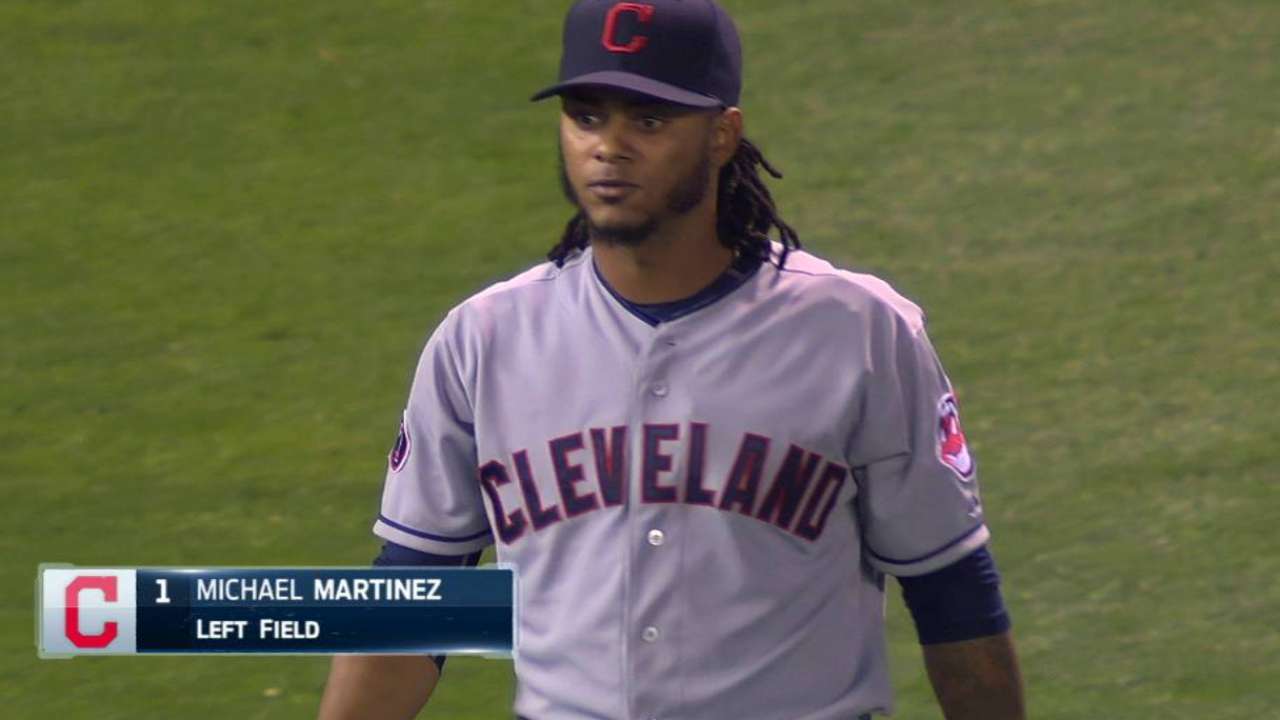 CLEVELAND -- Michael Brantley has played through a variety of health ailments this season for the Indians. The outfielder has fought issues with both shoulders and dealt with a back problem as early as the first week of Spring Training.
"He was probably fighting more things than people realize, too," Indians manager Terry Francona said on Tuesday afternoon. "He's pretty beat up."
Now, Cleveland is weighing whether it is in Brantley's best interest to shut him down.
Brantley was out of the starting lineup for Tuesday's game vs. the Twins and was scheduled to meet with a team doctor due to persistent shoulder soreness. Last week, Brantley injured his right shoulder on a diving catch attempt during the Tribe's Sept. 22 road game against Minnesota. He has also fought through discomfort in his left shoulder at various points throughout the year.
Francona commended Brantley for how hard he has worked to stay on the field through it all.
"He's done such a good job of trying to play," Francona said. "[We] appreciate it so much."
The Indians want to make sure they play it smart in the final week, though.
"If we need to," said Francona, asked if they would shut Brantley down. "I don't think you do it unless you need to. I think our guys have done a really good job these last two months of playing through a lot of adversity and challenges. Again, there has to be common sense when it comes to injuries."
In 137 games, Brantley has hit .310 with 15 home runs, 45 doubles, 68 runs and 84 RBIs. He is the first player in Indians history to have at least 15 steals, 15 homers, 45 doubles and 150 hits in two separate seasons. As of now, Brantley is the first player in Major League history to hit those marks, while also hitting at least .300, in consecutive seasons.
Brantley took home an American League Silver Slugger Award and ended third in AL Most Valuable Player voting for his breakout showing in 2014.
"Guys like [Yan] Gomes, Brantley, [Jason Kipnis] and [Corey] Kluber, those are guys you can win with," Francona said. "I think these last two months have helped us immensely. It may not be enough to get us where we want to this year, and I'm aware of that, but I still think we've made strides, and we needed to. Where we were in June wasn't good enough."
Jordan Bastian is a reporter for MLB.com. Read his blog, Major League Bastian, follow him on Twitter @MLBastian and listen to his podcast. This story was not subject to the approval of Major League Baseball or its clubs.