Freeman cleared to play on day-to-day basis
First baseman dealing with right wrist discomfort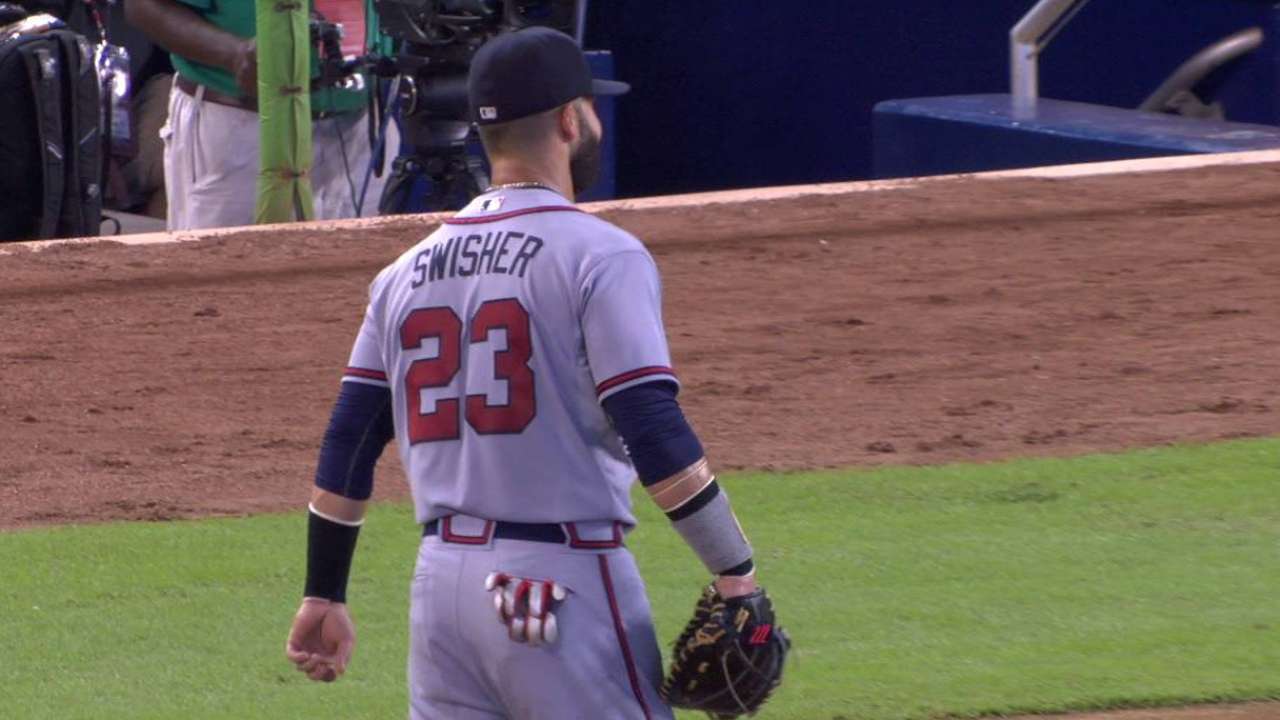 ATLANTA -- After gaining some reassurance that he wouldn't be doing any further damage to his previously-sprained right wrist, Braves first baseman Freddie Freeman was back in the starting lineup for Tuesday night's 2-1 win over the Nationals.
Freeman has played through right wrist discomfort over the past few weeks, but when it proved significant enough for him to exit Sunday afternoon's game against the Marlins, he visited Dr. Gary Laurie on Monday and learned he likely will not feel relief until he gets a chance to rest during the offseason. Freeman went 0-for-3 in Tuesday's loss.
"We're going to treat him day to day," Braves manager Fredi Gonzalez said. "The doctor said if he feels good, get him in there. Some days will be better than others. One swing might trigger [the discomfort] more than another. But he wants to play, which is great. I'll follow his lead."
Gonzalez plans to allow Freeman to start the first two games of the Nationals series and then be available to come off the bench for Thursday's series finale. If all goes well, the Braves first baseman could start the first two games of this weekend's series against the Cardinals and then rest during Sunday's regular-season finale.
Freeman will likely be further evaluated once the season concludes. But it appears the general consensus is that he is simply dealing with an ailment that needs more than just a few weeks of rest to completely heal.
This has been a frustration-filled season for Freeman, who spent five weeks on the disabled list after spraining his right wrist while taking a swing during a June 13 game at Citi Field. Shortly after returning to action in late July, Freeman suffered a right oblique strain that sidelined him until Aug. 19.
Freeman has played through right wrist discomfort over the past few weeks. He was out of the lineup for last Wednesday's game against the Mets, but he came off the bench in the seventh inning to produce a five-RBI performance that was capped with a game-winning homer in the ninth.
After getting a chance to rest on Thursday's off-day, Freeman started each of the three games played in Miami this past weekend. But he was lifted from Sunday's game after the discomfort led him to opt to bunt his way on base on during the third inning.
Mark Bowman is a reporter for MLB.com. Listen to his podcast. This story was not subject to the approval of Major League Baseball or its clubs.