Voting underway for Hank Aaron Awards
Fans to help decide top offensive performer in each league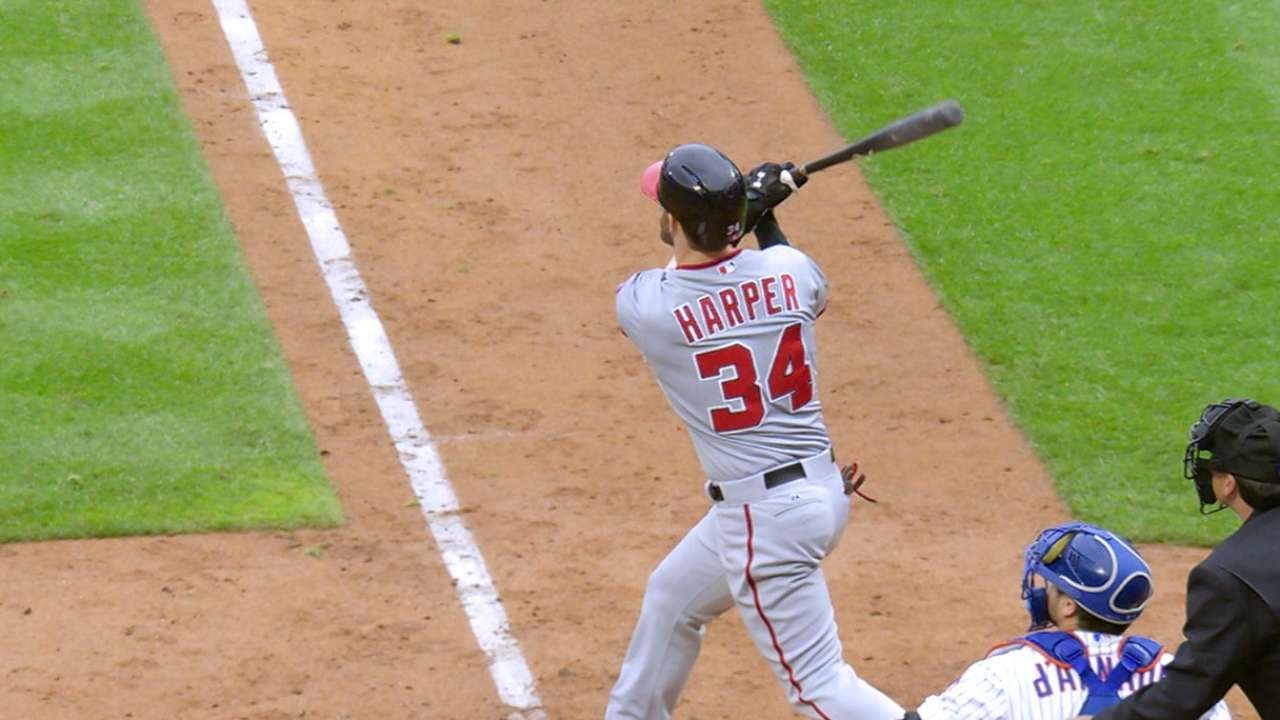 Voting is underway until 11:59 p.m. ET Sunday exclusively at MLB.com to help decide the 17th annual winners of the Hank Aaron Award, which will be presented by the legend himself during the upcoming 111th World Series to the outstanding offensive performer in each league.
American League nominees include Chris Davis of Baltimore, David Ortiz of Boston, Jose Abreu of Chicago, Michael Brantley of Cleveland, Miguel Cabrera of Detroit, Carlos Correa of Houston, Lorenzo Cain of Kansas City, Mike Trout of Los Angeles, Brian Dozier of Minnesota, Brian McCann of New York, Josh Reddick of Oakland, Nelson Cruz of Seattle, Logan Forsythe of Tampa Bay, Prince Fielder of Texas and Josh Donaldson of Toronto.
• Cast your Hank Aaron Award vote
National League nominees include Paul Goldschmidt of Arizona, Freddie Freeman of Atlanta, Anthony Rizzo of Chicago, Joey Votto of Cincinnati, Nolan Arenado of Colorado, Adrian Gonzalez of Los Angeles, Dee Gordon of Miami, Ryan Braun of Milwaukee, Curtis Granderson of New York, Odubel Herrera of Philadelphia, Andrew McCutchen of Pittsburgh, Matt Carpenter of St. Louis, Matt Kemp of San Diego, Buster Posey of San Francisco and Bryce Harper of Washington.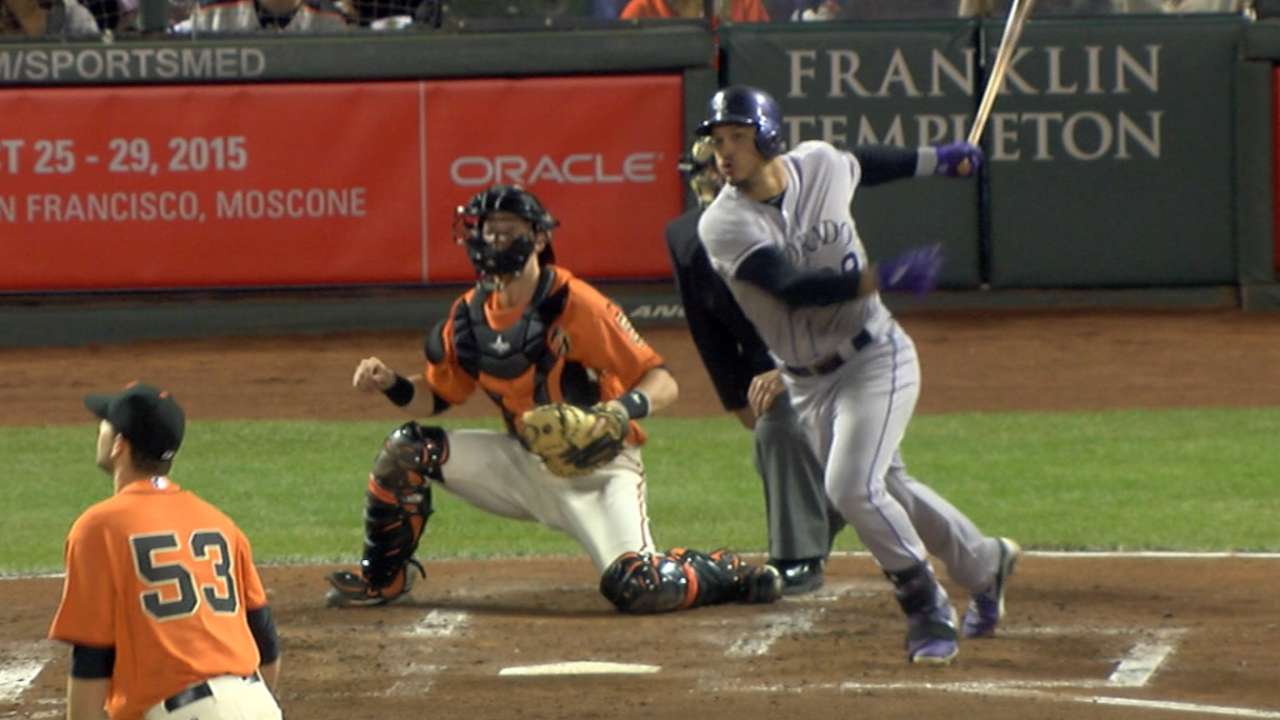 "The nominees for the 2015 Hank Aaron Awards provide great insight into the considerable young talent in our game today," Commissioner Rob Manfred said. "Hank Aaron was a tremendous all-around offensive performer, and I believe that the diverse skills and competitive spirits demonstrated by these 30 players throughout the 2015 season have honored the Hall of Famer's enduring legacy."
"It is truly a joy and an honor that the award recognizing the top offensive performers in the game has my name on it," Aaron said. "I am grateful to have some of my fellow Hall of Famers and the fans to assist in selecting the winners from this talented group of nominees."
That Hall of Fame panel led by Aaron includes some of the greatest offensive players of all-time: Roberto Alomar, Johnny Bench, Eddie Murray, Frank Thomas, Robin Yount and 2015 Hall of Fame inductee Craig Biggio. These Hall of Famers -- who combined for 16,697 hits, 8,712 RBIs and 2,166 home runs -- have all been personally selected by Aaron to lend their expertise to select the best offensive performer in each league.
Combined, the nominees have been named All-Stars 90 times, including 16 players selected to the 2015 Midsummer Classic. The nominee list also features 20 players under the age of 30, with five (Arenado, Correa, Harper, Herrera and Trout) under the age of 25.
Trout was last year's AL winner and has a definite shot at repeating, topping 40 homers for the first time in his distinguished young career and posting his league's top OPS. Cabrera wrapped up his fourth AL batting title and could win an Aaron Award for the third time in the last four years.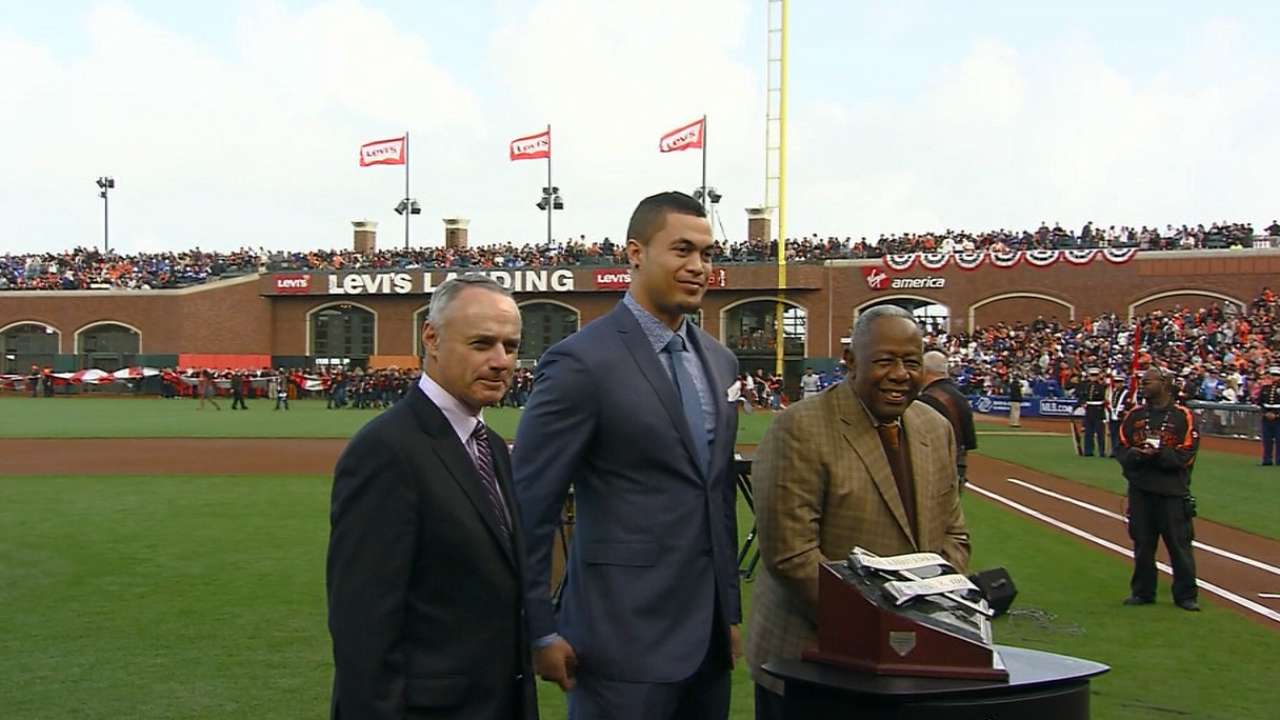 Donaldson may be the one to beat in the AL, though, posting off-the-chart numbers while leading Toronto to its first AL East title since 1993. He and McCann each could become the third winner for their current teams, as Carlos Delgado and Jose Bautista previously won with Toronto and Derek Jeter and Alex Rodriguez both earned these awards while with the Yankees.
In the NL, there will be no repeat -- although Gordon has a nominee's chance to make it two straight for the Marlins, following Giancarlo Stanton's honor last year. The NL race figures to be an interesting competition. Harper just needed more RBIs to contend for a Triple Crown at the end; Goldschmidt has a shot at winning his second such award in the last three years; and Votto's second half alone should put him into contention.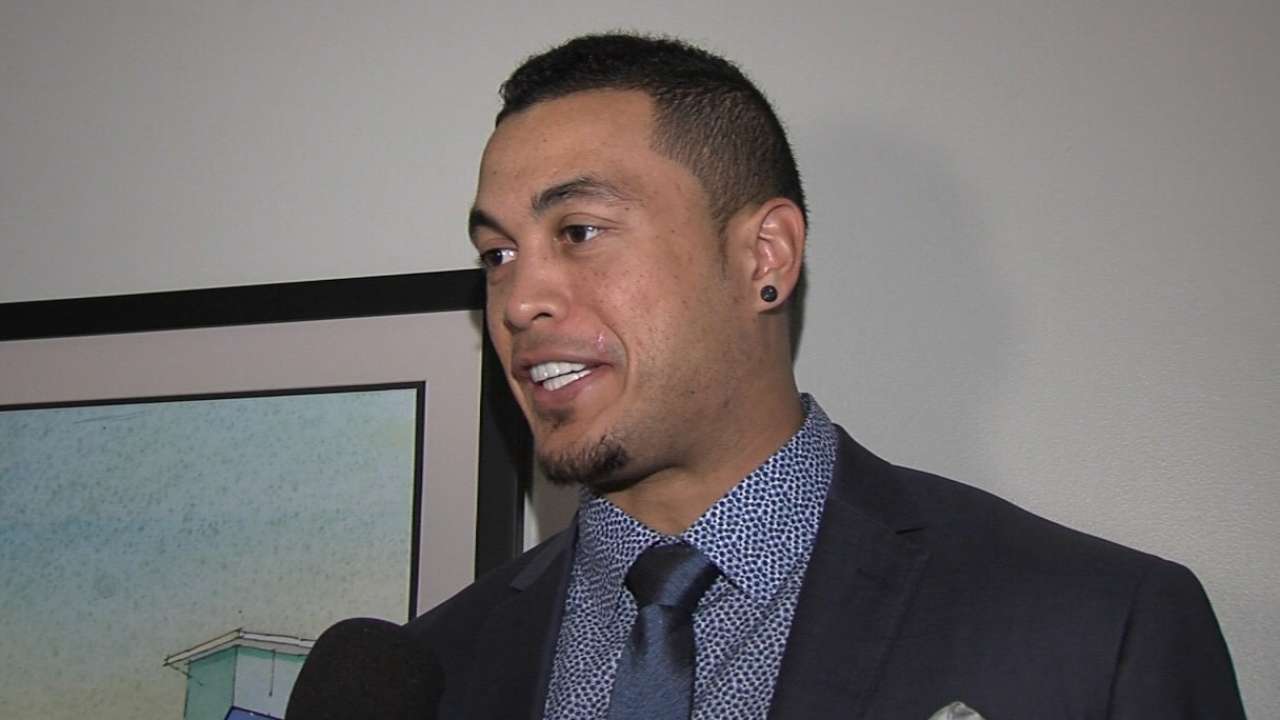 Will Washington's second-half collapse hurt Harper's chances? Aaron has always said at the annual award presentations that he considers the criteria not only pure offensive firepower, but also team leadership. As a voter, who's going to argue with Hammerin' Hank? McCutchen's candidacy for Pittsburgh looks a little stronger when you put it that way.
Kemp (previously with the Dodgers) and Fielder (previously with Milwaukee) each will hope to win an Aaron Award with a second club.
Past winners include Trout and Stanton (2014); Cabrera and Goldschmidt (2013); Cabrera and Posey (2012); Bautista and Kemp (2011); Bautista and Votto (2010); Jeter and Albert Pujols (2009); Aramis Ramirez and Kevin Youkilis (2008); Rodriguez and Fielder (2007); Jeter and Ryan Howard (2006); Ortiz and Andruw Jones (2005); Manny Ramirez and Barry Bonds (2004); Rodriguez and Pujols (2003); Rodriguez and Bonds (2001-02); Delgado and Todd Helton (2000); and Ramirez and Sammy Sosa (1999).
The award was introduced in 1999 to honor the 25th anniversary of Aaron breaking Babe Ruth's all-time home run record. At that time, it was the first major award introduced by MLB in more than a quarter-century.
Mark Newman is enterprise editor of MLB.com. Read and join other baseball fans on his MLB.com community blog. This story was not subject to the approval of Major League Baseball or its clubs.