Porcello bounces back after fiery visit
Righty buckles down after giving up four runs in first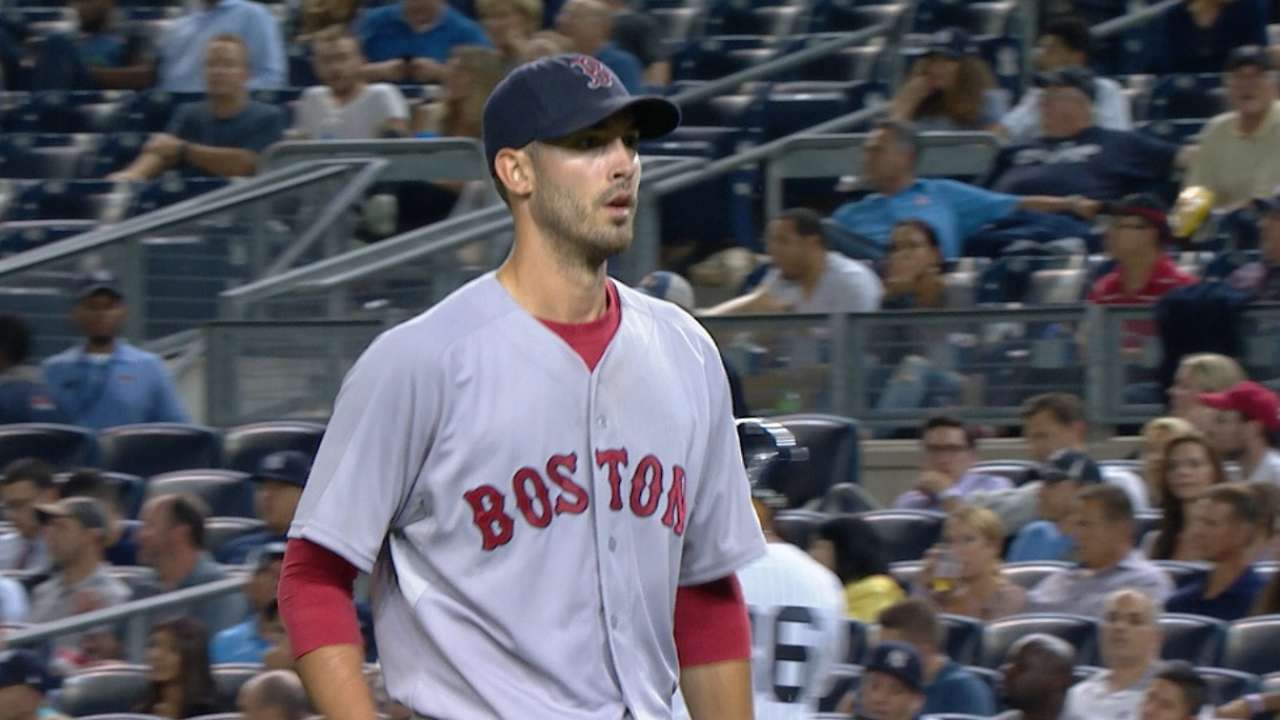 NEW YORK -- Perhaps Rick Porcello didn't realize he was in a fog in the bottom of the first inning of Tuesday's start at Yankee Stadium until pitching coach Carl Willis came out to the mound to give the righty some tough love.
Motivated by Willis, Porcello wound up going eight innings in a 10-4 victory over the Yankees. In fact, Porcello went on to call it his best start of the season.
It's hard to believe it would wind up being that, considering the Red Sox had put up a six-spot vs. Michael Pineda for Porcello in the top of the first, and he responded by giving four runs right back.
"Kind of after Carl came out and really woke me up a little bit and told me to make some adjustments and get the ball down and stop making mistakes and then we were fine after that," said Porcello. "Sometimes you need a kick in the butt. I didn't feel like I was sleep-walking out there, but your offense goes out there and grinds out six runs in the first inning, the last thing you want to do is give four back. Really, that mound visit kind of locked me back in."
After the rocky first, Porcello went on to fire seven innings of two-hit, no-run baseball.
"Yeah, I mean, to me, that was my best start of the year," Porcello said. "Offense came out swinging the bats great against a really tough pitcher who has been throwing the ball well in Pineda and being able to pitch deep in the game with that run support, especially after what happened in the first inning was, kind of took a lot of pride in that. It was a very gratifying game for myself and the way we swung the bats."
Porcello has been an innings-eater for the Red Sox of late, going seven innings in six of his last seven starts, and going six in all seven.
"Rick just did a great job of settling in," said Red Sox interim manager Torey Lovullo. "Made some really good adjustments, him and Blake Swihart. They started to work the changeup into the mix. Started to get that curveball when he needed it. A lot of credit goes out to him for rebounding and working as free and easy as he did with eight solid innings."
Ian Browne is a reporter for MLB.com. Read his blog, Brownie Points, follow him on Twitter @IanMBrowne and listen to his podcast. This story was not subject to the approval of Major League Baseball or its clubs.