Murphy getting reps in at first base
Catcher could give Yanks right-handed bat vs. lefties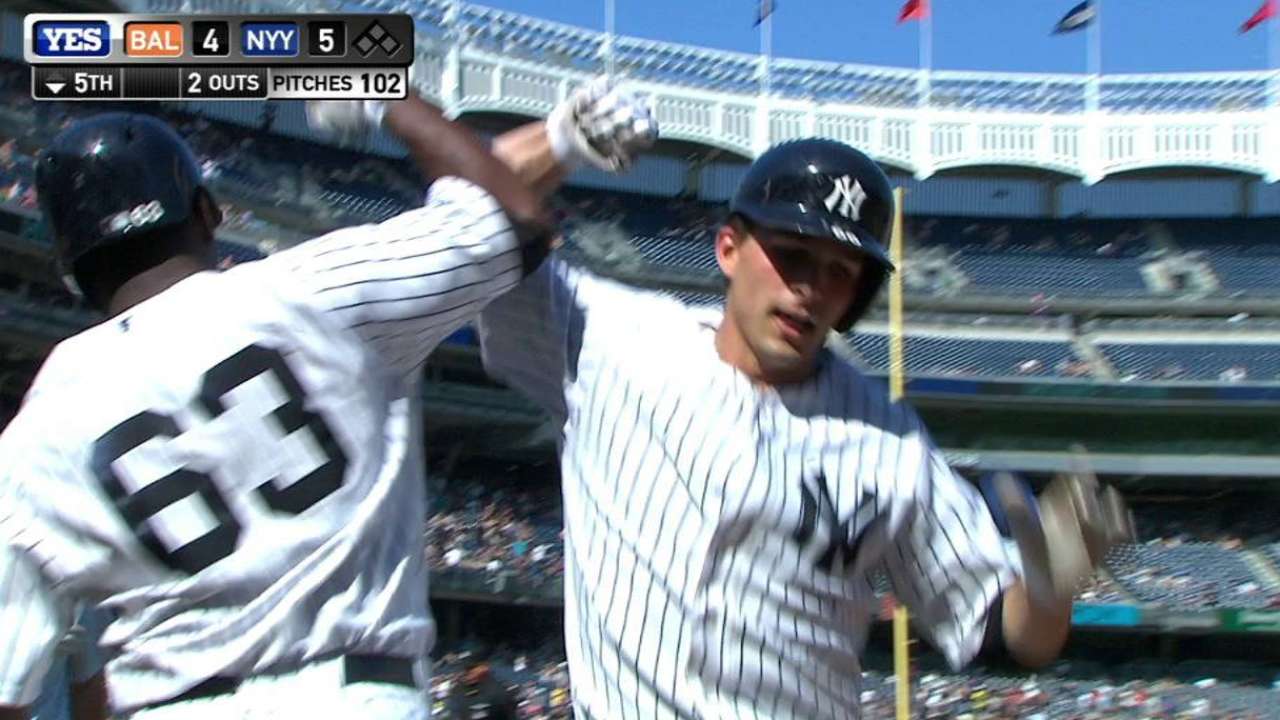 NEW YORK -- It's times like these when the Yankees seem to miss Mark Teixeira the most, as they've faced left-handed pitchers in four of their last five games and are expected to see two more on Wednesday and Thursday against the Red Sox. Teixeira was a reliable switch-hitter who consistently gave the Yankees an extra right-hander in the lineup.
With the left-handed-hitting Greg Bird assuming first-base duties in Teixeira's absence, the Yanks are looking to experiment with other right-handed options at first when opponents start a southpaw. On Tuesday, catcher John Ryan Murphy did early work at first, taking ground balls and getting acclimated to something that is brand new.
Murphy has played third base before when he was in the Minor Leagues while with the Class A Charleston RiverDogs and Class A Advanced Tampa, but never first.
"I think the first thing that stuck out is you have more time. You don't have to rush and make a throw across the diamond like third base," Murphy said Tuesday. "My job is literally to catch the ball and walk it to first base, so it sounds easy, but that's my plan. I don't have to rush. Take my time."
Murphy used Austin Romine's first-base glove to participate in the drills and said it was an unfamiliar feeling, but Murphy indicated he was already beginning to feel comfortable there.
The Yanks' struggle against lefties hasn't necessarily been a season-long one, but in their last 12 games when the opponent started a lefty, the Yankees have dropped eight of them, averaging 3.42 runs per game in those 12 games. Bird has a .216/.310/.405 slash line against lefties for the season, hitting just two of his 10 homers off left-handers. He is two for his last 20 versus left-handed pitchers.
In 74 at-bats vs. southpaws, Murphy's line is .284/.316/.486. All three of his homers this season have come off a lefty.
It's possible that the Yankees could see a left-hander in a potential American League Wild Card Game presented by Budweiser. Manager Joe Girardi is hopeful he'll see some better results soon.
"It's something that we know we have to get better at," Girardi said of hitting lefties. "You take a real big bat out when you take Tex out of that lineup. It's one more switch-hitter that's not in there. It's something we're trying to address. We're looking at different scenarios."
As for Murphy, though he's never played first before, it's not a position he's going to shy away from. If the Yankees decide to use him, he's happy to test it out.
"I don't get too worked up about a whole lot of things. I feel pretty comfortable the little that I've been out there doing this stuff in early work and BP," he said. "But the more reps, the easier it becomes, the more second nature it becomes. But right now, I feel pretty comfortable."
Grace Raynor is an associate reporter for MLB.com. This story was not subject to the approval of Major League Baseball or its clubs.