Betances surprises student with tickets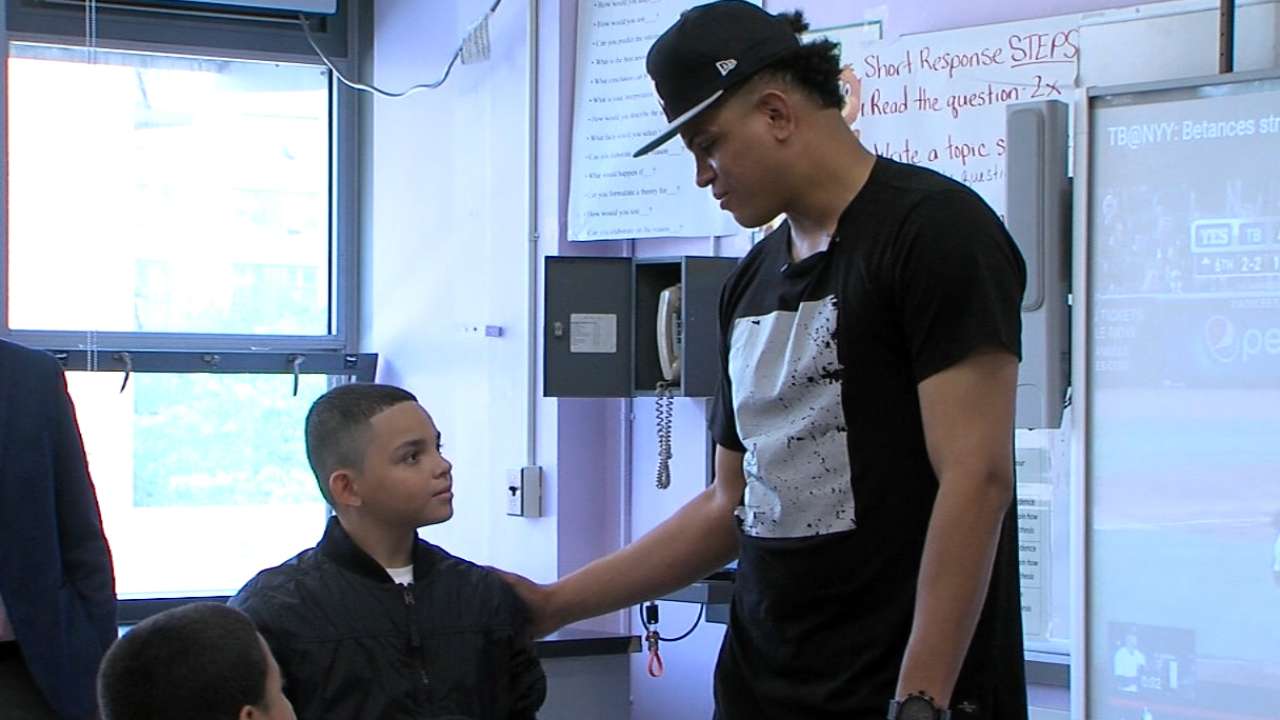 NEW YORK -- It wasn't about to be Picture Day, and as far as he knew, Reilly Garay didn't have any major events coming up -- so when his mother Nelva Alicea made him get a haircut Monday afternoon, the seventh grader wasn't pleased.
But on Tuesday afternoon in Room 311 of P.S./ I.S. 224, his mother's demand finally made sense. Garay looked up in the middle of working on a math problem to see Yankees reliever Dellin Betances walk in the room with a group of video cameras trailing the All-Star pitcher. Betances was there to surprise Garay, who was the winner of New Era's back to school style contest. Alicea had helped Garay enter the contest back before the school year started, and for the caption of the photo they submitted, Garay had explained to his mother why Betances was the one player he wanted to meet.
When Betances walked in with autographed pictures and New Era caps for the entire class, emotions immediately came over Reilly.
"My son was born a Yankees fan since he started so that's all he knows: baseball, Yankees," Alicea said. "He was a little teary eyed, he was happy. I was just excited for the whole school and everyone. It was a proud thing to be part of."
The plans for Betances to surprise Reilly came to fruition last week, which made it hard for Alicea to contain her excitement. Every day, she said, she was tempted to tell her son, but knew she wasn't going to ruin the surprise.
When Reilly left the house Tuesday morning, Alicea knew exactly what was in store. She and Reilly's younger sister would return to the school that afternoon to watch the surprise unfold, where Reilly held his younger sister on his lap.
"Everything right now is a blur," Alicea went on to say after.
P.S./ I.S. 224's assistant principal set the stage by having the students watch a video of Betances throwing a pitch as part of a math problem. The question posed to the kids was how long they thought it would take Betances' pitch to reach the plate if it was a fastball thrown at 100 mph. Four students said two seconds, a dozen said 1.5 seconds and eight students said one second.
Betances then walked in for the surprise and said his guess would be that it took one second. Then he asked for Reilly to come forward to meet him and told Reilly that he had four tickets for him and his family to Tuesday night's game against the Red Sox.
"I think that's what it's all about. As athletes, we take pride in this, coming to the community and just putting a smile on the kids' faces and inspiring them," Betances said. "Especially for me -- I grew up here [in New York]."
P.S./ I.S. 224 principal Sojourner Welch-David said it hit close to home knowing that Betances was born and raised in New York. Her hope is that Betances inspired her students to reach big.
"I think that they're going to take away hope and they're going to take away a dream that they can have," she said.
Then she paused for a smile.
"They also will take away the fact that when we tell them to join a contest they'll do it next time."
Grace Raynor is an associate reporter for MLB.com. This story was not subject to the approval of Major League Baseball or its clubs.