Dipoto: Mariners' GM post a 'dream job'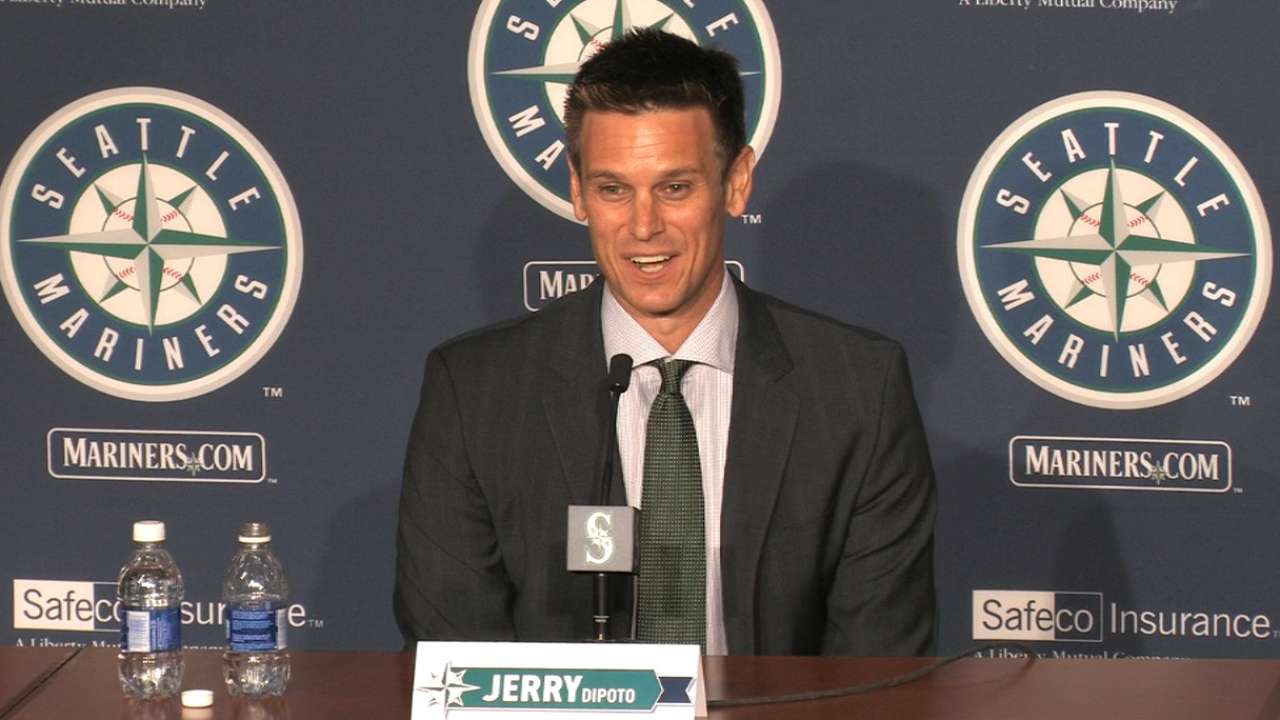 SEATTLE -- Jerry Dipoto said he's taking his "dream job" as general manager of the Seattle Mariners, an organization playing in what he called his favorite ballpark in the Majors and already stocked with some elite talent.
But there is a reason why Dipoto was being introduced at a news conference Tuesday morning at Safeco Field, and that is the situation the Mariners find themselves in as they finish out a season in which they missed the playoffs for a 14th straight year despite high expectations.
That means change will be coming, improvements will be sought and Dipoto -- who closely observed Seattle the past four years as GM of the American League West-rival Angels -- has some ideas of what needs to be done.
Dipoto says the Major League roster needs better depth behind its star players Felix Hernandez, Robinson Cano, Nelson Cruz and Kyle Seager.
"Depth to me is setting up a Plan A and then having guys in back of Plan A so that in the inevitable case where something of the Plan A doesn't work out, Plan B can step up and provide a productive solution instead of a crash and burn," Dipoto said. "You can't put yourself in a position where one injury, one underperformance creates such a downward spiral that you can't compete."
Secondly, Dipoto said the Mariners need to build a team more suited to Safeco Field. Seattle has had one of the best road records in the Majors the past two years, but the club has struggled in a big ballpark despite some outstanding pitching.
"We have to be more athletic, and that starts at the grass roots of the organization," Dipoto said. "That is not a quick fix. There is not a 24-hour all-night supermarket for good athletes that play baseball at the Major League level. We have to acquire and develop them."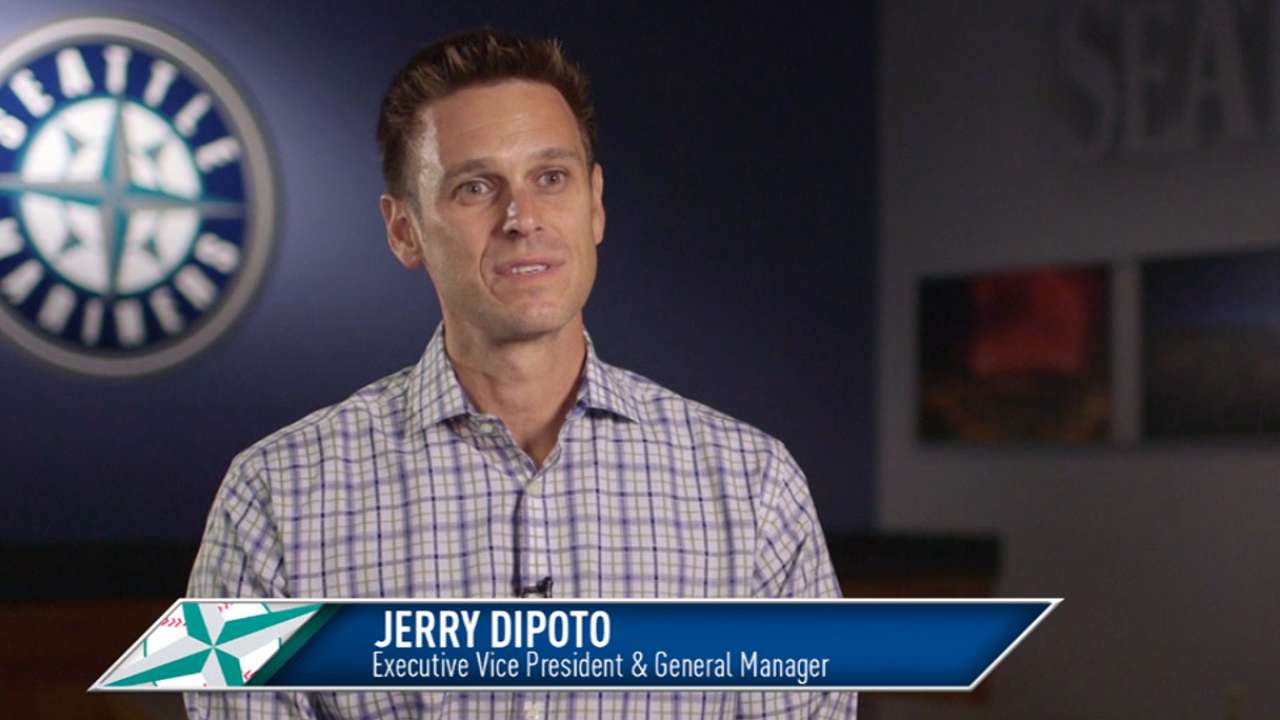 Thirdly, the bullpen needs to be addressed quickly at the Major League level after its significant decline this season. And all those things lead to the biggest issue of all, which is how to improve the talent level from top to bottom.
"That brings us back to No. 1, [getting better] some through depth and some through impact," Dipoto said. "I also think we do have some needs to address in scouting, player development, front-office development that are required. Change begets change."
Dipoto noted he worked with pro scouting director Tom Allison for four years with the D-backs and is happy to be back with him. Dipoto is also familiar with assistant GM Jeff Kingston from their days together in the National League West when Kingston was with the Padres, and Dipoto has long known amateur scouting director Tom McNamara and respects his abilities as well.
But along with manager Lloyd McClendon, Dipoto will be evaluating all those departments over the next few weeks and coming to decisions as quickly as possible. If that sounds like a lot to handle in short order, he's ready to begin.
"There's a good group of people here that just need an opportunity to spread their wings," Dipoto said. "From scouting through the front office to baseball operations, there's a lot of talent. I intend to create an environment that allows for their inclusion in decision making. And I do think there are areas of need, and I'll address those as we move forward.
"I'm a professional juggler," Dipoto said. "Ideally what you'd like to do, before the meetings season begins, by the second week of November, you want to have your organization in a healthy place where you have taken care of the engine room. That gives me more than a month to sit down with people and find out what they're about."
As for what Dipoto is about, he's a former Major League reliever who became interested in sabermetrics while still playing, joining the Society for American Baseball Research while with the Mets. He's been a scout as well as a general manager. And Dipoto enjoys the process of building, noting he's like "a kid on the floor with a bucket of Legos, and I want to build the prettiest castle, and until the last block is in the castle, I won't settle."
And Dipoto is a baseball junkie who fell in love with the game growing up in New Jersey and has never let go.
"It may sound hokey, but baseball is the fiber that binds America," Dipoto said. "As long as I've been alive, this is all I've wanted to do. I've pumped gas and loaded trucks as summer jobs as a kid, but as an adult, this is all I've done, and it's what I intend to do. I love the players that play, the managers that manage and the people that make organizations what they are. And hopefully together, we'll do something great."
Greg Johns is a reporter for MLB.com. Follow him on Twitter @GregJohnsMLB, read his Mariners Musings blog, and listen to his podcast. This story was not subject to the approval of Major League Baseball or its clubs.