Berra's life honored in private funeral service
Yankees Hall of Fame catcher touched people from all walks of life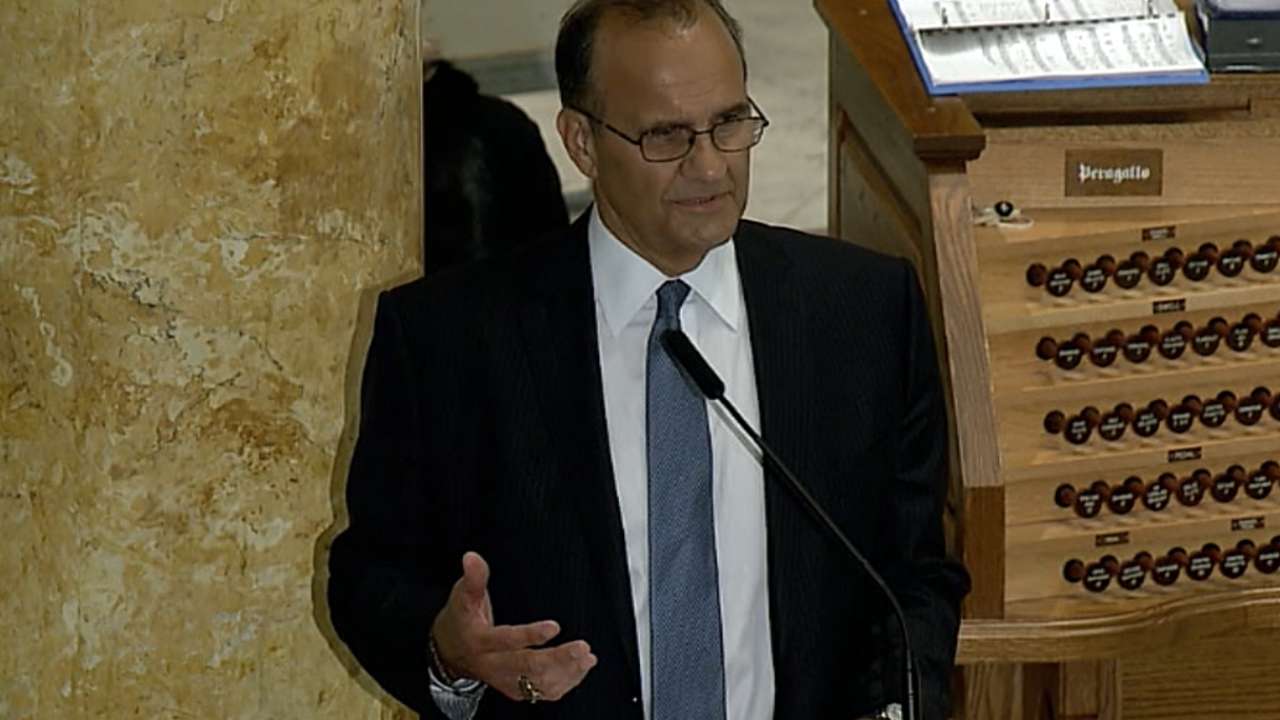 MONTCLAIR, N.J. -- A middle-aged man on a bicycle slowly pedaled down Fullerton Avenue in a leafy community that briefly served as baseball central late Tuesday morning. He coasted past the Church of the Immaculate Conception, raised a smartphone camera and recorded what little was happening. Some folks who had gathered across the street from the church were offended by the momentary interruption, the light moment that was in such sharp contrast to the sacred ceremony they awaited. But one man slightly raised his voice and gave his approval, saying, "Yogi would've loved it."
The offended parties agreed and chuckled. The cyclist hadn't been irreverent, but merely informal; hadn't been intrusive, but instead, inclusive. He was one of so many who had gathered to salute and celebrate a charming man who had lived such a charmed life for more than 90 years.
The ceremony for Yankees icon Yogi Berra had attracted some of the highest-profile among baseball's citizenry: Commissioner Rob Manfred; Rachel Robinson, wife of Hall of Famer Jackie Robinson; Hall of Famer Reggie Jackson; former Yankees starter Ron Guidry; Core 4 members Derek Jeter, Mariano Rivera, Andy Pettitte and Jorge Posada; manager Joe Girardi; longtime center fielder Bernie Williams; Yankees designated hitter Alex Rodriguez; Berra's former teammates Jim Bouton and Bobby Richardson; and, of course, former Yankees manager and current MLB chief baseball officer Joe Torre. Also in attendance were: former New York City mayor Rudy Guiliani; Yankees managing general partner Hal Steinbrenner; general manager Brian Cashman; team president Randy Levine; catcher Brian McCann; former pitcher and current broadcaster David Cone; former player and coach Lee Mazzilli; left fielder Brett Gardner; former New York Giant Harry Carson; and comedian Joe Piscopo.
But what distinguished the folks who had come together a week after Berra's death, particularly those who had assembled on sidewalks adjacent to the church, was the diversity of ethnicity. When the United Nations General Assembly met 20 miles to the east last week, it probably wasn't much more representative of the world's population than the mass outside the Mass.
"Yogi appealed to everyone," Torre said after delivering a delightful eulogy with just the right touches of reverence, warmth, humor and affection. "And everyone appealed to Yogi."
Berra always seemed to be color blind. No less an authority on that matter than Elston Howard, the Yankees' first black player, said as much years ago. Howard's widow and daughter were in attendance, and if more teammates -- and opponents, too -- had survived Berra, the church would have overflowed. But Yogi, the nonagenarian, outlived them, just as he often had outplayed them.
"He out-nices everyone," Torre said in May at Yogi's 90th birthday. "He never tells anyone how to act, he just acts the way he is, and he's such a great influence."
*****
As the service began, a FedEx truck pulled from a driveway and moved down Fullerton, a bit noisily. Yogi wouldn't have minded that either. He knew what it meant to deliver.
Most of those who gathered probably had done so because Yogi was a remarkable player. But undoubtedly, some spent their morning as they did because he was a splendid gentleman, too.
"You'd see him around town. He always had a smile," said banker Tony Riolo of nearby West Caldwell, N.J., who found himself drawn to the church. "I was driving to work. I saw all the police. I thought the Pope was coming."
Cardinal Timothy Dolan, the Archbishop of New York City, delivered the Mass, and at one point, he compared Berra to the Pope.
"Would you think about the two for a minute?" Dolan said. "The smile, the open face, the innate courtesy, the aw-shucks attitude, the earthy grasp of heavenly and eternal values, even the big ears. Are they not similar? Pope or catcher. St. Louis, New York, Montclair or Buenos Aires. Saint Ambrose Parrish or Immaculate Conception Parrish. Italian, Argentinian, American."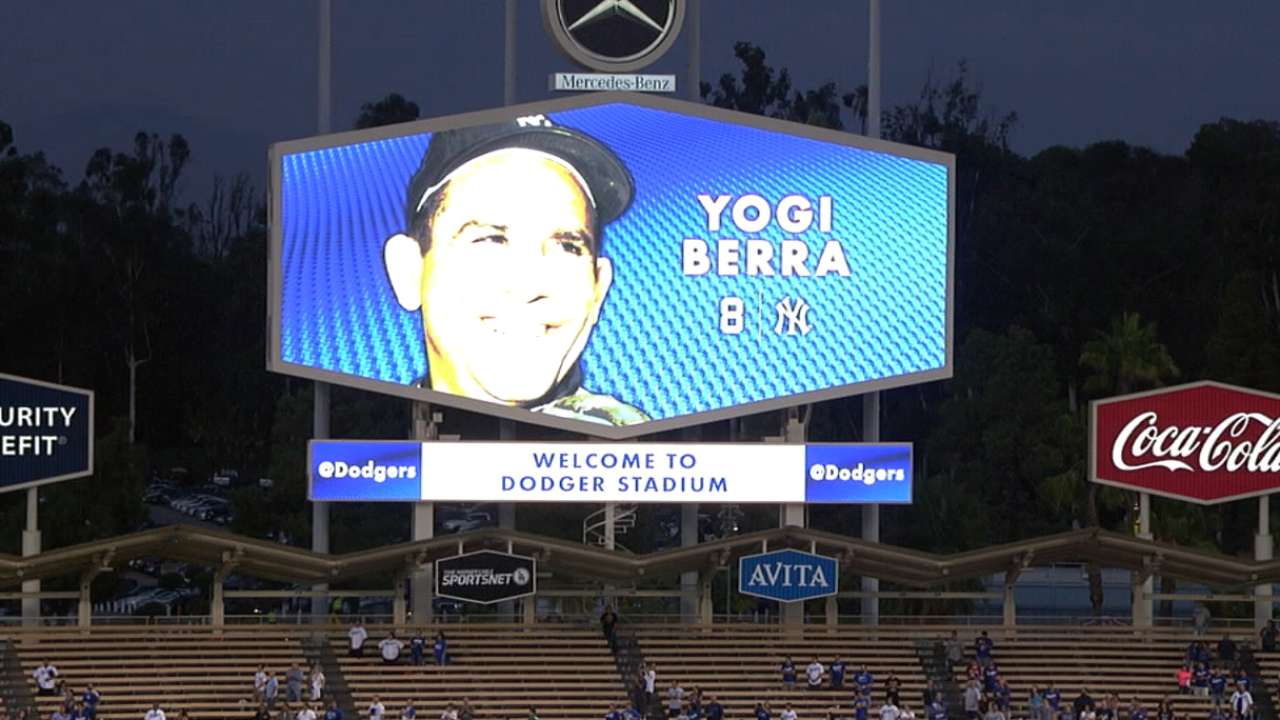 But it was Torre's words that moved most among the outside audience.
"When I knew I was going to do [the eulogy], I started looking up stuff," Torre said. "And yeah, he won 10 World Series, three [American League Most Valuable Player Awards], all the stats, most World Series rings, managed both the Mets and the Yankees to the World Series. But he was so much more than that. No matter what you read, it just wasn't enough to describe what Lawrence Peter Berra was all about.
"Yogi was a unique human being. You didn't have to be a baseball fan to know who Yogi was, to know what he represented. Did he have great ability? Not necessarily. But he was a great player. He was a great player. Respected by his teammates.
"Yogi-isms, we laugh at them a lot. You hear his name, it puts a smile on your face. He was a good-luck charm for us. ... Priceless.
"He was such a hero to all of us, aside from being a Purple Heart winner. He just gave of himself in every single thing he did. He absolutely was so madly in love with Carmen, married 65 years. He adored his children and grandchildren. He used to brag about Thanksgiving Day, when he'd make the meatballs, and then Carmen would be pouring the champagne for the adults, and he'd have a horse and buggy out there for the grandkids. He was so real; he was so loved.
"Friends of mine contacted me when Yogi passed, thanking me for introducing them to him, for being in the same room as him. He affected so many people in so many ways. ... We celebrate his uncanny ability to make people smile, even those who really don't care for baseball. We also celebrate that he and Carmen are together again. And today, we celebrate the fact that Yogi Berra personified the American dream.
"Yogi, you were a champion in every single one of those 90 years."
Torre was vacationing in Italy when he was contacted and asked to eulogize his friend. He was quite touched. He had been chosen by the Berra family because he has touch. Other than Vin Scully and precious few others, who could have handled the assignment so well?
Torre planned to speak longer than he did.
"They told me four minutes. I said, 'Four minutes?" Torre said. "The archbishop said, 'We'll be in the back. When one of us falls asleep, you'll know your time's up.'"
*****
They say pitchers have a special fraternity, and they do. The other guys, the position players, are greater in number but not in kinship; any pitcher will tell you so.
"They're what's left over," Bobby Ojeda once said. "You don't see eight third basemen going to dinner or playing golf together like pitchers."
Catchers have a bond, too. It was conspicuous at Yankee Stadium on Friday when Girardi, McCann and two younger catchers, Austin Romine and Gary Sanchez, laid a No. 8 floral arrangement at home plate. Powerful simplicity. Yogi had that quality, too.
And the bond was evident Tuesday morning. Consider: Torre, Girardi, McCann, Posada -- catchers all -- attended. Two men with Munson uniform tops and one with a homemade Campanella T-shirt had come, too. The older gentleman wearing it also wore a Brooklyn Dodgers cap. He said, "Brooklyn always feared Yogi, but we couldn't hate him."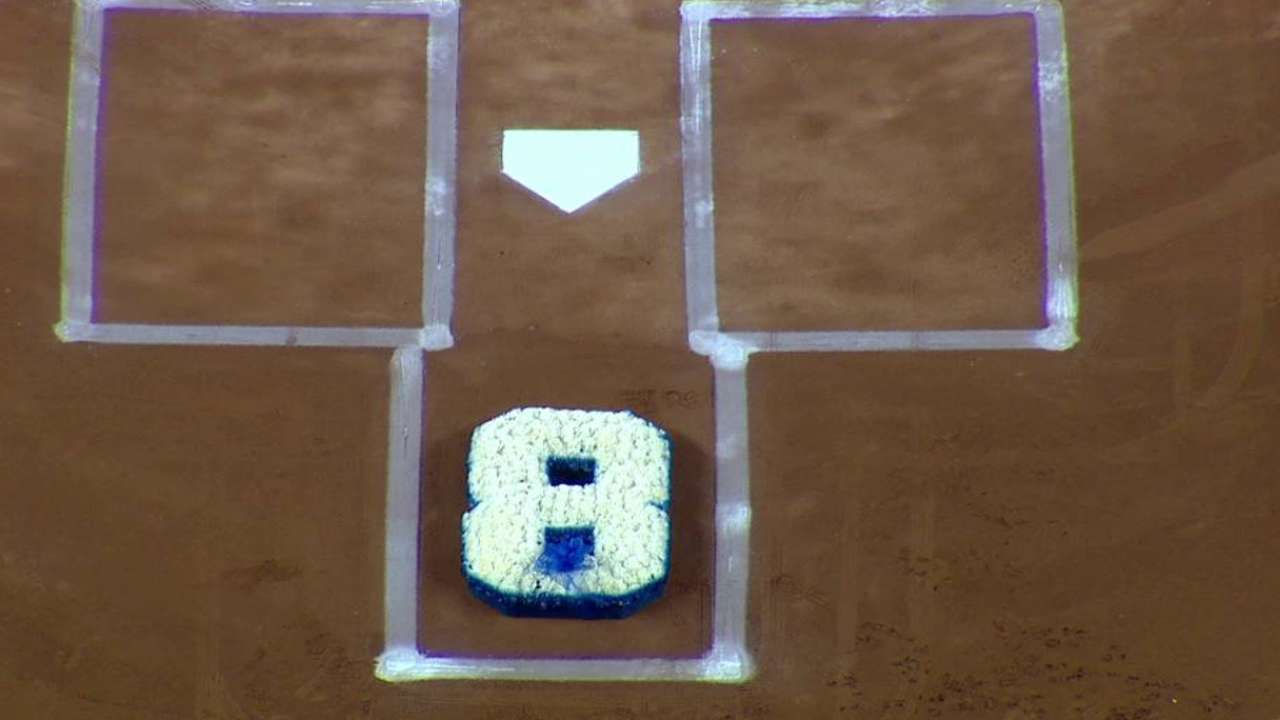 * * * *
Berra, the common man that he was, seemingly had some connection to almost everyone in attendance. Hundreds of police came to assist, some from as far away as Stamford, Conn., and Long Island, N.Y. Many municipalities had offered to send motorcycle cops. So many participated that if they had formed a motorcade two bikes wide -- or if they had "paired 'em up in threes," as Yogi said -- the line would have been longer than one of Mickey's deepest shots.
"It was an honor to be involved," one cop said. "And I hate the Yankees."
There was a strong representation from the Navy in support of Seaman 2nd Class Lawrence Berra. An American flag, a gold catcher's mitt and Berra's cremated remains had been placed by the altar.
There were bankers, newsmen, women with strollers, construction workers and two kids playing hooky and dressed in Yankees tops. A woman wore a Jeter shirt and a cap with Berra's autograph on it. One man wondered whether the Aflac duck had attended.
Hanging from the window of a fourth-floor apartment across Fullerton from the church was a simple and powerful reminder of the man Torre called "good, kindly, honest, real and human" -- a white pillow case with vertical stripes and the number 8.
Marty Noble is a columnist for MLB.com. This story was not subject to the approval of Major League Baseball or its clubs.