Card tricks: Bucs mystified by stymied rallies
Pirates load bases four times, come away empty as Lynn, bullpen get out of jams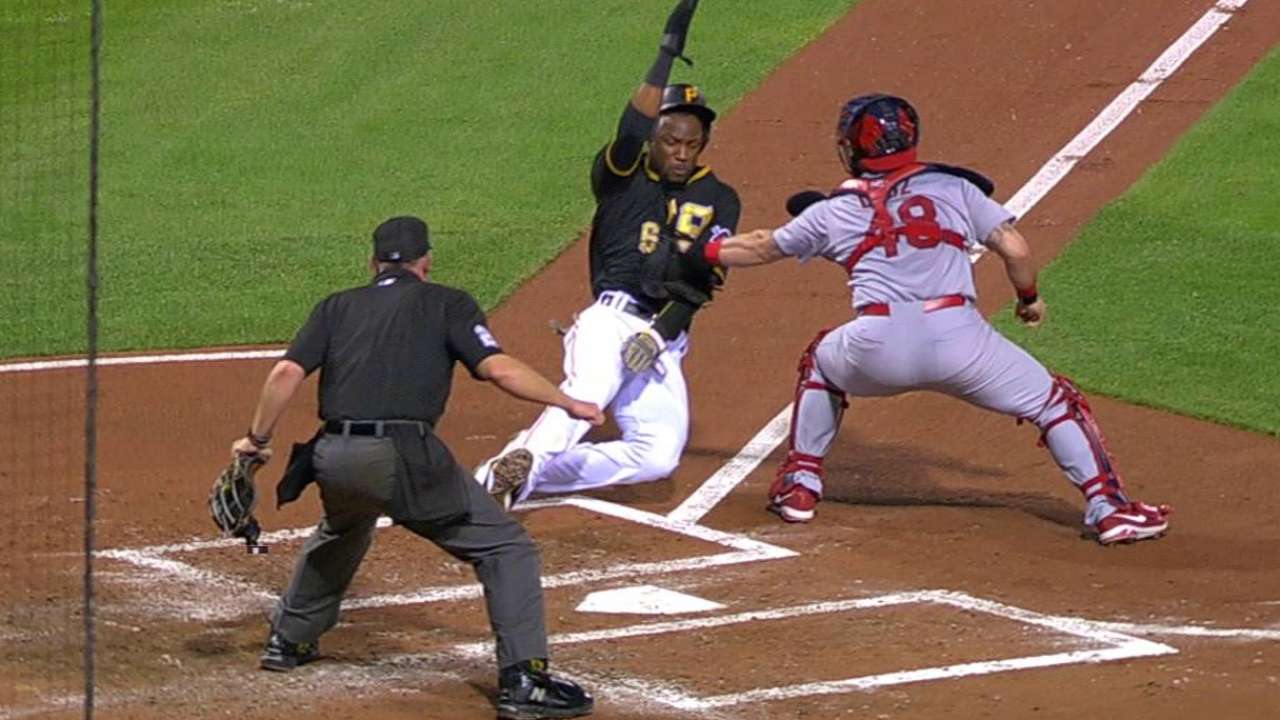 PITTSBURGH -- The Cardinals spent the better part of Monday night performing a high-wire act, precariously navigating their way in and out of trouble.
As Pirates manager Clint Hurdle put it, his team dominated the "time of possession." They worked long at-bats and got plenty of men on base. But they couldn't get a runner across home plate, as the Cardinals defused rally after rally en route to a 3-0 win at PNC Park. The victory moved the Cardinals one win away from the National League Central title while pushing the Bucs four games back with five to play.
Four times the Pirates packed the bases, and four times they came up empty. They finished 0-for-12 with runners in scoring position and stranded 16 runners, a team high in a nine-inning game this season.
"[If] we play our best baseball, we're scoring 10 runs. It's kind of crazy to think we didn't score," Pirates center fielder Andrew McCutchen said. "We had so many chances and opportunities."
In the second inning, with the bases loaded and one out against Cardinals starter Lance Lynn, shortstop Jordy Mercer sent a fly ball into shallow center field. Starling Marte tagged up at third base -- a sensible play for a fast runner, especially with pitcher J.A. Happ on deck -- but couldn't beat Jason Heyward's throw to home.
"All you can do is get in a good position, get behind it and let the ball go," Heyward said, "and hope for the best."
The Pirates kept pressuring Lynn in the third, once again loading the bases with one out. Lynn promptly struck out Marte and induced a harmless groundout from Neil Walker to put up another zero.
"Lance was pulling magic tricks after magic tricks," Cardinals third baseman Matt Carpenter said. "Part of it was good pitching. Part of it was good defense. And part of it was a little bit of luck."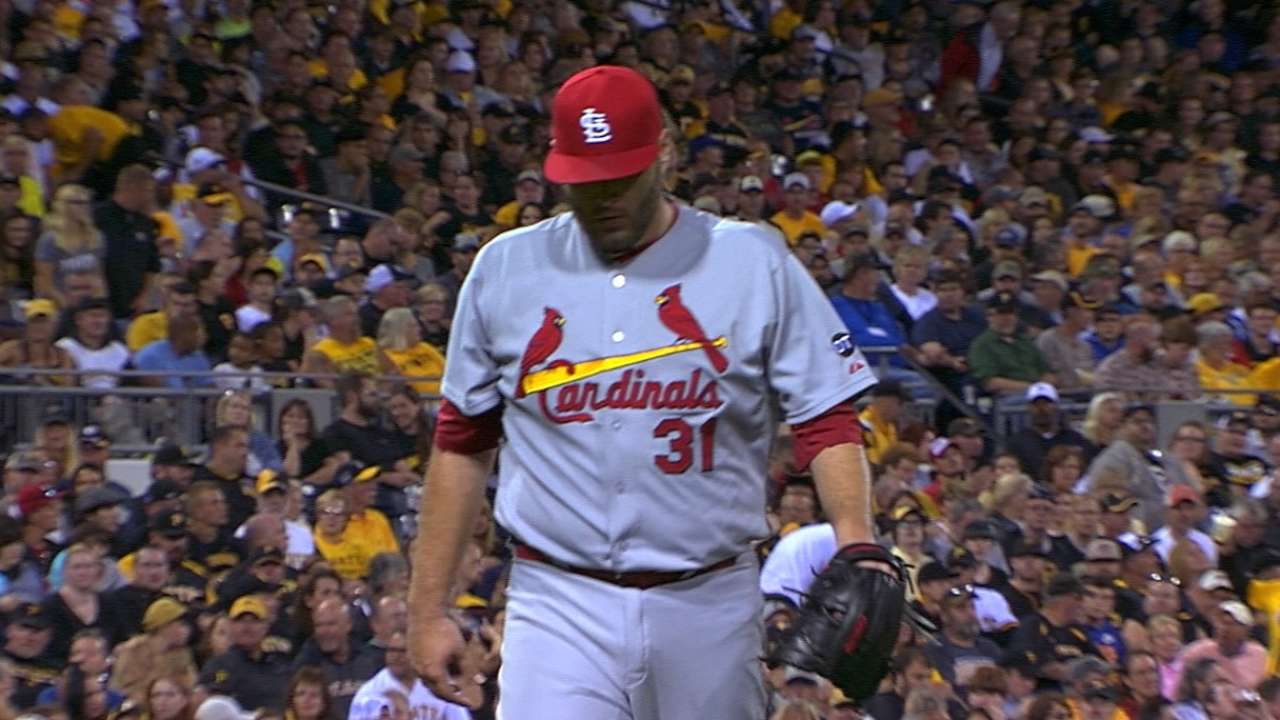 In both situations, Lynn carefully pitched around potential threats. In the second, he intentionally walked Pedro Alvarez. In the third, he got ahead of McCutchen 0-2 but wound up walking him.
"You know going into the game who, if there's a situation with guys on base, you're not going to give anything to hit," Lynn said. "You're going to make them hit your pitch."
The Cardinals' tightrope-walking didn't end with Lynn's departure. Reliever Steve Cishek walked the bases loaded in the sixth inning but escaped on Gregory Polanco's flyout to right field.
Cards reliever Kevin Siegrist worked his way out of a similar mess in the seventh, retiring Alvarez on a flyout to left field to strand three more runners.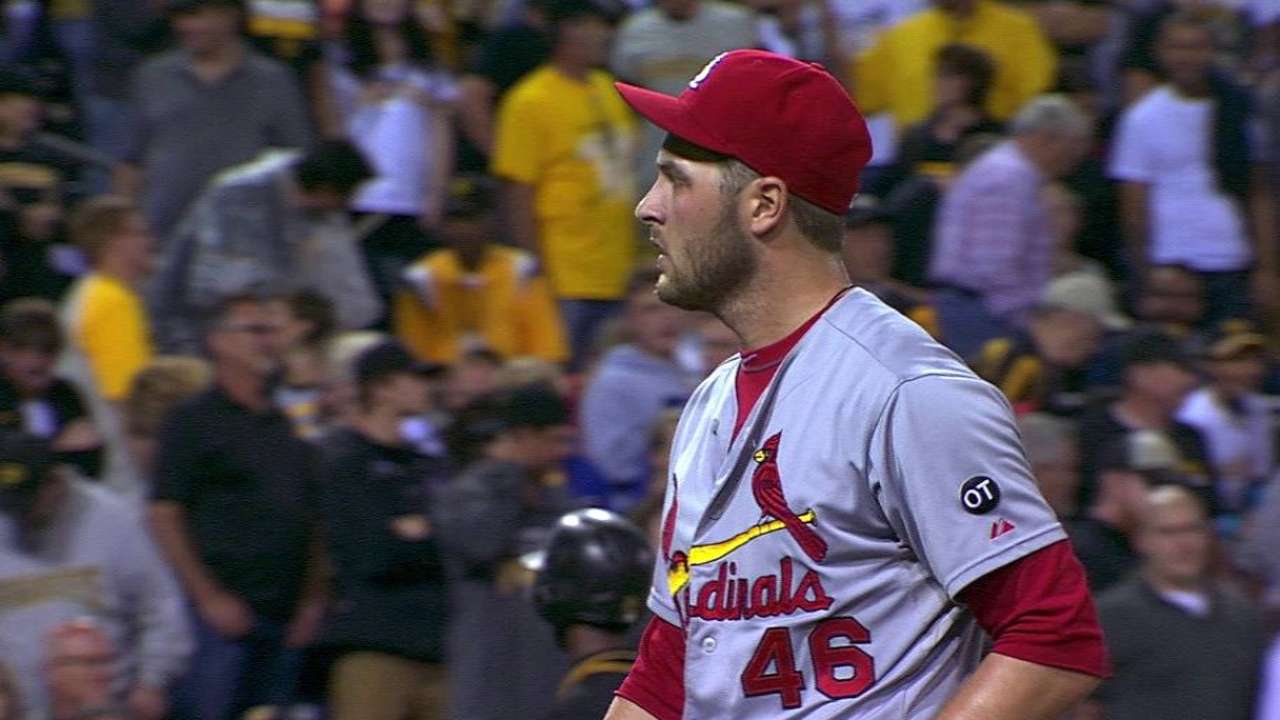 That kept the game scoreless heading into the ninth inning, when the Cardinals' lineup finally broke through with the kind of rally their pitching staff refused to permit all night.
• Pirates drop ball in crunch time, fall in wild 9th
"When you see stuff like that happening, and the other team feels like they have an opportunity to blow a game open and they don't take advantage of it," Carpenter said, "I always feel like it ends up working out for the other team."
Adam Berry is a reporter for MLB.com. Follow him on Twitter at @adamdberry. This story was not subject to the approval of Major League Baseball or its clubs.