Statcast: Pillar extends for diving gem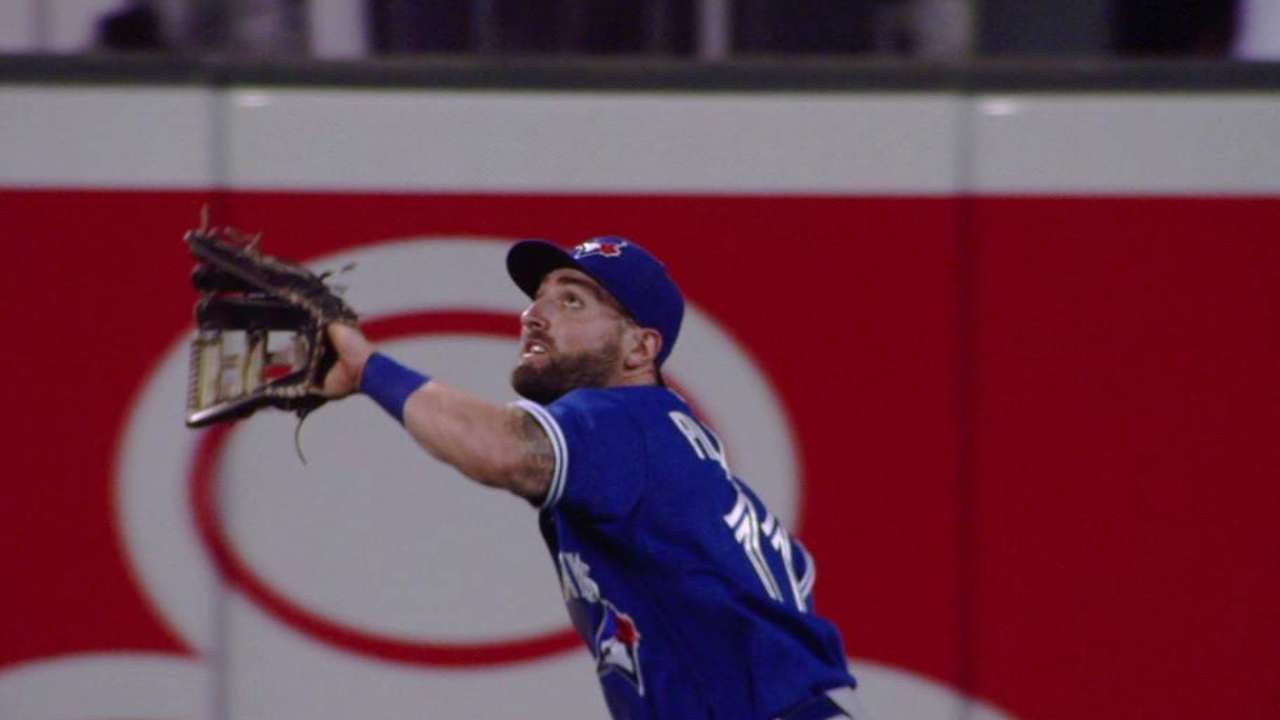 No stranger to highlight-reel catches, Blue Jays outfielder Kevin Pillar was up to his old tricks on Monday night.
The prolific defensive talent -- and frequent Statcast™ subject -- took away yet another hit with his latest jaw-dropping, diving catch against the Orioles. As Statcast™ will show, Pillar's most recent gem was the result of combining his top-tier speed with his typical nearly flawless route to the ball.
Elsewhere in the Majors, a Red Sox outfielder put on a defensive show of his own, while a Nationals outfielder made a diving catch that almost became a part of history. Meanwhile, a Rookie of the Year candidate continued to showcase his all-around talents, while sluggers from the Astros and Angels each teed off for crucial home runs to aid their clubs' respective postseason pursuit.
Here's an in-depth look at each of those plays, courtesy of Statcast™.
Pillar fully extends for latest diving gem
Pillar continued to display his defensive prowess in the Blue Jays' 4-3 win over the Orioles on Monday night, racing deep into the gap to rob Gerardo Parra of an extra-base hit. The Gold Glove candidate reached a max speed of 19.3 mph as he covered 81 feet, while taking a near-perfect path to the ball. Pillar registered a route efficiency of 97.4 percent on his way to laying out for the full-extension, diving catch.
The sensational play, however, was nothing new for Pillar. In fact, he entered the night having already made 64 catches with a route efficiency of at least 97 percent. Only Colorado's Charlie Blackmon (66) had more such catches. Pillar also began the night with 22 defensive runs saved to his name, second in the American League behind only Tampa Bay's Kevin Kiermaier.
Toronto's magic number to clinch the American League East is two.
Bradley Jr. does it all at Yankee Stadium
Prior to giving the Red Sox some breathing room with a two-run homer in the seventh inning, Jackie Bradley Jr. put on a show in left field in Boston's 5-1 victory over the Yankees on Monday night. The Boston outfielder first flashed the leather in the third inning when he raced deep into the gap to rob Chase Headley of extra bases.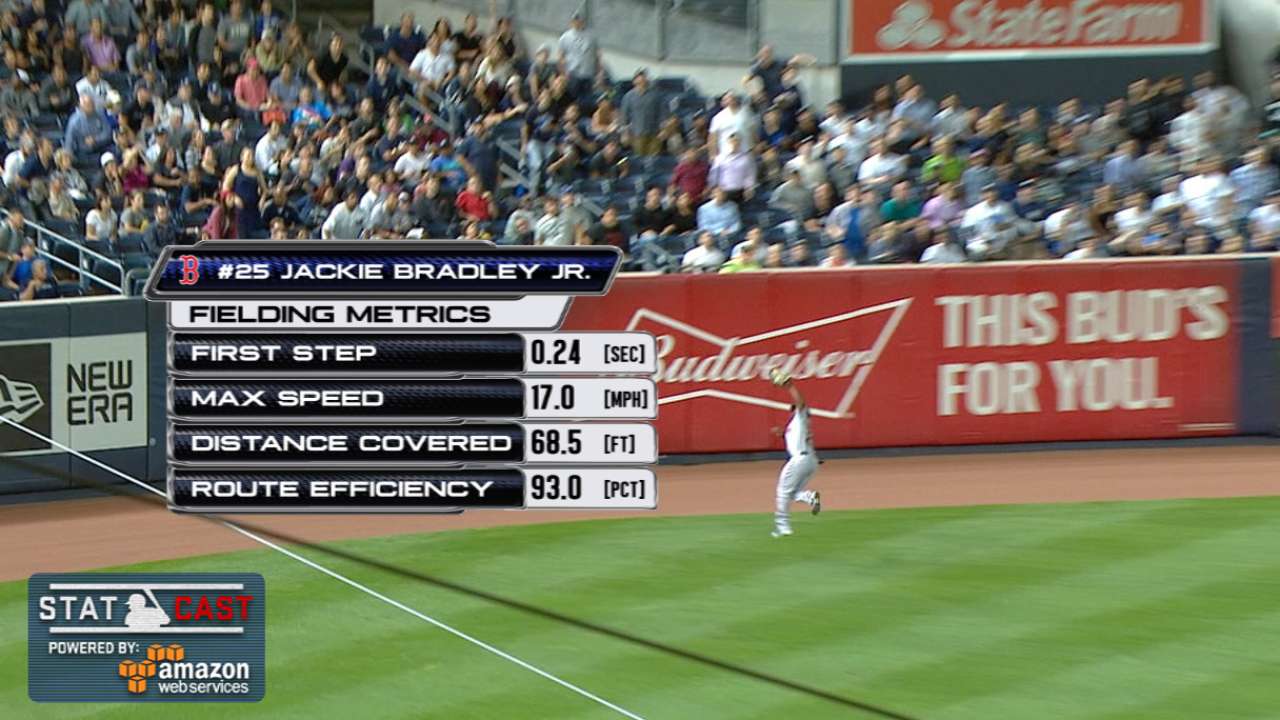 Bradley reached a max speed of 18.8 mph as he covered 93 feet on his way to making the leaping grab on the warning track, all while turning in a route efficiency of 92.1 percent on the play. He wasn't done yet, however, showing three innings later that he can also range to his right just as easily.
Leading off the bottom of the sixth, Yankees catcher John Ryan Murphy ripped a line drive toward the left-field corner that jumped off his bat at 103.4 mph. Bradley reacted quickly, taking his first step just 0.24 seconds after contact before ramping it up to a max speed of 17 mph. Bradley managed to cover 68 feet, while logging a route efficiency of 93 percent, en route to making a stabbing catch that even surprised Murphy, who pulled into second base for what he believed was a leadoff double until he was informed otherwise by the umpire.
Correa showcases range, arm on twisting throw
Houston shortstop Carlos Correa made yet another dazzling defensive play in the second inning of the Astros' 3-2 win vs. the Mariners on Monday night, robbing Mariners catcher Jesus Sucre of a base hit.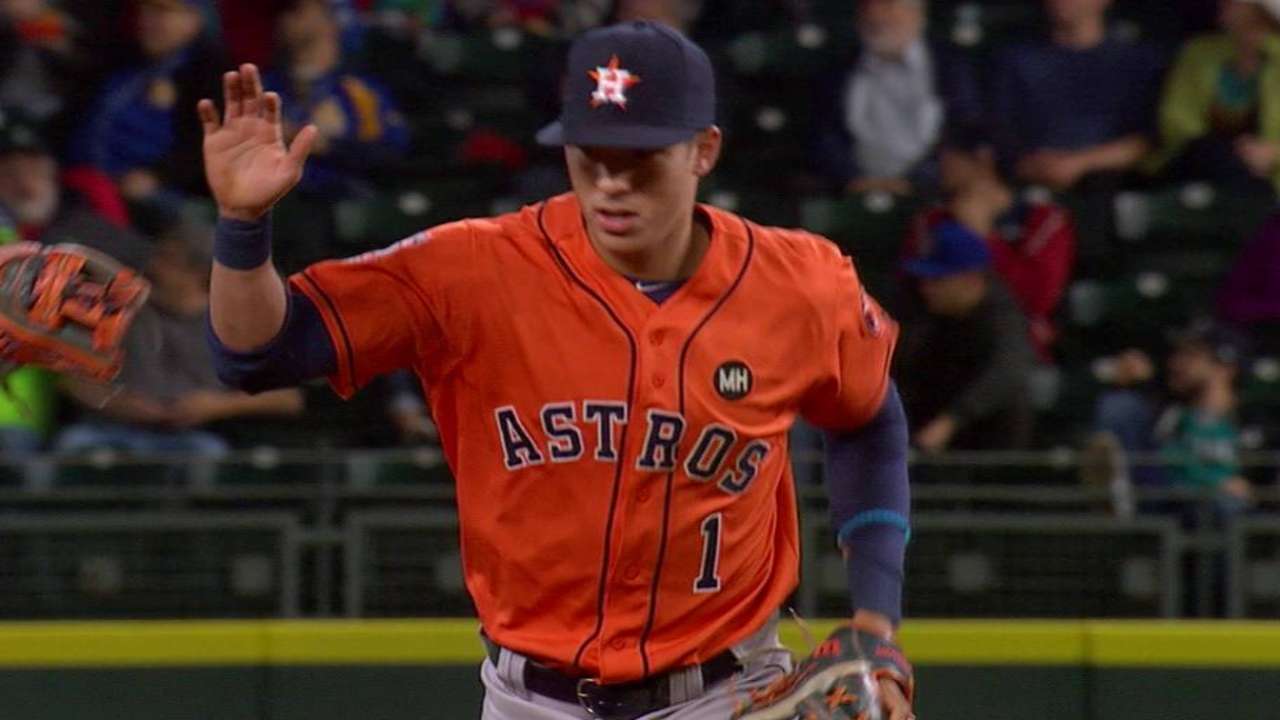 The Astros phenom had actually started to cheat up the middle prior to Sucre even putting the ball in play, resulting in Correa logging a first step time of negative 0.57 seconds on Sucre's grounder up the middle. That allowed Correa enough time to make a shoestring stop before whirling and still managing to rifle a 73.8-mph throw to first base, despite tumbling to the ground in the process. The throw arrived in just enough time to retire Sucre, who reached a max speed of 18 mph as he dashed down the line.
Houston is just 1 1/2 games back of the AL West's top spot.
Moore makes run-saving, diving catch
Nationals left fielder Tyler Moore helped temporarily preserve Max Scherzer's no-hit bid in Washington's 5-1 win over the Reds on Monday. Moore made a sprawling catch to rob Skip Schumaker of not only extra bases, but also of an RBI in the third inning.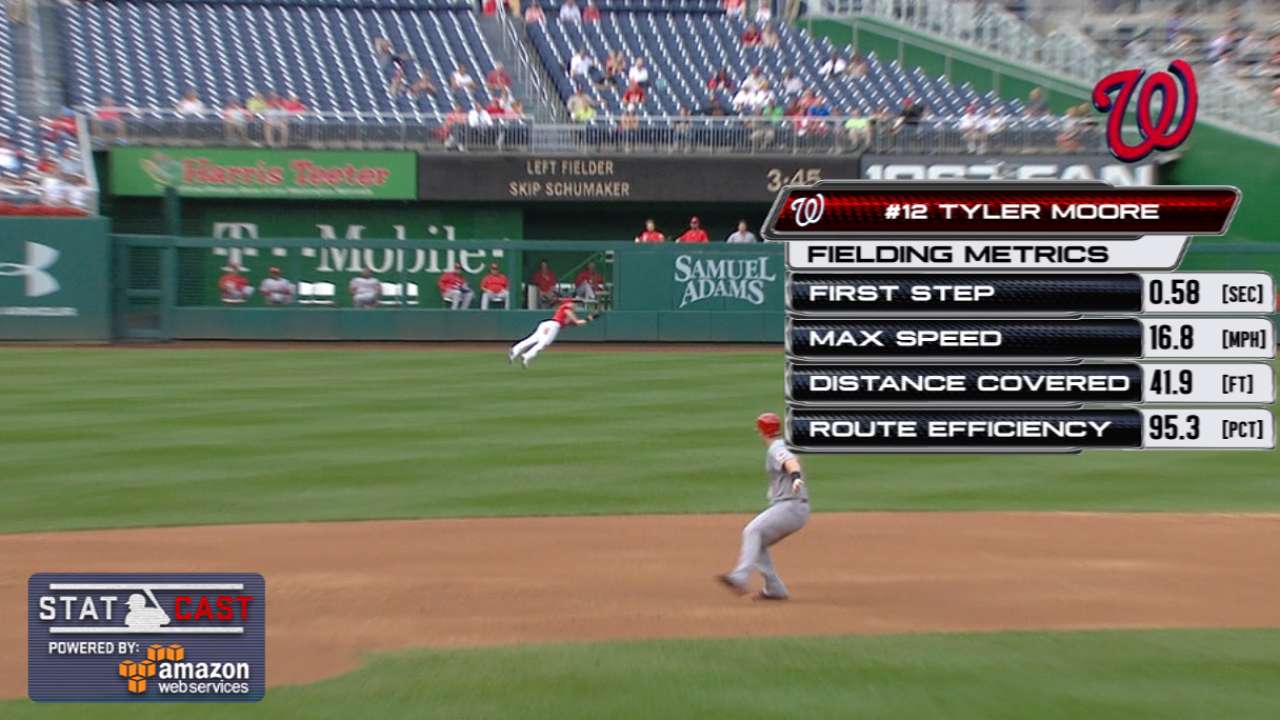 Moore took his first step just 0.58 seconds after contact, then reached a max speed of 16.8 mph, as he covered 42 feet at a route efficiency of 95.3 percent on his way to making the diving snag. Though Moore's highlight-reel grab helped keep the Reds out of the hit column for the time being, Scherzer ultimately lost his no-hit bid with one out on the eighth inning.
Carter crushes go-ahead homer
Astros first baseman Chris Carter clobbered a no-doubter home run to put the Astros ahead in the seventh inning of their crucial Monday night win against the Mariners. With the game knotted at 2-2, Carter jumped all over a first-pitch breaking ball from Seattle reliever Danny Farquhar for what proved to be the game-winning homer.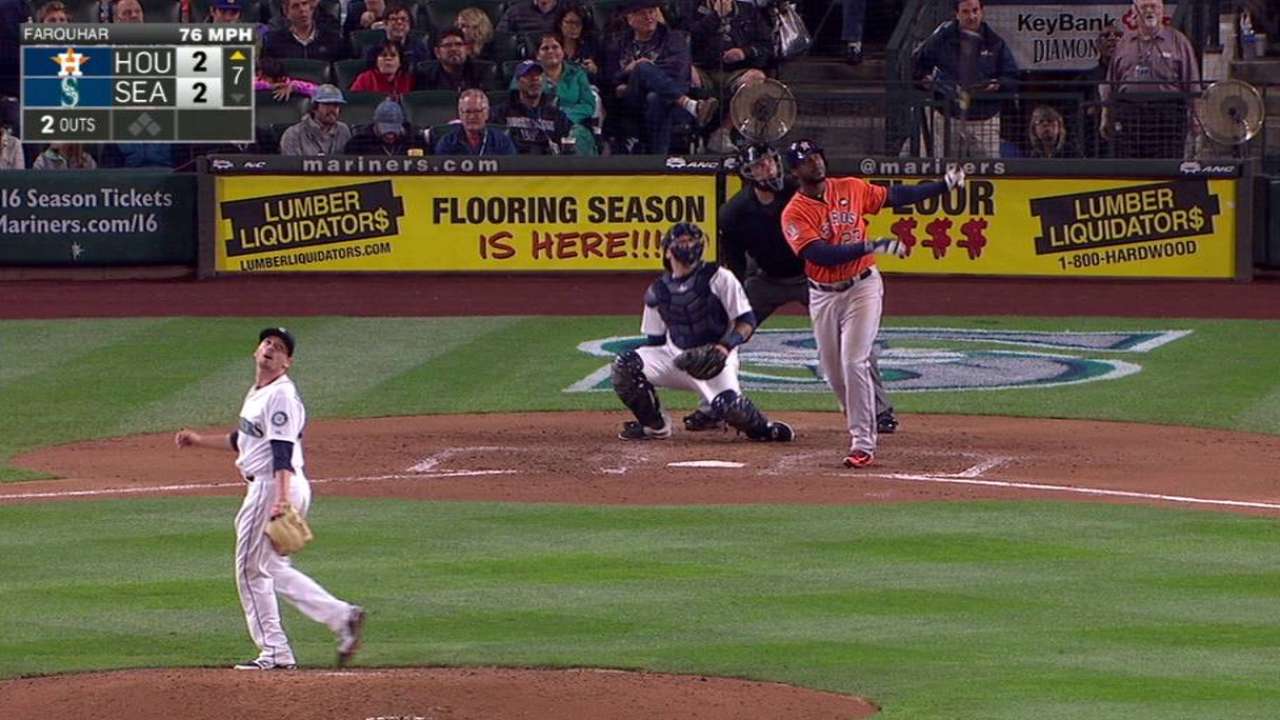 Despite being just a 76-mph pitch, the ball came off Carter's bat at a scorching 109.6 mph before traveling a projected distance of 409.5 feet.
Pujols tees off to tie it up
Shortly after watching the Angels squander a lead in the top of the sixth inning of their 5-4 win over Oakland on Monday night, Albert Pujols picked up his club with a mammoth game-tying homer in the bottom half of the frame. With the Halos trailing 4-3 in a pivotal game against the Athletics, Pujols deposited a 90-mph Felix Doubront fastball well beyond the left-center field wall.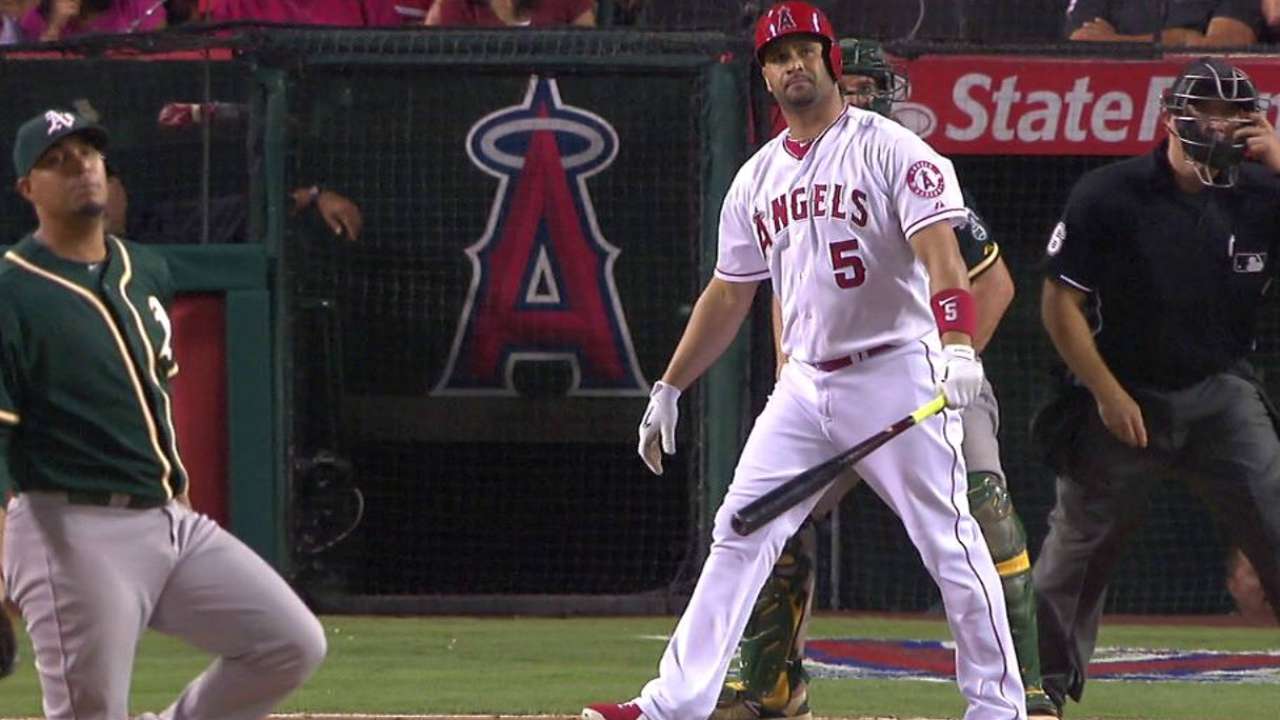 The Angels' slugger turned the pitch around at 105.6 mph, and he sent it a projected 426 feet onto the rocks behind the wall at Angel Stadium.
Paul Casella is a reporter for MLB.com. This story was not subject to the approval of Major League Baseball or its clubs.